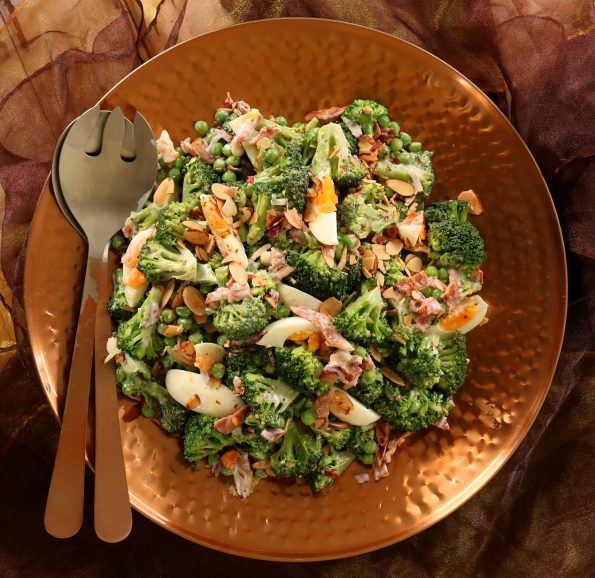 I'm not sure where the original recipe for this salad came from but I've changed all the measures and added eggs and toasted the almonds and changed this and that….as you do! It's very tasty and I've made scores of it over the years at work. It always sold way better than any other salad I've made, I mean you can never go wrong with a good Broc salad, right? I mean a broccoli salad's never going to be that lonely salad that no one's really touched at a barbeque. Actually, I'm one of those people who when they see a dish that no one has eaten I feel bad for the person who made it so I go and get a big helping of it! I mean someone put a lot of work and love into that dish and I'd hate them to feel bad because I feel bad when it happens to me!
This delicious salad made up of vibrant green blanched broccoli florets, crispy bacon, boiled eggs, toasted almonds (nom nom nom), red onion, raw peas (keeping it green) and has a tiny bit of spice and some colour added via a fresh red chilli pepper. It's dressed in a  honey mustard, mayonnaise. Cider vinegar is added to the mayo and trust me if you change it to white wine (which I have done by mistake quite a few times) it really doesn't taste as good!
It seems that when I'm discussing broccoli salad with someone they are usually dead set on whether they like their broccoli blanched or raw…..one or the other, I haven't yet heard anyone say they don't mind either….it seems to be one of those things people just like or they do not, no inbetweenies! I prefer mine blanched, It's still got a nice crunch but also tastes better. Blanching the broccoli also makes it's colour more intense, turning it a vibrant green and you would have guessed how important the appearance of looks is to me, from all of the photos! In saying I love it blanched in my salads and at dinner, raw broccoli along with cauliflower contain excellent cancer-fighting properties so enjoying a raw veggie platter with some delicious hummus on a regular basis is a must. I know just about everyone knows this but when I was a kid our vegetables were boiled for an eternity! So just in case you didn't know, never overcook your broccoli as it slowly draws out all of its goodness so always make sure it's blanched quickly and then cooled down quickly so it retains much of its goodness as possible.
INGREDIENTS
DRESSING
1 cup mayonnaise
1 1/2 tablespoon cider vinegar
2 teaspoons whole seed mustard
1 tablespoon runny honey
1/8 salt
1/8 teaspoon cracked black pepper
1 cup fresh or frozen peas
4 small broccoli (or 3 medium or 2 large)
4 large eggs (or 5 or 6 small eggs)
6 pieces streaky bacon (or 4 pieces larger middle or shoulder bacon)
1/3 cup, raw sliced almonds
1/2 red onion (or 1 small)
1 red chilli pepper (or 1/2 red capsicum)
Makes x 8 side salads or x 6 large salads
Notes
Chillies – The chillies I buy from my supermarket are very mild so I can get away with putting a whole chilli in my recipes. If yours are from your garden or a farmers market it might pay to add half only, you can always add the other half later if you think it's too mild. Also if you want to totally omit the chilli, of course you can! Just so that the salad still has a bit of colour to it you could if you like deseed and finely dice half of a red capsicum and add that in place of the chilli.
Vegetarians, it is still delish without the bacon!
if you are crunched for time on the day you want to make this salad you can make the mayo a day or two (even a week!) before and leave it in the fridge all ready to go on the day. You can also do that with the toasted almonds.
This recipe uses quite a lot of mayo. I love really good quality whole egg mayo but seen as this recipe uses so much I use a slightly cheaper variety but don't go too cheap as it can really change the good flavour of the dressing.
If you only have solid honey in the pantry no need to buy any more, just warm it in the microwave or a little saucepan until it's runny.
Please try not to use a different vinegar in this dressing as it's the cider vinegar in the dressing that makes this salad taste delicious!
One more thing omitting the eggs is no biggie, I prefer them but if you just want to keep it green, just leave them out.
STEP BY STEP
First get the peas out. Either shell them if they are from your garden or place them in a bowl to defrost whilst you carry on. You'll be adding them raw…..so yummy!
Best to make the mayonnaise first to get it out of the way. So combine all of the ingredients, the mayonnaise, the vinegar, the mustard, the honey and the salt and pepper into a bowl and whisk it all together until smooth. Cover it and place it into the fridge to use later.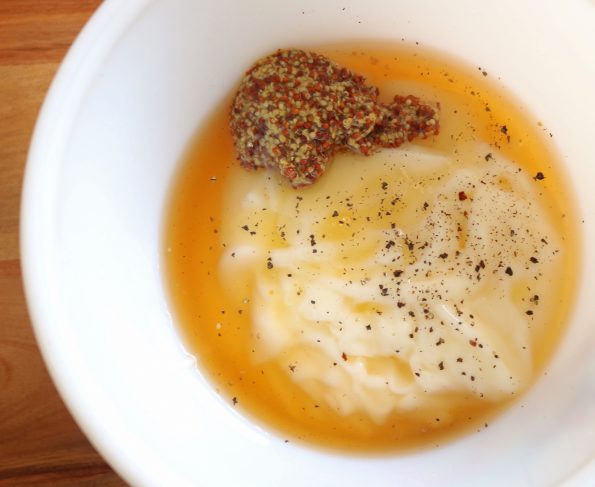 For the broccoli, first, cut it into bite size pieces….just the right size to fit into your mouth, not too big, not too small….I'm a chunkier salad kinda girl!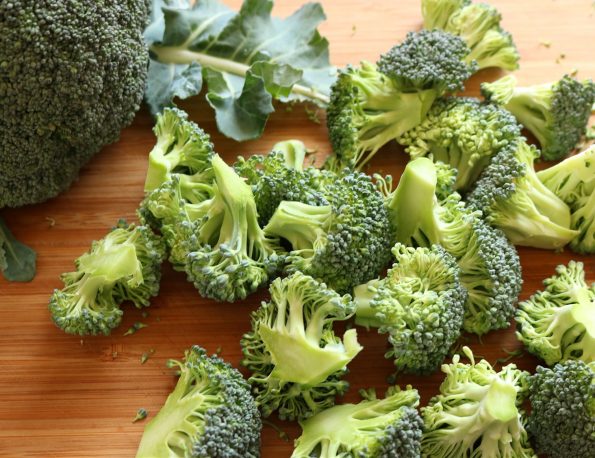 Next, fill a large pot with water, enough so that it would more than cover the broccoli….you just don't want it so that when you add the broccoli it's too crammed in there.
Put the pot over a high heat and bring it to the boil.
Once boiling add the broccoli and blanch it for two minutes. You don't want to cook it any longer as it will start to fall apart.
This will make it nicer to bite into than raw, it will still be crunchy but will also change the colour to a gorgeous vivid green.
Whilst you are waiting, place a colander or a very large sieve into the sink so it's ready.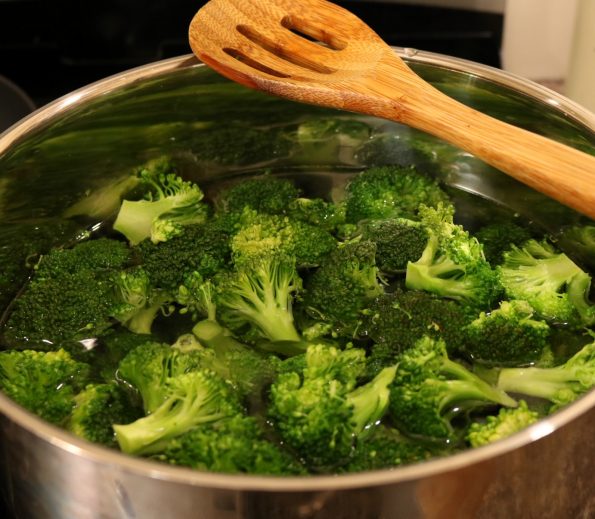 Carefully pour the broccoli (water and all) into the colander/sieve and then…..
Please don't run it under cold water for this salad, it's best to cool them down another way (see my next note).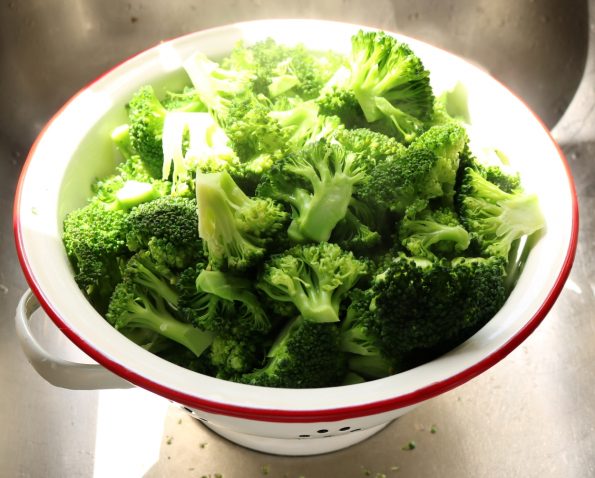 …..once the water has drained spread it out onto a clean tea towel and leave it there until you've finished the 'prep' so it cools right down. This will stop it from cooking further as if it stays in a pile in the colander/sieve the top, outer pieces will cool down but the centre ones will stay hot and will keep cooking. So to keep them crunchy you need to cool them down quickly.
The tea towel method also helps them to dry out more because if they go into this salad wet at all even a small amount of water will mix with the dressing and make it runny and it will sit on the bottom of your platter or salad bowl rather than coat the broccoli.
Fill a saucepan with enough water to cover the eggs and without putting them in yet, place it over a high heat and bring it to the boil. Then using a spoon to lower them in leave them to boil for nine minutes.
Once done pour most of the hot water out and then place the pan and eggs in the sink, under running cold water until they have cooled right down.
Then peel them and slice them in half lengthways and then each half into thirds, making six little wedges from each egg. Leave them aside.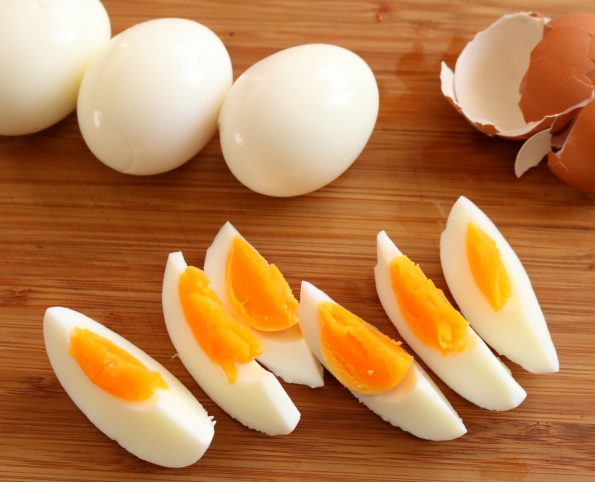 Under a medium grill (broiler) cook the streaky bacon until it's crisp and then slice it widthways into 2 cm (3/4 inch) strips or if using middle or shoulder bacon, remove the rind (if any) and then roughly chop it into 2 cm pieces.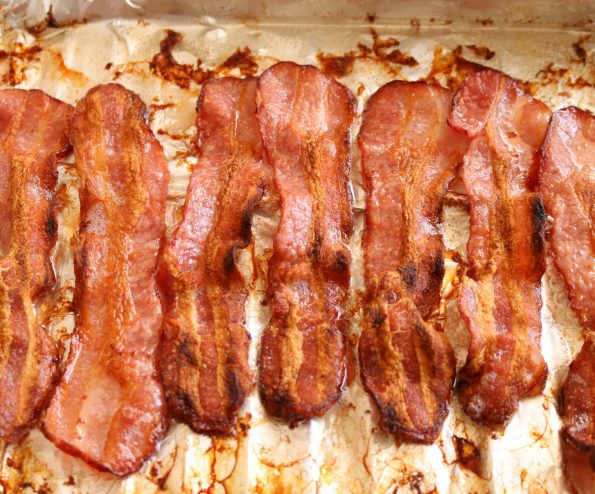 I toast the almonds to increase their flavour and so they stay nice and crisp in a moist salad. So preheat the oven to 160°C fan bake oven or 180°C conventional oven, on bake, with a rack situated in the centre of the oven.
Spread them out on a baking tray and once the oven is up to 'temp' pop them in for 3 minutes. Once the 3 minutes is up, take them out, toss them around and place them back in for another 3 minutes or until they are golden brown or about two shades darker than raw.
Turn the oven off and leave them to cool down.
Next, peel the red onion and finely dice it, setting it aside also.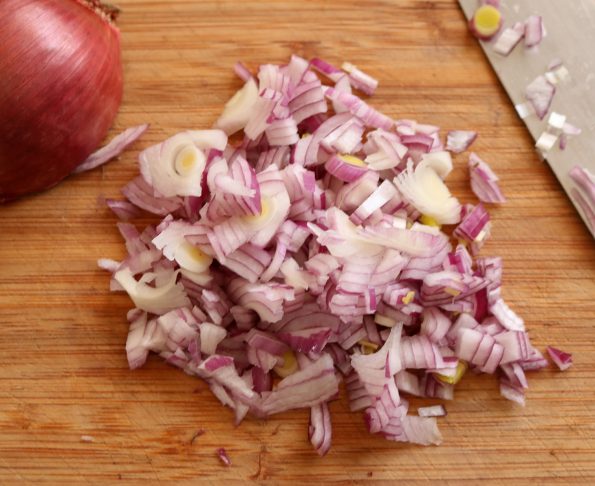 Remove the stalk and slice the chilli in half lengthways. Run a sharp knife along the insides to remove the seeds then slice it into thin strips and then very finely dice it.
Of course, if you like spicy things you can leave the seeds in…..but think of your guests, you don't want them to

spontaneously

combust!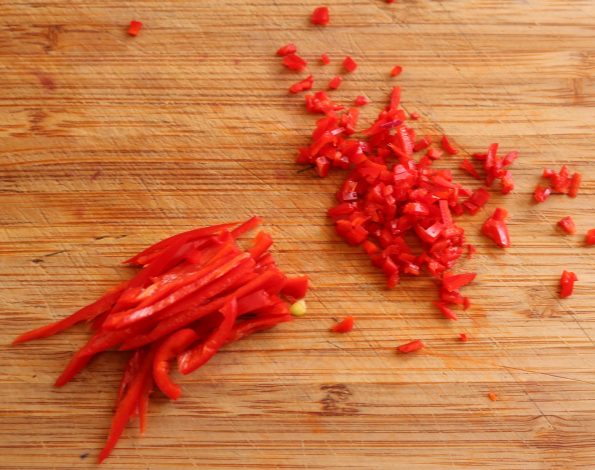 So now that you've done all of the 'prep'…..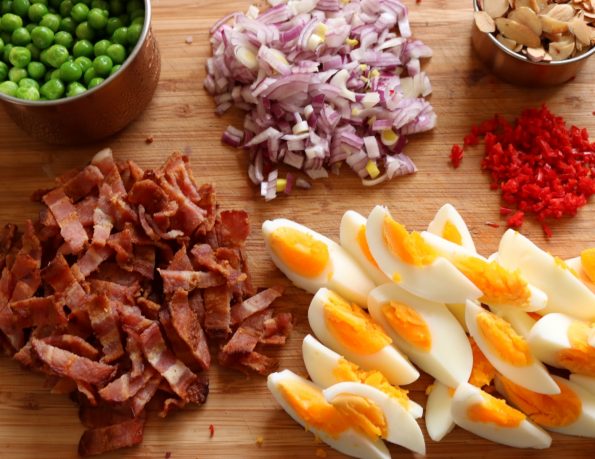 ……in a large bowl place the peas, broccoli, bacon, chilli and the dressing.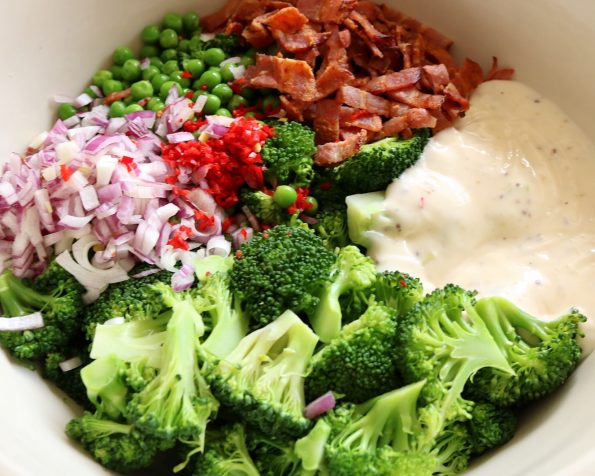 Using a very large spoon (so as not to break up the broccoli) fold it all together. Yes, I know the eggs and the almonds are missing. I don't add the eggs here as they will just break up and I prefer to scatter the almonds over top because they just kinda get lost and I think it looks prettier. 🙂
Lay half of the dressed salad onto a platter.
Then place half of the egg wedges here and there. Then sprinkle with half of the sliced almonds.
Place the rest of the salad on and then lay the rest of the egg wedges on top and finally scatter the rest of the almonds all over.
There you have it…..a beaut broccoli salad. 🙂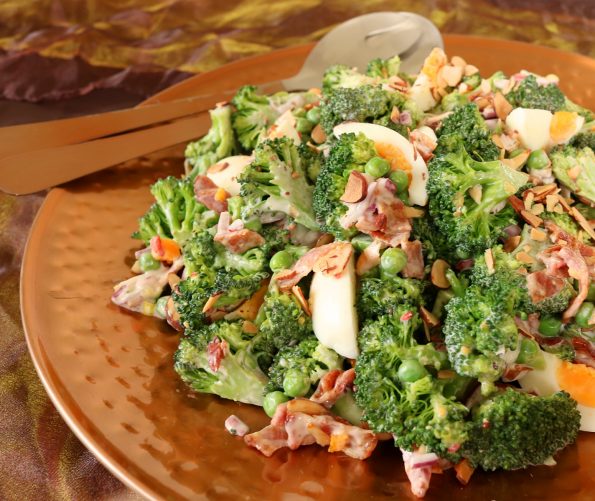 Really nice on its own or as a side salad with…..anything really!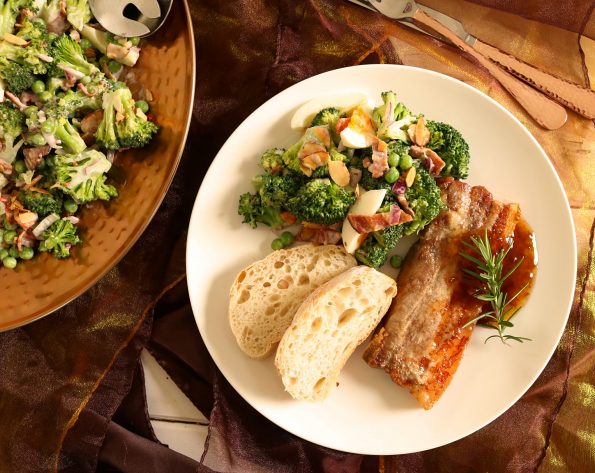 Keeping it fresh – Keep it covered in the fridge for up to 2 days but I have to say that this salad is best eaten on the day as the broccoli slowly loses its colour.
So tell me are you a raw broccoli salad fan or a blanched broccoli salad fan?
Blanched broccoli, crispy bacon, boiled eggs, toasted almonds, red onion, peas & fresh chilli all dressed in a honey mustard, cider vinegar mayonnaise.
Ingredients
1 cup mayonnaise
1 !/2 tablespoon cider vinegar
2 teaspoons wholes eed mustard
1 tablespoon runny honey
1/8 salt
1/8 teaspoon cracked black pepper
1 cup fresh or frozen peas
4 small broccoli (or 3 medium or 2 large)
4 large eggs (or 5 or 6 small eggs)
6 pieces streaky bacon (or 4 pieces larger middle or shoulder bacon)
1/3 cup, raw sliced almonds
1/2 red onion (or 1 small)
1 red chilli pepper (or 1/2 red capsicum)