I was in the kitchen and my 10-year-old son asked me what I was making and I told him "Muffins". He looked at the ingredients on my chopping board expecting to see chocolate, chocolate and more chocolate and then said "ew they aren't muffins, they are 'muffins of DEATH"  bahaha!…..how rude!
I was taught this recipe by a very talented Baker and have made and sold a thousand since they are so good! I make large Texas-sized ones and they are large enough to eat for a meal. They are cheesy with a light texture and filled with tasty pumpkin and fresh spinach. Sun-dried tomatoes and feta are thrown in there too, making them super tasty.
The base recipe for these savoury muffins is nearly the same as the sweet ones I make, minus the sugar and with milk instead of the yoghurt. As long as they have grated cheese and seasoning in them, you can pretty much add all sorts of tasty ingredients. However, the amount of milk will change depending on how wet or dry the veggies are and that's something I've learnt from making many a muffin, good and bad. For example, cooked potatoes are firmer and drier than pumpkin so I add more milk to the potato ones. Avocados are very mushy so when I make Guacamole muffins I use very little milk. Same goes for sweet muffins, soft raspberries will take less yoghurt than the firmer blueberries.
Here's the recipe, I hope you try it and love them as much as I do 🙂
INGREDIENTS
350 g / 12 oz crown pumpkin
pinch table salt
200 g / 7 oz large, fresh spinach leaves (1 cup when wilted & chopped)
3/4 cup crumbled feta (approx 100 grams)
1 packed cup grated tasty cheese (or your favourite kind)
¼ cup sun-dried tomatoes
115 g / 4 oz butter
2 large eggs (I use size 7's)
2 cups standard flour
3 teaspoons baking powder
½ teaspoon salt
¼ teaspoon freshly ground black pepper
¾ cup milk
Optional – 3 tablespoons of raw pumpkin seeds
Also Optional – 12 muffin cases or 6 large Texas size muffin cases
This recipe makes 12 standard sized muffins or 6 large Texas size muffins
Notes
Once cooked, the pumpkin needs to be at room temperature or cold when added to the muffin mix because the heat changes the recipe (boring scientific stuff).  For best results, I cook mine the night before or first thing in the morning on the day I'm making them.
I use crown pumpkin as it is quite a firm pumpkin and as long as I don't really overcook it, it won't go mushy when I am mixing the muffins (which also can make the muffin mix too wet, changing the texture and the then the length of the baking time)…..but you can just use whatever you have.
If you prefer, you can leave the feta, sun-dried tomatoes or both out of this recipe, it won't make a difference to how they turn out.
Frozen spinach is fine to use, just make sure it is totally defrosted and then placed in a tea towel and wrung out (it is very watery and as I mentioned with the pumpkin, will make the muffin batter wetter which will change the texture of the muffins and the length of the baking time).
WALKTHROUGH
First, chop the pumpkin into larger pieces, deseed it and then peel it.
Then chop it up into little 2 cm / ¾ in cubes (roughly).
Place the pumpkin pieces into a saucepan and cover them with water.
Over a high heat bring it to a boil and then turn it down to a lower heat where it's just boiling (simmering).
Add the pinch of salt and cook them until they are tender and can be pierced easily with a knife.
Please don't cook the pumpkin until it starts to fall apart, only until it's just cooked. I've overcooked it many times and when the pumpkin is mushy it makes the muffin batter wetter which changes their nice texture and they need longer in the oven.
Drain immediately and leave it to cool down.
It needs to be at room temperature before adding to the muffin mix (if you add it hot it changes the recipe) so once it's stopped steaming, pop it in the fridge to cool down.
Once the pumpkin is cool enough carry on with the muffin making.
First, liberally spray the muffin holes with non-stick cooking spray or place your muffins cases into the holes (no need to spray those but if you like you can give them a light spray).
Now remove the spinach leaves from the stalks. Wash them in a sink of cold water and then remove the plug.
Fill and boil your jug (kettle).
Place the leaves in a large bowl and just cover them in boiling water.
Leave them submerged for 30 seconds and then…..
…..pour the spinach and water into a colander or a sieve and run some cold water through it for a minute, until it's cooled down.
Next using your hands squeeze most of the water out and then place it in the centre of a clean tea towel.
Wrap it up in the tea towel (like a vagabond's bag) and then over the kitchen sink squeeze the spinach through the tea towel, removing any remaining water.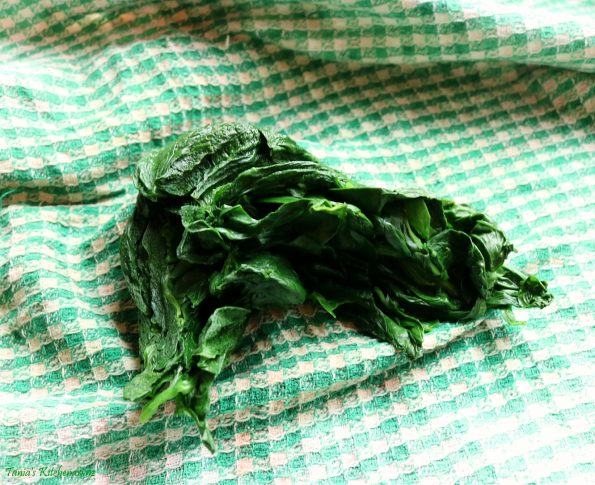 Then roughly slice or chop it up and add it to the pumpkin.
Also, if it isn't already, crumble up the feta, grate the cheese if you need to and thinly slice up the sun-dried tomatoes. Add it to the pumpkin and the spinach and just leave it all aside for now.
Time to preheat the oven to 170°C fan bake oven or 190°C conventional oven, on bake, with a rack situated in the centre of the oven.
Next in a small saucepan, over a low heat, melt the butter (without boiling it) and then set it aside.
Alternatively, cut it into cubes and melt it in the microwave on HIGH for about 1 min 20 seconds.
Add the eggs to a large bowl and using the biggest spoon you have lightly beat them until they are combined.
Now stir in the hot butter.
I was told using hot butter in muffins gives them a nice colour. It also gives sweet muffins that have sugar in them a nice, sludgy texture.
Now add the flour, the baking powder, the salt and pepper and…..
…..the pumpkin, the beautiful, wilted and chopped spinach, the feta, the grated cheese, the sun-dried tomatoes and the milk.
Gently fold it all together until it's just combined….no over mixing!…..they no likey!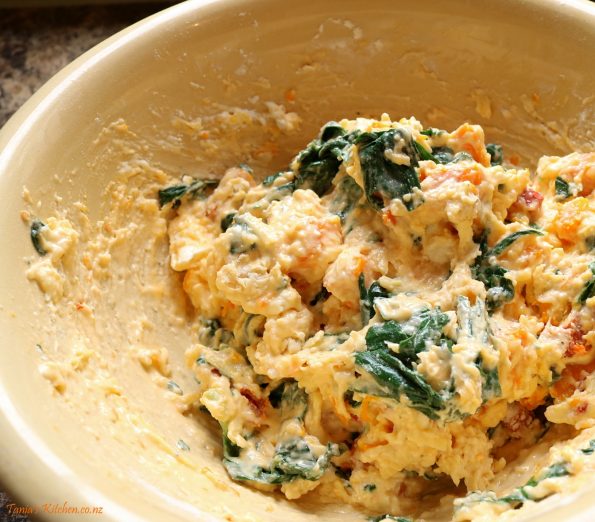 Divide the muffin batter either into your 12-hole muffin pan or…..
…..your 6-hole Texas-sized muffin pan, checking that they all around the same size. If they differ in size, take some batter from the larger ones and gently place it into the gaps on the smaller ones (without pushing it down as they won't rise as much).
Rather than spooning the mix into the tins, if you use damp hands to gently roll softballs they bake into a much nicer shape.
If you are using them, sprinkle the pumpkin seeds all over the tops (as many as you like really!)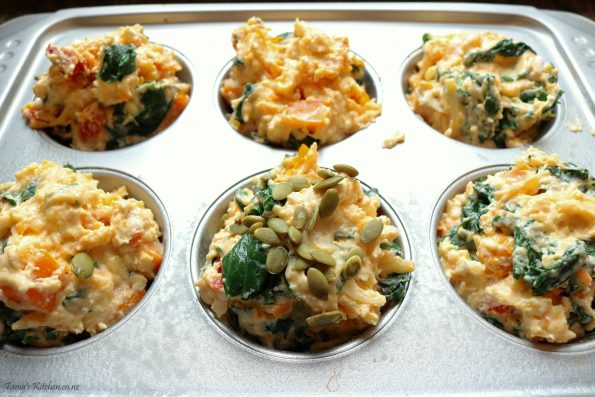 Pop them in the hot oven for 30 minutes (smaller ones) or 40 minutes (Texas size).
Test they are ready by inserting a small, sharp knife into the centres, it should come out clean (with no wet batter on it).
Enjoy these whilst still warm from the oven with lashings of butter (goes without saying really!)
Keepin' em fresh – Because of all the cheese, I store these in an airtight container, in the fridge for up to 3 days. Just make sure they have cooled down properly first or the container will get filled with condensation and make them wet and all 'pastie' looking!
Reheating – Just pop one in the microwave on high for 50 seconds or wrap one in cooking foil and pop it in the oven (160°C fan bake oven or 180°C conventional oven, on bake) for about 10 minutes.
Related posts…
Pumpkin, Spinach & Feta Muffins
Cheesy pumpkin, spinach, feta & sun dried tomato muffins. Make 6 Cafe style, Texas size or 12 normal sized muffins. Delicious warm from the oven, slathered with butter.
Ingredients
350 g / 12 oz crown pumpkin
pinch table salt
200 g / 7 oz large, fresh spinach leaves (1 cup when wilted & chopped)
3/4 cup crumbled feta (approx 100 grams)
1 packed cup grated tasty cheese (or your favourite kind)
¼ cup sun-dried tomatoes
115 g / 4 oz butter
2 large eggs (I use size 7's)
2 cups standard flour
3 teaspoons baking powder
½ teaspoon salt
¼ teaspoon freshly ground black pepper
¾ cup milk
Optional - 3 tablespoons raw pumpkin seeds
Also Optional - 12 muffin cases or 6 large Texas size muffin cases