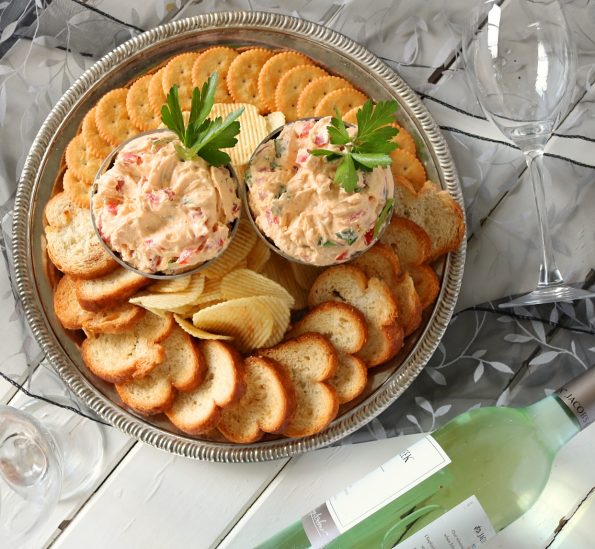 Sometimes I may mention how old a recipe is (hence showing my age) but this time let's just say that I've been making this dip for a really long time. It's simply called 'Confetti Dip' because of the diced tomato, onion and parsley scattered through it. I am not sure where the base recipe came from originally but the reason I've been making it for a real long time because it's fairly easy and is super yummy and totally moorish. It's one of my family's christmas day favs.
To make it you make a sabayon, using eggs, sugar and vinegar first which gives it a rich, thick and creamy base. Next you beat cream cheese into the sabayon until it's smooth and then some add some red onion, tomato, parsley and seasoning. You can also add other ingredients but I'll leave that for another dip because if I added this and added that, without doubling the sabayon and the cream cheese it will become too loaded and lose it's delicious creaminess.
Sabayon – If you are new to cooking Sabayon is the French name for zabaglione, a light, mousse-like Italian dessert. The term Sabayon is used when egg yolks and flavorings are gently warmed until the egg yolks thicken, creating a stable base for some sauces. Oil is then slowly whisked in to make thick, cold sauces like aoili or mayonnaise or melted butter to make warm sauces like hollandaise or bernaise sauce. If adding sugar and a fortified red wine, white dessert wine, champagne or coffee, sabayon is a sauce unto itself, served warm over strawberries or with other desserts. I also use it as a base when making a beautiful, traditional chocolate mousse.
INGREDIENTS
1/2 small red onion (need 1/4 cup when diced)
1 medium sized tomato
2 tablespoons fresh Italian parsley leaves (roughly chopped) or 1 tablespoon of Italian parsley & 1 tablespoon chopped chives
2 eggs (size 6's)
2 tablespoons white sugar
2 tablespons white wine vinegar
2 teaspoons butter (10 grams)
250 grams cream cheese
1/2 teaspoon tomato paste
1/8 teaspoon salt
1/8 teaspoon black cracked pepper
Italian parsley leaves to garnish
To serve – Any or all of; thick crackers, thick potato chips and/or crostini (see below).
Optional – To make thin crostini you will need; 1 baguette (French stick), olive oil, black cracked pepper and some paprika.
Makes x 2 cups
WALKTHROUGH
First remove the cream cheese from the fridge so it can come back to room temperature.
Then peel and finely dice the onion.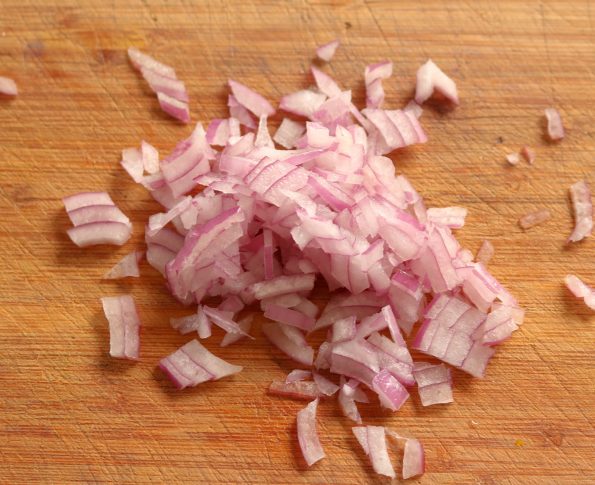 Cut the tomato into quarters and then remove the core and the seeds. Cut the quarters into thin slices and then finely dice them.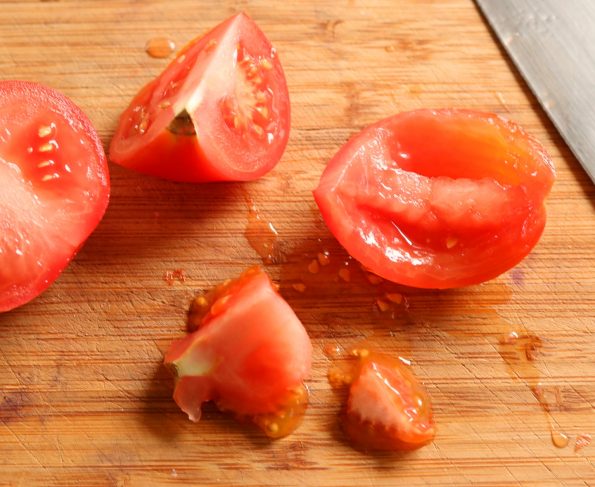 Roughly chop up the parsley and (if using them) dice up the chives also.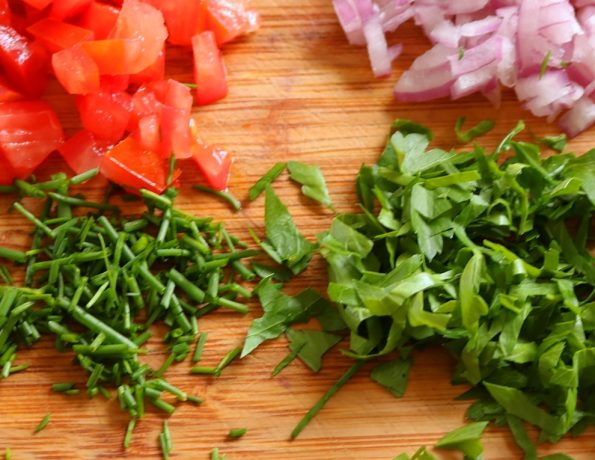 Next, place the eggs, the sugar and the vinegar into medium sized heatproof bowl.
Make sure the bowl sits snuggly into the top of the saucepan.
Now to cook the sabayon. Place some water into the saucepan and sit the bowl on top. You don't want the water in the saucepan to be touching the bottom of the bowl at all, so lift it out and check it's not wet underneath and if it is remove some water until it's not.
Now place the bowl with the sabayon ingredients aside and over a high heat bring the water in the saucepan to a boil. Once boiling turn the heat down to medium/low or low, to where it is just simmering (softly boiling).
Place the bowl on the saucepan again and slowly whisk it until it's thick and creamy (this could take anywhere from 3 to 5 minutes), being very careful to not let any stick to the sides.
It needs to triple in size and be as thick as softly whipped cream so as to hold it's shape and also so the eggs are cooked. Also if you take it past the thick and creamy stage it can curdle and be ruined, also if it gets too hot, too fast it will end up like scrambled eggs….and…..if the water is too cold it may not thicken at all…..no pressure though! It'll be fine!
So once your sabayon is thick and creamy remove it from over the pan.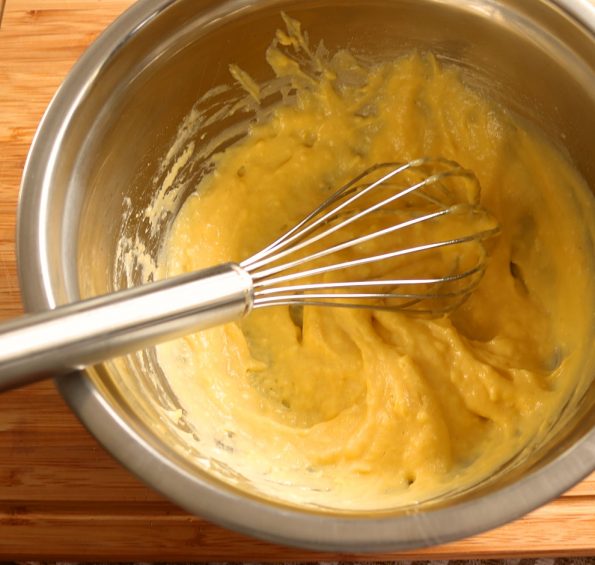 Add the butter and whisk it in until it's blended.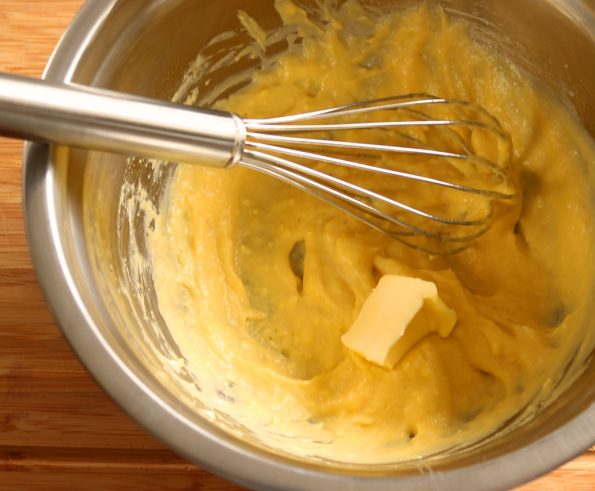 Add the cream cheese, the tomato paste and the salt and pepper.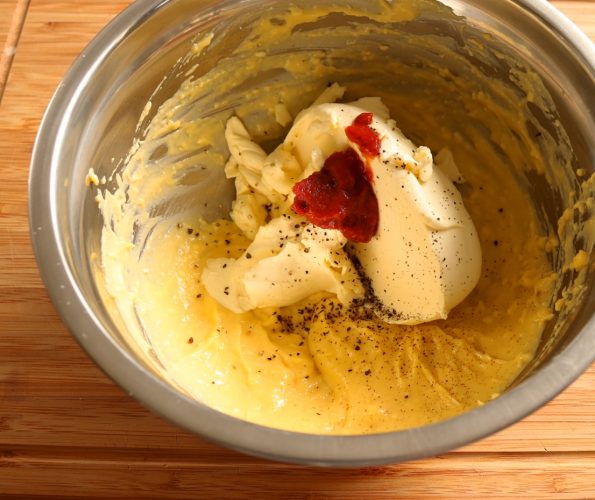 Using an electric beater on a low speed, beat it all together until it's all blended and as smooth as you can get it.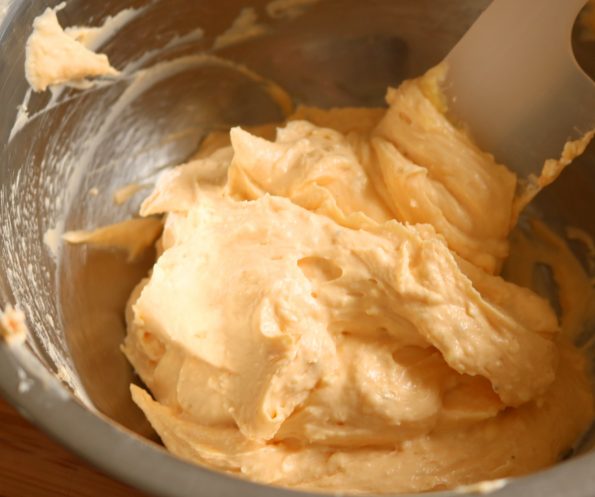 Add the tomato, onion and the parsley and if you are using them, the chives (also bacon and/or spinach if adding it) and…..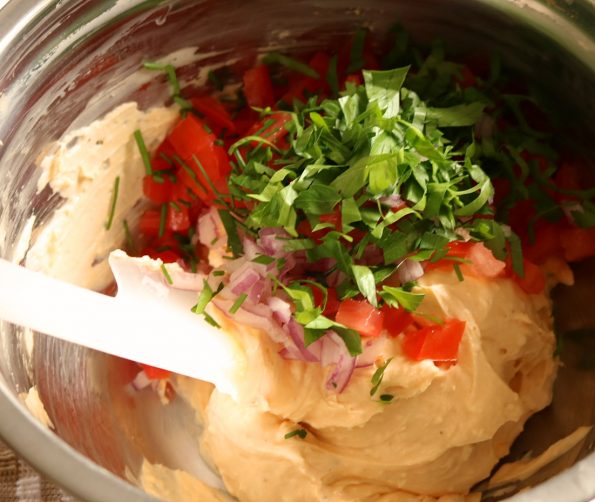 …..fold it all together and place it in the fridge to chill for at least 30 minutes.
There you go, a fabulous dip that you lovingly made from scratch!
Garnish with Italian parsley leaves.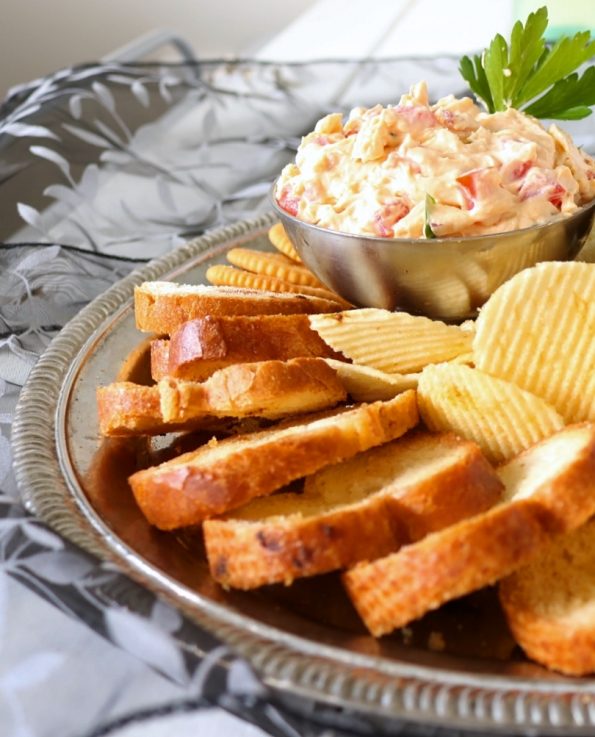 As it's reasonably thick I serve thick crackers, thick potato chips and 'lil toasts' (a thinner than normal crostini) with mine.
Crostini
These are easy peasy and so bloody good with dip! If you want to enjoy them with your dip too here's how I make mine…..
Preheat the oven to 160°C fan bake oven or 180°C conventional oven, on bake, with a rack situated in the centre of the oven.
Slice the baguette into 1 cm (1/3 inch) slices, widthways and lay them on a baking tray.
Drizzle over any type of olive oil and then turn them all over.
Drizzle more oil over the other sides and then crack some black pepper all over them and then sprinkle over some paprika too (not necessary but makes them tast SO GOOD!)
Pop them in the oven for 5 minutes and then take them out and turn them over, also moving the outer ones into the centre and the centre ones to the outside.
Return them to the oven for another 5 minutes and when they are golden brown (about two shades darker) they're done! YUMMO!
If you over do these they will be a little bit crumbly and if you underdo them they will not stay crisp for long…..to check they are perfect just eat one to make sure they are just the right amount of crisp. 🙂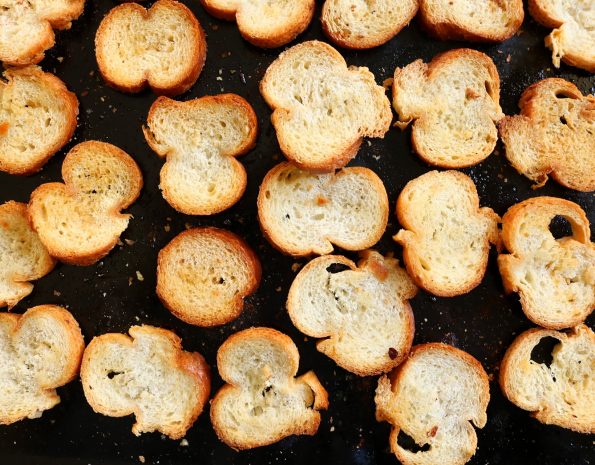 Keeping it fresh – I'd be disappointed if there were any left BUT if there is or you want to serve half and then half later (or the next day) just wrap it with plastic food wrap and keep it chilled in the fridge for up to two days.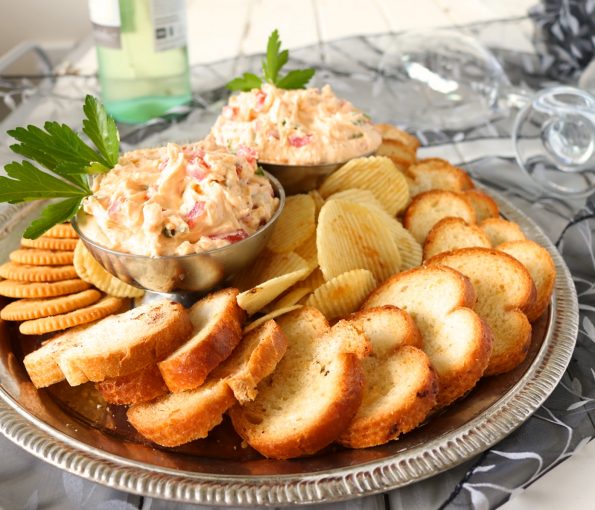 Do you have a family favourite dip that's always whipped up for Christmas day?
A delicious thick 'n' creamy, cream cheese, tomato, onion & herb dip made from a rich sabayon base but be warned, you won't be able to stop eating it!
Ingredients
1/2 small red onion (need 1/4 cup when diced)
1 medium sized tomato
2 tablespoons fresh italian parsley leaves (roughly chopped) or 1 tablespoons parsley & 1 tablespoon chopped chives
2 eggs (size 6's)
2 tablespoons white sugar
2 tablespons white wine vinegar
2 teaspoons butter (10 grams)
250 grams cream cheese
1/2 teaspoon tomato paste
1/8 teaspoon salt
1/8 teaspoon black cracked pepper
Italian parsley leaves to garnish