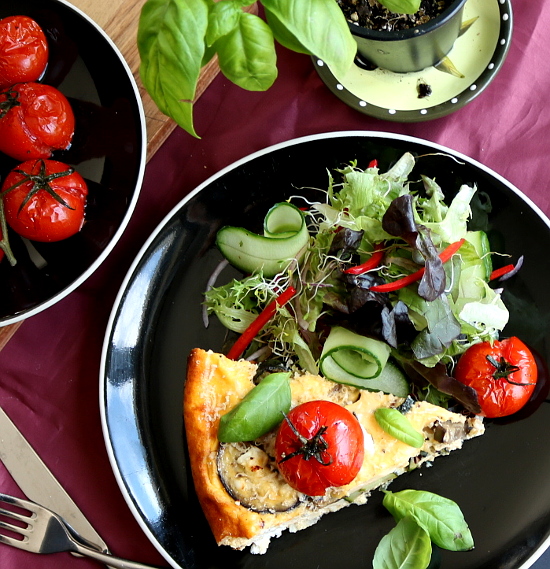 Hi there! This week instead of putting loads of cheese on top of my frittata (love) and the usual full cream in the egg-fill, I thought I'd go a bit easier on the cheese (don't panic, there's still cheese but not AS much) and make a healthier version by using yoghurt instead of cream 🙂 I had a spare eggplant from the ratatouille I made and some lovely fresh basil still so decided to make it Mediterranean style. So I made an eggplant and zucchini frittata, using a Greek yoghurt in the egg-fill, topped with crumbled feta. After baking it in the oven until golden and fluffy I grated some parmesan on top and scattered some fresh basil leaves over it and 'bob's your uncle', a fabulous light dinner, lunch, brunch or even breakfast! I served ours with a salad and oven roasted vine-ripened tomatoes 🙂
From Italy, the word Frittata derives from the word 'friggere' which loosely means 'fried'. Traditionally a frittata is like an open-omelette, with it's bottom set over heat and then either flipped to cook the other side or grilled to set the top. Straying from tradition, so I can have a deeper version (which also sells better in a café cabinet) I set the bottom and then finish it in the oven to cook it through. So I guess my frittatas are a cross between an open-omelette and a self-crusting quiche. They are very versatile and you can add any type of meats or cheeses and they are great for using up excess veggies and leftovers.
INGREDIENTS
13 medium-sized eggs (6's, 7's or a mix)
1 1/2 cups unsweetened Greek yoghurt
1/2 cup medium or mild olive oil (approx)
1 large eggplant (aubergine)
3 zucchini (courgettes)
1 small onion (or 1/2 medium-sized)
1 large clove garlic (or 2 small)
1/2 teaspoon salt
1/4 teaspoon freshly cracked, black pepper
1 1/2 tablespoons medium or mild sweet chilli sauce
1 cup crumbled feta (250 grams)
1/4 cup grated or 1/2 cup shaved parmesan (optional)
Serves 8
Note*  Just as making omelettes, a good-quality, heavy bottomed frying pan/skillet is needed to make frittatas. If it is a thin bottomed pan it will more than likely stick to the bottom and also burn easier. Also it needs to be oven proof, so it needs a handle which won't melt in the oven. I used a non-stick heavy based frying pan that is 30 cm (12 inches) wide and 6 cm (2 1/2 inches) deep.
Warning*  If you are not used to putting frying pans/skillets in and out of the oven please be really careful when grabbing the handle. Because we are used to grabbing pans by the handles when cooking on the stovetop it's easy to forget that suddenly it's VERY hot. It pays to warn the family too when it's out of the oven. I left one of my empty pans that I had just taken from the oven on the stovetop and hubby grabbed it to wash it and burn't his hand, I felt really bad……but I did laugh to myself (when he was okay of course!) later when remembering the wee dance he did around the kitchen, lol……yeah, I'm evil like that! Seriously though be careful.
WALKTHROUGH
First prepare the vegetables by finely dicing the onion and crushing (or very finely dicing) the garlic. Place both into a small bowl so you can use the board to cut up the other veggies.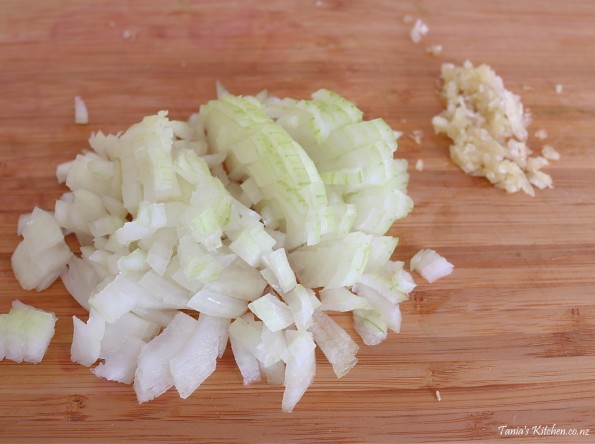 Next wash and dry the eggplant and cut the ends off. Slice it lengthways down the centre and then slice it widthways into 1 cm (1/2 inch) slices and place the slices in a medium-sized bowl.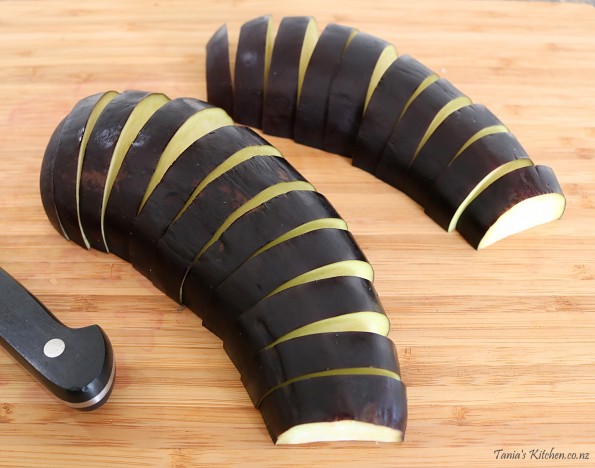 Also thoroughly wash and dry the zucchini, remove the ends and slice into 1 cm (1/2 inch) rounds and add it to the bowl with the eggplant.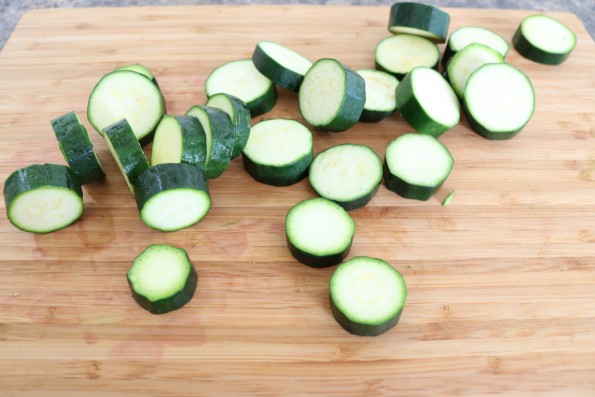 Now, add to a large bowl the eggs and the yoghurt and…..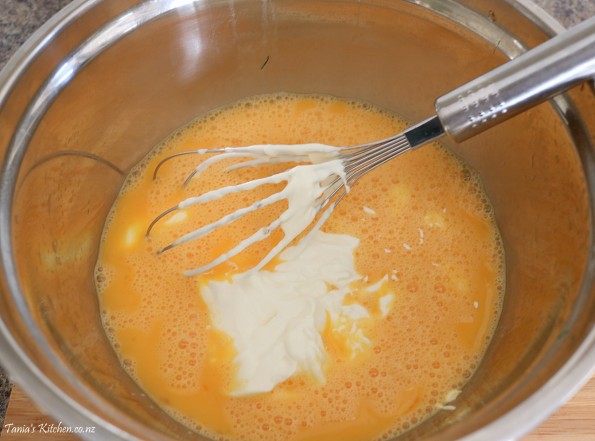 …..whisk them together until they are lump free. Once done place the whole bowl in the fridge whilst you cook the vegetables.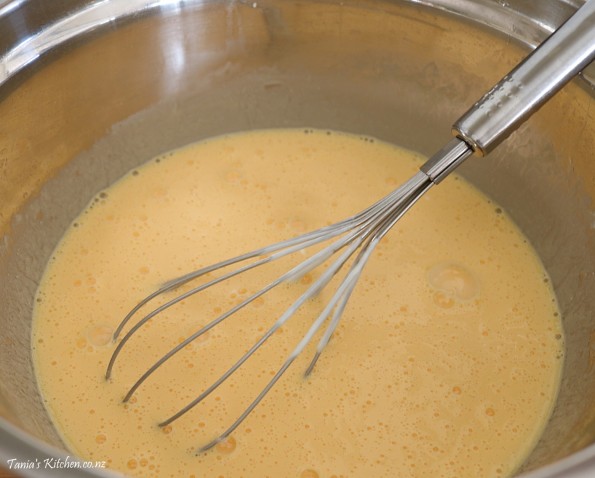 Next position an oven rack just below the centre of the oven and preheat it to 160°C – fan-bake oven or 180°C – conventional oven, on bake.
Frying the Vegetables…..
Place a few paper towels on a large plate so its ready to place the fried vegetables on when needed.
*You will be using your pan three times and there should be no need to wash it between uses (unless something has stuck to the bottom).
Heat the frying pan or skillet up over a medium/high heat and add 4 tablespoons of the olive oil. Fry the eggplant slices for 3 minutes on each side or until they are golden brown and then place them on the ready plate.
*The vegetables won't be cooking too much more in the frittata when it's baking in the oven so they do need to be nicely browned at this stage.
Next add 2 more tablespoons of the olive oil to the pan, let it heat up and then fry the zucchini slices for 3 minutes on each side until they are golden brown also. And then add them to the eggplant on the plate…..and again, there's no need to wash the pan, just leave it off the heat.
Char-Grilling the vegetables…..
Place a few paper towels on a large plate so its ready to place the char-grilled vegetables on when needed.
Heat up the grill plate over a medium/high heat.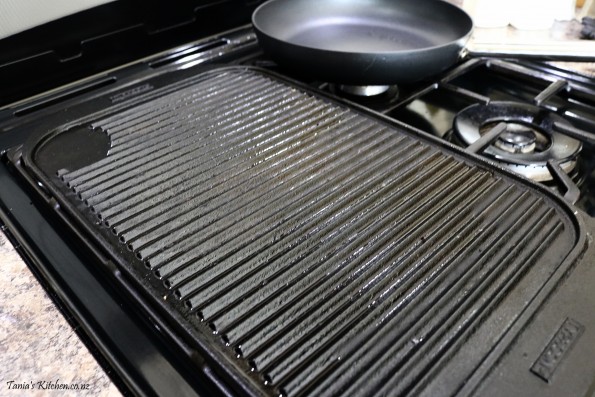 Toss all of the eggplant and zucchini slices in 2 tablespoons of the olive oil and grill them until each side of the slices have nice dark marks on them. The darker the marks the better as they will only be cooking a little bit more in the oven.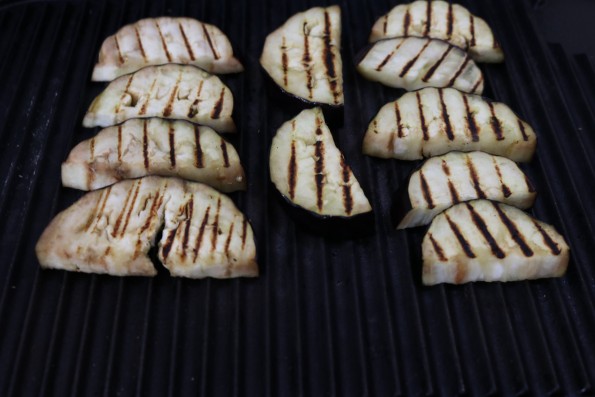 Place them on the plate.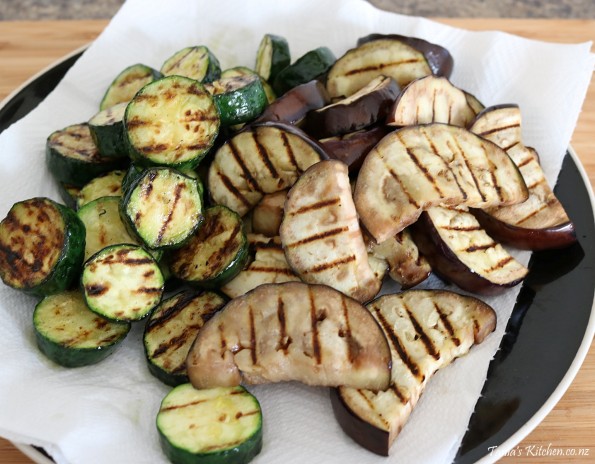 In the frying pan/skillet over a medium/high heat, heat up 2 tablespoons of olive oil and when it's hot add the diced onion. Stirring often, saute it for 3 minutes and then add the garlic and continue stirring so they don't stick and brown (if it you are stirring often and they are still starting to turn brown turn the heat down to medium) for another 2 minutes or until the onion is soft and looks clear and then remove the pan from the heat.
Now get the feta from the fridge, roughly crumble it up and set it aside.
Retrieve the egg and yoghurt mixture from the fridge and add to it, the cooked onion and garlic, the prepared veggies and the salt and pepper.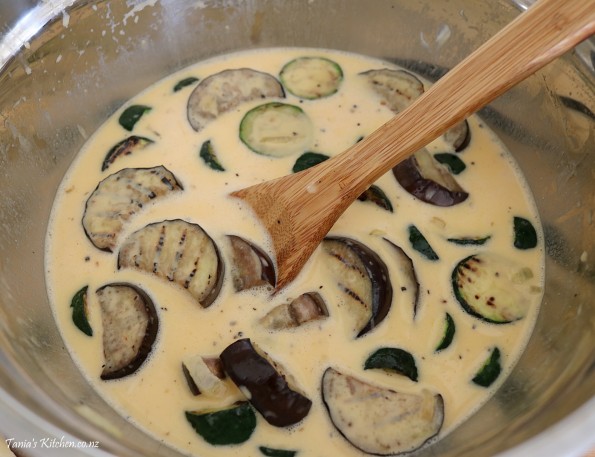 Put the frying pan/skillet back over a medium/high heat and add 1 tablespoon of the olive oil. Let it heat up for 30 seconds and then with a paper towel, carefully wipe the oil up around the sides so it is covering the whole inside of the pan.
Pour the contents of the bowl into the pan and leave it to set on the bottom, without stirring. Just like an omelette the bottom needs to set and how you can tell is that it will start to set (cooked egg) around the sides……anywhere between 3-5 minutes. Unfortunately I can't give you an exact time as different pans conduct different heat and your element or gas hob may be slightly hotter or cooler than mine. So just keep an eye on the sides and use your nose (you will smell it starts to burn on the bottom) if the bottom is starting to over-cook…..remove the pan from the heat quickly!
Once the sides look like they are setting, take the pan off the heat and spread the feta all over the top. Also drizzle the sweet chilli sauce all over and if you are a pepper fiend like I, crack some over the top and then carefully get your frittata into the oven.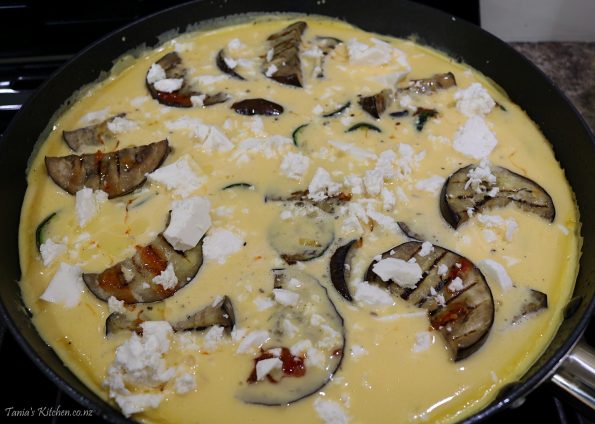 Bake the frittata for 25 minutes or until it's turning brown around the edges and the centre is firm to touch. To double check it is ready you can insert a sharp knife into the centre and it should come out clean and dry.
*It will puff up nicely in the oven and then deflate a bit, that's normal.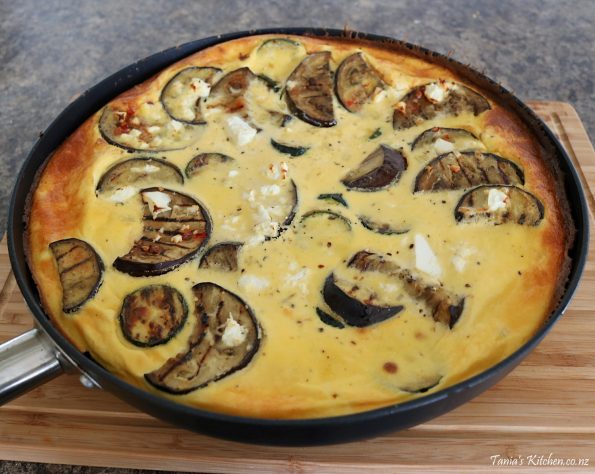 Once it's cooked you can either cut it into wedges in the pan or if you don't want your pan scratched or want to serve it on a nice plate at the table, gently slide a spatula around the sides and underneath it and carefully slide it out onto a serving plate.
Just before serving shave off some parmesan with a veggie peeler or cheese shaver and place it all over the frittata or sprinkle it all over with grated parmesan and then throw on some fresh basil leaves.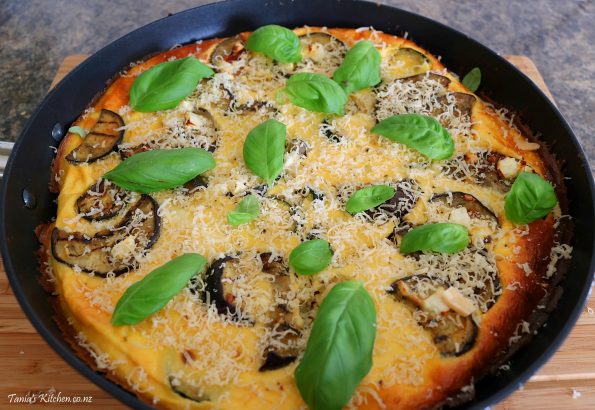 Leftovers – Good covered with cling wrap in the fridge for three days. Can be eaten cold but I think it's much nicer warm (just my opinion). Warm individual pieces in the microwave for I minute 50 seconds on High or wrap in tinfoil and heat up in a low oven; 160°C – fan-bake oven or 180°C – conventional oven, on bake, for around 15 minutes or to your liking.
……and again if you'd like to enjoy roasted vine-ripened tomatoes with your frittata too and haven't roasted them before, there are instructions here 🙂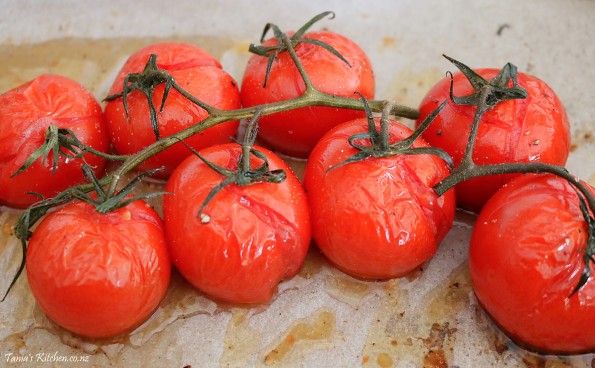 Greek Yoghurt, Eggplant & Zucchini Frittata
A Mediterranean style, Greek yoghurt, eggplant, zucchini & feta Frittata, served with fresh basil & oven-roasted vine-ripened tomatoes.
Ingredients
13 medium-sized eggs
1 1/2 cups unsweetened Greek yoghurt
1/2 cup medium or mild olive oil
1 large eggplant (aubergine)
3 zucchini (courgettes)
1 small onion
1 large clove garlic
1/2 teaspoon salt
1/4 teaspoon freshly cracked, black pepper
1 1/2 tablespoons medium or mild sweet chilli sauce
1 cup crumbled feta
1/4 cup grated or 1/2 cup shaved parmesan (optional)