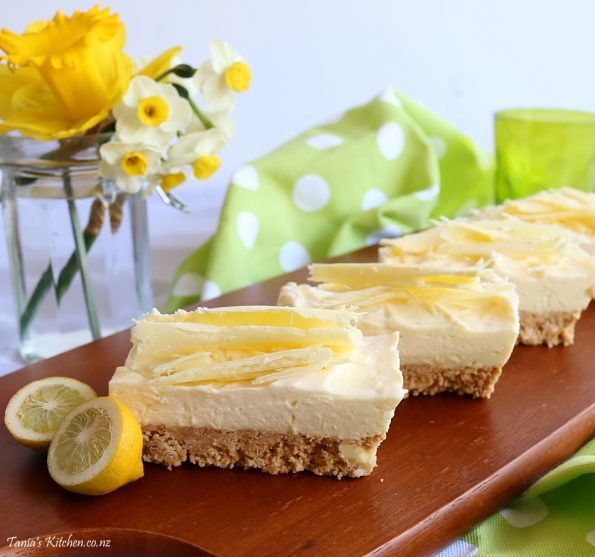 YUM…nom nom nom….num, num….the noises we made when we were eating a piece of this….before I had even taken my final pics, btw, couldn't help ourselves!
It's a basic cheesecake with no baking required, is quick to make and it tastes really good! (I say that about everything don't I) This cheesecake is a variation of the jelly one I posted a little while back (a slightly more grown up version). Gone is the wobbly jelly, I doubled the cheesecake filling and replaced the lemon juice with lime juice. It still has coconut and white chocolate in the base which both go perfectly with lime. 🙂
The limes I wanted to use for this had started to soften and were too soft to zest. I had just reminded myself I had to stop off at the fruit store to buy a few when I noticed that our lime tree had 6 limes on it! I couldn't believe it, I hadn't even noticed…..partly because I don't do the gardens enough and partly because it has never fruited….in eight (yes, eight) years! I was so happy and they were just perfect and the perfect amount for this cheesecake 🙂
INGREDIENTS
Base
125 g butter
1 x 250 g packet of plain biscuits (I used Vanilla Wines)
1/2 cup desiccated coconut
Cheesecake Filling
1 x 250 g pottle cream cheese (room temperature)
1 x 395g tin / 1 1/4 cups condensed milk
6 medium-sized juicy limes (you will need 1/2 cup juice from them & also 2 tablespoons of the zest)
3 teaspoons gelatine granules
Optional – 50 g (approx 1/3 cup) when chopped) white chocolate
To Decorate – 1/4 cup shredded coconut or 50 g white chocolate
Makes x 12 pieces
Notes
Want to use lemon? Just replace the limes with x 2 medium-sized lemons; using 1/2 cup juice from them and 2 tablespoons of the zest. 🙂
WALKTHROUGH
Base
First line a 27.5 cm L x 18 cm W x 4 cm D slice tin with non-stick baking paper and spray it all over lightly with non-stick cooking spray.
If you are adding white chocolate to the base, use a large knife to chop it up, roughly into crumb-like pieces and then leave it aside.
If the bits are too large the base will crumble when you cut it.
To make the biscuit base, first, place the butter in a small saucepan and slowly melt it over a low heat…..then set it aside.
Next, in a food processor, process the biscuits until they are as fine as coarse breadcrumbs (if any larger you run the risk of the base crumbling when you cut it up).
If you don't have a food processor place the biscuits into a resealable bag, cover it with a tea towel and bash and roll them with a rolling pin.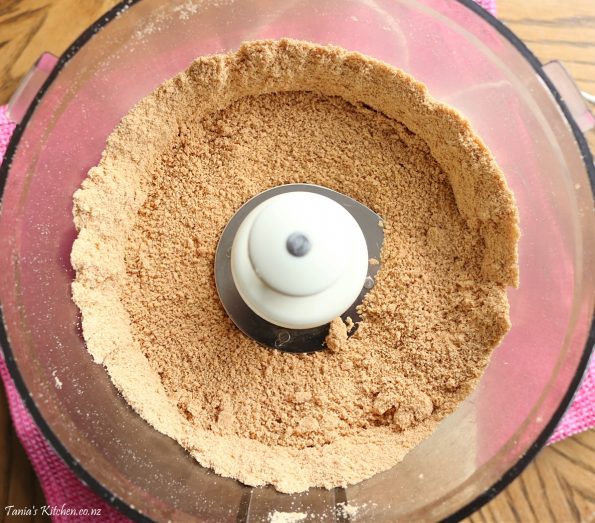 Place the biscuit crumbs into a large bowl and add the coconut and if using it, the white chocolate.
Then add the melted butter…..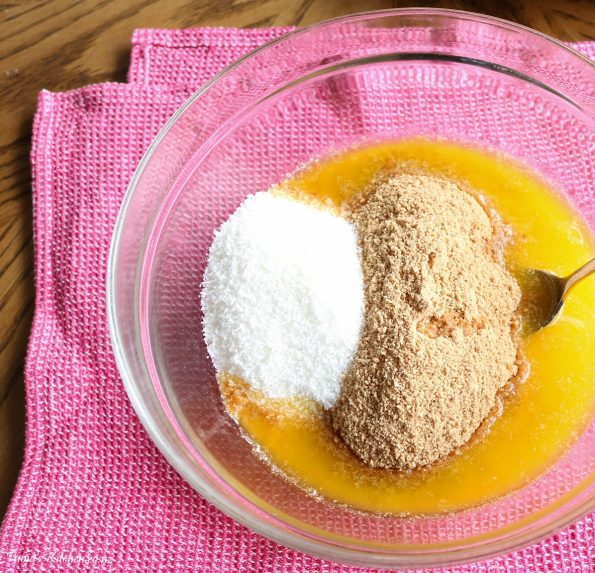 …..and mix it together until it's all thoroughly combined.
Using a spoon lay the biscuit mix into the tin as evenly as possible into the tin…..
…..and then press it down as evenly and firmly as possible. I use a flat bottomed glass or a metal spatula to get it nice and firm and even.
Place the base into the fridge to set whilst you make the filling.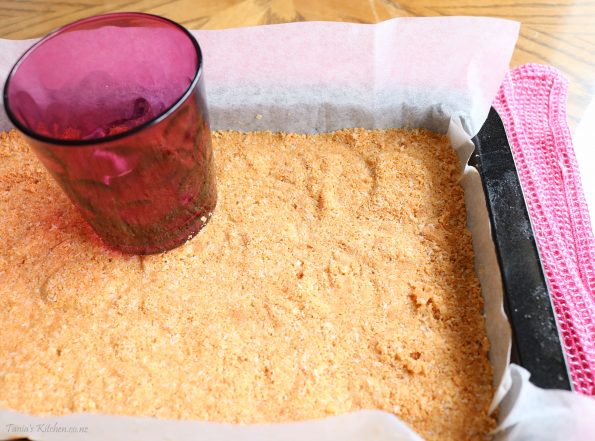 Cheesecake Filling
To make the filling place the cream cheese and the condensed milk into a medium sized bowl.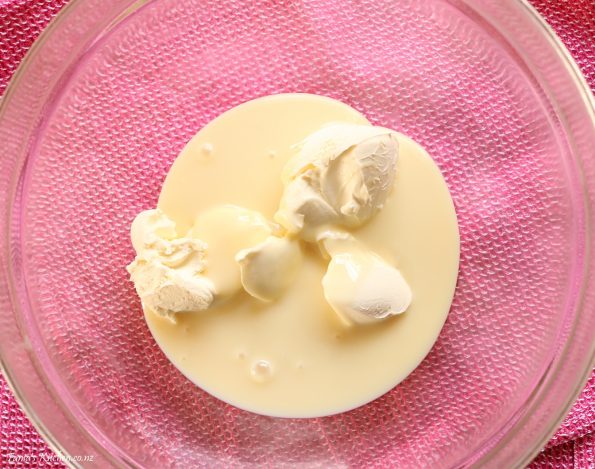 Now, using an electric beater on high, beat the cream cheese and the condensed milk together for around 3 minutes or until they are smooth and then set the bowl aside (just out on the bench).
Next, zest the limes (2 tablespoons) and add it to the bowl with the cream cheese and the condensed milk.
Then squeeze the juice from the limes.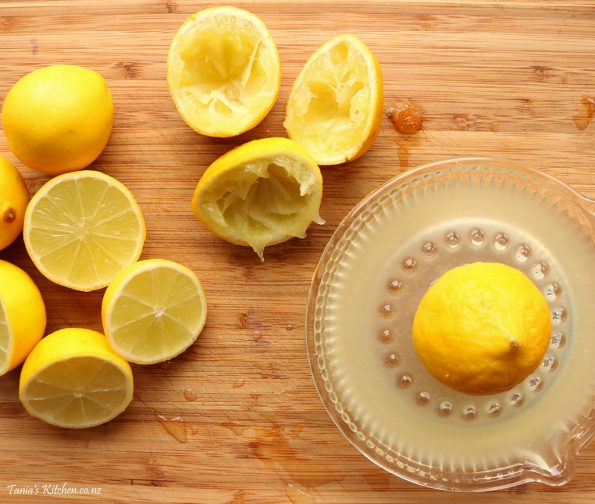 Once you have squeezed enough juice, place it into a small heatproof bowl. Sprinkle the gelatine over top of the juice, mix it in with a fork and leave it for 5 minutes.
Now boil the jug (kettle).
Find another heatproof bowl that is larger than the small bowl containing the lime juice and the gelatine and place the smaller bowl containing the juice inside it.
Carefully pour some boiling water into the larger bowl so that is reaches the same height as the lime juice and the gelatine inside the smaller bowl…..being careful not to get any boiling water inside the small bowl.
With a teaspoon mix, the juice and gelatine together until all of the gelatine has dissolved…..this will only take a minute.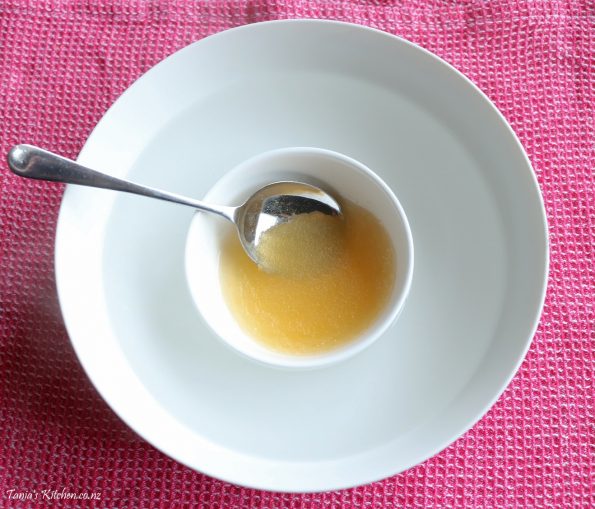 Then remove the gelatine bowl from the larger bowl and leave it sitting on the bench until it feels like it has cooled down to around the same temperature as the cream cheese and condensed milk.
Scrape every bit of the gelatine/juice into the bowl with the cream cheese, the condensed milk and the lime zest and using a spoon mix it all together.
Remove the base from the fridge and pour the cream cheese mixture over it and then using a metal spatula or the back of a spoon carefully spread it out evenly as possible, making sure it meets the edges of the tin.
Then return it to the fridge for at least 30 minutes.
Once set to the touch gently lift it out of the tin and place it on a board.
I slide it out by holding the tin at an angle above a board. I then hold the paper and lift one side up and then gently slide it out.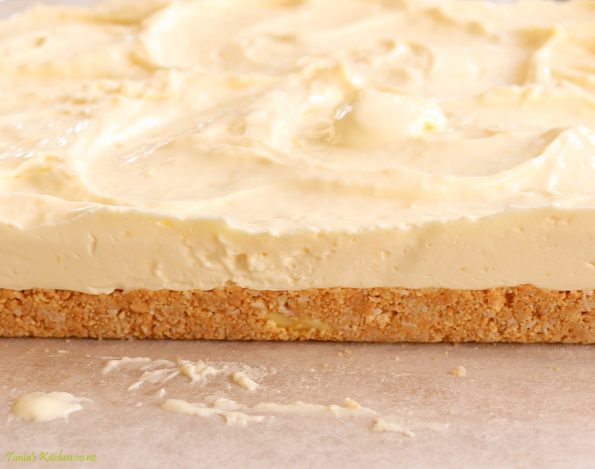 Use a very big, sharp knife to slice your cheesecake into pieces.When cutting anything with a soft centre or icing I always wipe my knife with a damp cloth in between cuts or the dirty knife will leave crumbs on top of your perfect looking baking!
When cutting anything with a soft centre or icing I always wipe my knife with a damp cloth in between cuts or the dirty knife will leave crumbs on top of your perfect looking baking!
Decorating
You can just eat it of course, it's fine the way it is now or if you want to make it a bit cuter…..
With coconut –  Simple sprinkle 1/4 cup of long shredded coconut over the whole cheesecake.
White chocolate – Grate around 50 g of chocolate all over the top of the cheesecake or make some chocolate shavings, which is super easy, there's a post here if you've never tried it before.
Candied lime slices – I wanted to do this but had no extra limes. 🙁 I think 3 overlapped little candied lime slices would look and taste so nice on this, there are some instructions here if you want to try it. Also, candied zest would look gorgeous and made in the same way and I hope to do a quick post on that one day because it's such a gorgeous decoration for baking and desserts.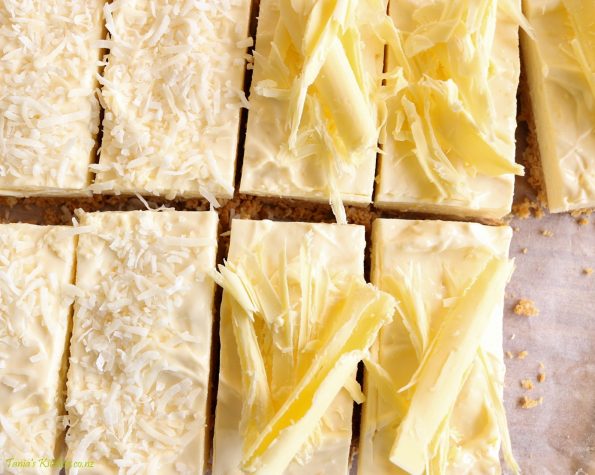 Storage – Loosely covered with cling wrap or place it in an airtight container it will be great for up to 5 days…..enjoy! Don't forget to share (oops, that was for me! thinking….and writing….out loud).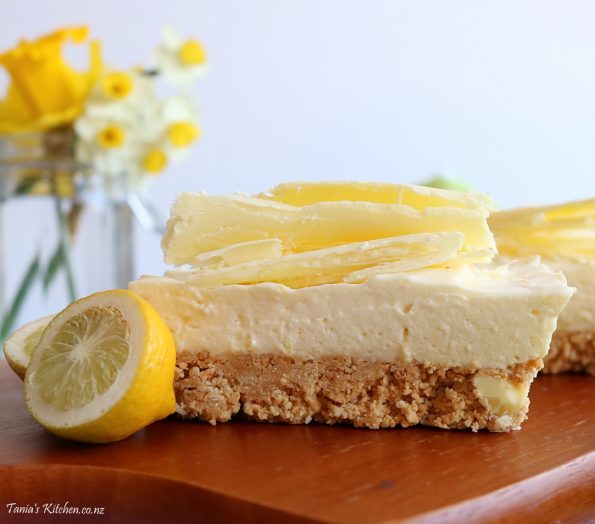 Now, tell me…..Has your lime tree produced more than 6 limes in 8 years?!
Related Posts
A simple lime cheesecake. A coconut & white chocolate, biscuit base with a lime flavoured sweet condensed milk & cream cheese filling.
Ingredients
Base

125 g butter
1 x 250 g packet of plain biscuits (I used Vanilla Wines)
1/2 cup desiccated coconut 

Cheesecake Filling

1 x 250 g pottle cream cheese (room temperature)
1 x 395 g tin / 1 1/4 cups condensed milk
6 medium-sized juicy limes (you will need 1/2 cup juice from them & also 2 tablespoons of the zest)
3 teaspoons gelatine granules

Optional

50 g (approx 1/3 cup) when chopped) white chocolate

Decoration

1/4 cup shredded coconut or 50 g white chocolate