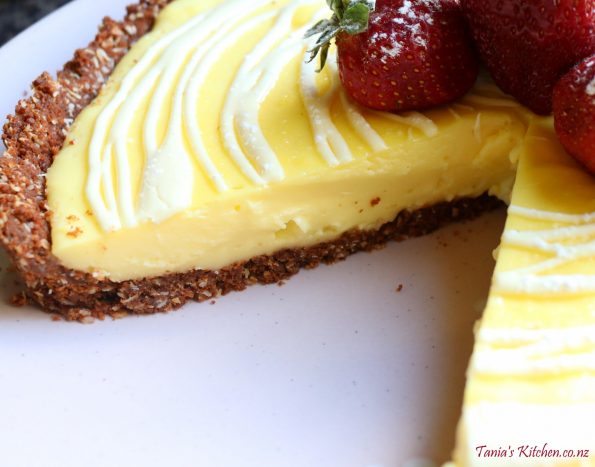 Hello to all of you who love all things custardy! I just made some fresh fruit flans and knowing how busy everyone is at this time of the year I wanted to fill one with a simple custard, which is yummy, yet quick and easy to make with no baking required. I decided it could have it's own post as you can use it to fill flans (tarts) of any shape or size where you need the custard hold it's shape and set firm enough to be cut into slices or pieces (it's also the filling in our beloved custard square).
'Proper' (good English there Tania!) custard's key ingredient is egg yolks and is called 'Crème Patissiere'. Custard powder makes an 'imitaion' custard and is a corn-flour based powder which is added to milk then heated and thickened. You could in fact call it cheating, but hey if you are pressed for time, why not, it still tastes good and that's all that matters right?! Typically custard powder directions from the box will give you a 'pouring' consistency custard which is fab for pouring over desserts but too thin to use as a filling.
You can flavour custard with many different things with vanilla being the most common, but also, chocolate, orange, coconut, caramel, passionfruit and liqueurs like Brandy, to name a few. As I use custard here and there in the future, I will add any different flavours I use to this post so you can try them and I'd love to know what flavour you love the best. 🙂
Thanks Alfred! – Custard powder was first formulated by Alfred Bird in Birmingham in 1837, because his wife loved custard but was allergic to eggs.
INGREDIENTS
4 cups (1 litre) of milk
100 grams butter
6 tablespoons icing sugar
8 tablespoons custard powder
Makes approx x 5 cups
WALKTHROUGH
Place all of the ingredients into a heavy bottomed saucepan and stir well, ensuring none of the dry ingredients are stuck to the bottom of the pan.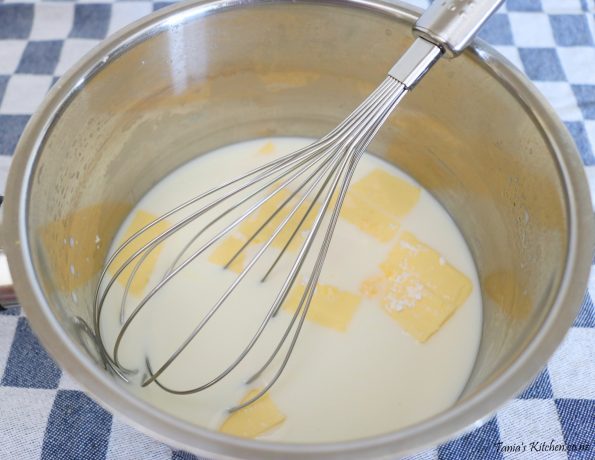 Over a medium heat and stirring often, bring it to the point where the butter has melted.
Then turn the heat up to medium and using a whisk, whisk slowly but constantly until it has thickened to the point of coating the back of a spoon (you can run your finger through it and the sides won't join back together).
Don't worry if it boils and bubbles, it needs to, as this helps it thicken, as long as you are constantly whisking it, making sure it's not sticking to the bottom and edges of the pan, it will thicken and be lump free. 🙂
From turning on the heat to thickened, mine took 10 minutes, which is just a guide as everyone's elements produce slightly different levels of heat.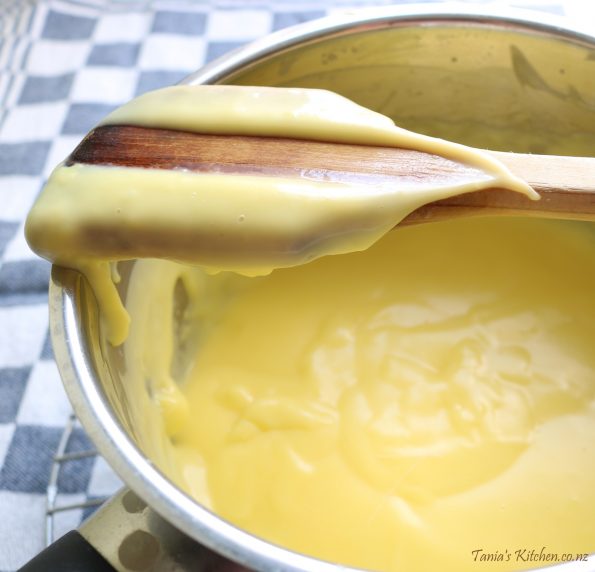 There you go, lovely thick custard, all ready to pour and spread it, into or on top of your flan base or pastry and then pop whatever delicious thing it is you've created into the fridge for at least one hour to set.
Covering the whole surface of still warm custard (sitting right on it) with plastic food wrap will stop it from forming a skin. When I use it in flans, I wait for it to go cold and set before I loosely cover it with wrap, because if you cover it whilst the custard is hot when you remove the wrap some of the custard will stick to it and you won't have a nice smooth finish, which is fine if you are covering the custard with fruit because no one will see it but if you are only drizzling chocolate over top or you are putting just a small amount of fruit in the centre the custard will not look as nice and smooth.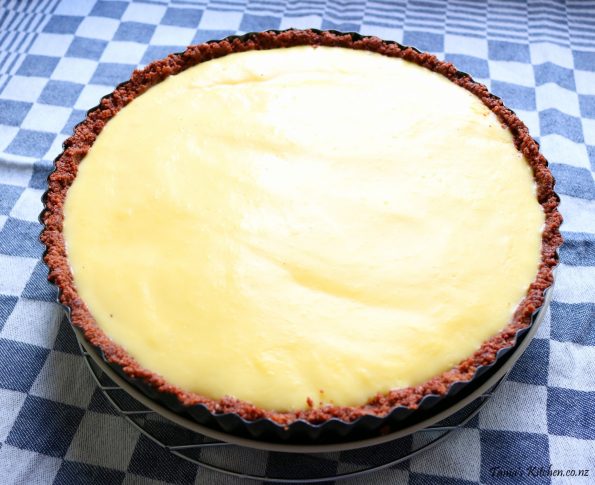 If you've made a flan you can drizzle melted chocolate over it, spread or pipe whipped cream over the top, cover it with fruit or simply dust it with icing sugar….easy peasy right!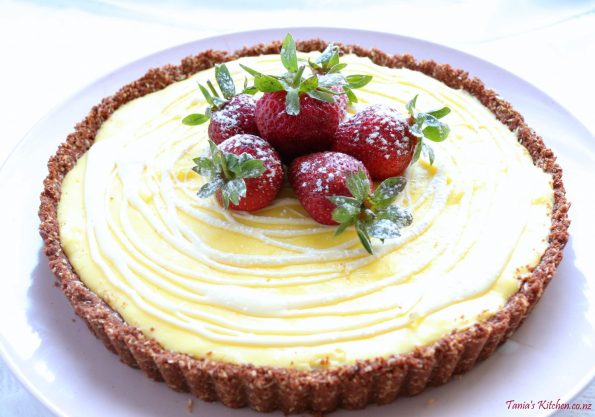 Storage – If you have spare it's best kept covered in the fridge for up to 5 – 6 days.
Vanilla Custard
Add to the saucepan with everything else x 1 teaspoon of good-quality (pure) vanilla extract, paste or the seeds from a 5 cm vanilla bean (2 inches).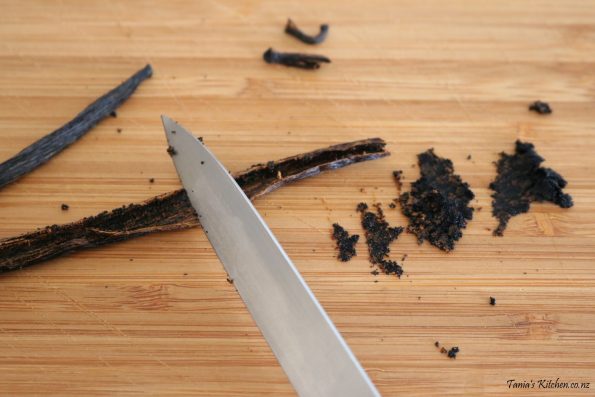 Passionfruit Custard
When your custard is made and still hot in the saucepan, simply stir in 1/2 cup of store bought passionfruit syrup/pulp or approximately the pulp from x 4 fresh passionfruit.
If you don't like eating the seeds but love the flavour strain the pulp through a sieve and discard the pips.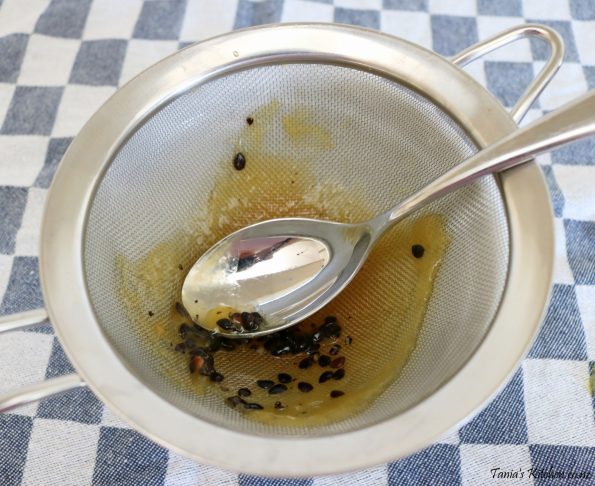 Go here if you'd like to fill a Sweet Short Crust Pastry Shell with this custard or here if you'd prefer a crunchy Biscuit Base for your flan.
I also use this recipeto make custard square amd thereisa recipe right over here. 🙂