Hi 🙂 This week I decided to make Crème Anglaise. It's been so long since I've made it and I wanted to get the recipe ready for my winter desserts…….(ain't no show without punch). I made two: Cinnamon and this lovely Orange flavoured one. If you haven't made Anglasie before you can mosey over to the Cinnamon flavoured Anglaise recipe where I've waffled on a little bit more about the yummy stuff. But here, right now, is nearly a copy and paste (with only a few exceptions) of the other one, but a heavenly Orange version…..which is just to die for 🙂
INGREDIENTS
5 egg yolks (medium-sized, I used 6's)
1/3 cup plus1 tablespoon white sugar
2 cups full fat milk
3 medium sized oranges
Optional – 2 tablespoons Grand Marnier
Makes approx x 2 cups
Notes
If I have egg whites spare, I always keep them n the fridge and make Friands with them within the next two days, you can find my recipes for friands here.
This is best made with full cream milk as Anglaise needs to be creamy and full bodied.
The Anglaise is passed through a sieved at the end but if you like you can use muslin cloth to obtain a finer, smoother texture.
WALKTHROUGH
Anglaise is made quickly because it can curdle within a minute so I always get prepared before I start.
So, first place the egg yolks in a medium sized bowl and have the sugar measured out and ready to go.
You will also need a spare bowl, a whisk, a wooden spoon and a sieve out ready.
As well you need another extra bowl that the bowl containing the yolks can fit fairly snuggly into. This empty bowl will be the ice-bath, you need to third fill it with water and ice when needed. If you have no ice on hand you can a third fill it now and then place it in the freezer.
So to make the Anglaise place the milk and the zest of two of the oranges into a medium sized saucepan and over a medium heat bring it to the boil, around 5 minutes, but keep an eye on it and as soon as it starts rising take it off the heat.
I always place a wooden spoon on top which stops the milk rising above (just in case I get distracted for a second).
Now add the sugar to the yolks in the bowl and……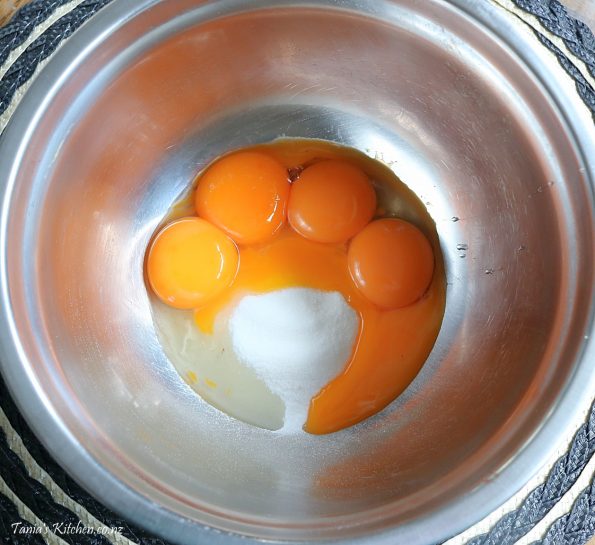 …..whisk them together until they are thoroughly combined.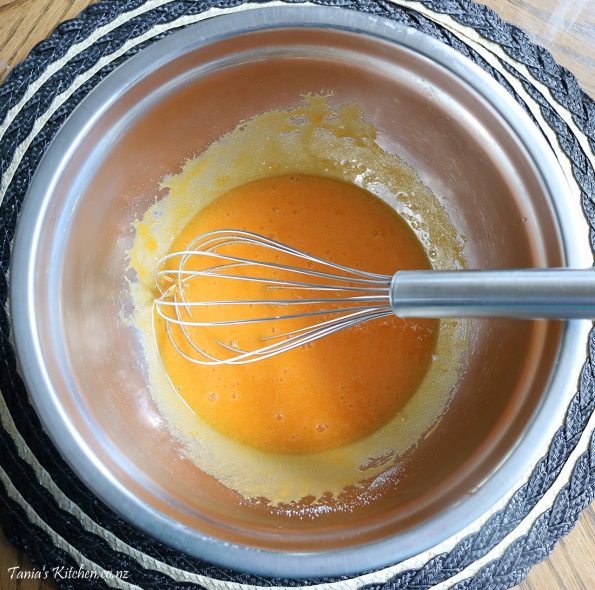 Then whilst quickly whisking, pour the hot milk into the egg yolks and sugar bowl.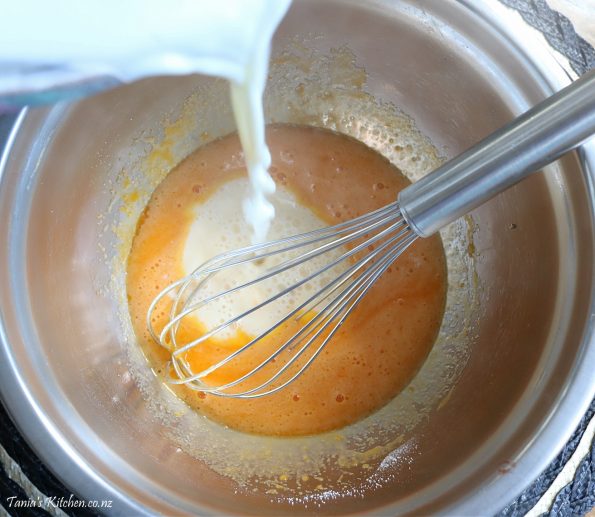 Get your bowl of iced water or cold water from the freezer out ready on the bench…..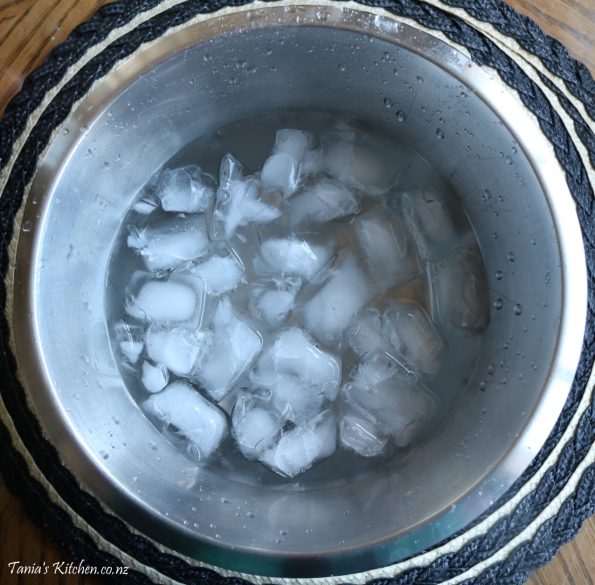 …..and then place the spare bowl snuggly into and on top of the icy water and then place the sieve on top of that bowl….all ready to go.
Now here's the tricky part, the part that often only comes from experience but I will do my best to make sure your Anglaise is successful.
Before we continue I want to tell you that It will be ready as soon as it coats the back of your spoon. So if you run your finger through the Anglaise that's on the spoon and the sides don't run back together it's ready. This may take anywhere between 1 minute and 3 minutes, mine took two but everyone's element temperatures or gas hobs omit different heat so the back of the spoon method is the best bet. If it's coating the back of the spoon but seems to you too runny, don't be tempted to cook it longer as another 30 seconds is enough to curdle it and it will also thicken a lot more as it cools down.
Now place the saucepan you poured your whisked mixture into over a medium-low heat this time and using a wooden spoon stir it constantly for approx two minutes or until it coats the back of the wooden spoon.
I would start checking after 1 1/2 minutes.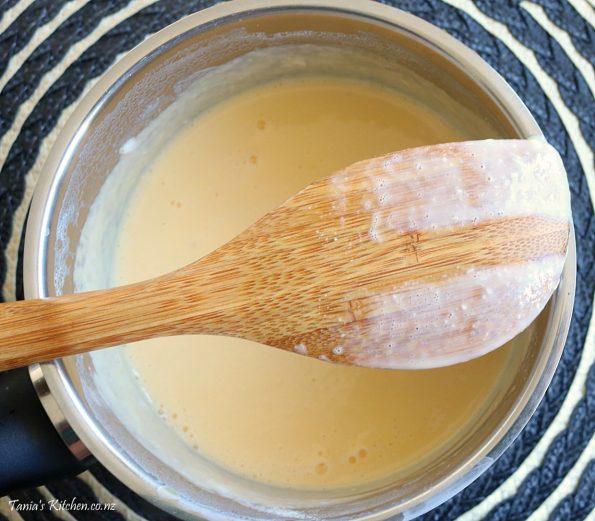 When you think it's ready quickly remove it from the heat and pour it through the sieve into the bowl that is sitting on top of the icy water.
Use the underside of the spoon to push the zest into the sieve to squeeze any last bits of flavour and discard whats remaining 🙂
After you've removed the sieve and whilst the Anglaise is still sitting over the cold water stir it with the wooden spoon for a few minutes to help it cool down quicker.
Then zest the last orange straight into it (and if using Grand Marnier add it now).
Sometimes if it's just slightly curdled on you, at this point you may be able to bring it back with some brisk whisking.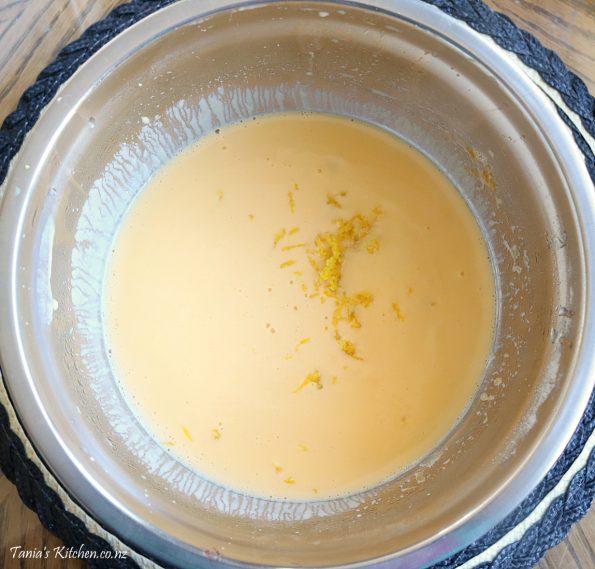 That's it, I really hope if you haven't tried it before that yours turned out beautifully because it really is lovely 🙂 So now you can leave it in the bowl or pour it into a serving jug, cover it with cling wrap and store it in the fridge for up to 3 days. Serve it cold, the colder the better.
So I really can't think of anything it doesn't go with, here's some with a Caramelised Banana Friands I made this week (actually made from the egg-whites of this recipe)…..with the Anglaise turning a simple Friand into a beautiful dessert 🙂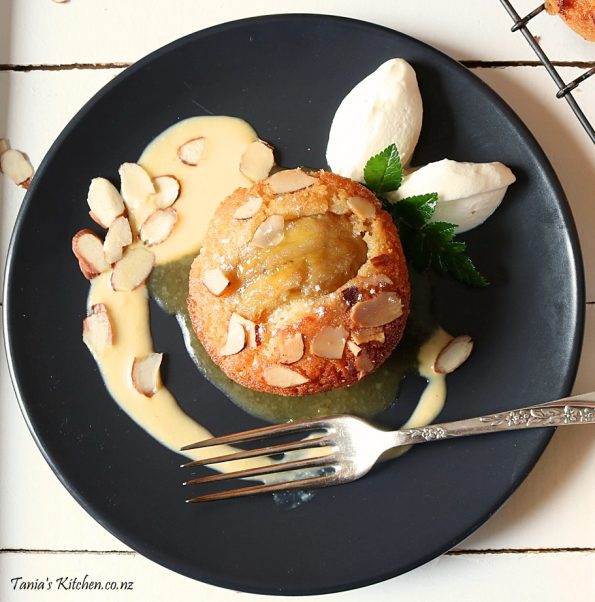 If you think a bit of spice would be more suited for your dessert, rather than citris, here is a recipe for Cinnamon Anglaise.
A orange flavoured Heavenly French runny custard that enhances any dessert.
Ingredients
5 egg yolks
1/3 cup plus1 tablespoon white sugar
2 cups full fat milk
3 medium-sized oranges