Hi everyone. 🙂 This week I want to share with you these little sweeties! I really wanted to make these for Valentine's Day but time got away on me.  I could've placed a reminder in my notebook for next year but hey, who needs a special day to bake fun, cutsie things…..not me! Besides my cousin got married recently and they are such a well matched, sweet couple so I'll dedicate these to them.
I went to pastry school so I can make Danish pastries and nothing beats them with their rich, layered pastry, their filling of classic crème pâtissière, the fruit and the drizzled over sweet glaze. It's really satisfying to make things from scratch but hey not everyone has the time or inclination to spend hours in the kitchen making pastry from scratch so these are a simple yet delicious substitute.
As said they're very easy to make with the hearts being the only fiddly part, but the kids might really enjoy cutting them out for you, it'll keep them busy for 20 minutes at least! They are made from ready to roll pastry (Edmonds is my fav but obviously whichever brand you choose) and are filled with a little sweetened cream cheese, topped with fresh or frozen raspberries. glazed with an egg-wash and baked until golden…..that's it. 🙂
P.S It's also fun to pop one in hubby's lunchbox when he's not looking so his workmates give him heaps, haha. 🙂
INGREDIENTS
125 g / 4 ½ oz cream cheese (½ cup)
2 tablespoons icing sugar
1/8 teaspoon vanilla extract or paste
1 x 400 g packet, ready to roll, Flaky Puff Pastry
2 teaspoons standard flour
1 small egg (size 5 or 6)
150 g / 5 ¼ oz fresh or frozen raspberries (1 ¼ cups)
icing sugar (confectioners sugar) to dust
Makes x 12
Notes
Yes, you can use ready rolled sheets. Most packets here are 750 grams so you won't use them all. Keep in mind the amount of filling and raspberries are for x 12 hearts.
If it's a hot day I would leave the pastry in the fridge until needed, if left out too long the heat will make it sticky and harder to roll out.
f you like lemon curd is  yummy replacement for the cream cheese. Some muffins and brioche I make I use cream cheese and lemon curd and I thought about doing it here too but the centre is so small I thought it might get a bit messy.
Of course you can use any other berries, fresh or frozen, I chose these because they are the colour of 'love'!!
STEP BY STEP
I used 2 different sized heart cutters. Of course, yours don't have to be exactly the same, just 'roundabout' the same size if you'd like to make x 12. The big one is approx 9.5 cm L (down the centre) x 8 cm W and the smaller one is 4 cm L x 4 cm W (large, 3.5 in L x 3 in W and small, 1.5 in L x 1.5 in W).
So, getting to it, line a baking tray with non-stick baking paper and then lightly spray it with non-stick cooking spray or grease it all over using half a teaspoon of soft butter.
Place the cream cheese, icing sugar and vanilla extract in a small bowl and using your electric beater on medium speed, beat it all together until creamy. Set it aside (leave it out of the fridge so that it's easier to work with later).
Remove the pastry from the fridge and its packet, place it on a very clean, dry bench that's lightly sprinkled with some of the flour and if you haven't already go find your rolling pin (btw, one of if not my fav kitchen utensil).
Using a rolling pin (of course!) gently roll the pastry out…..
I got taught to always roll away from yourself.
…..turning it around often to help you to roll it out more evenly and also so that it doesn't stick to the bench. You are aiming for a 3 mm thickness (about an 1/8 of an inch).
If it is a hot day or you are new to baking and haven't worked with pastry before and it is sticking, lift up half at a time and sprinkle a little bit more flour underneath. However be careful to only use what you need as a lot of excess flour will change the recipe of the pastry.  Also if you find that the rolling pin is sticking you can sprinkle a tiny bit of flour on to the pastry.
Check that the pastry isn't stuck to the bench at all and then cut out as many of the larger hearts as possible.
Use a metal spatula or palette knife to carefully lift them up and place them on to the baking tray.
Next, separate the egg and lightly whisk the white with a fork. Discard roughly half of it and then add the yolk to the remaining white and mix the two together.
When making a small egg-wash I always remove some of the white otherwise it won't give the pastry enough colour and adversely if there's too much yolk it will burn a little.
Using a pastry brush, brush the egg wash around the edges of the hearts.
As best you can, lay out and slightly overlap the pieces of remaining pastry together. Check there is enough flour on the bench and roll it out.
I don't knead the scraps together as I think I get less rise out of the pastry so I just lay them together and roll. There may be some cracks but that's fine just cut out the shapes where possible.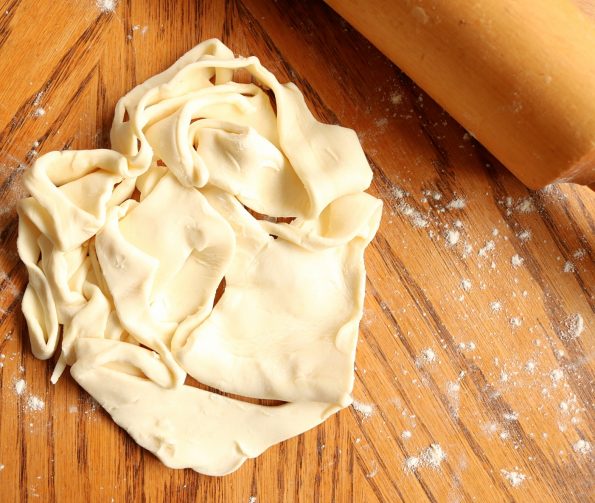 Then using the same larger cutter as the first hearts, cut out more but this time also cut out a smaller heart from its centre.
Remove the smaller heart and although it's cute and you'll go "naww"….it will go into the scrap pile, you will need that pastry as you keep re-rolling and cutting out more hearts.
Then carefully lift the 'hollow' heart shape on to the hearts on the tray and…..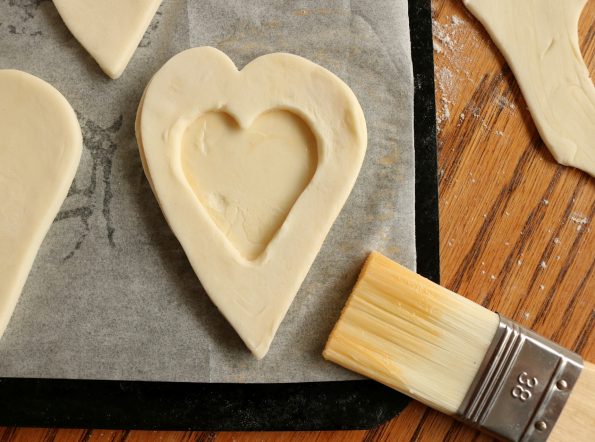 …..brush those with egg-wash also. 🙂
Continue re-rolling the pastry scraps (including the little hearts) and making hearts until it's all used up.
Now they are ready to fill.
Before filling them, turn the oven on. Place a rack just below the centre of the oven and preheat your oven to 170°C fan bake oven or 190°C conventional oven, on bake.
Distribute the cream cheese mixture evenly between the centres, trying not to get it too much outside the centre but it doesn't need to be perfect either, it will soften and flatten out in the oven.
Next place the raspberries on top of the cream cheese……you can see I have done so in a somewhat obsessive fashion using 5 with just one at the narrow end (if you have huge raspberries you may use one or two less).
Place them into the oven to bake for 20 minutes or until the bottoms are a deep golden brown.
These are way too hot to eat when they emerge, looking all fab from the oven, let them cool down to just above room temperature before enjoying. Of course you can eat them cold but in my opinion, they are nowhere near as delicious
Liberally dust them with icing (confectioners) sugar whilst they are still on the tray, to save making a mess of course.
Serve at room temperature on a pretty plate for an afternoon or high tea. For dessert serve one or two (or 3 if you're feeding me), warmed in the oven with some whipped cream, maybe some lemon curd and a scattering of sliced almonds.
Storage – Trust me these won't be around long but any left for the next day should be cling wrapped and kept in the fridge for up to 3 days.
To reheat please don't use the microwave which softens the pastry, just pop them on a tray, then into the oven on the same temperature they were cooked on until they are warm (around 5 minutes).
Talking about marriage and popping treats in your 'other half's' lunchbox, I'd really like to know how many people make lunch for their spouse. I do, do you think that's old-fashioned? Sometimes I think because I ran a kitchen for so many years that I am just a control freak and have to be in control of all of the food, lol.
Raspberry Puff Sweet Hearts
Puff pastry, cream cheese & raspberry filled hearts. Sweet for Valentine's Day, birthday party fare & dainty enough to enjoy at high tea.
Ingredients
125 g / 4 ½ oz cream cheese (½ cup)
2 tablespoons icing sugar
1/8 teaspoon vanilla extract or paste
1 x 400 g packet, ready to roll, Flaky Puff Pastry
2 teaspoons standard flour
1 small egg (size 5 or 6)
150 g / 5 ¼ oz fresh or frozen raspberries (1 ¼ cups)
icing sugar (confectioners sugar) to dust
Instructions
The cutters I used for this recipe are approx 9.5 cm L (down the centre) x 8 cm W and the smaller one is 4 cm L x 4 cm W (large, 3.5 inch L x 3 inch W and small, 1.5 inch L x 1.5 inch W).
Line a baking tray with non-stick baking paper and then lightly spray it with non-stick cooking spray or grease it all over using half a teaspoon of soft butter.
Place the cream cheese, icing sugar and vanilla extract into a small bowl and using your electric beater on medium speed, beat it all together until creamy. Leave aside, on the bench.
Place the pastry on a clean, dry bench that's lightly sprinkled with some of the flour.
Using a rolling pin, gently roll it out, turning it around often to aid in rolling it out evenly and also so that it doesn't stick to the bench. If it starts to stick to the bench or the rolling pin, sprinkle some more flour under or on top of it. Aim for a 3 mm thickness (1/8 of an inch).
Check that the pastry isn't stuck to the bench at all and then cut out as many of the larger hearts as possible. Use a metal spatula or palette knife to carefully lift them up and place them on to the baking tray.
Separate the egg and lightly whisk the white with a fork. Discard roughly half of it and then add the yolk to the remaining white and mix the two together.
Using a pastry brush, brush the egg-wash around the edges of the hearts.
As best you can, lay out and slightly overlap the pieces of remaining pastry together, check there is enough flour on the bench and then roll it out.
Using the same larger cutter as the first hearts, cut out more but this time also cut out a smaller heart from its centre.
Remove the smaller heart and then carefully lift the 'hollow' heart shape on to the hearts on the tray and brush those with egg-wash also.
Continue re-rolling the pastry scraps (including the little hearts) and making hearts until it's all used up.
Place a rack just below the centre of the oven and preheat it to 170°C fan bake oven or 190°C conventional oven, on bake.
Distribute the cream cheese mix evenly between the centres, trying not to get it too much outside the centre but it doesn't need to be perfect either, it will soften and flatten out in the oven.
Place the raspberries on top of the cream cheese. I used 5 but if you have huge raspberries you may use less.
Place them into the oven to bake for 20 minutes or until the bottoms are a deep golden brown.
Liberally dust them with icing (confectioners) sugar whilst they are still on the tray.
Serve at room temperature on a pretty plate for afternoon or high tea. For dessert serve one or two, warmed in the oven with some whipped cream, maybe some lemon curd and a scattering of sliced almonds.
Cling wrapped, these will keep well in the fridge for up to 3 days.
To reheat please don't use the microwave which softens the pastry, just pop them on a tray, then into the oven on the same temperature they were cooked on until they are warm (around