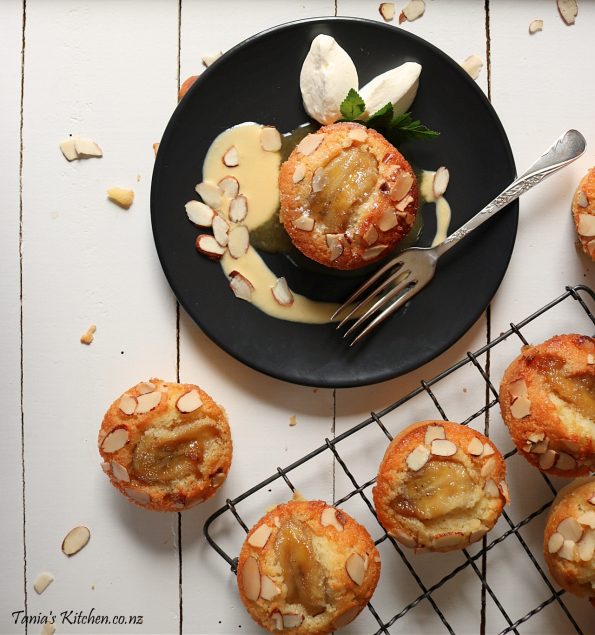 One thing always leads to another in my kitchen, I make Crème Anglaise and write a post about that……Then there are  egg-whites to use up so I want to make Friands (my go to recipe when egg-whites are lying around in the fridge). I look around and the only fruit I have are bananas and I remember I used to caramelise them to serve in crepes at a restaurant I worked at……and then I remember they have a rum sauce, even better, I love rum……Then I think I may as well write a separate post on just caramelise bananas as they are good just to eat on their own as a dessert…..and that's how my brain works, normal? obsessive? I'm no sure if it's weird but thinking about recipes puts me to sleep at night so I think I'm basically just obsessed about food 🙂
These little French tea cakes are just so lovely with their slightly crusty outside. They're really tasty as they're made with a lot of ground almonds and they have a nice texture because they are made with rice-flour and icing sugar which are both fine. I always stick to the same base recipe because they turn out nice every time and add new flavour variations depending on what I have lying around…..as you do.
Where did Friands Originate?   French for 'dainty' or 'a gourmet who delights in delicate tastes' originate from France where they are called 'Financiers'. They were first created in the late nineteenth century by a pastry chef named Lasne, who had a shop on the rue Saint-Denis near the Bourse, the city's stock exchange and he made them in the shape of gold bars/ingots (little rectangles). The Australian and New Zealand version are a bigger, oval shaped adaption and we do not brown the butter in the recipe like the French do.
INGREDIENTS
Caramelised Bananas
2 large bananas (or 3 medium-sized)
3 tablespoons (45 grams) butter
1/4 cup soft brown sugar
1/4 cup rum
Friands
8 medium sized eggs (only the whites will be needed)
2 cups icing sugar
2/3 cup rice flour
1 1/3 cups ground almonds
250 grams butter
1 tablespoon sliced or slivered almonds
Optional – 1 tablespoon orange zest (from 1/2 large or 1 small orange)
For this recipe, you will need a 12 hole medium-sized muffin tin (with the holes being 3 cm D x 7 cm W) or a 9 hole friand tin (oval holes).
Warning – If using Rum you will be igniting it on the stove-top to burn off the alcohol so please make sure there are no curtains or any flammables nearby. The flames don't get too high but you may get the odd one that licks up, so just keep that in mind.
Note*  The rum in this recipe will be 'burnt off' thus removing a percentage of it's alcohol content but not all so this recipe is not for the kids!
WALKTHROUGH
Caramelising the bananas…..
Peel and slice the bananas into x12 diagonal slices each, about 3/4 to 1 cm (roughly 1/4 to 1/2 inch) thick making x24 slices. It's okay if there's a few extra, you can eat those later!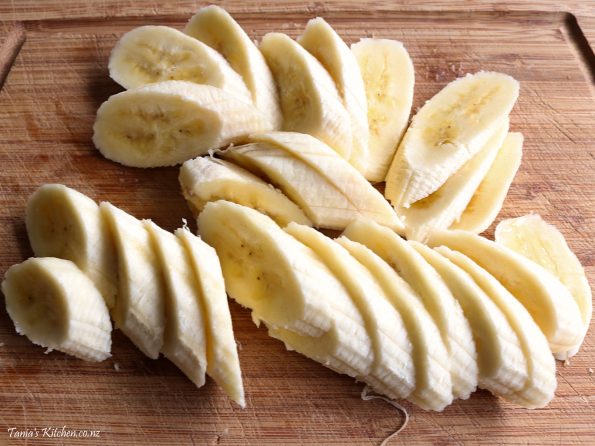 Place the butter and the brown sugar into a large non-stick frying pan.
Then over a medium heat let it melt together (stirring constantly with a wooden spoon) for around 2 minutes or until it's dissolved and starting to bubble forming a caramel.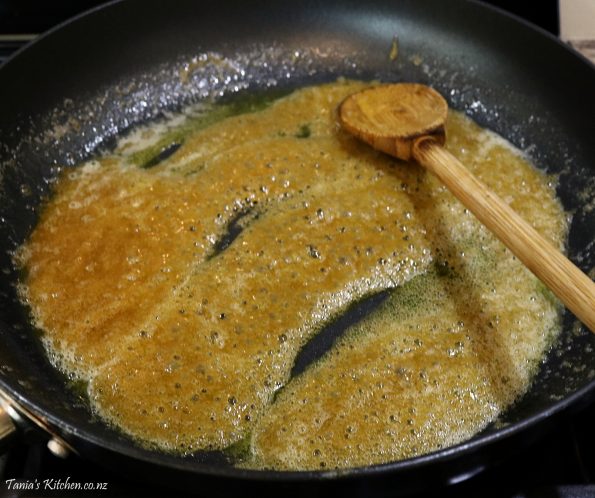 So as soon as the caramel starts bubbling add the banana slices and fry them for I minute and then using a spatula (not tongs, they tend to break them up) flip them over and…..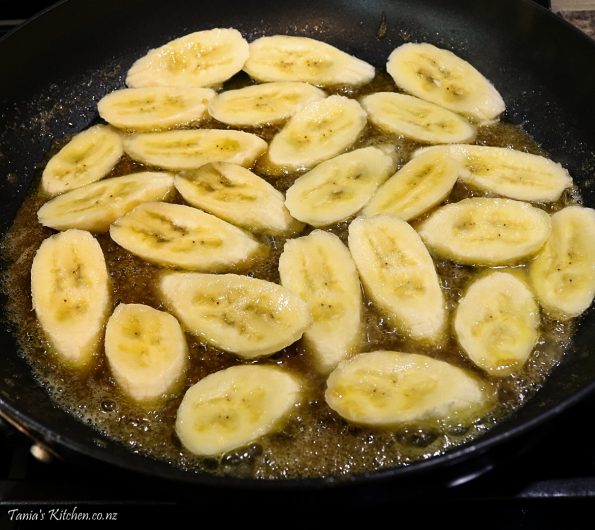 …..fry the other side for I minute.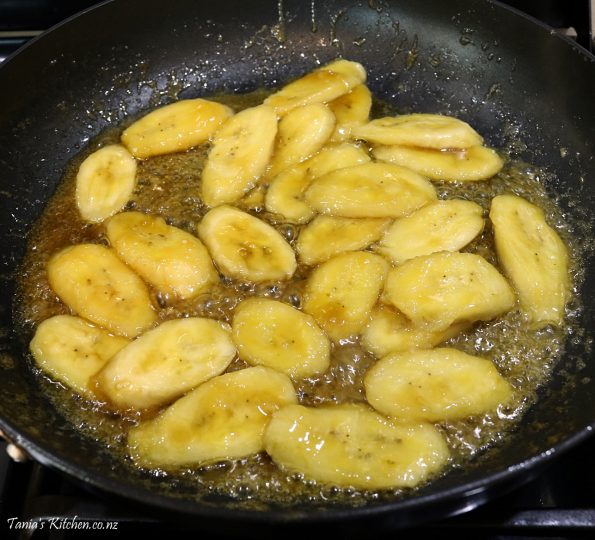 Time to add the rum. For safety reasons, remove the pan from the heat (you can leave the heat on) and then add the rum to the pan.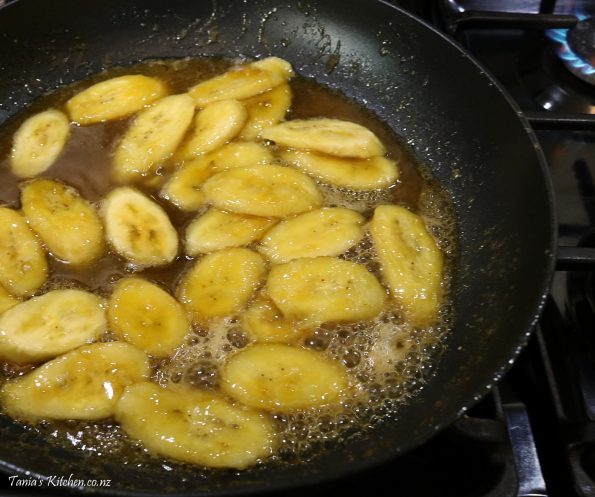 Then return the pan to the heat and using a match or a lighter, ignite the alcohol in the rum (just hold the flame as close to the liquid as possible) and then let some of the alcohol burn off, this may take a minute (or as soon as the flames disappear) and then turn the heat down to medium-low and simmer for one minute or until the sauce thickens slightly.
Remove the pan from the heat and set it aside whilst you make the Friand batter.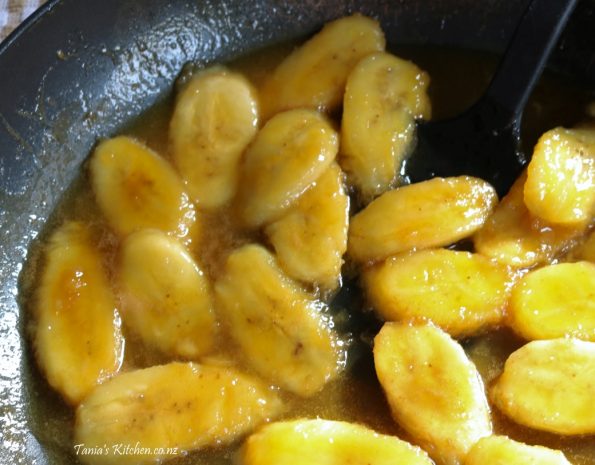 Making the friands……
First in a little saucepan, over a low heat, melt the butter and then leave it to cool. I think for this recipe it's best to cool it down to just above room temperature, so I melt it before I even get any of the ingredients out and then by the time I am ready to use it, it's usually at the right temperature.  If you use it hot it can melt the sugar in your recipe (making your friands denser) and hot butter can also cook the eggs, leaving little bits of cooked egg whites in your friands. You also wouldn't want to leave it to go cold either, where it will start to re-solidify….whew!
Next place an oven rack just below the centre of the oven (the top of the tin should be around the centre of the oven) and then turn your oven onto 150°C/fan-bake oven or 175°C/conventional oven, on bake.
Now separate the eggs over a medium sized bowl and lightly whisk the egg whites until they are frothy. What you are doing here is JUST breaking them up (this shouldn't take longer than 30 seconds). If you over whisk them your friands will end up with a chewy, meringue texture and will spread outwards in the tin instead of rising up and they will be impossible to get out of the tin…..not trying to scare you, I just want to spare you from making my mistakes 🙂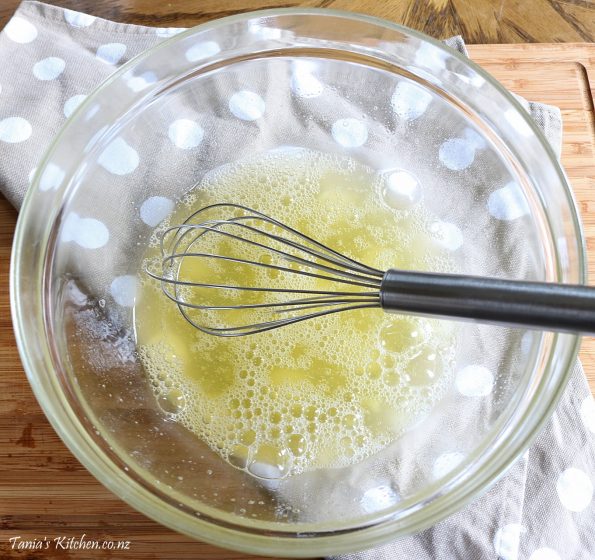 After breaking up the whites, add the icing sugar, the ground almonds, the rice flour and (if adding the zest) zest the orange straight into the bowl.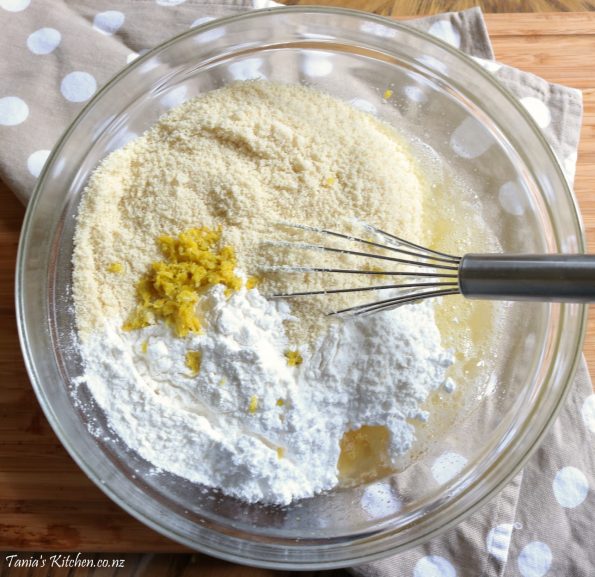 Start whisking whilst pouring in the melted butter and then…..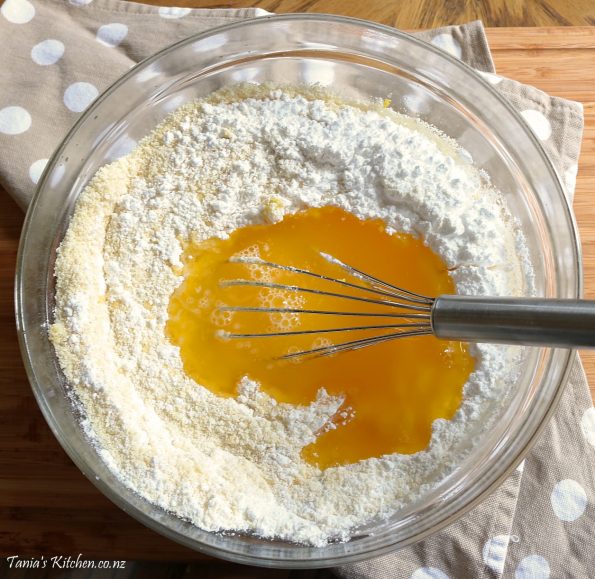 ……continue whisking it all together until the batter is free of lumps.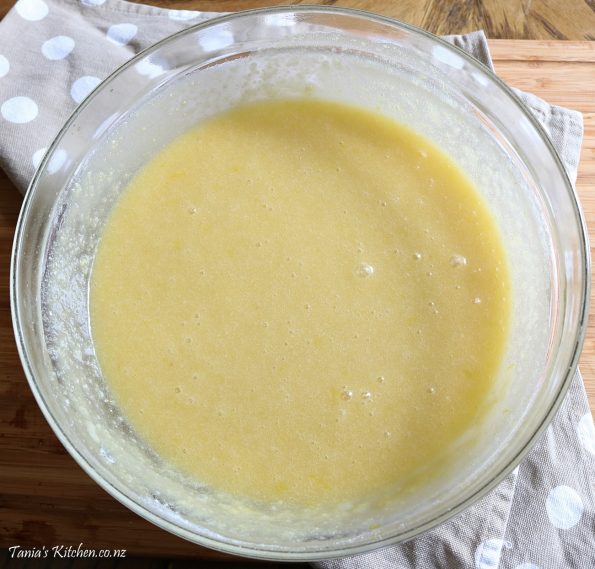 Then spray the tin liberally with non-stick cooking spray and then place one banana slice in each hole.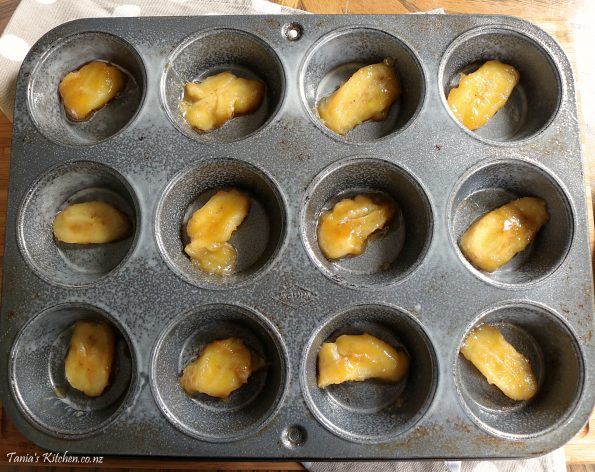 Pour the batter on top of the banana slices, into all of the holes (I use a jug for this) and then place a banana slice on top of each one.
*I filled mine right to the top but if you like you can stop 1/2 cm (1/4 inch) from the top and place the extra batter aside and bake a few more after these are done 🙂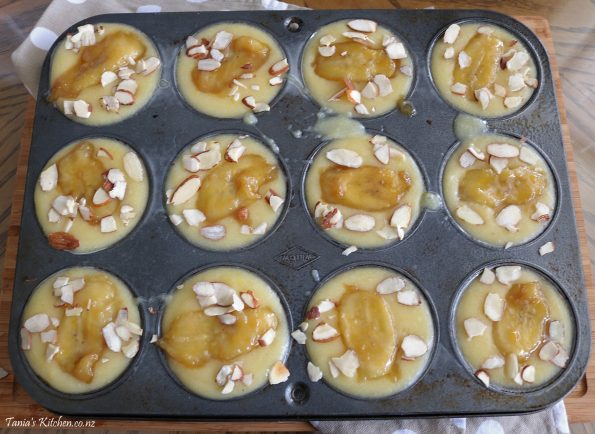 Now place them in the oven and bake them for 30 minutes or until they are golden brown and the centres (beside the banana) spring back when you gently push into them or a knife comes out clean.
If you are using the 9 – hole friand tin they will be ready around the 35 minute mark.
Leave them in the tin for 10 minutes and then with a knife gently ease them out and cool on a wire rack.
If they have over flowed a bit (like mine) simply run a sharp knife around the edges and if the tin was sprayed well enough they will still pop out fine.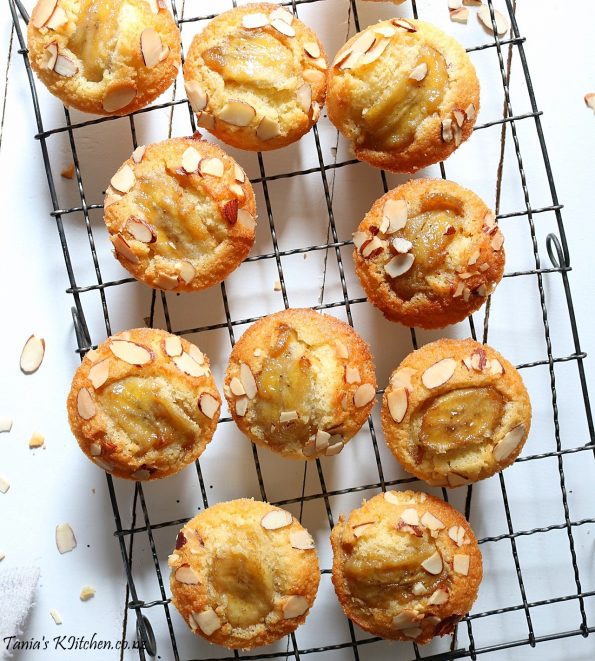 That's it, aren't they gorgeous, I hope you like them 🙂
Perfect for morning or afternoon tea. They also make a fantastic dessert, just warm each one up for 20 seconds in the microwave and serve them with things like crème anglaise, vanilla ice-cream, whipped cream or crème fraiche.
Storage – Keep in an airtight container in the pantry. Like a lot of baking, friands are best in the first two days. If they don't feel as fresh as you'd like soften them a bit by warming each one up for up to 20 seconds in the microwave just before eating them.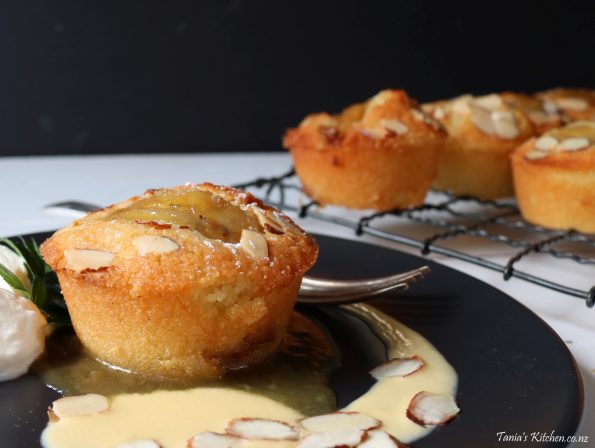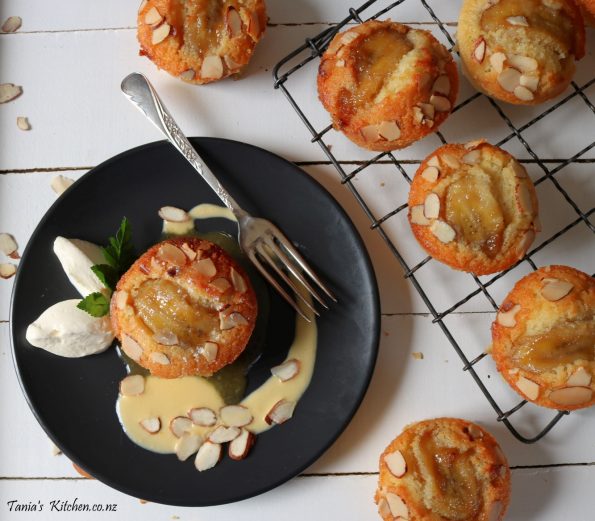 If you'd like to try some different flavoured Friands there are more recipes in my 'cakes' category, here.
Also, if you'd like to make Caramelised Rum Bananas on their own as a dessert or to have with pancakes or waffles, there's a recipe just for them here 🙂
And ALSO (lol) there are a few luscious sauce recipes here if you would like to use up those egg yolks; hollandaise sauce and moscato zabaglione.
Caramelised Rum Banana, Friands
Gluten free, little French tea cakes, made with ground almonds & rice flour & topped with rum, caramelised banana & sliced almonds.
Ingredients
CARAMELISED BANANAS

2 large bananas (or 3 medium-sized)
3 tablespoons (45 grams) butter
1/4 cup soft brown sugar
1/4 cup rum

FRIANDS

8 medium sized eggs (only the whites will be needed)
2 cups icing sugar
2/3 cup rice flour
1 1/3 cups ground almonds
250 grams butter
1 tablespoon sliced or slivered almonds

Optional - zest of 1 large orange (or 2 medium-sized)