These strawberry and filo stacks are a super easy dessert I saw a few months ago on the food network, I think a UK chef, I think it was James Martin. I wanted to make it because I love working with filo (phyllo), it's nice and easy to work with…..no fuss!
They are stacked with creme chantilly and fresh strawberries (of course you can use any fresh berries) between sheets of crispy baked, pistachio or almond filo rectangles.
I made quite a few and used both pistachios and sliced almonds and they both tasted delicious, adding a slight crunch along with the crispy filo, a nice contrast to the billowy cream.
If you keep the filo in an airtight container in the pantry, you can bake it a day ahead and also pre whip the cream earlier on the day you need it so when it comes to serving them it'll only take 10 minutes, gotta love that.
Now you know me I have to add some info here dont I, more my my own knowledge bank…..you probably already know this!
Filo (also spelled phyllo, which means 'leaf'  in Greek) is tissue thin sheets of pastry. Many popular Greek dishes, such as baklava and spanakopita (my fav!)are made with phyllo pastry. Because phyllo doesn't have much fat (like other pastries that are made with butter) the sheets are usually brushed with melted butter or oil (I like butter as it tastes much better) and it bakes up light, flakey, airy and crisp, it's beautiful!
INGREDIENTS
4 sheets filo pastry
2 tablespoons butter
2 tablespoons pistachios or sliced almonds
300 mls full cream (1 1/4 cups)
2 tablespoons icing sugar
1/2 teaspoon vanilla extract or paste (or the seeds from a 5 cm/2 inch piece of vanilla bean)
2 x 250 gram punnets strawberries (approx)
Decorating – Icing sugar for dusting, a few extra nuts, some borage flowers or a few sprigs of mint or angelica.
Makes x 4
Notes
Due to my excessive nature and my love (aka, massive addiciton) of all things sweet, I went a little overboard on the cream. The 'fam' thought it was a good amount but next time I will half it so there is more of a balance between the pastry and the cream. So if you find cream a little rich I recommend halving it also and just piping or spooning one line along the filo rectangles rather than two.
Of course replacing the strawberries with raspberries or boysenberries would taste amazing too.
WALKTHROUGH
First, if you are using pistachios, roughly chop them up into little pieces. If you are using sliced almonds they are good to go, so just get those out of the pantry, ready.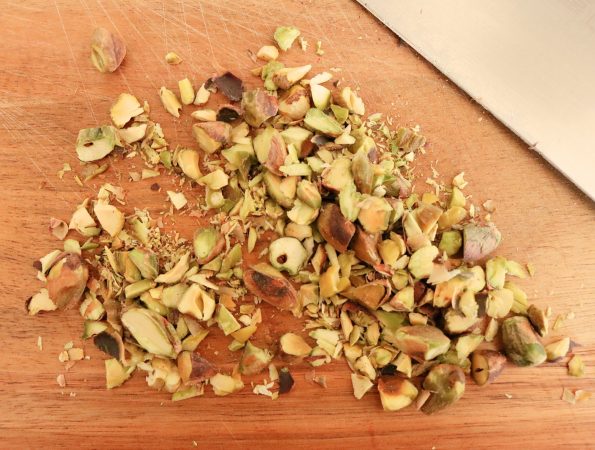 Next, place a rack in the centre of the oven and preheat your oven to 150°C fan bake oven or 170°C conventional oven, on bake.
Then in a wee saucepan or in the microwave for approx 30 seconds, melt the butter.
Get a flat baking tray and place a sheet of baking paper on top (making sure it's big enough for a sheet of filo to lay on) and also cut an extra sheet the same size for later on. Now using a pastry brush lightly brush it with some of the butter.
Open your packet of filo and lay it out on to your clean bench or a board. Carefully place a piece of filo on top of the baking paper and lightly brush some melted butter all over it.
Then place another piece of filo on top and butter that also.
Continue until all four are laying on top of each other and all have all been lightly brushed with butter.
If you haven't worked with filo before you may like to lay a damp (not wet) tea towel over the stack of filo that you are taking from as if it sits there for a long time it will dry out and go brittle. Also if some tears, it's okay just patch it up, it'll be fine.
Now using a sharp knife cut it into 8 pieces.
No need to be too fussy, it's a bit of a rustic looking dessert but hen again if you're the measuring type, go hard with that ruler!
Next scatter the pistachios or almonds over top of the rectangles.
Then place the other piece of baking paper on top and…..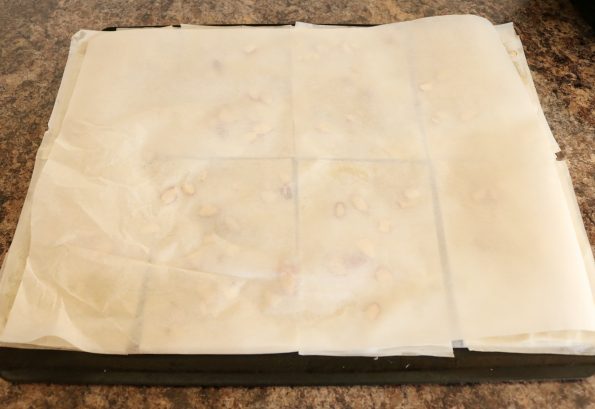 …..then place a silpat mat or a large, light, baking tin on top and place them in the oven for 10 minutes.
Placing something on top helps them to seperate less later on and also helps to omit some of the larger air bubbles that will break when you are handling them. I don't own a silpat mat so I used a light swiss roll tin. I wouldn't want to use a heavy oven dish as it will flatten them too much.
Once done leave them on the tray to cool down totally before creaming (or placing them in an airtight container if using tomorrow).
Whilst your beautiful filo rectangles are cooling down it's a good time to whip up the creme chantilly so place the cream, the icing sugar and the vanilla into a medium sized bowl.
It needs to hold it's shape because you are plonking heavier strawberries on top of it, so using an electric beater on medium/high whip it until it has stiff peaks.
When at the stiff peak stage, if you lifted some up with a spoon it would stay upright, holding its shape and not falling back down at all.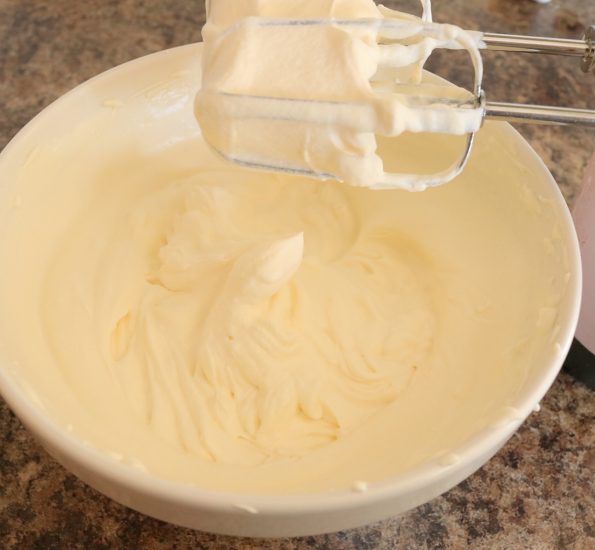 Place in the fridge until needed.
To fill them just pipe or carefully spoon half of the cream on top.
It's probably best to put them together on their individual serving plates rsther than on a platter first like I did. I used a metal spatula to lift them from the platter to the plates but it was a bit 'dicey' because they are quie delicate!
Then slice the strawberies in half (if they are little you can leave them whole if you like) and lay half of them on the cream.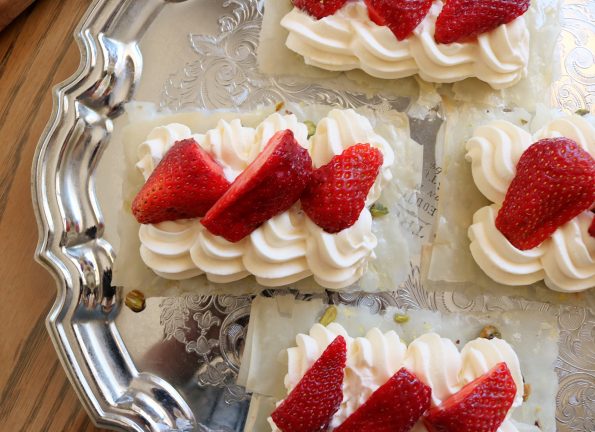 Pipe or spoon on the remaining cream and then…..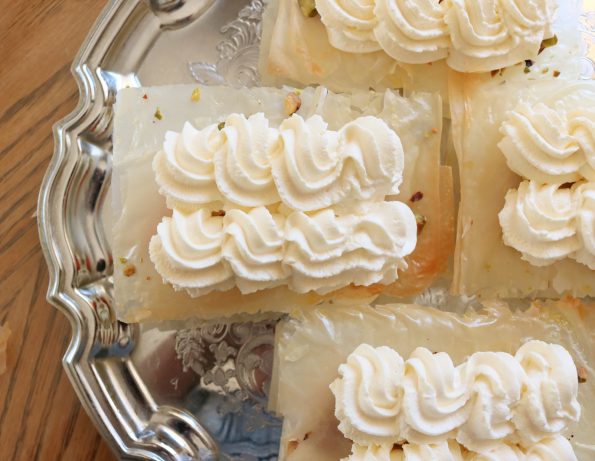 …..place the remaining strawberry halves on top.
Dust with some icing sugar and garnish with some mint sprigs or angelica!
Love at first sight…..they had me at 'filo'!
Storage – Once filled the pastry wil soften after a few hours so best to eat them right after filling.
Crispy Filo Strawberry Stacks
Crispy baked pistachio or sliced almond filo rectangles stacked with creme chantilly and fresh strawberries, a deliciously delicate summer dessert.
Ingredients
4 sheets filo pastry
2 tablespoons butter
2 tablespoons pistachios or sliced almonds
300 mls full cream (1 1/4 cups)
2 tablespoons icing sugar
1/2 teaspoon vanilla extract or paste (or the seeds from a 5 cm/2 inch piece of vanilla bean)
2 x 250 gram punnets strawberries (approx)