Hello! My youngest had a sleepover in the weekend for his tenth birthday and of course he requested (more like expected) pancakes for breakfast. So the boys had chocolate chip pancakes, whipped cream and this here compote, more like having dessert for brekkie really!
This is a simple 'throw it all in a pot' mixed berry compote and it's to die for! A beautiful accompaniment for cheesecakes, chocolate cakes, pancakes or French toast, if you are looking to go that extra mile for a special occasion. Most of the berries stay whole, but soften and the sugar melts with the fruit juices and makes a beautiful syrup. It's winter so I've used frozen berries, they make a great tasting compote and are less expensive. I've used three different kinds but of course you can use a bag of ready mixed berries or the one type of berry or a mix of your favs, as long as you stick to the three cups in the recipe. I personally love sweet little raspberries and would never make it without them! So here's how I make it…..it's super easy too!!
INGREDIENTS
1 cup frozen strawberries
1 cup frozen blueberries
1 cup frozen raspberries
1/2 cup white sugar
2 teaspoons cornflour (cornstarch)
2 teaspoons water
Makes approx. 3 cups
Optional – If you prefer it to be less sweet you can replace the white sugar with brown sugar and if you prefer the taste and/or would like it more natural you can also replace the sugar with honey.
Optional – To add a bit of acidity with a slight taste of fruity wine, mix the cornflour with red wine vinegar  instead of water….I totally recommend it, if you have it in the pantry.
Optional – You can add a 3 cm (1.5 inch) vanilla bean (add the scraped seeds and the pod) at the beginning.
Optional – A tiny bit of orange zest is nice too but not too much, maybe just half a teaspoon.
Note
As I said this recipe is just for frozen berries. I wanted to make a fresh compote this summer but didn't get around to it. The recipe is a little different as frozen berries have a lot of liquid when defrosted. I don't think with a fresh berry compote the cornflour slurry is needed but I'll test for sure this summer and let you know 🙂
METHOD
First mix the cornflour with the water (or the red wine vinegar if using it) and then set it aside (this is called a slurry).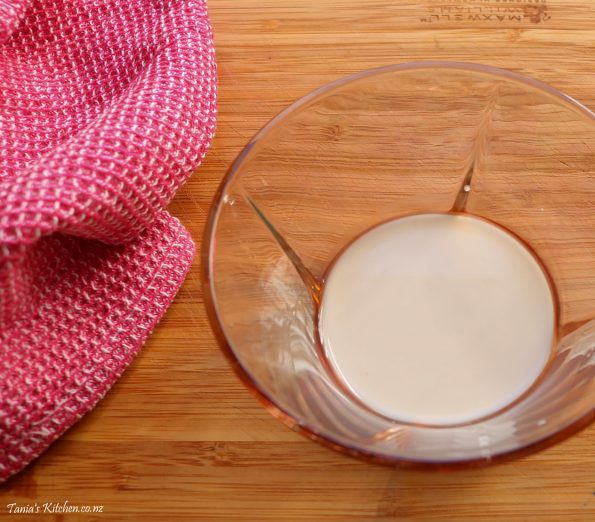 Place the strawberries, the blueberries and the sugar (also the vanilla seeds and pod if you are using it) in a medium sized saucepan and over a medium/low heat stir often for 10 minutes.
If using different berries place all of them in the saucepan, except raspberries (if you are using them) as they don't take as long to cook as the others.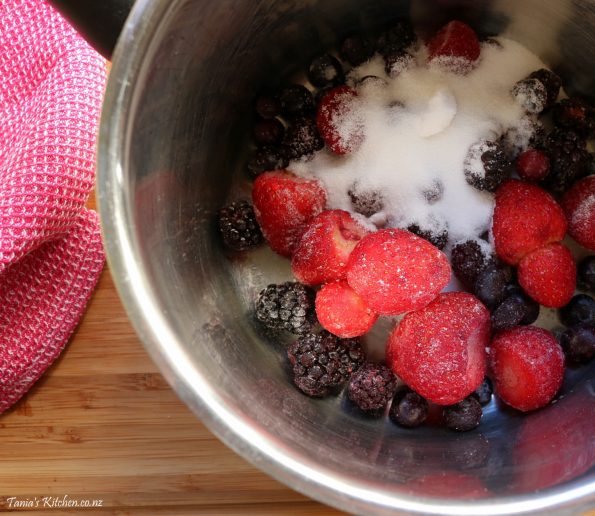 Then add the cup of raspberries (if using them) and continue cooking for another 10 minutes (still cook for another 10 minutes if you haven't used raspberries) or until the largest berries are defrosted all the way through and the raspberries are soft but not disintegrating either.
Some little berries will always disintegrate and that's fine it just makes for a nicer, thicker syrup.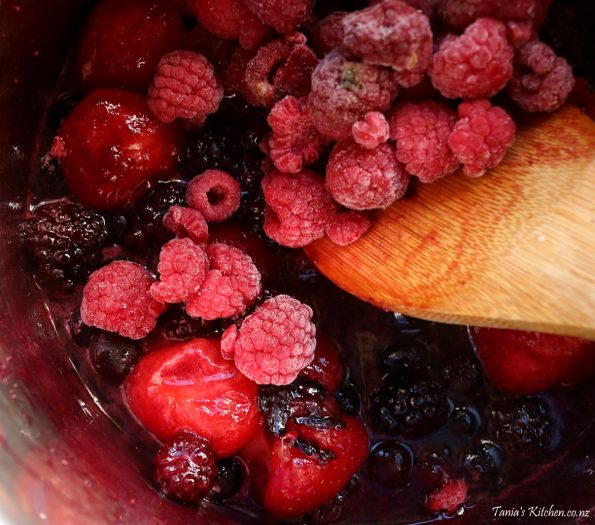 Then turn the heat up to medium/high and when it starts to boil, add the cornflour slurry, stir it in and then turn the heat down to medium or where it's just simmering and cook it off for one minute.
That's it, all done! Gorgeous isn't it, couldn't you just grab a spoon and eat it all now?!
If you've used a vanilla bean, just leave the vanilla pod in as it will continue to flavour the compote as it cools down.
Compote is amazing served warm with cakes and all sorts of desserts like bavarois, pavalovas, mud cakes, ice-cream and cheesecakes. I've added gelatine to this and used it as a cheesecake topping also, sooo good!
It also goes great served warm with a special breakfast, like pancakes or waffles and I love it with French toast, especially when you've toasted a sweeter bread like brioche or banana bread. It's also nice with yoghurt, porridge (oatmeal) and any spare can go into smoothies or folded through natural yoghurt 🙂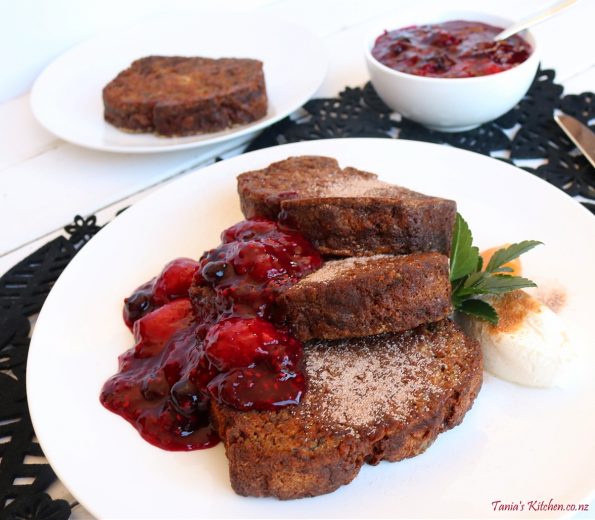 Storage – Keeps for a week, covered in the fridge.
Which are your favourite summer berries?
How To Make Mixed Berry Compote
A mixed berry compote. It's beautiful warmed with desserts like cheesecakes, mud cakes or ice cream.& lovely with pancakes, waffles & French toast.
Ingredients
1 cup frozen strawberries
1 cup frozen blueberries
1 cup frozen raspberries
1/2 cup white sugar
2 teaspoons corn flour (cornstarch)
)