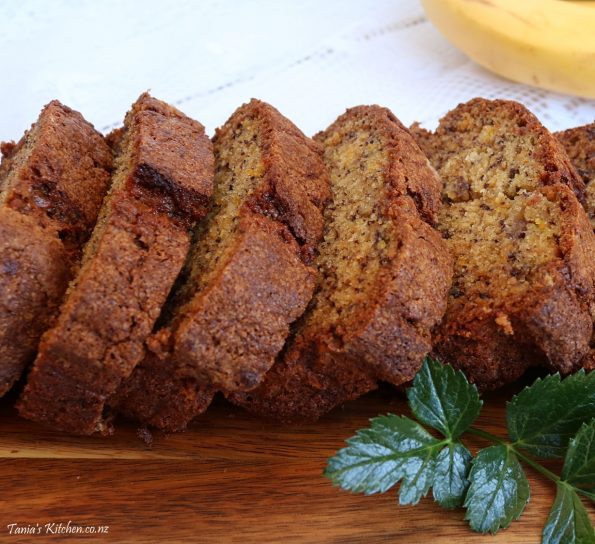 This Banana Bread is so awesomely easy! It takes about 10 minutes and hardly creates any dishes. Just throw it all in a bowl, then put it in the oven for an hour whist you sit an have a cuppa….perfect.
I'm not sure where I got this recipe from but it's great, I haven't changed it at all, I just add extras sometimes like blueberries, raspberries and different nuts. I make it plain at work because I French toast it for breakfasts and it's fantastic. I always freeze my ripe bananas, the skins blacken in the freezer but they are fine when defrosted for cakes, muffins, loaves and my families favourite, this banana bread.
As you will see below there's many options I like to add different flavours to this bread, it really is a great recipe….have fun 🙂
INGREDIENTS
85 grams (3 ounces) butter
3 medium-sized, ripe bananas (or 2 huge or 4 small)
1 1/2 cups standard flour
1 cup castor sugar
1 large egg (I use size 7's)
1 teaspoon baking soda (level)
pinch of table salt
1 teaspoon vanilla extract or 1 tablespoon lemon zest (1 medium-sized lemon)
Optional –
Add 3/4 cup toasted and roughly chopped walnuts, pecans or hazelnuts  with all the other ingredients and I'd use the vanilla extract rather than the lemon zest. I'd also toast the nuts first so they are crispy and have a more intense flavour (If you haven't toasted nuts before, go here for some basic instructions).
When all the ingredients are mixed together, gently fold through 34 cup of fresh or frozen blueberries, raspberries or cranberries, both the vanilla and the lemon zest are nice with berries.
Add with the other ingredients 3/4 cup (about 125 grams) of dark chocolate chips or preferably, roughly chopped up dark chocolate  buttons or from a block and include the vanilla extract (white chocolate is nice too). You could add with this 1/2 cup toasted and roughly chopped pecans or hazelnuts too.
Sometimes I like to sprinkle 1/4 cup sliced almonds  over the top before I pop it in the oven and they go great with all of the different versions 🙂 No need to toast them first either as they are sitting on top so will toast whilst baking.
Add the kiwi fav…..10-13 medium-sized/600 grams ripe feijoas (3/4 cup when peeled and roughly chopped up). You could add with this 1/2 cup toasted and roughly chopped pecans or walnuts as well.
My niece threw I some fresh prunes which I've never tried (she didn't share….hint hint for next time) but made me realise that 1/2 cup dried prunes or dates, thinly sliced and thrown in would be fab.
Note*  The riper the bananas the moister the bread. 🙂
METHOD
Lightly spray a standard 21 cm L x 11 cm W x 6 cm D, loaf tin with non stick cooking spray. Then line it with cooking foil and then lightly spray again.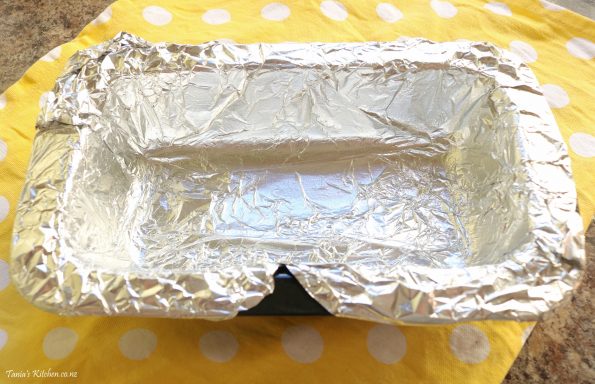 Next preheat the oven to 150°C fan bake oven or 175°C conventional oven, on bake, with a rack situated so that the top of the loaf tin is around the centre of the oven.
Next melt the butter in a small saucepan over a low heat or on HIGH in the microwave for around 1 minute (or until done) and set aside.
* If they are not super ripe mash the bananas first, with a fork, in a large bowl and then add all of the other ingredients to the bowl, add the butter last (giving it some time to cool down a bit).
* If they are lovely and ripe and soft, chuck them and all the other ingredients into a large bowl, add the butter last (giving it some time to cool down a bit).
Using a nice big wooden spoon (I love wooden spoons, I have a ton of them!) mix it all together until well combined.
* If adding berries, feijoa  or chocolate, only add when everything else has been mixed together and just fold them through gently at the end a few times (especially blueberries as they like to bleed when stirred in too much).
* If adding nuts  just throw them in with everything else.
Scrap the mixture out into the waiting tin and…..
* If sprinkling sliced almonds over do it now.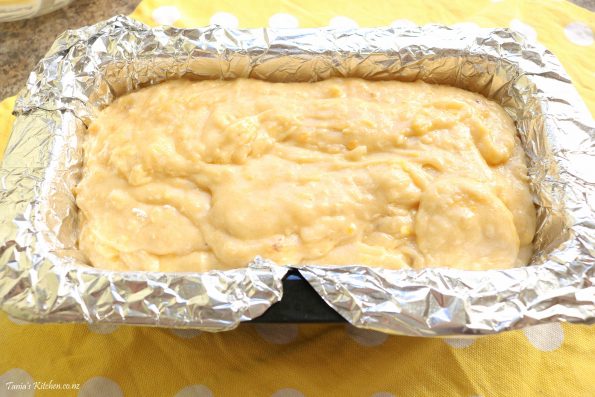 …..place it in the oven for an hour or until it's dark brown all over and a little sharp knife stabbed into the centre comes out clean….easy huh!
* I have had the odd one take 50 – 55 minutes so because all our ovens are different it would pay to quickly check it at 50 minutes. Just a reminder for beginner bakers not to leave the oven open too long when checking things as it lets heat out and can add another 5 minutes or more to your cooking time each time it's opened.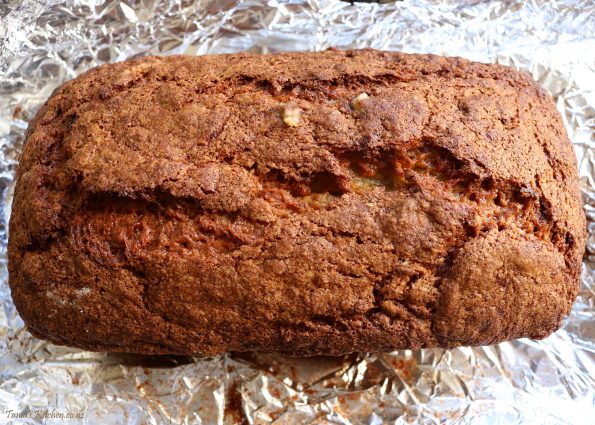 Leave the bread until luke warm before slicing. I slice it using a serrated bread knife into eight….one through the centre, then through the centre of each half and then through the centre of each quarter, that gets me even slices and it looks nice 🙂
This bread is really nice buttered….,ore then really nice!
Storage – Keeps well in an airtight container in the pantry for up to five days. It also freezes well as it's so moist.

Just a tip, always make sure loaves or un-iced cakes are totally cold before storing in a container or wrapping in cling wrap as the heat creates steam and then moisture droplets, and a wet cake will grow mould quickly.
Quick & Tasty Banana Bread
Easy, peasy banana bread, made in ten minutes! You can add nuts, berries or chocolate & is nice just buttered like a loaf. I love it for breakfast.
Ingredients
85 grams (3 ounces) butter
3 medium-sized, ripe bananas
1 1/2 cups standard flour
1 cup castor sugar
1 large egg
1 teaspoon baking soda
pinch of table salt
1 teaspoon vanilla extract or 1 tablespoon lemon zest (1 medium-sized lemon)