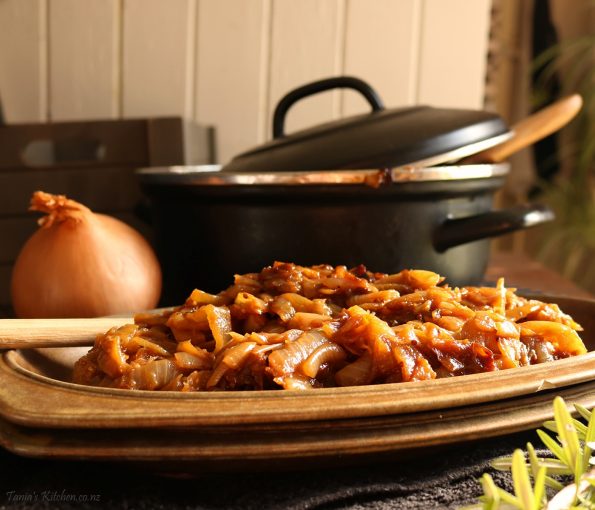 Caramelised onions….so good and SO many uses…where to begin? I make these a lot at work they are on our meat lovers and seafood pizzas and we put them in steak sandwiches. They are great as a topper with other things on bruschetta and crostini. I have often put them in little puff pastry tarts and used them in dip. Quiches, omelettes, wraps, toasted sandwiches, paninis, inside muffins or scones (especially pinwheels), stromboli, on a plough-mans board or antipasto platter……the list could go on and on.
These take along time to cook, mine take around an hour but everyone's will take a different amount of time. I can guide you photos as to what they should look like and the time mine took to make. The time will vary depending on your own ovens element/hob level of heat and the type of pan you are using. They will also take a long time to cook if you are doing a larger batch (like this one) as the over crowding in the pan will create some steam and make them moist so they'll take longer to catch on the bottom and start caramelising, so if you are halving this recipe they will caramelise sooner. I slice my onions quite wide which will make the cooking time longer so if you decide to slice yours thinner they will catch and caramelise sooner, the will catch and burn easier too so if you do this you'll need to stir them more often. I would have preferred to use my large stainless steel pan but it's too high to take my photos so I had to use a lower one which has a non stick coating. I like using stainless steel better for these though as the onions will catch on the bottom and not only will they start to caramelised sooner but I get some nice dark ones (not burnt….but darker) and I like them when half of them are a dark brown and the rest a medium brown colour, they look better and taste better (of course that's just my personal preference). Also I prefer to add a little bit of brown sugar. Onions are actually full of natural sugar so a lot of recipes won't have added sugar but honestly I think they need it.
These have a long life in the fridge and they freeze up great. You can also pop these in sterilized jars and keep them for months but I've never done it and am not a canning expert so I can't give you the ins and outs of that.
I have seen people throw the onions in a pan and just caramelised them like that with no extra flavour but I want some flavour! I used to work for a chef who used to always say that all components in a dish should 'stand alone' which means if they all individually taste great then the dish as a whole will taste amazing. So these onions have orange zest, whole seed mustard and some balsamic vinegar added for flavour and you could literally just eat them with a spoon they taste so nice. 🙂
INGREDIENTS
8 medium-sized brown onions (approx 1.6 kg)
2 tablespoons butter (30 grams)
1/4 cup vegetable oil
2 tablespoons brown sugar
1 teaspoon balsamic vinegar
zest from 1/4 of an orange
1 teaspoon whole seed mustard
1/2 teaspoon salt
1/4 teaspoon cracked, black pepper
Optional – 1 tablespoon fresh thyme
makes x 4 cups
Notes
I know using the zest from only a quarter of an orange seems odd but honestly anymore than that and the orange over powers the onions.
WALKTHROUGH
Right, feeling like a good cry? You can have one now and pretend it's the onions! If not you can pop some swimming goggles on. 🙂
First slice the onions in half and then remove the peel, but not the root end.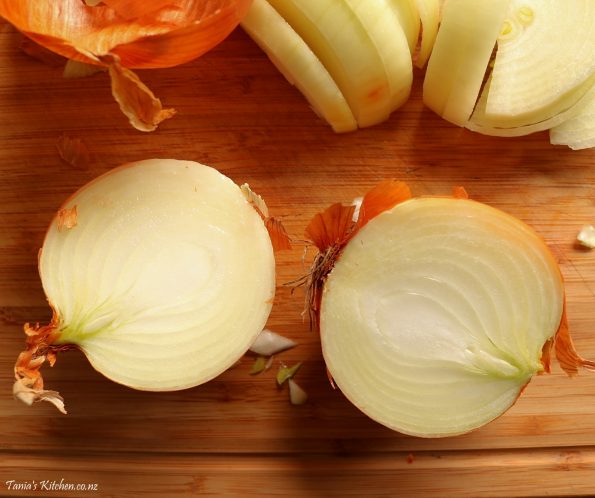 Holding the halves at the root end (easier to slice) slice the onions into approx 1 to 1 1/2 cm (1/2 inch) wide slices.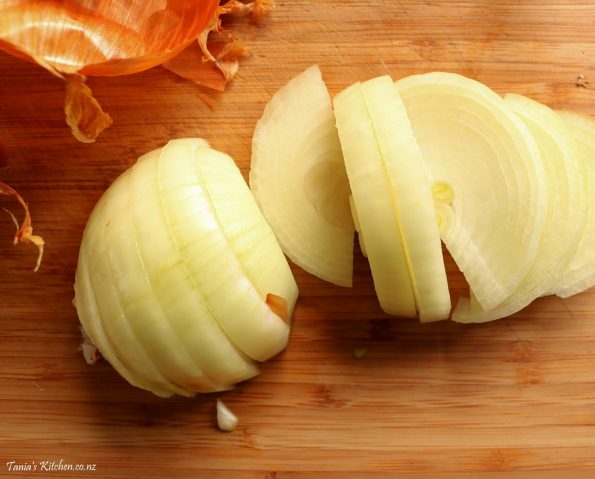 Then place the oil in the bottom of a large saucepan over a medium/high heat.
The heat is important here. It really needs to be towards the high end rather than towards the medium end.
When the oil is hot add the onions and the butter.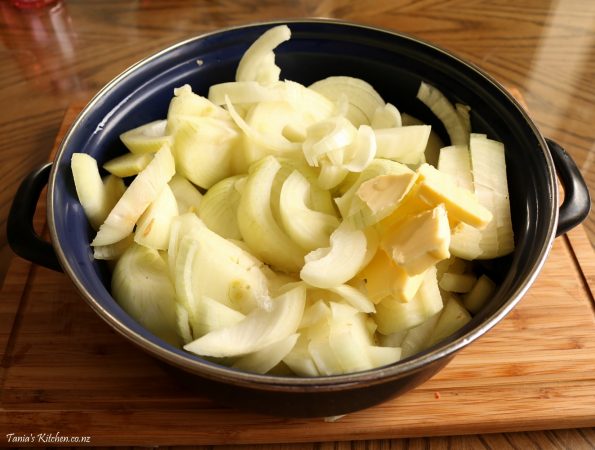 Cook the onions on the same heat for a REALLY long time! Give the onions a really good stir every five minutes.
If you stir too often they will never get a chance to catch on the bottom and give you a nice colour and they will also take even longer too cook.
You can see here, after 30 minutes mine have softened and are just starting to go brown.
If you are using stainless steel saucepan these could be starting to colour after 20 minutes or even sooner.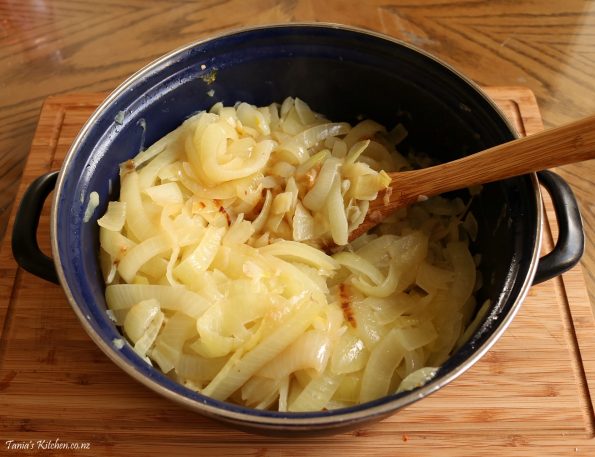 I cooked these for another 20 minutes until they looked like this.
And again, if you are using stainless steel saucepan these could all be a nice colour after 10 minutes.
Then I added the brown sugar and returned them to the stove for another 10 minutes.
The sugar will help them caramelise some more.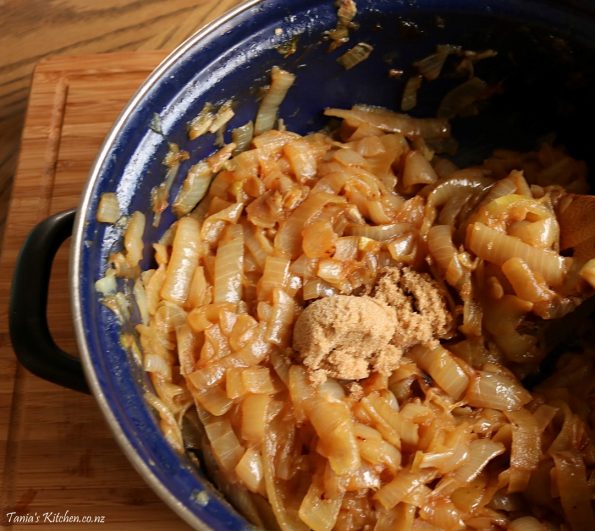 After cooking them with the sugar for 10 minutes, add the balsamic vinegar, orange zest, whole seed mustard, salt and the freshly cracked pepper (also the fresh thyme if using it).
Return them to the stove for just 5 minutes more, stirring often this time.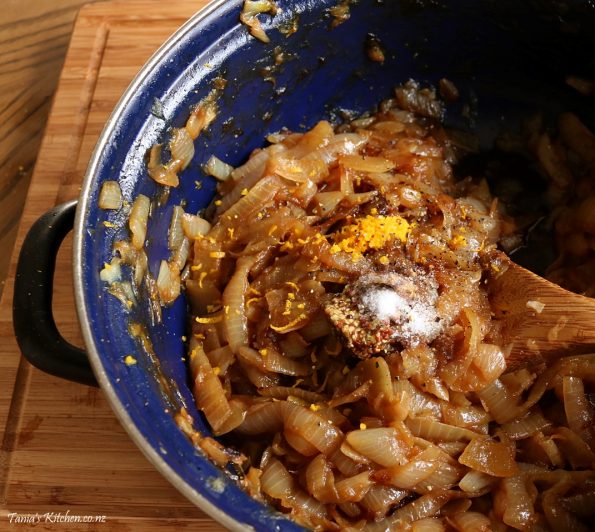 TA DAH! It took a while but they are glorious, taste SO GOOD and totally worth the effort!
If serving with steak or sausages they are nicest warmed up again. 🙂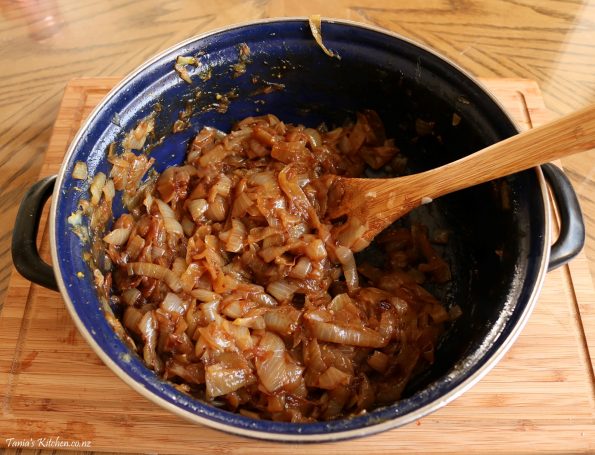 Storage  – In a container in the fridge with cling wrap sitting right on them (literally laid down on top of the onions so no air gets in) they will last up to two weeks.
To freeze pop them in a container/containers and also make sure you put cling wrap directly on top of the onions covering the whole surface so no air gets in, which will help to avoid freezer burn. You can also freeze them in resealable bags and again make sure there is no extra air in there and I would double bag them also just to make sure they don't get freezer burnt. Use them from the freezer within three months.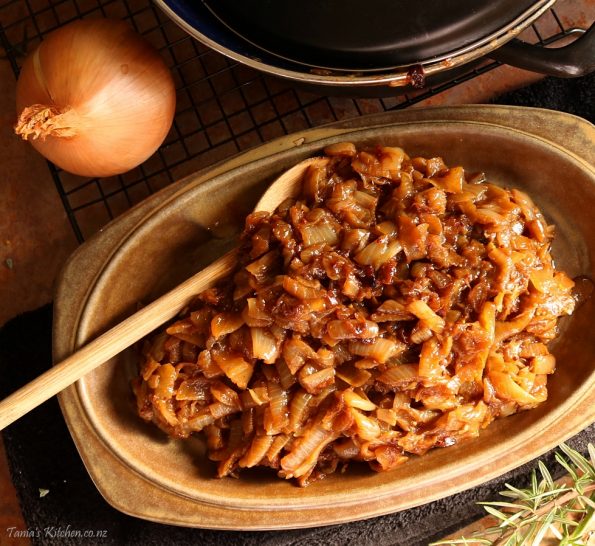 So I'd love to know if you add any flavours to your caramelised onions and what do you love to eat them with?
How To Caramelised Onions
Caramelised onions, who doesn't love them? They taste so good on so many things, tarts, on top bruschetta, in dip, on steak, in burgers & my fav...PIZZAS!
Ingredients
8 medium-sized brown onions
2 tablespoons butter
1/4 cup vegetable oil
2 tablespoons brown sugar
1 teaspoon balsamic vinegar
zest from 1/4 of an orange
1 teaspoon whole seed mustard
1/2 teaspoon salt
1/4 teaspoon cracked, black pepper
1 tablespoon fresh thyme (optional)