I had to make these because I was being my usual 'know it all' self and lost a bet to my Nana (of all people…..who thinks they know more than their Nana?!) Nana is of Scottish descent so maybe that's why she loves Shortbread, so I was happy I lost. 🙂  I usually make a softer, melt in your mouth version that is made with corn flour but this recipe is more traditional, made with flour and either ground rice or rice flour which gives the Shortbread a gritty texture with a slight crunch. I added macadamias to the dough because they are delish and having a high fat content they are nice and crisp  when baked inside biscuits whereas some nuts tend to go soft when baked in something (which is why I usually toast nuts first). P.S. I nearly had to sell a kidney to buy them, they are the most expensive nut in the world!…..just as well the rest of the ingredients in this recipe are inexpensive.
I'll save the Shortbread history 'speel' for another Shortbread recipe because I want to share my newfound Macadamia knowledge! I never knew this but Macadamia nuts are indigenous to Australia where the Aborigines have been enjoying them for thousands of years. Then in 1857 a Scottish-Australian chemist, John Macadam researched them and the nuts were named after him. The first macadamia tree was planted in Hawaii in 1882 where fertile volcanic soil and the warm climate helped the trees to thrive. Today, Hawaii is the world's largest producer of macadamia nuts.
Of the seven species of macadamia trees, only two produce edible nuts. The other types of nuts are poisonous because they contain high levels of toxins.
Luckily macadamias are probably too expensive to let your dog snack on them because they are very toxic to canines. When eaten, they can cause paralysis in the limbs, joint pain and abdominal pain (good to know being a doggy owner myself).
Enough of my waffling…..here's the recipe.
INGREDIENTS
1 teaspoon butter (at room temperature)
80 g / 2 ¾ oz cup macadamia nuts (½ cup)
250 g / 8 ¾ oz butter (cold)
2 tablespoons of ground rice or rice flour
1/3 cup icing sugar
2 cups plain flour
Optional – 1 teaspoon castor sugar
makes x 12 pieces
Notes
Ground rice is used in shortbread to give it a crunchy gritty texture but if you want it less gritty you can use rice flour and still enjoy a traditional style of shortbread.
You can also make this Shortbread all by itself without the macadamia nuts
STEP BY STEP
First get the oven on…..place a rack in the centre and then turn it on to 130°C fan bake oven or 150°C conventional oven, on bake. It's quite a low temperature for these or they will turn brown too quickly on the outside but still be raw in the centre.
Next line a 27.5 cm / 10 ¾ in L x 18 cm / 7 in W x 4 cm / 1 ½ in D slice tin with non-stick baking paper and grease the paper all over with the teaspoon of butter.
I usually use non-stick cooking spray but sometimes I use butter for flavour.
So to make the shortbread first roughly chop up the macadamia nuts.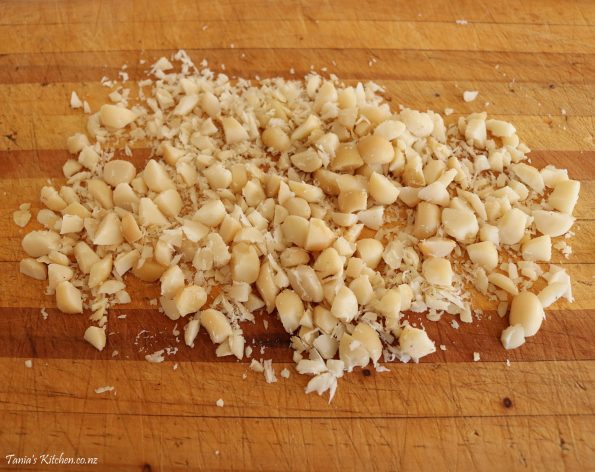 Next place the flour, icing sugar and rice flour (or ground rice) into a large bowl and…..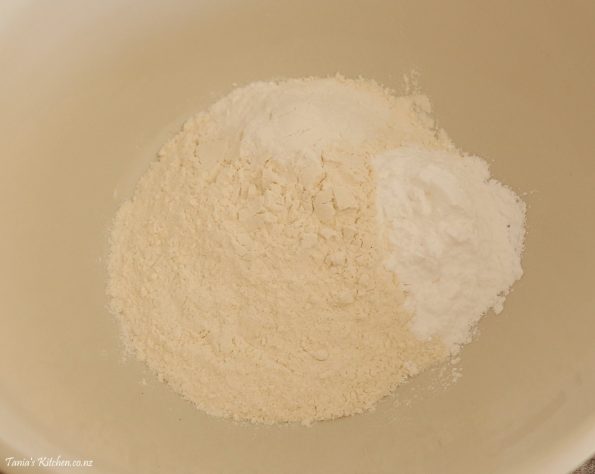 …..mix it all together.
Now, using a cheese grater grate the butter and then…..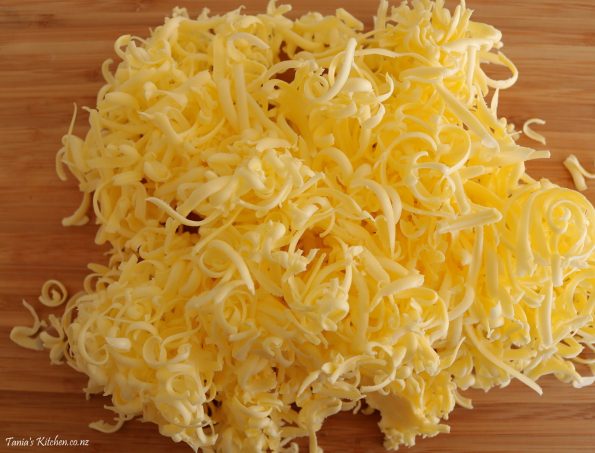 …..add it to the bowl of dry ingredients.
The butter must be hard straight from the fridge or it will be hard to rub it in, it will form lumps instead of crumbs.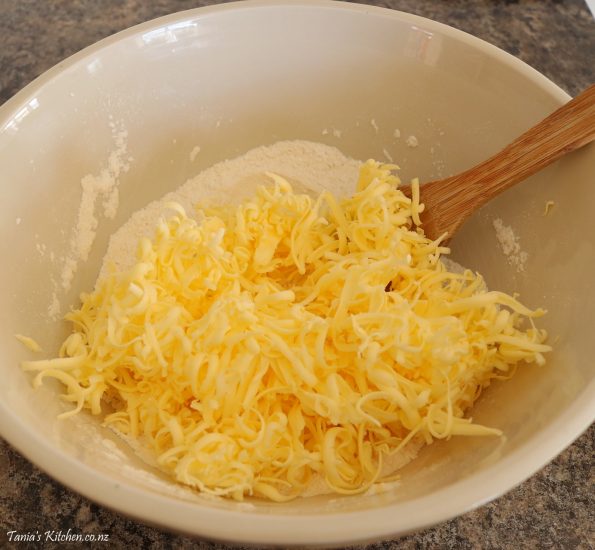 Using your fingertips rub the butter into the dry ingredients until it resembles breadcrumbs. This takes a while (I find it satisfying….for some weird reason it makes me feel super important, lol).
Don't worry about the odd larger lump it will blend in soon when you knead it all together.
Next tip the mix out onto a clean, dry bench.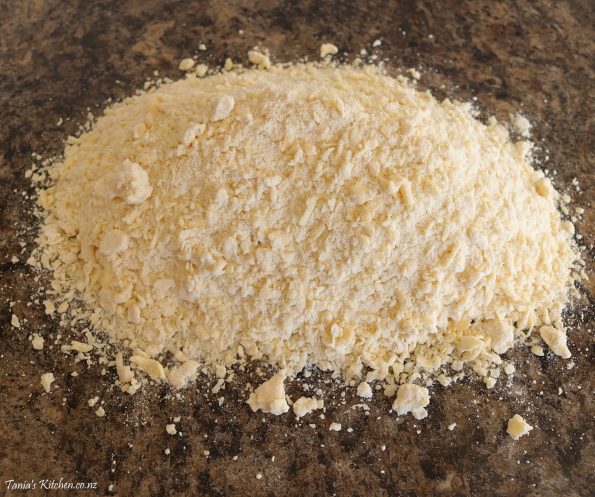 Using your very clean 'bakers hands', knead it all together until it's nearly all combined. It will seem impossible to start with but the warmth from your hands will soon have it blended nicely together.
Then add the macadamias to the bench and knead these into the dough until they are well blended in.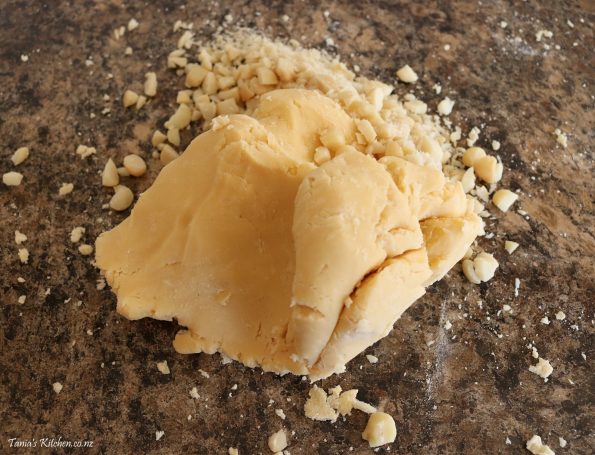 Place the dough into the slice tin and gently spread it out, trying your best to make it as even as possible without pushing it down too hard.
Then using a small, sharp knife, mark the dough into whatever sized pieces you'd like (just run the knife half way through) and 'dock' each piece by pricking it with a fork.
'Docking' the shortbread is a traditional thing but I find it doesn't really make any difference to how it bakes…..it looks nice and rustic but up to you. 🙂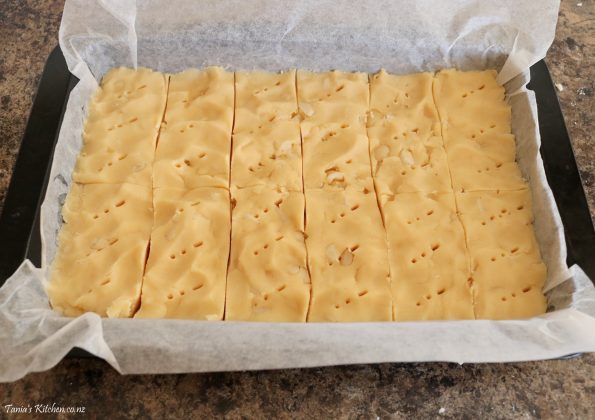 Place your shortbread in the oven and bake it for 50 minutes or until it's firm to touch in the centre and be an even golden brown colour all over.
Once out of the oven run that sharp knife right through the markings you made earlier and then leave it in the tin for at least 10 minutes before…..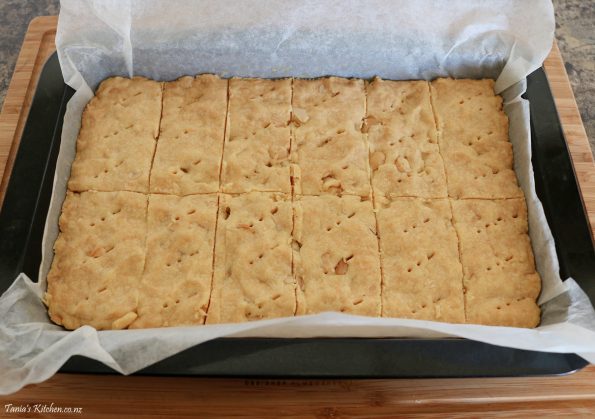 …..you lift it out to cool on a wire rack to cool down completely.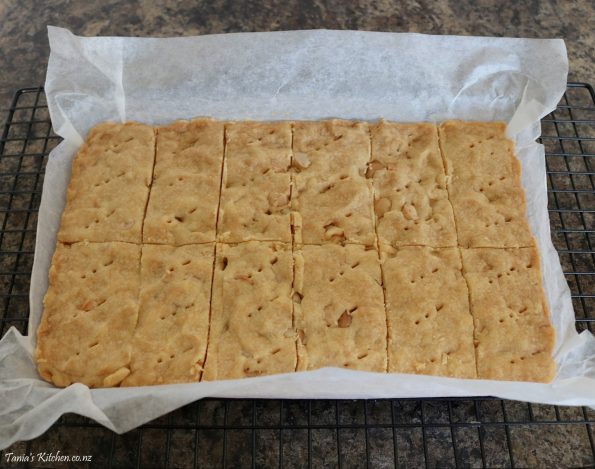 If you want to, sprinkle with castor sugar and enjoy it with a lovely pot of tea!
Keepin' em fresh – Store the shortbread in an airtight container in the pantry for up to 2 weeks but they don't like company, if you put them in with other biscuits they will go soft.
Now which do you prefer, the more traditional slightly crisp Shortbread or 'the melt in your mouth' cornflour version?
Related posts…
Macadamia Nut, Scottish Shortbread
Macadamia Nut Scottish Shortbread made with added rice flour or ground rice to give it a traditional crunch, perfect with a cuppa tea.
Ingredients
1 teaspoon butter (at room temperature)
80 g / 2 ¾ oz cup macadamia nuts (½ cup)
250 g / 8 ¾ oz butter (cold)
2 tablespoons of ground rice or rice flour
1/3 cup icing sugar
2 cups plain flour
Optional - 1 teaspoon castor sugar