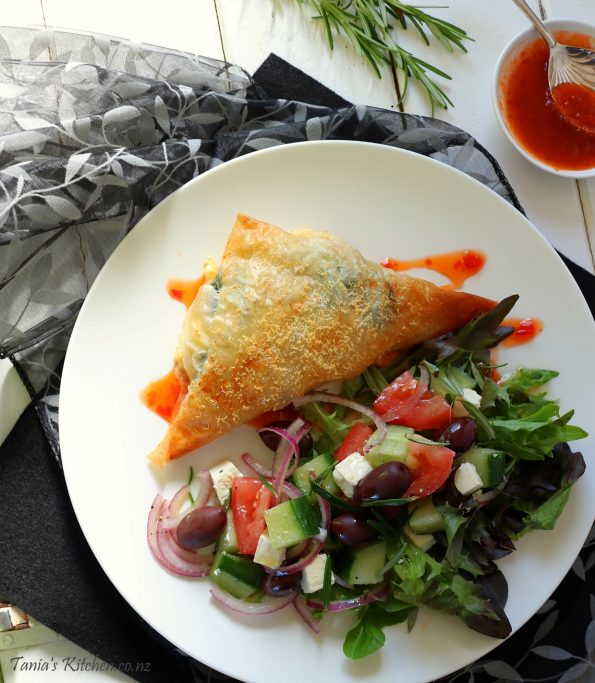 I got out of 'hermitsville' last weekend, ie; I actually had a very rare weekend off, so we caught up with some friends. These friends of ours are so wonderfully hospitable (they make you like you are the royals visiting) so you wouldn't just show up with a packet of chips (crisps). So I made an effort and cooked something different that I'd never made before and they were delicious 🙂
I have made Spanakopita ('spana' as I call it for short) many times, a traditional vegetarian version and a few times filled with seafood but never tried it with a prawn and chorizo filling. I love Chorizo and the two are an odd couple, but you know what they say 'opposites attract' and they taste so good together. The filling inside these 'Spanss' are not bound with egg like the vegetarian version is but are filled with fried chorizo sausage and prawns in a white sauce (bechamel) and folded into filo pastry triangles with wilted spinach and feta. Spana usually consists of a lot of onion, I hummed and hahhed and left it out as I thought the spicy chorizo was enough. Spanakopita does take a bit of an effort, just for occasions where you want to go that extra mile and you have the time of course, but it's 100% worth it, I promise! Also seen as I still had some prawns and a chorizo sausage in the freezer and a few sheets of filo left in the fridge I made two larger ones for hubbies dinner last night and took some pics because the larger ones are just great for dinner with a salad (Greek of course!) and I have often made that size of filo triangle to sell in the cabinet at work.
GEEKY FOOD LOVER STUFF – Spanakopita 'Span A Ko PEE Ta" are traditional Greek finger food. Spanakopita means spinach pie 'spanaki – spinach and pita –pie'. They are little filo pastry triangles filled with spinach, onions and often feta mixed together with egg and served warm.
Filo or 'Phyllo' in Greek means 'leaf'  because it's so thin….awww, how cute, I love it even more now 🙂
The Turkish have a traditional spinach pie called 'ispanaki' which is identical to the traditional Greek Spanakopita so some think it may have been introduced to Greece during the Turkish Ottoman Empire.
INGREDIENTS
500 grams (about 1 pound) fresh, large-leafed spinach (I used Arrowhead)
125 grams feta
2 tablespoon vegetable oil
1 tablespoon (20 grams) butter
3 tablespoons (60 grams) butter
1/3 cup standard flour
1/2 cup vegetable stock (ready bought or made from dry stock and water)
1 cup milk
A few sprigs of parsley
1/4 teaspoon white pepper
1 tablespoon (15 grams) butter
2 large chorizo sausages (cured)
1 1/2 cups raw prawn cutlets (peeled, deveined and tails removed)
x 1 – 375 gram packet of filo pastry (need 10 sheets, 8 if making larger ones)
70 grams butter
1 small egg
2 tablespoon grated parmesan cheese
makes  x15 small finger-food triangles or x 8 large dinner sized ones 🙂
Notes
If you don't like parmesan or don't use it enough to justify buying it for just 2 tablespoons, the same amount of sesame seeds is a nice replacement.
I often use Chorizo sausages that need to be cooked first (like a normal sausage) in my frittatas because they are cheaper than the cured ones, but because these Spanakopitas are a bit fiddly to make I paid the extra $$$ and used cured Chorizo to make things simpler, they are found in the deli or in the cured meats section at the supermarket.
Frozen prawn cutlets are fine of course, remember to remove them from the freezer into the fridge to defrost, the night before.
STEP BY STEP
First, wash the spinach and…..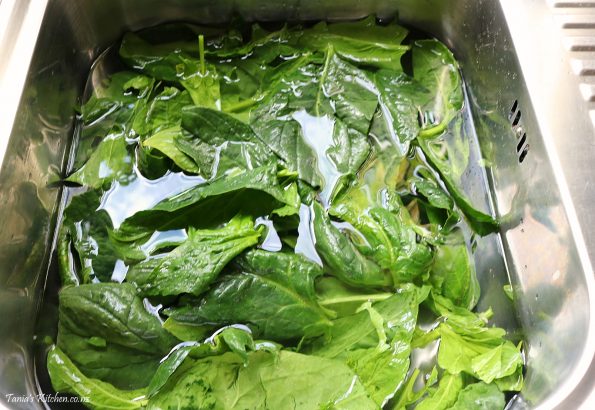 ……then spin it in a lettuce spinner to remove any excess water or leave it to drain in a colander.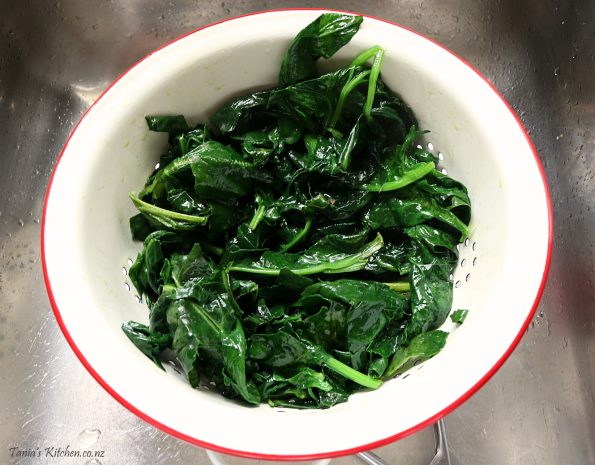 Next get the feta ready by chopping it into 12 squares (16 if making larger ones) and pop it back into the fridge until needed.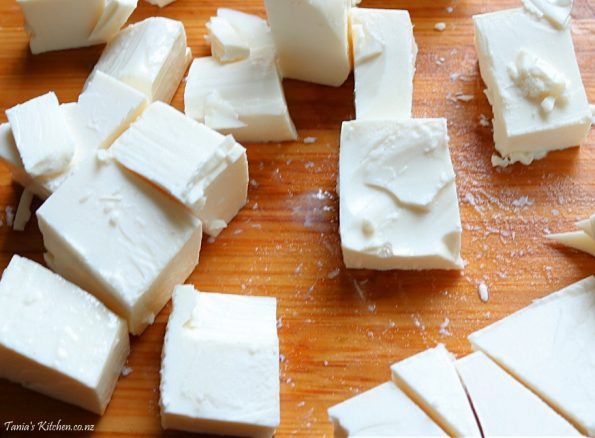 Now, in a very large frying pan over a medium heat melt together the olive oil and the tablespoon of butter and when it's starting to bubble…..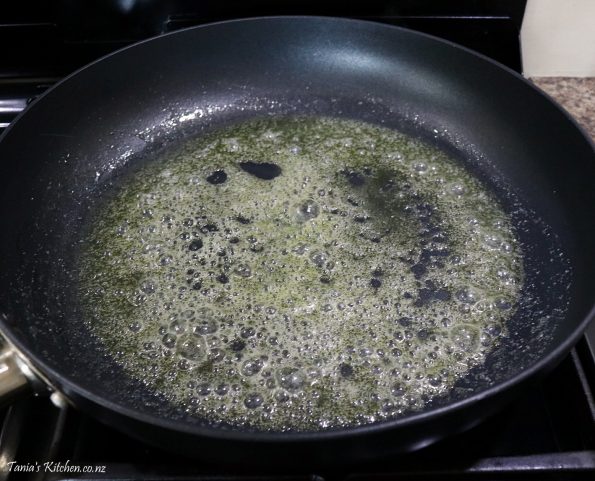 …..add the spinach and…..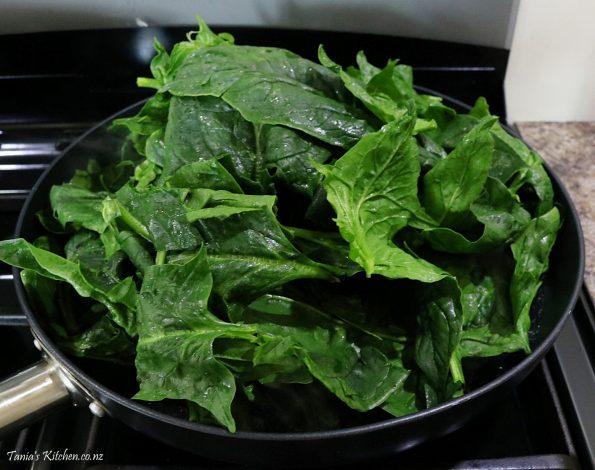 ….. using tongs gently fold it over continuously until all of the leaves are wilted (soft). Place it on to a plate on some paper towels to drain and wash the pan as you'll need to use it again soon.
If you don't have a large enough pan to hold the spinach use a smaller pan and do it in two lots, using half of the oil and butter each time.
Chorizo & Prawn Mixture
If using dry vegetable stock read the instructions on the back and mix the correct amount with half a cup of water and set it aside or get your bought liquid stock ready. Also get the milk out and a whisk ready 🙂
Now over a medium heat in a medium-sized saucepan melt the 3 tablespoons of butter and as soon as it's starting to bubble (but not brown) add the flour and…..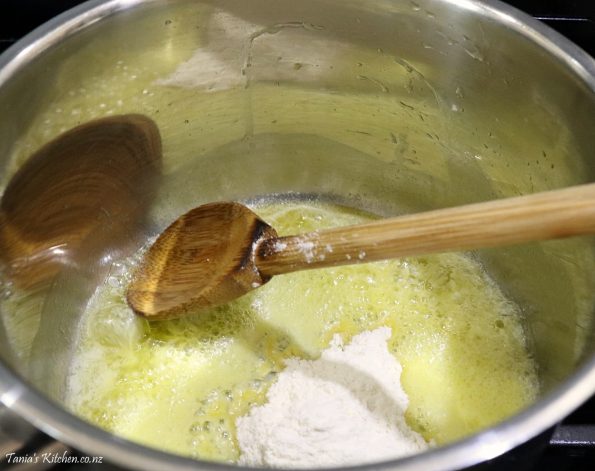 …..stirring often with a wooden spoon let it cook off for  2 minutes or until it starts to look 'whitish' (this is the thickener for the sauce called a 'Roux').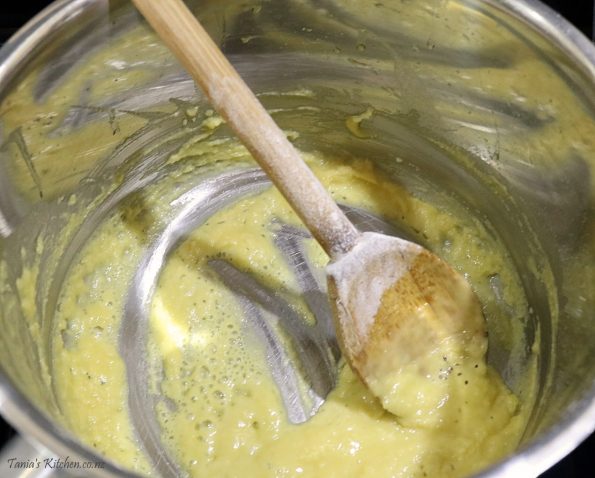 Whilst still on the heat, add the stock and…..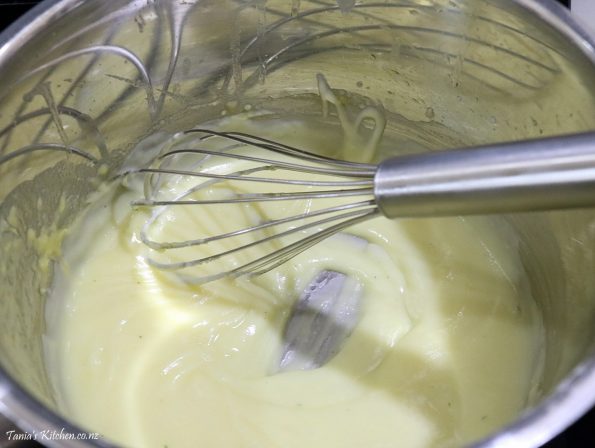 …..the milk and…..
…..quickly whisk it until it is lump free, smooth and thickened (around 3 minutes) and then remove it from the heat.
Then finely chop the parsley and stir it into the white sauce along with the white pepper.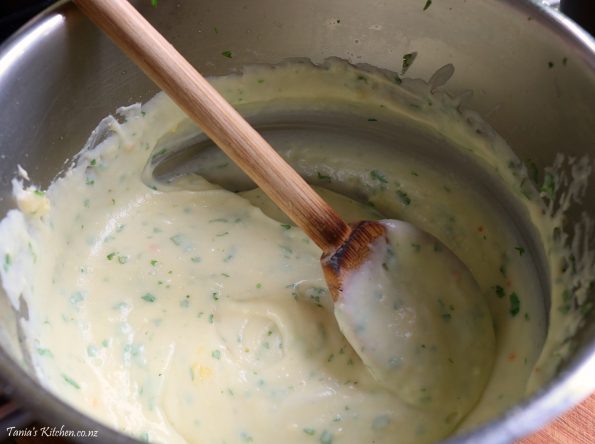 Often prawn cutlets still have their tails on them so if they have, pull them off and roughly chop them up into three pieces. Also roughly chop the chorizo sausages into 1 cm (just under 1/2 inch) little pieces.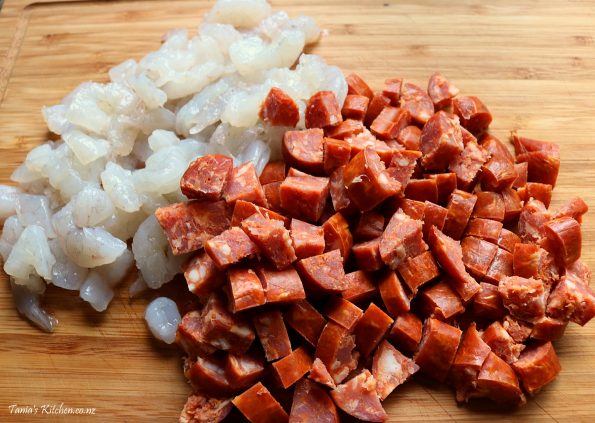 Using the large frying pan again, over a medium/high heat, melt 1 tablespoon of butter. When it's hot and bubbling, add the prawns and chorizo and stirring often, fry them for 3 minutes or until the prawns are cooked and clear. Then remove the pan from the heat.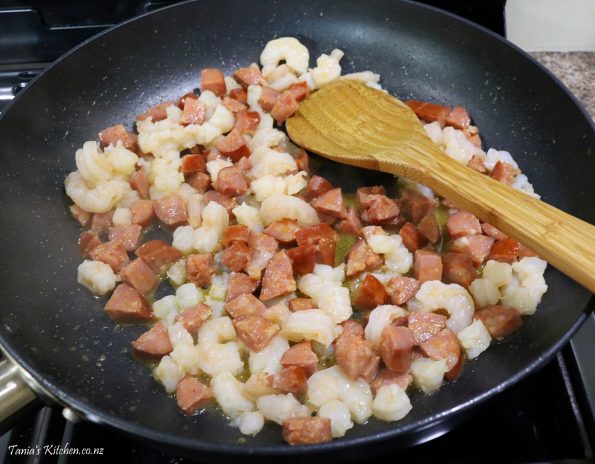 Then add the white sauce to the pan with the warm chorizo and prawns until they are well mixed together.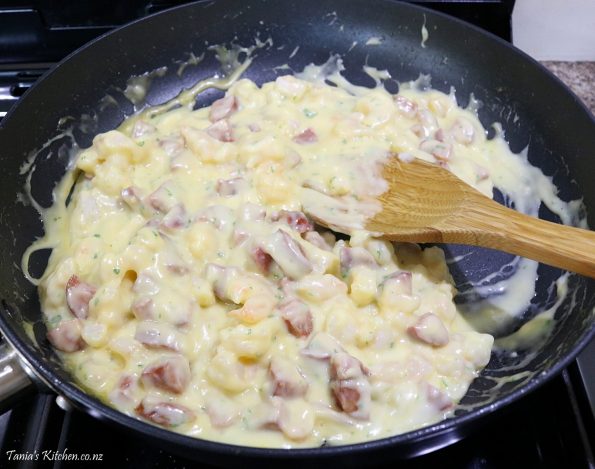 I usually just wing the amount of filling I put in each Spanakopita but sometimes it backfires and I have too much left at the end (and no filo left) or not enough filling left and end up with some smaller 'spanas'. But if you aren't as blazay as I am and you want them all the same size, move the chorizo and prawn mix around in the pan until you have 15 even looking portions (8 if you are making larger ones). Also, divide the spinach roughly into 15 evenish portions (8 if you are making larger ones).
Nearly ready to start making these but first line a baking tray with baking paper and lightly spray it with non-stick cooking spray (or rub it all over with 5 grams of butter).
So, now to get started on folding them…..in a small saucepan over a low heat, melt the 70 grams of butter.
Now get the filo pastry from the fridge. On a clean, dry bench open It out, take the top sheet off and lay it out nearby. Using a pastry brush, lightly brush it all over with some melted butter. 

* If you haven't used filo I have to say that you need to work quickly as filo can dry out very fast and become brittle and break up. If you like you can run a tea-towel under some cold water and then wring it out as much as you can and lay it over the pile of filo you are taking from so it keeps moist and doesn't dry out while you are folding your 'spanas'.
Now place another sheet of filo exactly over top of the first one and then butter it……and then lay on one more sheet (making a pile of 3 in total) and butter that one too.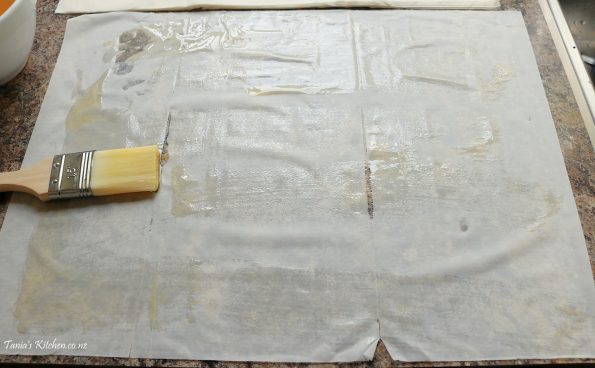 Carefully cut the pile of filo into 3 strips (2 strips for larger ones) lengthways as evenly as possible.
Place a portion of the mix on each strip near the left end. I don't know if you can really see in the pic but I place it kind of at an angle and not up in the left-hand top corner as that is the piece of filo you will be folding over the mix. Next place a chunk of feta on top of each little pile (2 pieces on the larger ones) and then a portion of spinach on top.
Remember these pics are for the smaller spanakopitas, folding three at a time. If you are making larger ones the filo is cut into 2 strips and you fold 2 at a time but in exactly the same way 🙂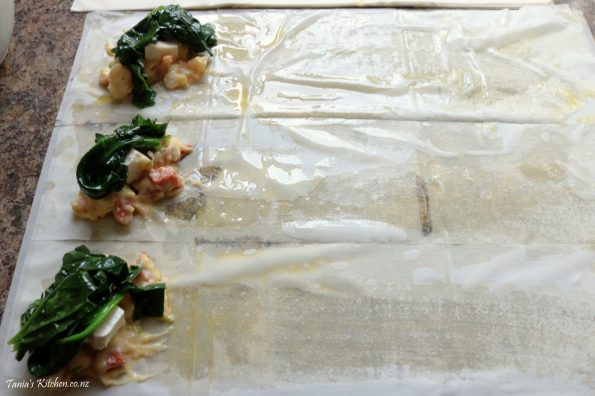 Then fold the corner of the filo towards the right over the mix, as shown below and…..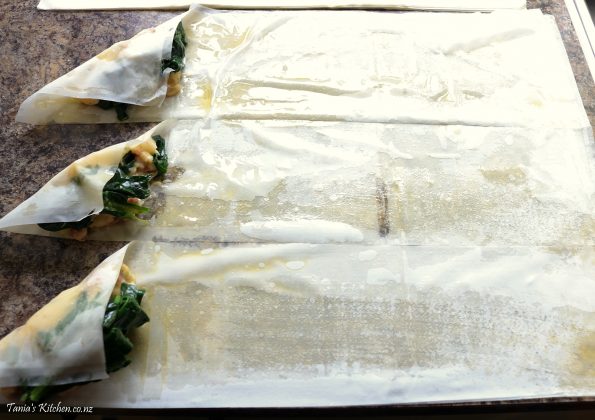 …..then fold the whole lot to the right again and…..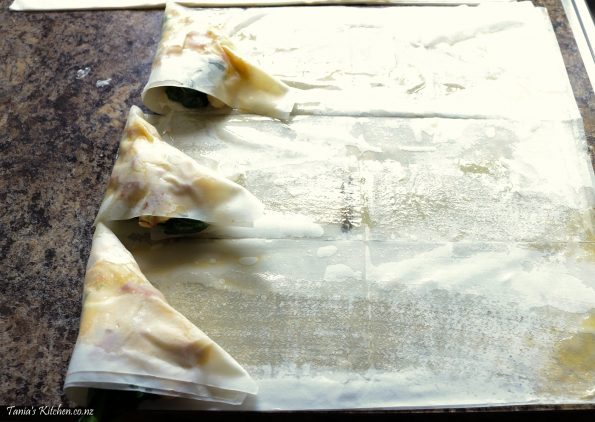 ….then fold it over again, careful to keep a triangle shape.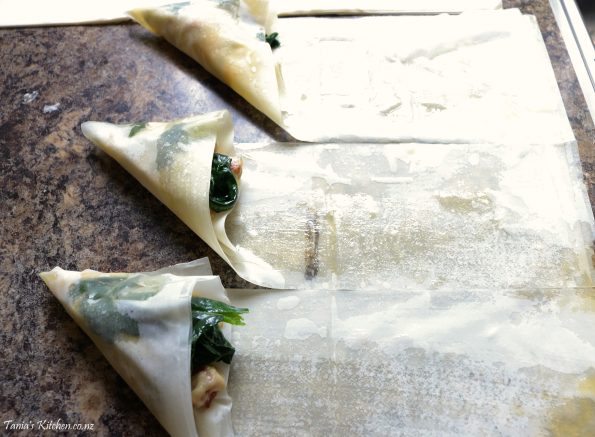 Fold it over again and…..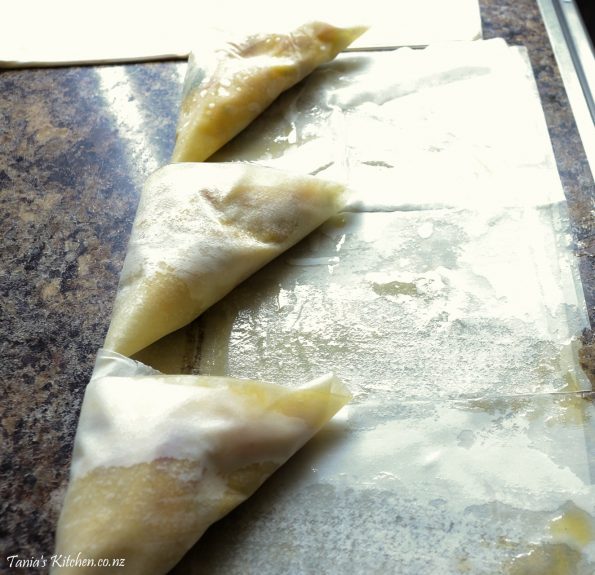 …..once more.
Then brush the remaining ends with a little more butter.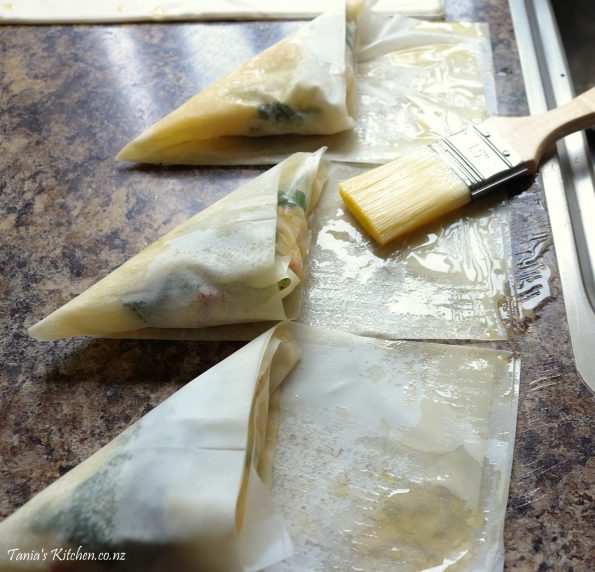 Do one final roll.
They should look like this…..
Tuck the remaining end over and that's it…..a perfect little filo triangle.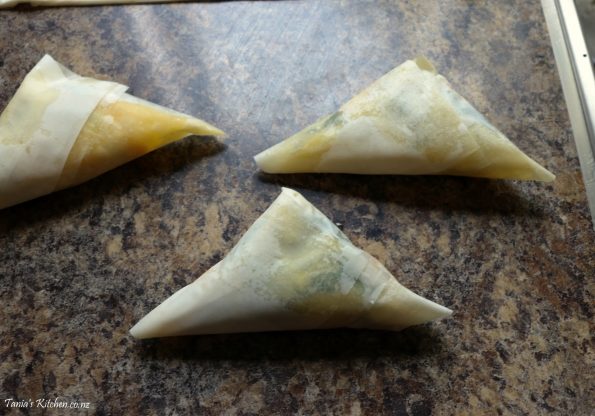 Place them on the ready baking tray and continue the above folding steps until you have rolled all 15 (or 8 large).
Next place an oven rack in the centre of the oven and turn it to 170°C fan-bake oven or 190°C conventional oven, on bake.
Break the egg into a small bowl and then carefully remove some of the white (around a teaspoonful). Whisk the remaining egg with a fork until it's completely broken up and using the pastry brush again liberally brush the tops and sides of the 'spanas' with it so they get a nice golden colour whilst cooking 🙂
Lastly sprinkle them with the grated parmesan (or sesame seeds if you are using them instead).
Generally, when I'm egg-washing pastry I don't just use a full egg as there's too much white and it won't give the pastry a nice golden brown colour. I also won't use just a yolk as it causes the pastry to brown too much so hence why I remove some of the egg-white.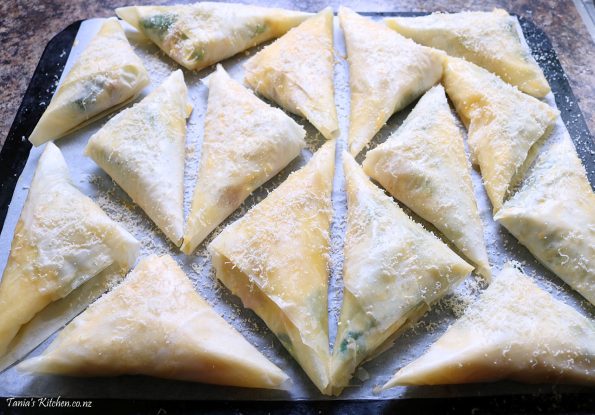 Place them in the oven and bake them for 20 minutes or until they are golden brown all over 🙂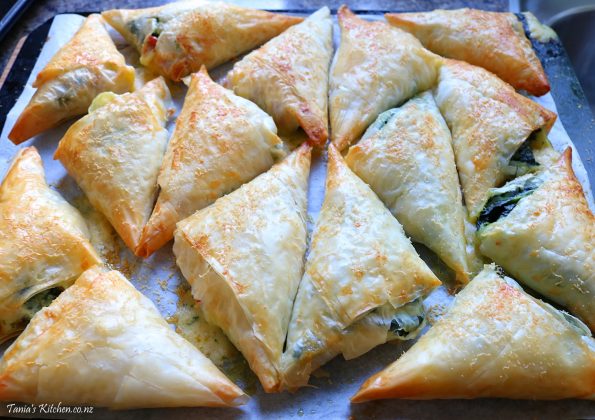 Perfect looking Spanakopitas!
Let them cool a little if serving as finger food or enjoy them hot for dinner (seen as you're using a knife and fork!). After their initial cooking make sure they are not left out for more than two hours, they need to go into the fridge after that.
Storage – Keep these covered in the fridge for up to 2 days. To reheat cover with pierced foil and place in a low oven, 150°C fan-bake oven or 170°C conventional oven on bake, for around 15 minutes (20 minutes large) or if you have a thermometer until they are 170°C in the centre, do make sure they are hot in the centre as they contain seafood. If serving as finger food let them cool down to a warm enough temperature to pick up, but if having for dinner….dig in!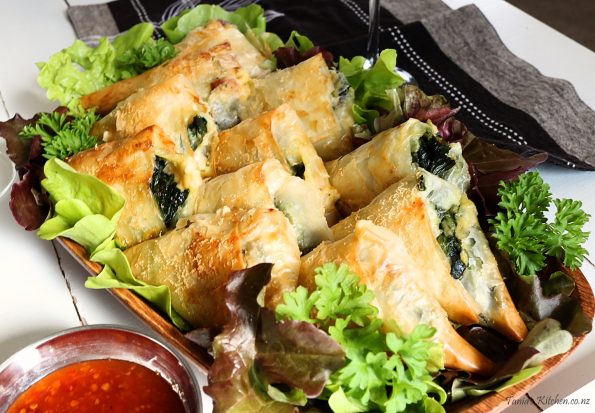 The larger ones make a beautiful dinner!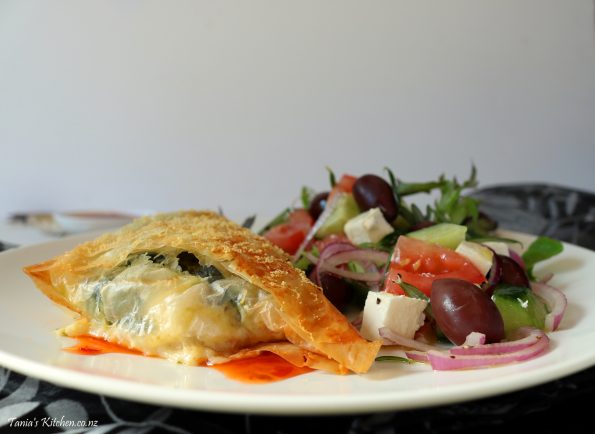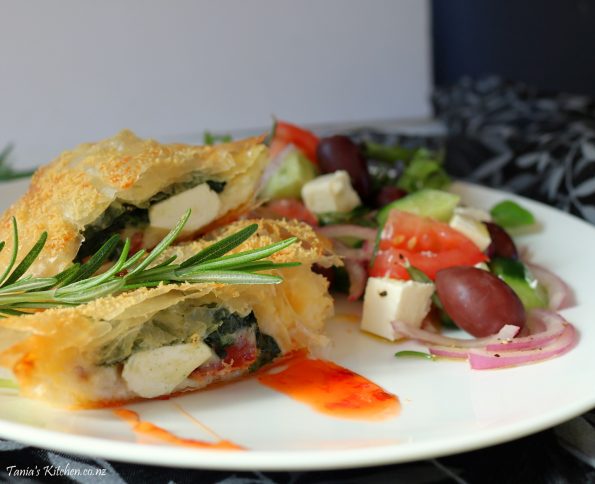 Enjoy!
Chorizo & Prawn Spanakopitas
Golden, parmesan crusted spanakopitas. Filled with sauteed prawns & chorizo in a bechamel sauce, feta & wilted spinach.
Ingredients
500 grams (about 1 pound) fresh, large leafed spinach (I used Arrowhead)
125 grams feta
2 tablespoon vegetable oil
1 tablespoon (20 grams) butter
3 tablespoons (60 grams) butter
1/3 cup standard flour
1/2 cup vegetable stock (ready bought or made from dry stock and water)
1 cup milk
A few sprigs of parsley
1/4 teaspoon white pepper
1 tablespoon (20 grams) butter
2 large chorizo sausages (cured)
1 1/2 cups raw prawn cutlets (peeled, de-veined and tails removed)
x 1 - 375 gram packet of filo pastry (need 10 sheets, 8 if making larger ones)
70 grams butter
1 small egg
2 tablespoon grated parmesan cheese