Hi there! Over the weekend I woke up to find that a little 'Dutch Fairy' had left a present hanging on my gate…..a huge bag of lovely ripe avocados! How lucky are we considering how expensive they've been lately 🙂 The 'fairy' is a dear friend of mine who lives down the road and often leaves me gifts hanging on my gate or on my car bonnet when she's setting off on her morning walk at some un-godly hour when I'm still catching Z's!! (more of a very fast hike actually….trust me I've been with her and couldn't walk for a week afterwards lol!) On Christmas morning she was my a 'Christmas Fairy' as I discovered a bunch of beautiful Christmas Lillies at my gate and it really made my day. She's moving soon and I'm really going to miss my little gifts 🙁
Anyway I decided to make some Guacamole, of course! The name Guacamole comes from an Aztec dialect and translates to 'avocado sauce'. In Mexican Spanish it's pronounced 'Waka Mole'  and in English 'gwah kah moh leh'. 
Avocados were first cultivated in Central America as early as 7,000 BC. No one knows what country they were first grown in but they made their way north to Mexico where in the 1300's the Aztecs turned them into Guacamole. Did you know that Avocados are also called 'Alligator Pears', with the earliest record of this being in the early 1900's.
We all know avocados are good for us with nearly 20 vitamins, minerals and beneficial plant compounds so Guacamole is a wonderful guilt-free dip, great at parties and we love it with nachos and simply on toast 🙂 The Mexicans keep their guacamole simple and flavourful by just using the best Hass avocados, ripe tomatoes, jalapeno chilli peppers, cilantro (coriander leaves) and white onion, salt and no citris juice. Lime juice is commonly used but some think it upsets the balance of fresh 'guac' and some people use lemon juice too (me) and others use parsley instead of coriander and cayenne pepper or tabasco sauce to give it a bit of a kick, instead of fresh chillis (my kids love eating it so I just use a mild sweet chilli sauce). Some Guacamole lovers will staunchly defend their family recipe and be horrified if you are using a different ingredient to theirs! Everyone has different tastes and I've added a few variations below. If you want to tell me off for using parsley instead of coriander or lemon juice instead of lime or even sweet chilli sauce instead of fresh chillies or insist I try it a whole 'nother' way, I'd love to hear it, leave me a comment below 🙂
So everyone has there favourite way of making Guacamole and this is mine…..
INGREDIENTS
2 large, ripe avocados (or 3 medium-sized or 4 small)
1 tablespoon mild sweet chilli sauce (or 1/2 tablespoon medium or 1/4 tablespoon hot)
1 tablespoon freshly squeezed lemon juice (approx 1/2 medium-sized lemon)
1/2 teaspoon salt
1/4 teaspoon freshly cracked black pepper
1 large ripe tomato (or 2 small)
1/2 small red onion (approx 1/4 cup when diced)
1/2 cup loosely packed Italian parsley
Optional – 1/2 teaspoon garlic powder
Makes x 2 cups
Variation –  For a slightly more authentic Guacamole switch the Italian parsley for Coriander (Cilantro) leaves and at the same time the lemon juice for lime juice 🙂 Also use a small fresh, deseeded and finely chopped green jalapeno chilli pepper instead of the sweet chilli sauce and use white onion in place of the red onion.
Variation –  If you prefer you can switch the sweet chilli sauce for 3 drops of tabasco sauce or 1/4 teaspoon of cayenne pepper. Also f you are a olive oil lover you can fold through a tablespoon of your favourite at the end.
Tip*  If you feel bad pressing all of the avocados at the supermarket to see if they are ripe there's a way to find out without doing that. Just look for the tiny nub of the remaining stem at the top and press it in. If it goes in really easily it is very ripe. If it goes in quite firmly it's medium ripe (perfect) and if it doesn't push in at all, it's not ripe 🙂 Also keep un-ripe 'Avos' out of the fridge so they can ripen and ripe ones in the fridge to stall them from ripening further.
METHOD
Cut the avocados in half lengthwise, remove the stones with a small spoon or a little knife and then run a dessert spoon around between the flesh and the skin, scooping the halves out.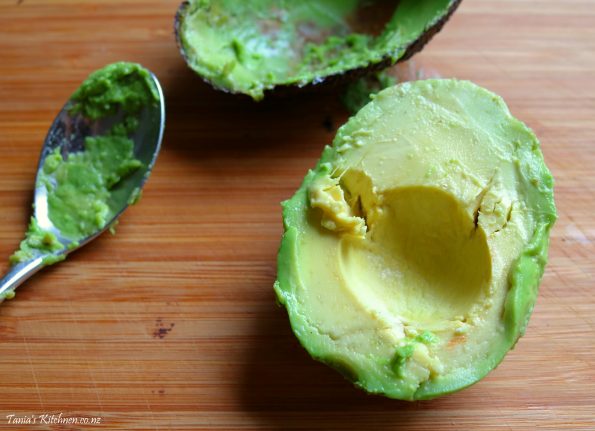 Place them in a bowl with sweet chilli sauce, lemon juice, garlic salt (if using it), salt and freshly cracked pepper.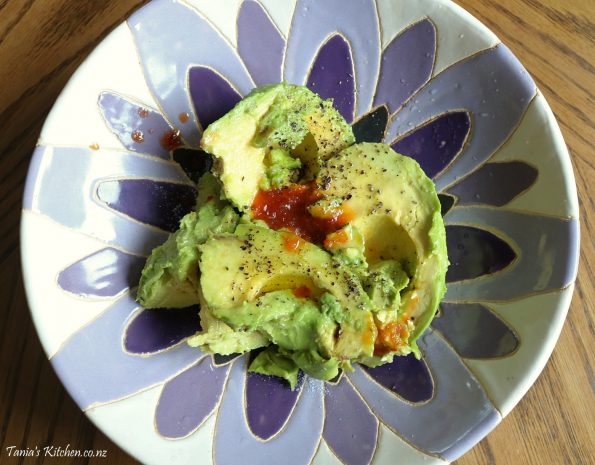 Now, using a fork, mash it all together. Most experts like their Guacamole quite chunky, I personally don't because I feel it's bordering on an avocado salsa. I don't mash it totally smooth either, mines more of a 'lumpy' texture, but again it's your Guacamole, do whatever you like here 🙂
I also taste it quite a bit here…Can you taste the lemon juice? The salt? The pepper? Is it 'hot' enough? and if anything is lacking I add a bit more. If it's too 'hot' the only thing you can do really is add some more avocado and a little more of all the other ingredients except the offending culprit.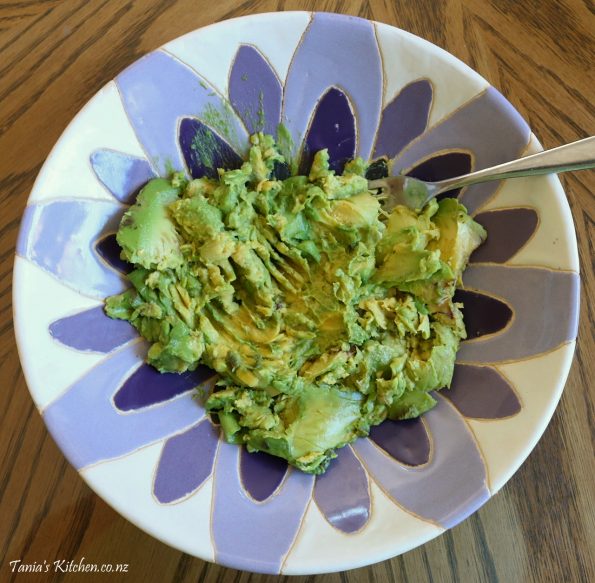 I remove the seeds from the tomatoes as it can make the 'guac' a bit sloppy. So cut the tomatoes into quarters and then remove the seeds with a knife, leaving the flesh and the skin.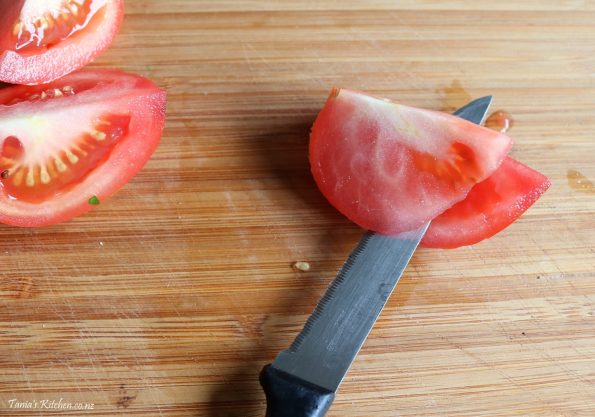 Then slice and…..
…..dice them!
Roughly chop the Italian parsley and put about 2 tablespoons aside to sprinkle over the top. Also finely dice the red onion and add that also.
Mix it all together, put it into your serving bowl (if using for dip) and sprinkle the remaining parsley over the top. Cover it with cling-wrap and pop it in the fridge to chill for at least an hour because it's much nicer chilled 🙂
*Make sure the cling-wrap is actually touching the whole surface of the 'guac' because any air between it and the avocado will cause the top to go brown.
There it is, my Guacamole recipe, I really hope you like it!
Storage – Keep covered in the fridge. If the avocados are good quality it will be good for up to 2 days. Sitting cling-wrap directly on the surface and the lemon juice helps to prevent it from going brown and if you do forget to wrap it well, just scrape the top off and it will be green just beneath.
Guacamole, the famous Aztec avocado dip, containing olive oil, sweet chilli sauce, lemon juice, tomatoes, red onion.& parsley. Great just with corn chips, with nachos or simply on toast.
Ingredients
2 large, ripe avocados
1 tablespoon mild sweet chilli sauce
2 tablespoons freshly squeezed lemon juice (approx 1/2 medium-sized lemon)
1/2 teaspoon salt
1/4 teaspoon freshly cracked black pepper
1 large ripe tomato
1/2 small red onion
1/2 cup loosely packed Italian parsley
Optional - 1/2 teaspoon garlic powder