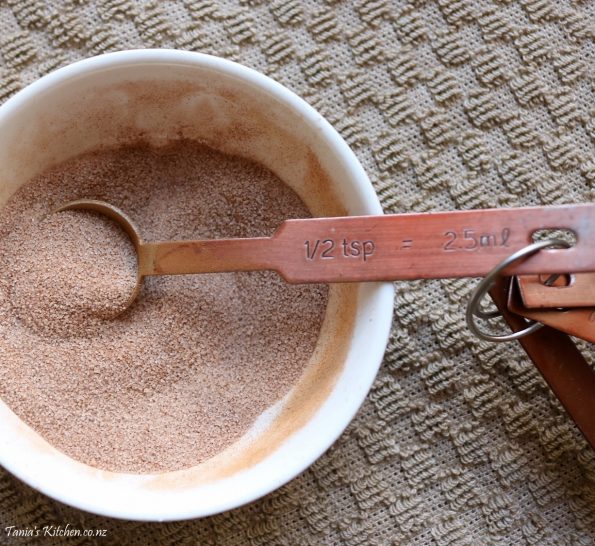 Cinnamon sugar is nice addition sprinkled over baked goods, such as sweet pastries, doughnuts, biscuits, scones, muffins, loaves or anything you wish! I often sprinkle it over pancakes, banana bread, French toast, sweet scones and muffins.
It's only sugar mixed with ground cinnamon and this is the ratio that I personally prefer.
I have divided the ratios below so I can link back to the correct amount from other recipes on my blog…..
HERE TIS…..
Full Mix
1/4 cup castor sugar
1 tablespoon ground cinnamon
1/2 mix
2 tablespoons castor sugar
1 1/2 teaspoons ground cinnamon
1/4 mix
1 tablespoon castor sugar
3/4 teaspoon ground cinnamon
Alternative*  If you'd like it a little less sweet or just prefer the taste, simple replace the castor sugar with soft brown sugar.
Simply mix the two together! Happy sprinkling 🙂
Storage – Keep in an air-tight jar or container in the pantry, indefinately.
I liberally sprinkled these Farmhouse Blueberry Scones with Cinnamon Sugar and…..
…..these Feijoa & Banana Muffins.