Blackfoot Paua is the Maori name for this edible sea snail in a shell (shellfish) from the Abalone group. It is unique to New Zealand and they are found in coastal shallow waters clinging to rocks, often in groups. It is New Zealand's largest Herbivorous snail.
The Paua's oval outer shell is brownish grey with a rough texture, blending well into the seabed and the rocks. Inside their shells are magnificently coloured but the colours are hidden by a shiny, black, muscular foot (sea snail) which enables the paua to glide around on the sea bed quite quickly when foraging for food during the day and also powerfully suctions on to rocks when they are feeling threatened. They have a pair of eyes, a mouth and tentacles, and breathe through gills which are near their mouth under a row of pores in the shell.
They can be a bit tough to eat and are usually eaten thinly sliced and quickly fried on each side (usually on the BBQ) and/or in a creamy sauce. Because I enjoy experimenting I tried putting minced paua in a savoury muffin once and everybody loved them so have made a few since and thought I'd share the recipe. They make a great gift for someone you want to thank 🙂
They are a delicacy here and are very expensive to buy so most people have to forage them themselves and they are not that easy to come by anymore. Luckily my 'man' loves them and enjoys diving for them so we usually have some each summer.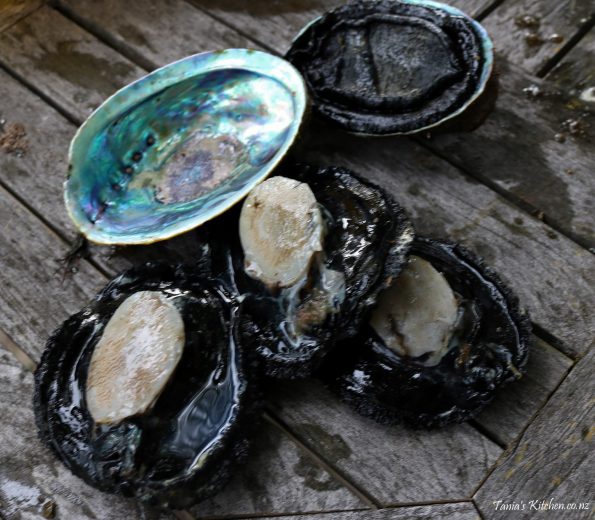 THE MAORI LEGEND OF HOW THE PAUA GOT ITS SHELL
The Paua was said to have been given its stunning inner shell by Tangaroa, the Maori god of the sea.

The Paua sea snail had no shell to protect it from harm and when Tangaroa heard of this, he made him a special shell incorporating the 'coolest blues of the ocean, the freshest green of the forest, violet from the dawn, pink from the sunset and a touch of Mother of Pearl.'
Unfortunately for the Paua, all the other sea creatures were jealous
of his beautiful overlay and they set about destroying it.

Clever Tangaroa responded by adding further layers of color, but then disguising them with another stronger layer of grey and brown.

Now the Paua was indistinguishable from the sea bed, but keeps his secret beauty to himself.
INGREDIENTS
3 medium-sized potatoes (approx 400 grams)
1/4 teaspoon salt
175 grams butter
3 large eggs (I use size 7's)
3 cups standard flour (loosely packed)
4 1/2 teaspoons baking powder (yes that's right)
1 teaspoon salt
1/2 teaspoon white pepper
1 1/2 cups paua (minced and ready to go)
4 slices shoulder bacon (approx 200 grams)
1/2 medium-sized white onion
1 large tomato
1 1/2 cups mild grated cheese
1/4 cup fresh chives
2 tablespoons mild (or medium) sweet chilli sauce
1 1/4 cups milk
This recipe makes x 18 normal sized muffins (7 cm W x 3 cm D holes) or x 9 large Texas size muffins (8.5 cm W x 4 cm D holes)
Using fresh Paua is best as they can be a bit tough from the freezer 🙂
Optional – x 18 muffin cases or x 9 large Texas size muffin cases
Alternatives*  Omit the sweet chilli sauce and include a small, deseeded, finely diced, red chilli. Also if you have some nice fresh parsley in the garden you can use it instead of the chives or half 'n' half.
Decorating – You can simply leave them as they come out of the oven of course or you can sprinkle them with chopped chives or parsley (or both). Or you can add sliced tomatoes and cheese before baking them OR you can garnish them with edible seaweed (details at the end : )
WALKTHROUGH
First peel and wash the potatoes and then dice them roughly into 3 cm (1 1/4 inch) pieces. Then 2/3 fill a medium-sized saucepan with water (enough to cover the potatoes), add the 1/4 teaspoon salt and over a high heat bring it to the boil. Place the potato pieces into the water and let it come back to the boil. Now turn the heat down to medium or a temperature where they are simmering (a soft boil) and cook them for 10 – 15 minutes or until a knife pierces them easily but they are still 'firmish'.
When they are done strain the water from the pan or drain the pots in a colander and then lay the pieces out on a plate or chopping board so they can cool down (they'll keep cooking if they are in a pile and may become mushy).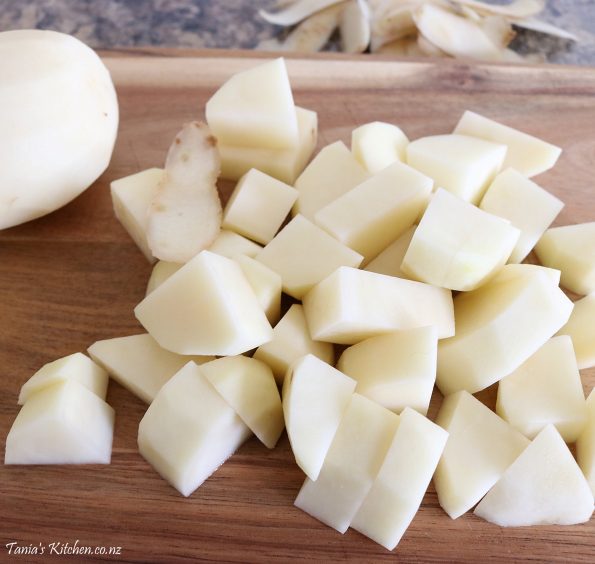 Whilst the potatoes are cooking you can use the time to finely dice the onion and the bacon (rind removed). Slice the chives into small pieces (or finely chop the parsley). Grate the cheese, roughly chop up the tomato and make sure the paua is ready to go (in the fridge of course). Get the sweet chilli sauce and salt and pepper from the pantry or if you chose to use a fresh chilli, de-seed it and finely dice that also : )
Now preheat the oven to 170 degrees/fan-bake oven or 190 degrees/conventional oven, with a rack situated in the centre of the upper half of the oven and one in the centre of the lower half of the oven.
Next in a medium-sized bowl mix together the flour, baking powder, the salt and pepper and set it aside.
In a small saucepan over a low heat, melt the butter or in a bowl in the microwave on HIGH for around 1 minute 30 seconds.
While it's melting, spray your muffin tins quite well with non-stick cooking spray or place the muffin cases in the holes so that they are ready to go, and set them aside.
Place the eggs in a very large mixing bowl and large spoon stir them together until the yolks and whites are well blended.
Add the butter and quickly stir it in.
Add to the large bowl containing the butter and eggs, the flour mix and everything else, including the milk. So that's all of the drys you had set aside and the potato, paua, bacon, tomato, onion, chives (or parsley, or both), cheese and sweet chilli sauce (or fresh chilli).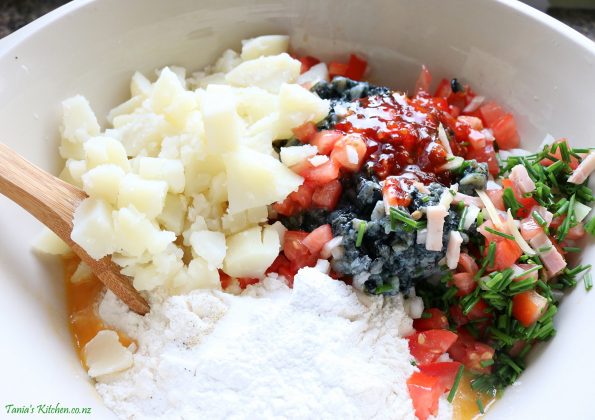 Still using a large spoon, gently fold it all together, concentrating on breaking up the paua at the same time. Try not to over mix it so you don't get dense muffins. I would stop as soon as I was satisfied the paua was distributed well and there was still a wee bit of flour around the edges of the bowl.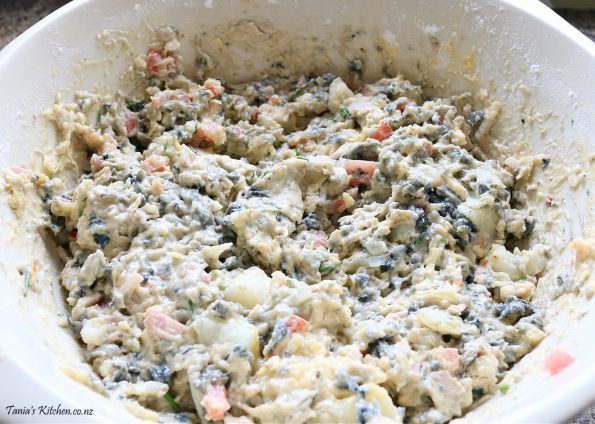 Scrap down the sides and using two spoons or one spoon and your finger, fill the muffin holes (either 9 large or 18 small)……try not too push the mix down, which will affect their height. Check that they all look like they have the same amount in them and if there are gaps take some mix from the larger ones to fill them in.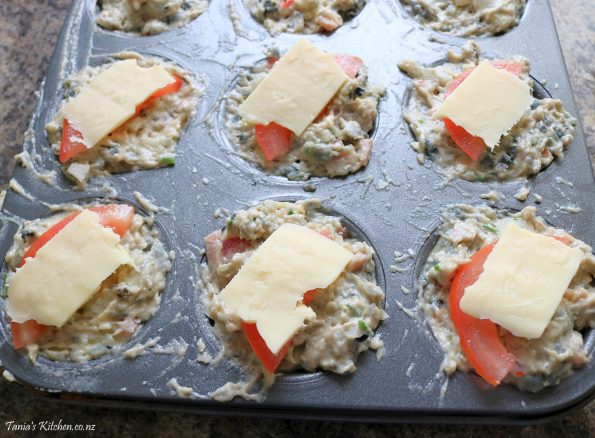 Place them in the oven and bake them for 25 minutes (small) and 35 minutes (large) or until they are golden brown and when pierced with a knife it comes out clean (with no wet muffin batter attached to it).
Note*  If you are baking in a conventional oven you should quickly swap the trays around after 15 minutes. If using a fan-bake oven you shouldn't need to but if you are worried the heat won't distribute you still can (I do sometimes). Just know that if you take too long doing this with the door open the oven may lose heat and they might need five minutes more cooking time added on 🙂
Decorating
Sprinkle with chopped chives or parsley – When cooled sprinkle finely chopped chives or parsley (or both) over the tops.
Cheese & Tomato on top – Before going into the oven put half slices of tomato and a slice of mild cheese on top of each one. The bigger muffins can have a whole slice of tomato.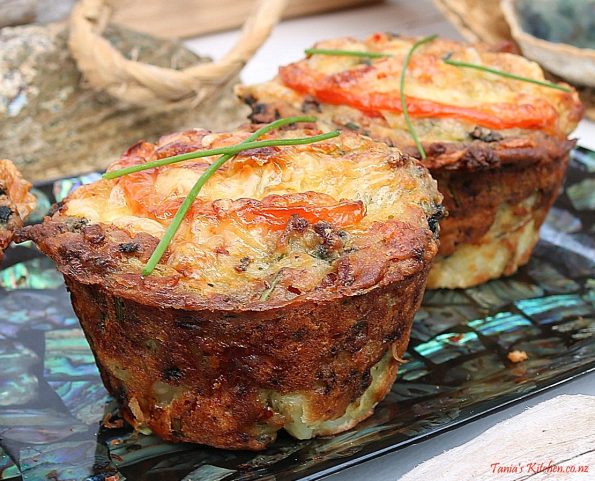 With Seaweed – Cover 1/4 cup dried Hijiki or Wakame seaweed in warm water and soak for 3 – 4 minutes. Rinse it with cold water then gently squeeze out the all of the water and place on top of the baked and cooled muffins.
P.S I really enjoyed taking these pics 🙂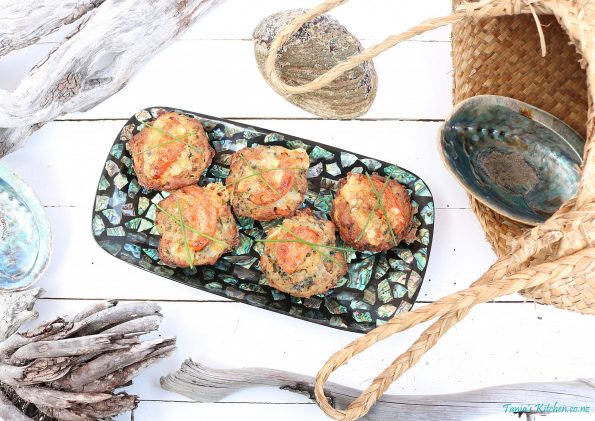 I like my savoury muffins warm from the oven with a ton of butter (naughty, naughty). These would be nice with sour cream spread on the butter too. If they are cold from the fridge you can warm them in the microwave on HIGH for 1 minute 10 seconds or more or wrap them individually in cooking foil (pierced) and warm them in the oven on a low temperature like 150 degrees – conventional oven on bake or 130 degrees – fan-bake oven until they are warmed.
Storage – Keep in an airtight container or wrapped in cling wrap in the fridge for no more than three days.
Paua, Potato & Bacon Muffins
Blackfoot paua are edible sea snails unique to NZ. I love to bake so I made these minced paua, potato, bacon and cheese savoury muffins.
Ingredients
3 medium-sized potatoes (approx 400 grams)
1/4 teaspoon salt
175 grams butter
3 large eggs
3 cups standard flour
4 1/2 teaspoons baking powder
1 teaspoon salt
1/2 teaspoon white pepper
1 1/2 cups paua (minced and ready to go)
4 slices shoulder bacon (approx. 200 grams)
1/2 medium-sized white onion
1 large tomato
1 1/2 cups mild, grated cheese
1/4 cup fresh chives
2 tablespoons mild (or medium) sweet chilli sauce
1 1/4 cups milk