I love these wee things, they are so tasty and very moorish. I have to give most of them away or I will demolish the lot and they are even more delicious decorated with some milk chocolate and/or some yummy almonds.
This recipe is from a very, very old cookbook I have. The cover is missing but I'm pretty sure it's an Australian Woman's Weekly Cookbook or similar. This recipe is on a torn page so I wanted to save it, which is one of the reasons I started this 'Recipe Box' so all of my favourite recipes are in one place.
These chewy lil' morsels of goodness are basically made by adding a heap of coconut to sweet whipped egg whites and then made into little balls, just three ingredients, so not very expensive. They are sweet, coconutty and an absolute delight. The other macaroon recipes I've seen are made using just the egg whites but this recipe uses the yolks also which I think adds to their flavour and gives them a better colour. You can also add vanilla or almond essence if you like although I think they are perfect just the way they are. These macaroons are very cute and dainty so are perfect for high tea or a picnic and would make a cute boxed gift for a friend.
It's a just a basic recipe in the book with no chocky or nuts, I decorate them with both because as I've mentioned before if I don't make things look cute at work they don't sell. I've also gone into my usual 'OCDish' detail in the walkthrough not to deliberately annoy all you wonderfully talented home bakers but so that those who are new to rolling pins, whisks and flour all over the place have a greater chance of success 🙂
Ingredients
2 small – medium sized eggs (I used size 6's)
3/4 cup castor sugar
3 cups desiccated coconut
Optional
1/4 teaspoon vanilla extract or 1/8 teaspoon almond essence
almonds or chocolate to decorate (see below)
Makes x 25
Notes
Please don't replace the castor sugar with another type as it dissolves better into the egg whites (because it's fine) and gives the macaroons a nicer texture.
Also shredded coconut will not give such a neat and tidy macaroon, they will look quite rough so I prefer to use desiccated.
–
Walkthrough
Before you begin make sure the eggs have been out of the fridge for at least half an hour because cold egg whites don't whip up as well.
Next line two baking trays with baking paper and then lightly spray the paper with non stick cooking spray.
So, getting started…..In a large bowl, using an electric beater on a medium speed, whip the egg whites for one minute or until they have soft peaks (if you pulled some up with a spoon it would make a peak which would then flop over but not dissolve back into the whites).
* It's important not to over whip the whites as the proteins will break down and then the macaroons might not hold their shape in the oven (speaking from failed macaroon experience).
Next add the yolks and using a large spoon fold them into the egg whites until they are just combined.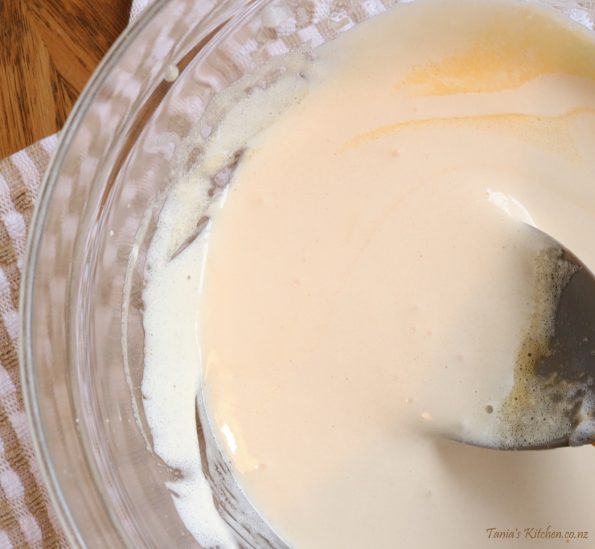 Now add 1/4 of the castor sugar (1/4 cup) and continue beating (still on medium speed) for one minute……….then add the next 1/4 and continue beating for another minute…..then add the last 1/4 and beat for one final minute.
Add the coconut (and also the essence if you're using it) and using a large spoon carefully fold it through the beaten mixture.
Next preheat the oven to 150°C fan bake oven or 170°C conventional oven, on bake, with a rack situated in the centre of the oven.
I use a round measuring tablespoon to make little scoops of mixture (like an ice cream scoop) and then turn the spoon upside down and tap them out on the tray. First I place a few drops of cooking oil in the spoon and then wipe it out with a paper towel, this stops the mix from sticking and they tap out easily (as soon as they start to stick I repeat it).
* If you don't have a round measuring spoon, mine weighed 15 grams (rounded) so you could weigh one out and then find a spoon that will make ones about the same size of the 15 gram one. I also can't see any reason why they can't be oblong, say if you used a dessert spoon. If you make them bigger then the baking time will be slightly longer than mine.
* When baking biscuits or many things on a tray I don't put them in perfect rows as the heat circulates better around them and they bake more evenly (see pics).
So once you have 12-13 on the first tray…..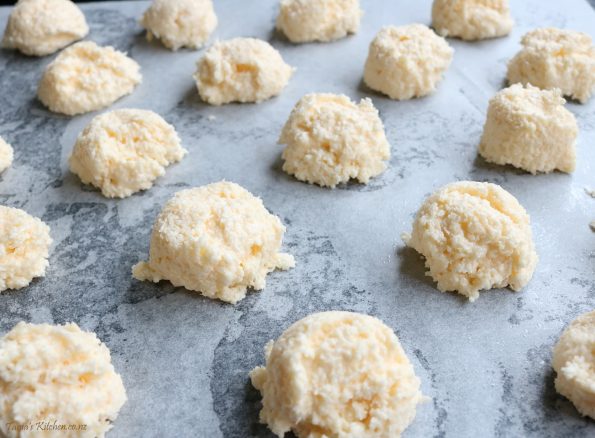 * If you are placing whole almonds on top press one into the centre of each macaroon before they go into the oven.
…..pop them in the oven for 12 minutes or until they are light brown all over.
Whilst this tray is baking you can prepare the other tray of macaroons.
Decorating
Of course they are excellent just as they are from the oven but if you like the look of  mine here's what I do. 🙂
With Almonds
Press x 25 blanched or skin on, whole almonds into each macaroon just before baking.
They also taste good if you sprinkle two tablespoons of sliced almonds on top of baked macaroons that have been drizzled in milk chocolate.
With Chocolate
Use a teaspoon to spread on 100 grams (approx) of melted milk chocolate over the bottoms of the cooled macaroons (you can also brush it on with a good quality pastry brush). You can do this with the ones that have whole almonds on top also. I prefer milk chocolate with these.
You can also use a teaspoon to drizzle 50 grams (approx) of melted chocolate over your cooled macaroons.
To melt the chocolate, because it's just a small amount just place it in a small microwave proof bowl and cook it for 30 seconds, stir and then continue for 20 seconds at a time, (stirring in between) until it's totally melted.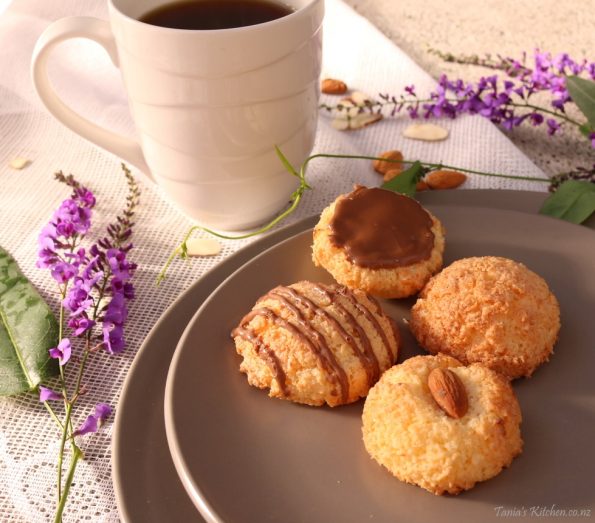 Storage – These keep so well, up to a week in an airtight container in the pantry.
That's it, aren't they cute! Have you ever made these using the yolks too or just the whites?
Easy with only three ingredients, these gluten free, chewy & moorish Coconut Macaroons are perfect for High Tea.
Ingredients
2 small - medium sized eggs
3/4 cup castor sugar
3 cups desiccated coconut