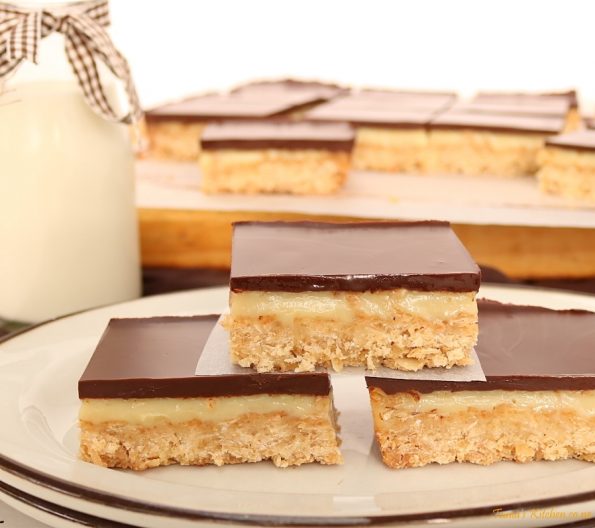 Welcome! I absolutely adore this slice because I love oats. Baked oats taste so amazing don't you think? and add some caramel and a lot of CHOCOLATE and you have an incredibly delicious treat on your hands!
I'm not sure of the origin of this recipe but it's been in my file box for around three years, thank you to whoever created it because it's awesome! I have changed it only slightly, switching the desiccated coconut for shredded for a better textured, chewier base and I often replace the original butter in the chocolate topping for oil. I prefer the taste of butter but using oil gives it a lovely smooth sheen giving it a more professional looking finish….not that I'm a huge fan of that look because I prefer my baking to have a 'rustic' look, you know that home-made 'I made this from scratch with love' look, if it looks too perfect I feel someone might think it's from a packet! So if you are all about looks use the oil, if you prefer a better taste, use butter. Actually, I almost always change a recipe, even if it was already perfect, I think because I'm just a 'know it all' haha 🙂
INGREDIENTS
Base
1 cup standard flour
1 teaspoon baking powder
1/2 cup raw sugar
1 cup shredded coconut
3/4 cup rolled oats
175g butter
Caramel
15g / 1 tablespoon butter
2 tablespoons golden syrup
1 x 395g tin / 1 1/4 cups condensed milk
Topping
1/4 cup vegetable oil or 50g butter
200g dark or milk chocolate
Notes
Darker chocolate is less sweet than milk chocolate. I use a darker chocolate for the topping (50% cocoa content) for a better balance because of the sweetness of the condensed milk, but if you're a sweet tooth just use milk chocolate, it tastes really good!
I use shredded coconut in this as it gives a chewier, more textured base. Desiccated is finer so will change the recipe a bit (i.e you'll need a little bit less melted butter in the base).
The topping on this slice takes a long time to set so I always make it the night before I need it and leave it out on the bench overnight to let it set nicely in its own time (and hope the cat doesn't jump up and eat it!)
When I'm making caramel slices I try to use good quality golden syrup and condensed milk (I use Nestle condensed milk and Chelsea golden syrup). I have used other brands of golden syrup that for no reason I can understand stop my caramel from setting in the oven. I've also used other brands of condensed milk that are just too runny and also change the recipe.
STEP BY STEP
First lightly spray a 27.5 cm L x 18 cm W x 4 cm Deep slice tin with non-stick cooking spray. Then line it carefully with baking paper and lightly spray it again.
I spray the tin a little bit first so that when I am placing the paper in it doesn't move around so much (just easier).
Next preheat the oven to 150°C fan bake / convection oven or 175°C conventional oven, on bake, with a rack situated in the centre of the oven.
Base
In a small saucepan, over a low heat, slowly melt the butter and then set it aside. Try not to let it boil as you don't want it too hot when you add it to the other ingredients.
In a large bowl place the remaining base ingredients…..so the flour, baking powder, raw sugar, oats and coconut.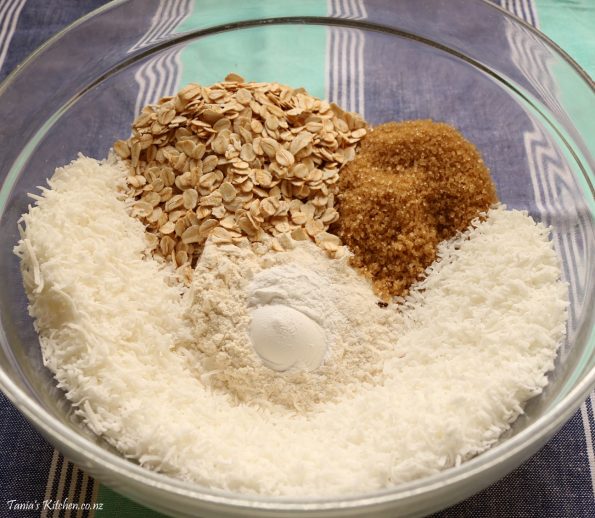 Stir in the melted butter and mix it all together.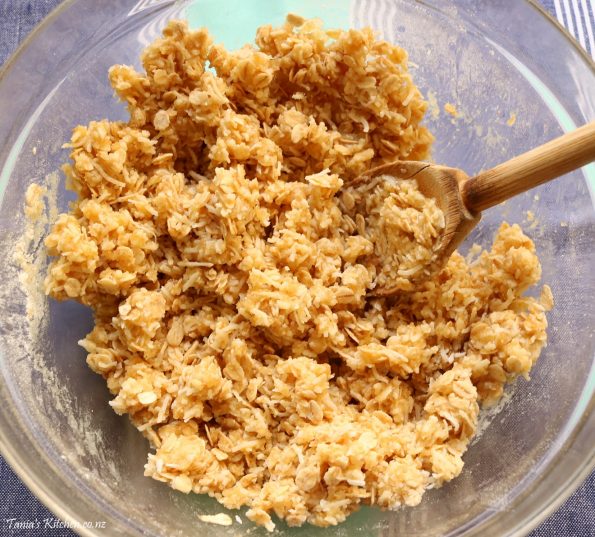 Tip the oaty mix into your prepared tin and move it around until it looks like it's evenly distributed. Use the back of a spoon to press the mix firmly (but not too hard) down.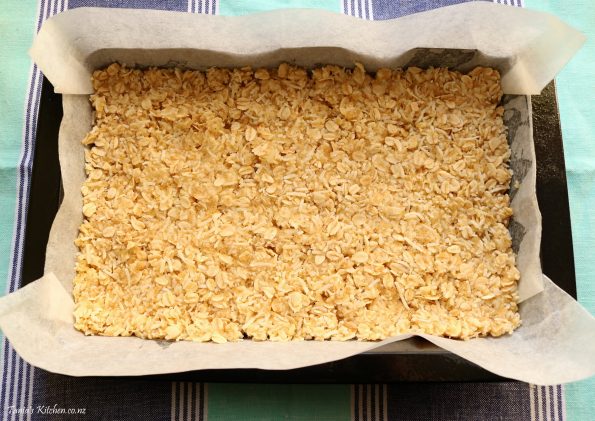 Now place it in the oven for 20 minutes or until it is lightly browned all over.
Caramel
As soon as the base is in the oven make the caramel.
In a small saucepan, over a medium heat melt the butter and the golden syrup together. As soon as they start bubbling remove the pan from the heat and stir in the condensed milk.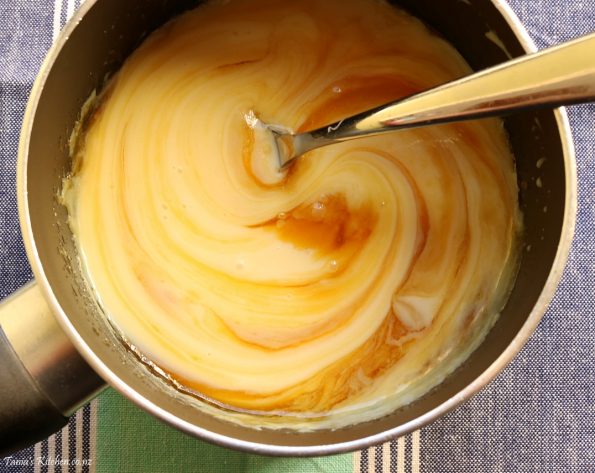 When the base is out of the oven pour the caramel over the base and spread it around evenly.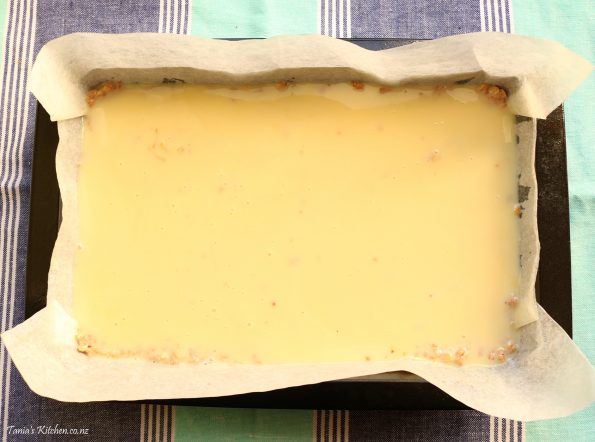 Place the slice back into the oven for another 10 minutes or until it's no longer wobbly in the centre (It will be just starting to go brown around the edges).
Leave it out on the bench to cool.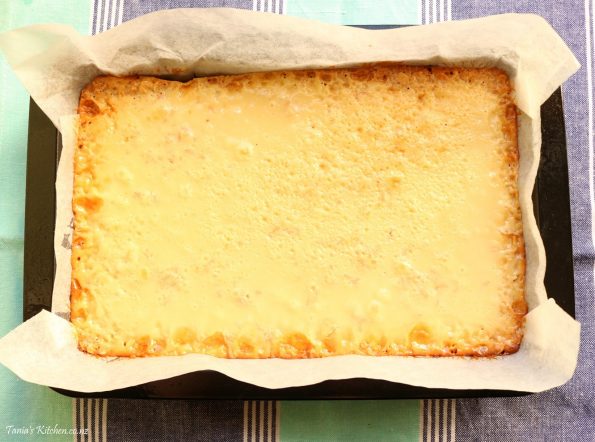 Topping
Once the base and the caramel has cooled right down you can melt the chocolate for the topping.
Now find a medium/small heatproof bowl. Break the chocolate up and place it and the oil (or the butter, cut into 4 cubes) into the bowl.
Next, find a small saucepan that the bowl fits snuggly into the top of. Then place some water in the saucepan making sure the bottom of the bowl isn't touching the water. Once satisfied the water isn't touching the bottom of the bowl remove the bowl and over a high heat bring the water to a boil. As soon as it's boiling turn it down to medium/low heat or to a heat where the water is just softly boiling (simmering). Then place the bowl of chocolate and oil (or butter) on top and stir often until it's melted.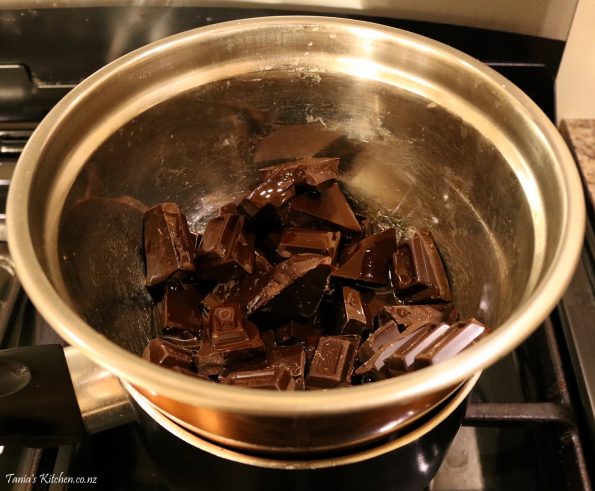 Leave it to cool for 20 minutes so it thickens just a tad and then pour it over the caramel, spreading it around if needed.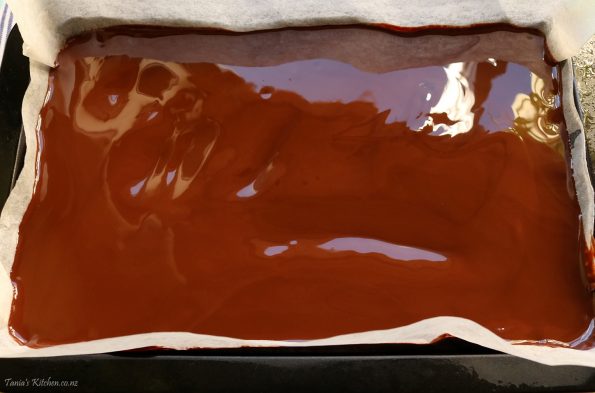 Leave the slice to set. this will take two HOURS (seriously…..but it's worth the wait I promise!) You can pop it in the fridge if you like to speed up the process. Just remember though that chocolate doesn't like the moisture in the fridge and if left in there too long it may get white spots on top or if you've used butter and haven't melted it thoroughly with the chocolate it may have spots of fat also. I think the topping loses its shine a little bit in the fridge too (but that could just be my imagination). So if you can't wait, pop it in the fridge but take it out as soon as the top is set enough to touch without leaving a finger tip mark.
Use a very sharp knife to cut it, making sure you wipe it clean with a damp cloth between slices so as not to mess up the top with caramel and crumbs from the knife.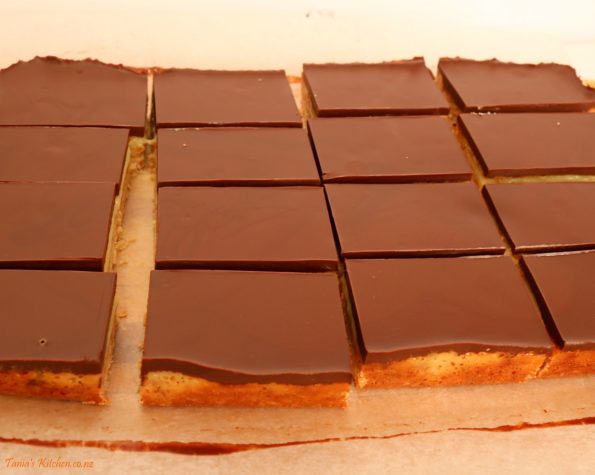 Keeping it fresh – Store in the pantry in an air tight container for up to a week.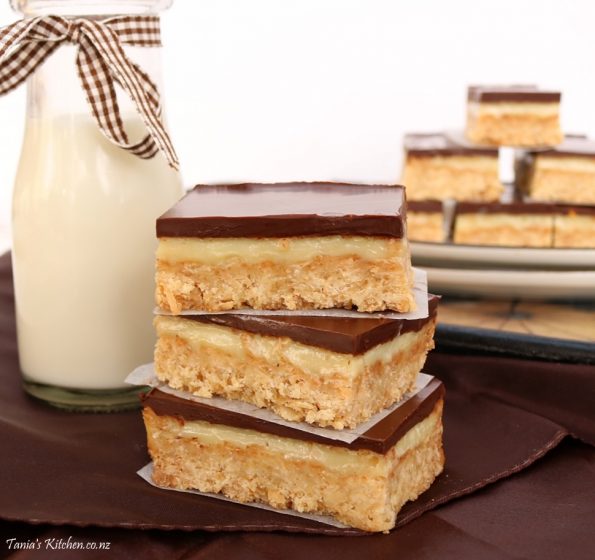 If you've tried both which do you prefer, to melt your chocolate with oil or butter for a topping? I am also curious to know if anyone else finds that different golden syrup can result in different outcomes with your baking?
Related Posts
A delectable baked chewy, coconut & oaty base covered with a creamy caramel filling & topped with chocolate. Perfect for an afternoon tea treat.
Ingredients
Base

1 cup standard flour
1 teaspoon baking powder
1/2 cup raw sugar
1 cup shredded coconut
3/4 cup rolled oats
175g butter

Caramel

15g / 1 tablespoon butter
2 tablespoons golden syrup
1 x 395g tin / 1 1/4 cups condensed milk

Topping

1/4 cup vegetable oil or 50g butter
200g dark or milk chocolate