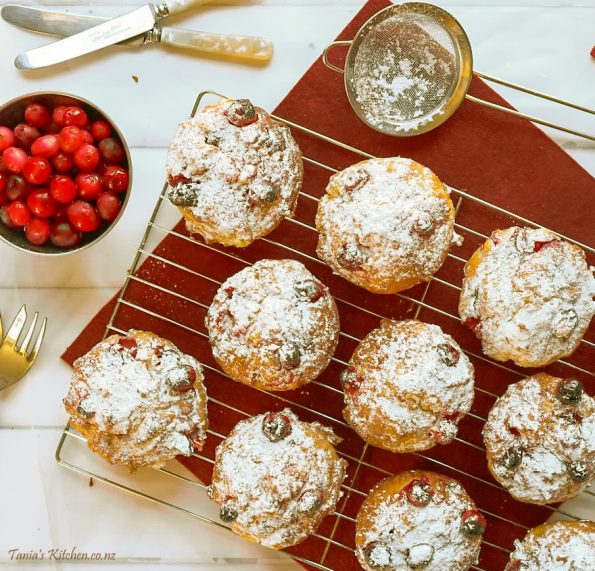 Hello there, welcome 🙂
Barely a working day of mine for over ten years has gone by without making some or many of these muffins. I've made so many I could make them in my sleep, whilst driving a bus, scaling a mountain, on a unicycle, even bunjee jumping I'm sure (not that I'd ever bunjee I'm too much of a sooky bubba), you get the picture…I've made them ALOT! I've made them so much because they are so popular, they fly out the door in the cafe and if I didn't make them the customers would put me in stocks in the town square and throw rotten fruit at me (or I'd get fired) and if I run out….my name is mud. I have had hundreds of people tell me they are the best muffins they have ever eaten. It's the sweetness of the white chocolate combined with the tartness of the cranberries that make them so good and like all the other sweet muffins I make they are mixed with natural yoghurt which makes them rich and moist.
I am so blessed to have been taught how to make the yummy muffins by an amazing baker I used to work for. When that café changed hands my new boss started this thing where she would pick a regular customer from a nearby business and ask them and their fellow workmates to come up with any ingredients they liked and that I would turn them into an awesome muffin on Friday (it should've been called 'let's torture the chef every Friday'). Actually I loved it because I thrive on challenge…but wow, some people made it so hard! Someone picked, beer and beirsticks, another lemongrass, ginger and coconut curry and many other weird and wonderful combos. I'm pleased to say they all came out awesomely and it was so much fun. Well except the muffins made of frogs eyes and moth wings, not so tasty (kidding!), I loved it, so much fun. 🙂
INGREDIENTS
115 g / 4 oz butter
½ cup castor sugar
2 large eggs (I use size 7's)
2 cups standard flour (loosely packed)
3 teaspoons baking powder (yes….3!)
200 g / 7 oz white chocolate (in a block or buttons)
1 ½ cups fresh or frozen cranberries
¾ cup + 2 tablespoons of plain, unsweetened, natural yoghurt
Optional – 12 muffin cases or  6 large Texas size muffin cases
This recipe makes 12 normal sized muffins (7 cm W x 3 cm D holes) 6 large Texas size muffins (8.5 cm W x 4 cm D holes)
Notes
I buy the normal family sized blocks of chocolate for baking as they are often cheaper than cooking chocolate and I use my biggest knife to roughly cut it up. I don't use chocolate chips as I love biting into a chunk of gooey chocky when the muffins are still warm! If I use chocolate buttons, I keep them whole for the Texas-sized muffins or roughly chop them up for the smaller ones. If you are using 'morsels' they are perfect just the way they are!!
I just throw frozen berries straight into the mix without defrosting them. I think the muffins look better as the berries haven't 'bleed' and discoloured the whole mix.
STEP BY STEP
First liberally spray the muffin holes with non-stick cooking spray or place your cases into the holes (no need to spray those).
Next, preheat the oven to 170°C fan bake oven or 190°C conventional oven, on bake, with a rack situated in the centre of the oven.
Getting started on the muffin mix, roughly chop up the chocolate, quite small if you are making small muffins and a bit larger for the Texas size.
If you're using chocolate buttons they can be kept whole in the Texas-sized muffins but are better if they are roughly chopped up for the smaller ones.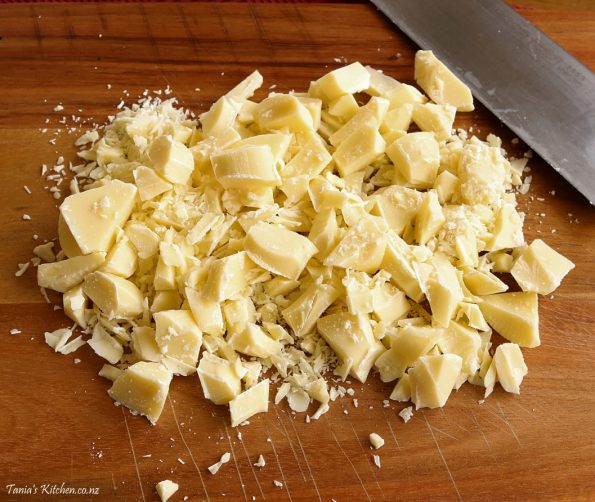 Place the castor sugar in a large bowl and set aside.
Melt the butter in a small saucepan over a low heat or on HIGH in the microwave for approx. 1 min, 20 secs (or until done).
Add the butter to the sugar (no need to let it cool down) and using a large spoon, mix the two together until they are just combined.
I was told that using the butter hot gives the muffins a better colour so I use it straight away. I also think it gives the muffins a fudgy texture as it melts the castor sugar a bit.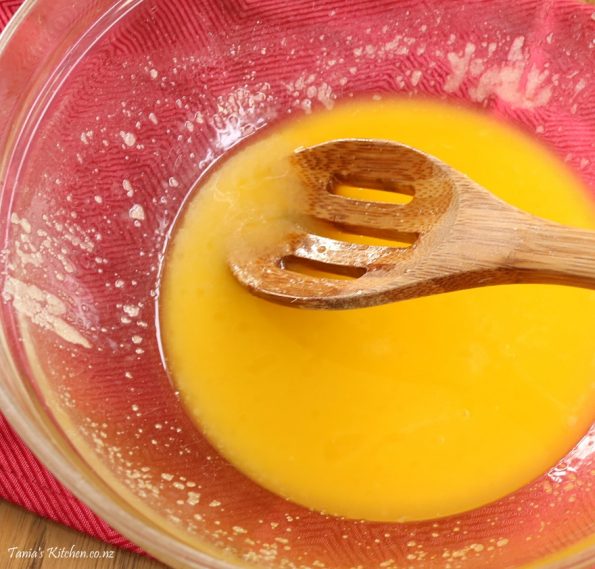 Now add both of the eggs and quickly mix them in well.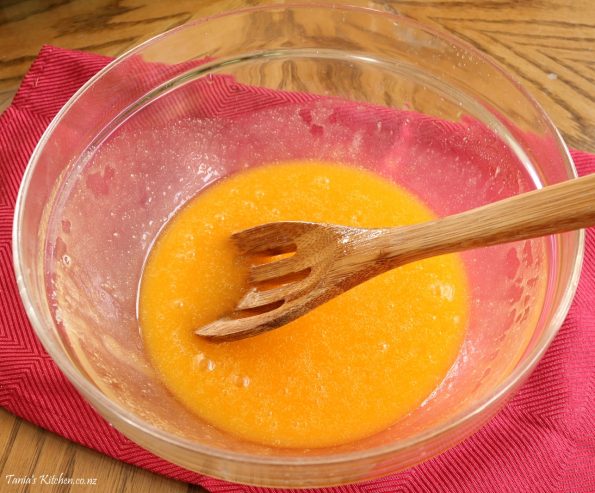 Next, throw on (literally) the flour, baking powder, chocolate, 1 cup of the cranberries and the yoghurt.
If 'throwing' in the flour and baking powder together worries you, you can sift or stir them together in a separate bowl first.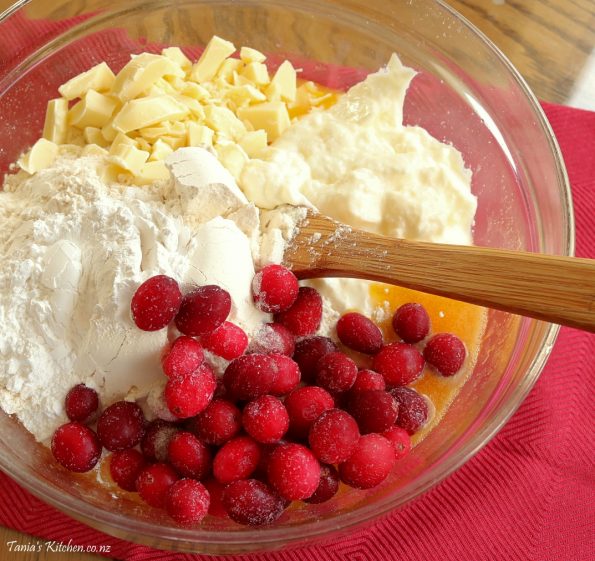 Fold it all together until it's all just combined. I usually leave a bit of flour around the edges of the bowl so I know it's not over mixed.
Muffins are like scones, they don't appreciate a lot of handling. Over mixing will cause them to be denser and not as 'light 'n' fluffy' in texture.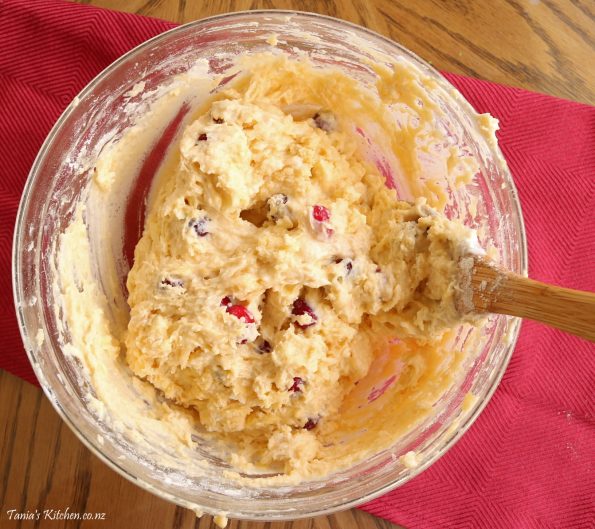 Now carefully spoon the muffin mixture into the sprayed tin or cases (either 6 large or 12 small), being careful not to push the mix down as they will rise less and be denser in texture.
I wait until I have distributed the whole mix before I check that they all have the same amount in each hole because like I said they hate being played with. Then I take bits from the bigger ones and place it on top of the smaller looking ones, still not pushing the mixture downwards…..more like moving it around, not down. For example, I will take some from a larger one and add it to a gap on top of a smaller one or I will move some mix sideways to fill in a gap, still trying not to push the mix down.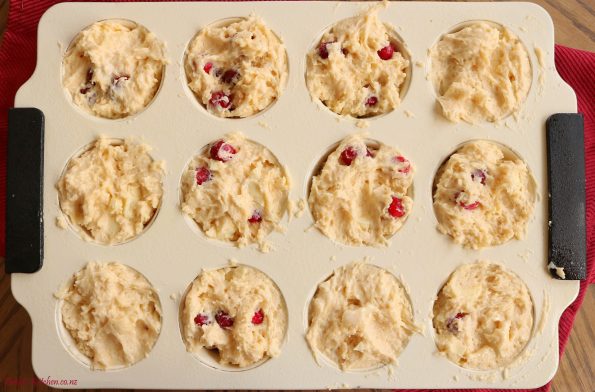 Now place the remaining ½ cup cranberries on top of each muffin (I usually put about 3 on each of the smaller ones and 5 or 6 onyop of the Texas-sized ones).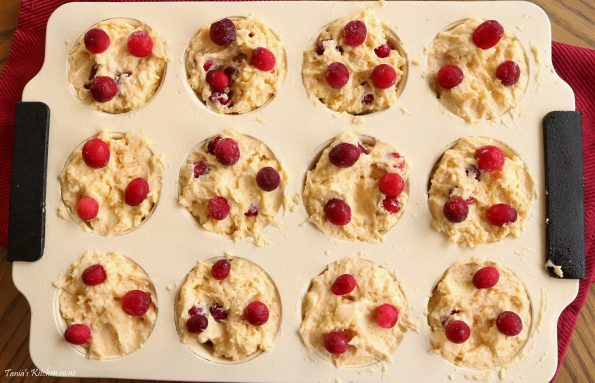 Place them in the oven and bake the smaller ones for 20 minutes and 30 minutes for large or until they are a medium brown all over and feel firm when you gently press the centres.
Testing them by inserting a knife into the centre isn't a good way to test these as they will always be a little soft in the centre when they leave the oven as these are quite moist muffins (they will firm up as they cool down). Also when using quite chunky chocolate you may pierce the melted chocolate and think it's uncooked batter on the knife.
…..the BIG BOYS…..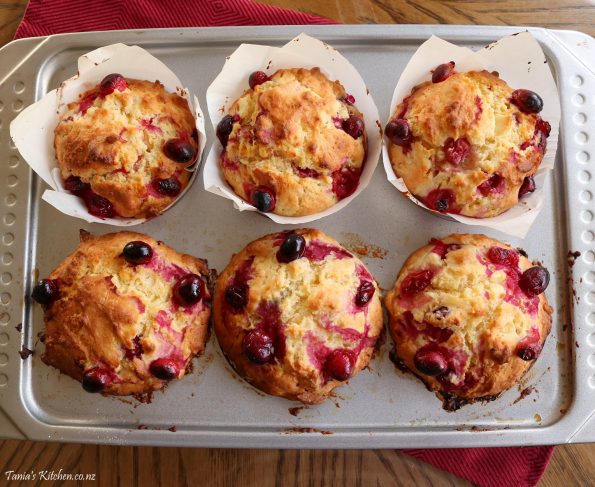 These are beautiful warmed….just above room temperature, enough so that the chocolate is still soft. 🙂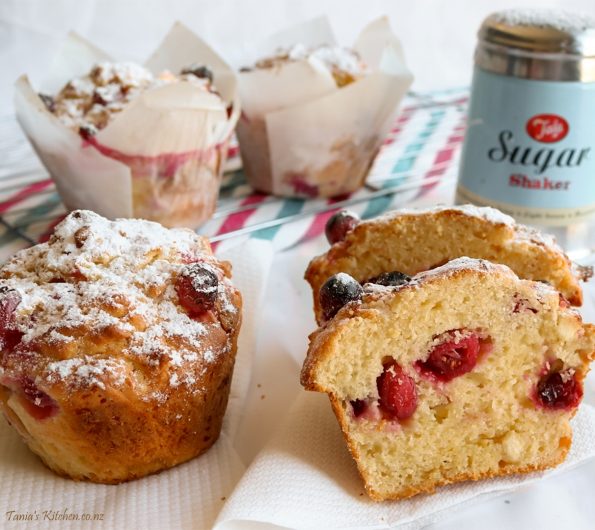 Keepin' em fresh – They are best kept in the pantry in an air-tight container and I really like them to be eaten on the day. The second day they're still okay but not quite as fabulous (a bit like watching a good movie twice) so I would certainly warm them for 15 – 20 seconds in the microwave to freshen them up a bit….just above room temperature (to just where the chocolate has just started to melt is yummy).
My muffins always respond to my mood. I always find that if I'm in a bad mood or don't feel well, my baking doesn't turn out as good…..baking responds to positivity…..do you find that too?
Related Posts…
Cranberry & White Chocolate Muffins
Filled with sweet white chocolate & juicy tart cranberries & mixed with natural yoghurt, these are the most delicious, tastiest muffins I've ever made!
Ingredients
115 g / 4 oz butter
½ cup castor sugar
2 large eggs (I use size 7's)
2 cups standard flour (loosely packed)
3 teaspoons baking powder (yes....3!)
200 g / 7 oz white chocolate (in a block or buttons)
1 ½ cups fresh or frozen cranberries 
¾ cup + 2 tablespoons of plain, unsweetened, natural yoghurt
Optional - 12 muffin cases or  6 large Texas size muffin cases
Instructions
Preheat oven to 190°C conventional oven or 170°C fan bake/convection oven with a rack placed just above the centre.
With non stick cooking spray liberally spray a 12 hole standard sized muffin tin or a 6 hole Texas sized muffin tin (alternately use muffin papers).
If using a block of chocolate roughly chop it up with a large knife & set aside.
In a small saucepan, over a low heat melt the butter.
Place the sugar in a large bowl, add the melted butter & stir the two together.
Add the eggs & mix in well.
Add the flour, baking powder, chocolate, 1 cup of the cranberries & the yoghurt & fold it altogether until JUST combined.
Divide the batter evenly between the muffin holes, (being careful not to push it down too much) & then press the remaining cranberries into the tops.
Bake in he oven for 20 mins, small or 30 mins, large or until they have evenly browned & the centres feel firm to the touch.
Keep in an airtight container in the pantry for up to 2 days. Refresh by popping in the microwave until they are just above room temp.