These muffins are my very, very favourite…..yeah I know, I say that about everything I post, lol….Asking me what my favourite muffin is, is comparable it to being asked which of your children is your favourite. Of course if every recipe I post on here wasn't a fav of mine it wouldn't make the cut and be on here in the first place. I just wish I had more time, so many fav recipes and so little time urggh!
This recipe is from the family café days and I've made hundreds of them! in was in the café recipe file so I don't know who the amazing baker is but it's one that I'd never want to lose that's for sure! They look amazing and taste just as they look. They are made with wholemeal flour (which I'm not a huge fan of btw) but it suits these with all the carrot, pineapple, walnuts and the sultanas. It's a very wet muffin batter and contain oil so they are super moist inside….they melt in your mouth. I've placed these in the breakfast category because of the carrot, fruit and nuts and the wholemeal flour, if they were un-iced I'd definitely love to eat one for breakie  and of course it would have to be a Texas sized one! I only make Texas sized muffins at work but I realise most like to make the smaller ones at home for lunch boxes and so they go further, so as usual I've adjusted the recipe to make either 6 x huge suckers or 12 x a more modest, standard size muffins.
Fun & nerdy carrot stuff – When I was a kid I was often told "eat your carrots they help you see in the dark"….huh, whatever mum! The story began when in World War II the British were shooting down German planes at night and to cover up the fact that they were using new radar technologies the air force circulated stories that their pilots all consumed a lot of carrots giving them increased night vision. Something else I was told as a child turns out to be true and that is that eating massive amounts of carrots can cause your skin to turn a yellowish orange. It can happen to people who eat an enormous amount of carrots and is noticeable on the palms or soles of your feet and is called carotenemia. It isn't permanent, reducing carrot consumption will remove the colouring…..so don't panic carrot lovers, chow down.
INGREDIENTS
2 medium sized carrots (2 cups when loosely packed)
1 1/2 cups wholemeal flour
1 teaspoon baking soda
1 teaspoon salt
1 teaspoon mixed spice
1/3 cup walnut pieces
1/3 cup sultanas
3 large eggs (I use size 7's)
3/4 cup castor sugar
1/3 cup vegetable oil
1/2 cup pineapple pieces
1/3 cup pineapple juice (from the can of pieces)
Decorating – If you choose to ice them you will need to make 1/2 cream cheese frosting recipe from here and also if you like you can add any of these; walnut halves, dried apricots, sliced almonds, chocolate pieces or buttons, crystallised ginger or pineapple chunks. See the end of the recipe for more info.
Optional – x 12 standard muffin cases or x 6 large Texas size muffin cases
This recipe makes x 12 normal sized muffins (7 cm W x 3 cm D holes) or x 6 large Texas size muffins (8.5 cm W x 4 cm D holes)
Notes
I like to use pineapple pieces, I find the chunks are too large. If that's all I have in the pantry I chop them roughly in half. You can also use rings of course but again, they need slicing up. Also if you only have walnut halves in the pantry they need to be chopped up smaller also.
I quite like golden sultanas in these too.
WALKTHROUGH
First spray the muffin holes really well (these muffins like to stick so I use an old tin just in case) with non-stick cooking spray or if using them, place the muffins cases into the holes (no need to spray those).
Next peel and grate the carrots and set them aside. Also if you need to, chop up the pineapple into small pieces and if you only have walnut halves chop them up into smaller pieces too.
I bake these on a lower temperature than my other muffins as it is a very wet mix, they are practically 'lil' carrot cakes. So preheat the oven to 150°C fan bake oven or 170°C conventional oven, on bake, with a rack situated in the centre of the oven.
In a medium sized bowl place all of the dry ingredients. So that's the wholemeal flour, the baking soda, the salt, the mixed spice, the walnut pieces and the sultanas.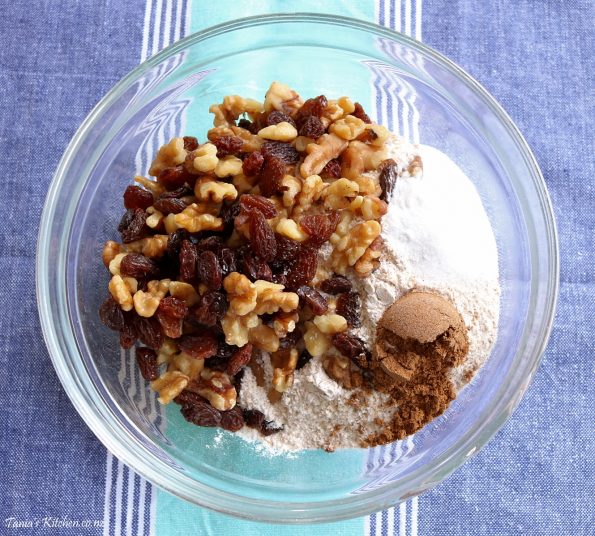 Stir them all together and leave the bowl aside.
Next place the eggs and sugar into a large bowl and stir the two together until they are well combined.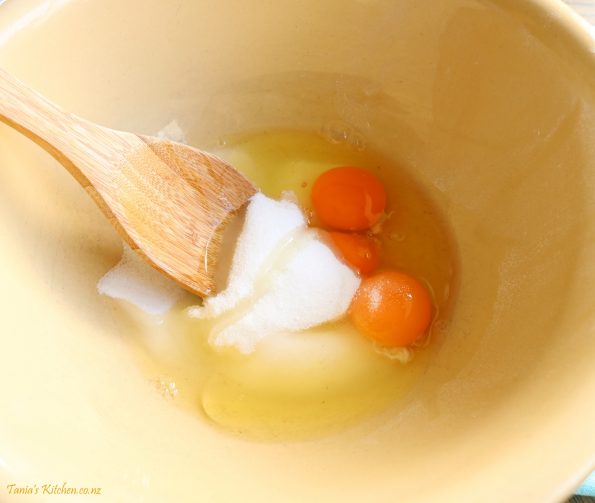 Add the grated carrot, the oil, the pineapple pieces and the pineapple juice and…..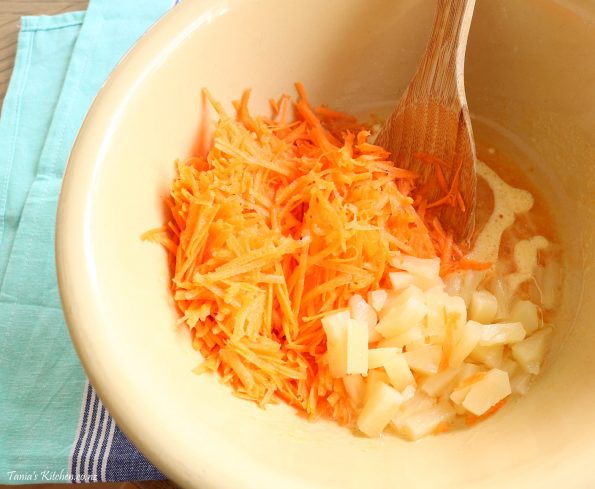 …..also all of the dry ingredients you prepared before.
Stir it all together now, making sure there are no flour lumps.
Now carefully spoon the muffin mixture into the sprayed tin or cases (either 6 large or 12 small). The holes will be quite full, don't worry, they will be fine. 🙂 Just check they all have the same amount in them, any that have even a small amount less in them in the tin will be noticeable smaller when they are baked.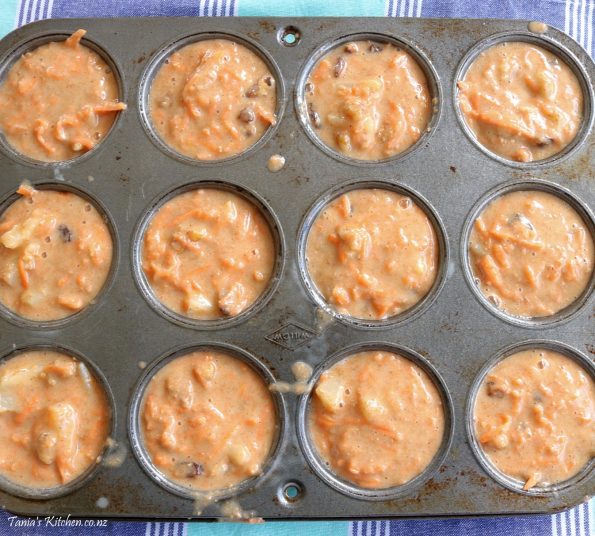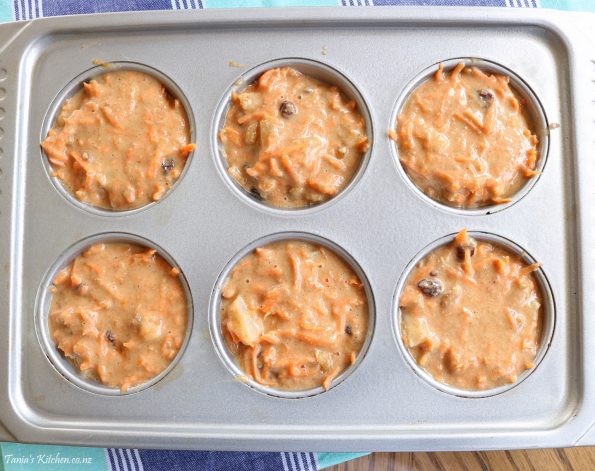 Now, place them in the oven and bake them for 25 minutes (for small) or 35 minutes (large). To double check that they are baked well (ovens temps can be a bit different) insert a small sharp knife into the centre of one and if it comes out clean they are all good. Another way to tell is by using your finger to gently push the centre down a bit and if it springs back they are ready but if the dent remains they need longer.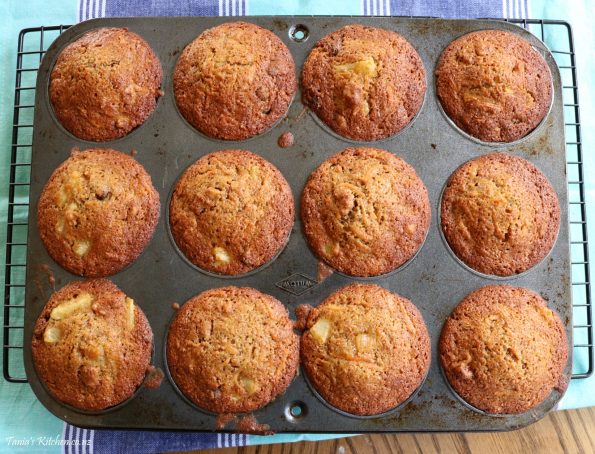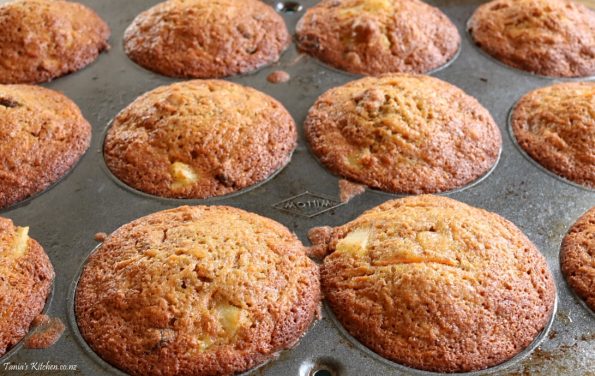 Leave them in the tins for at least 10 minutes before running a knife around them and using a spoon gently leverage them out. I actually flip the tin over and bang it on the bench and they usually fall out and then I flip them over…but….I've made hundreds of them and….I'm always so rushed at work so I tend to be a bit rough and have learnt what I can and can't get away with, haha.
Pop them on a cooling rack to help them cool down quicker.
Decorating
These don't need icing…..however they go from being really good to mouth watering if you do! Just as most do for carrot cake I use cream cheese icing but you could use your favourite buttercream icing too. I always decorate my baking, even the plainest of things. People eat with their eyes and you want your baking to look as good as you know it tastes, right?
Cream Cheese Icing – If you'd like to ice them, they need to be cooled down to room temperature first and if you don't have your own recipe, I have a cream cheese frosting (icing) recipe here and you'll only need half of that recipe. If you don't have a piping bag you can spoon it into a resealable bag and using a sharp knife, cut a corner off and use that. If you're not confident in piping that's cool just spread it on with a little knife and either sprinkle them with sliced almonds…..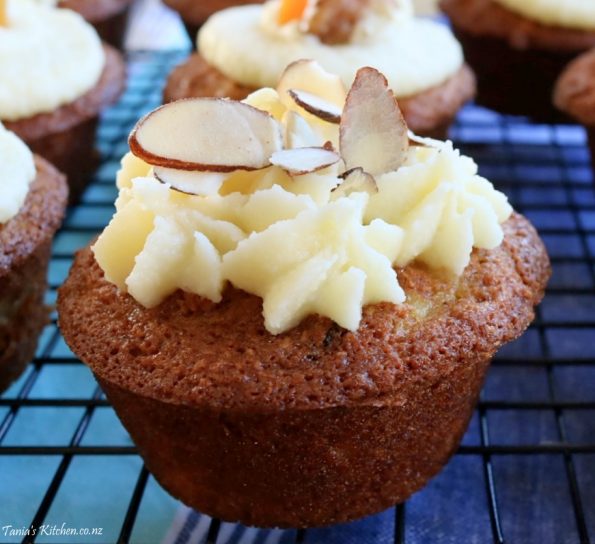 ….or use half a apricot half and a walnut half…..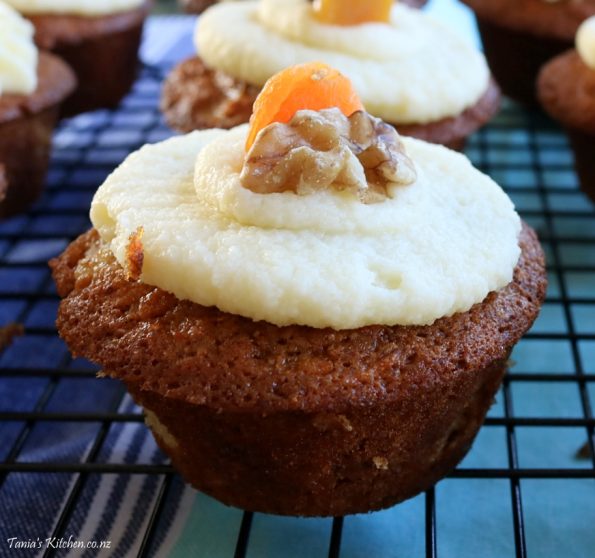 …..or a piece of chocolate or a chocolate button and an apricot half.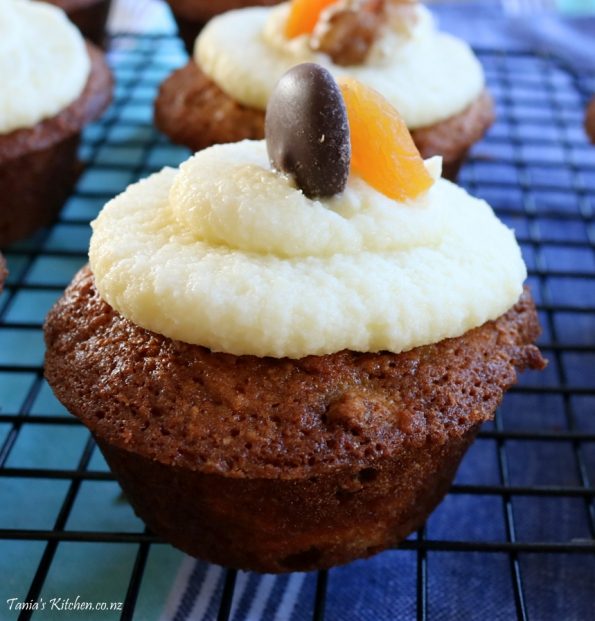 Anyway that's what I do or I mix it up depending on what's in the pantry. I also like a chunk of crystallised ginger or crystallised pineapple on top with a piece of chocky. If I've done a really messy piping job on a carrot cake or muffins I slice everything up finely (except sliced almonds, they are already thin) and mix it all up and sprinkle it all over the icing to hide my mess (I'm sly like that).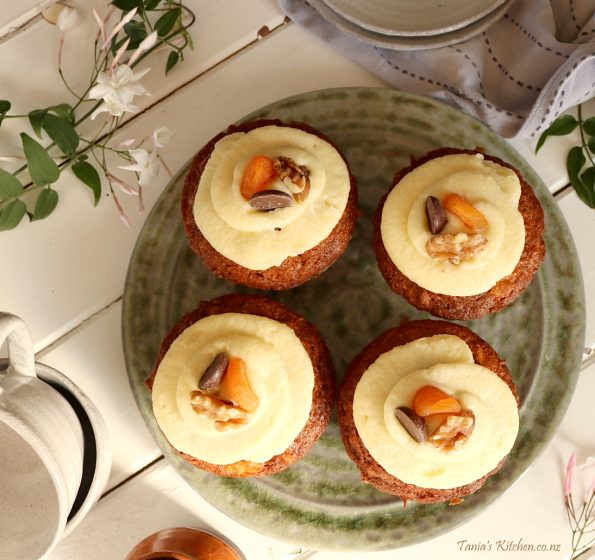 Storage – These muffins have a good shelf life. If you've iced them, they are best kept in the fridge, well covered in cling wrap or in an air-tight container. If un-iced they are fine in an airtight container in the pantry and both iced and un-iced are good for up to 5 days. After their first day I usually warm my muffins before I eat them but these aren't very nice warmed, I would however let the iced ones that've been in the fridge come back to room temperature before enjoying them.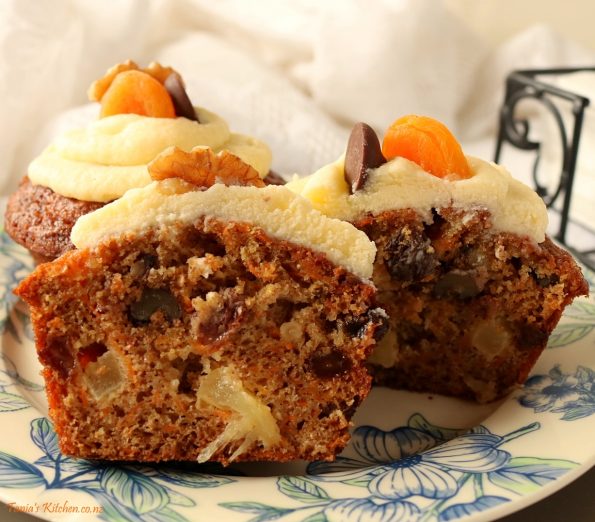 Love baking muffins as much as I do? I have some more muffin recipes here if you'd like to take a peek.
So tell me which do you prefer, plain or iced carrot muffins?
The most mouth watering carrot muffins! They are made with wholemeal flour & are full of carrot, pineapple pieces, walnuts & sultanas.
Ingredients
2 medium sized carrots
1 1/2 cups wholemeal flour
1 teaspoon baking soda
1 teaspoon salt
1 teaspoon mixed spice
1/3 cup walnut pieces
1/3 cup sultanas
3 large eggs
3/4 cup castor sugar
1/3 cup vegetable oil
1/2 cup pineapple pieces
1/3 cup pineapple juice