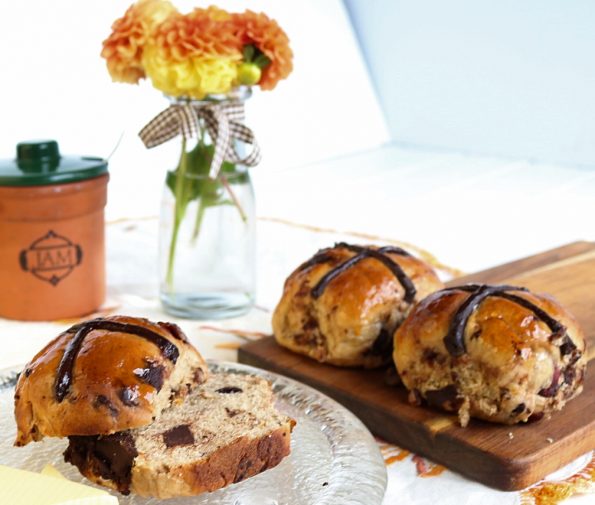 One a penny, two a penny…….What else would I bake for my first 'Blog' Easter but Hot Cross Buns! I remember how nervous I was when I first made Hot Cross Buns (yeast freaks me out), if you've never made them before they are easier than you think and worth the effort :)I'm not a fan of the generic kind, the ones they churn out by the millions at the supermarket, so I spruced them up a bit and added dark chocolate, orange zest, dried cranberries and glazed them with hot marmalade…….a marriage made in heaven!
Hot Cross Buns are traditionally eaten on Good Friday. Different parts of the hot cross bun have religious meaning, the cross represents the crucifixion of Jesus and the spices used signify the spices used to embalm him at his burial.
Hot Cross Bun Superstition – The English used to believe that buns baked and served on Goof Friday wouldn't spoil or grow mouldy during the coming year (hmmm don't know what they put in those ones). A piece of bun given to someone who is ill is said to aid in their recovery. If taken on a sea voyage, hot cross buns are said to protect against shipwreck. Also they believed if hung in the kitchen, they are said to protect against fires and ensure that all breads turn out perfectly for the whole next year. Ahh, I love English folklore 🙂
INGREDIENTS
BUNS
1/2 cup milk
1/2 cup brown sugar
4 teaspoons active dry yeast
4 cups high grade flour
75 grams butter
1 large egg (I used a size 7's)
1 teaspoon salt
2 tablespoons orange zest (from approx 2 medium-sized oranges)
1 tablespoon ground cinnamon
1 teaspoon ground ginger
1 teaspoon ground cardamom
1 cup dried cranberries
125 grams (3/4 cup, when chopped) dark chocolate
CROSSES
1/3 cup standard flour
2 teaspoons brown sugar
2 tablespoons cocoa powder
GLAZE
1/3 cup of marmalade
1 1/2 teaspoons of water
1/2 teaspoon of white sugar
Makes x 12 Hot Cross Buns
Notes
When baking yeast products I always use a good-quality high grade flour, just to increase my chances of success 🙂
These buns will need a warm place to rise. If I have a cold kitchen I heat up the oven and then turn it off so the dough can sit on top of the oven. You could also sit them somewhere high up the room (it's always warmer high up) or on top of the fridge where there is warmth rising from the motor.
Always check the expiry of your yeast first, it's heart breaking to go through a lot of effort and then have failed bread because the yeast was old 🙁
Yeast will last up to 4 months in the fridge and up to 6 months in the freezer. If you are using it from the freezer bring whatever amount you need back to room temperature first.
If you have an electric bench mixer when you get to the kneading stage of the recipe place the dough into your mixing bowl and using the bread hook knead for 8 minutes and then add the chocolate and continue kneading for another 2 minutes. The dough is ready when it's smooth and springs right back to where it was when pushed in gently with your fingertips.
I don't use chocolate chips, I buy a block and then chop it up so that I have molten bits inside the buns…..need I say more!
WALKTHROUGH
Buns
To begin place the milk and 1/2 cup water in a small saucepan and warm it up over a low heat. Heat kills yeast so you just want to warm it (the warmth activates the yeast)…..if you have a thermometer is should be around 43°C (110°F)…..so it's kind of just before hot.
Place the warm liquid into a large bowl and gently stir in 1 tablespoon of the brown sugar. Sprinkle the yeast all over the top and let it stand for 5 minutes.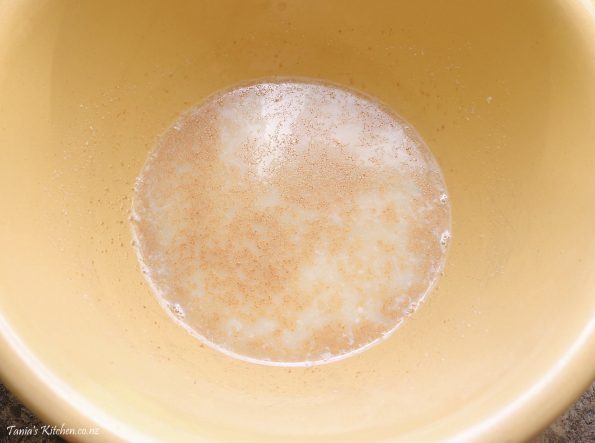 After the 5 minutes is up, gently stir in the yeast and then add two cups of the flour and mix it together until it's all just combined.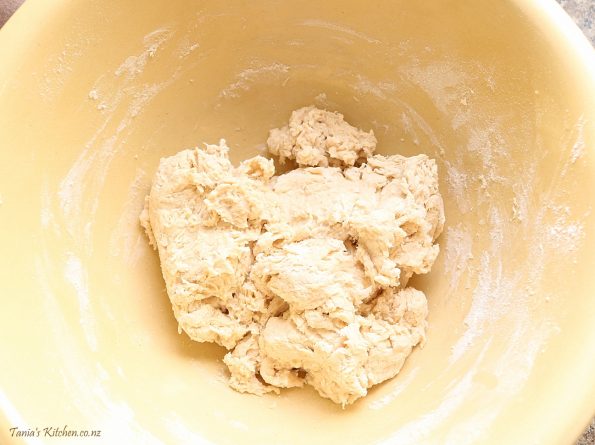 Cover the bowl loosely with cling-wrap and place in a warm place for 30-40 minutes.
Whilst it's rising, get the chocolate ready by chopping it up roughly into pieces and then place it into a small bowl and put it in the fridge.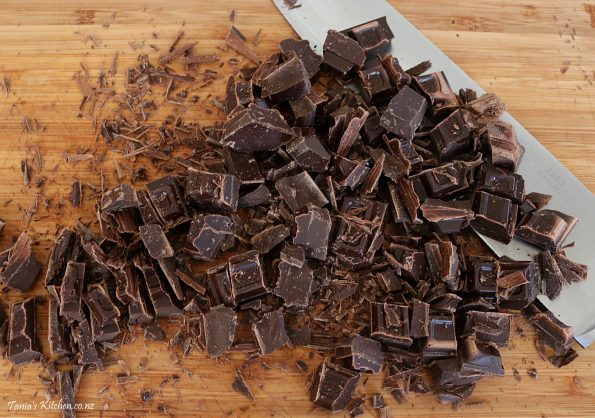 Also you can get the glaze ready……
Glaze
Place the marmalade, sugar and 2 teaspoons water in a small saucepan and over a medium/high heat bring it to a boil, stirring often. Once boiling turn the heat down to medium/low and simmer for 2 minutes. Once done push it through a sieve, discard the bits in the sieve and then put the lovely smooth remains back into the saucepan which will be warmed up again and used to glaze the buns later on 🙂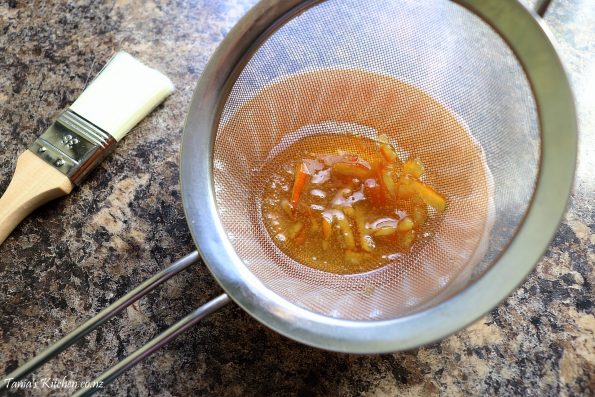 In a small saucepan, over a low heat melt the butter (without boiling it) and pour it into a medium-sized bowl then add to the bowl the remaining brown sugar, the egg, the salt, the orange zest, the cinnamon, the ginger, the cardamom and the dried cranberries and mix it all together.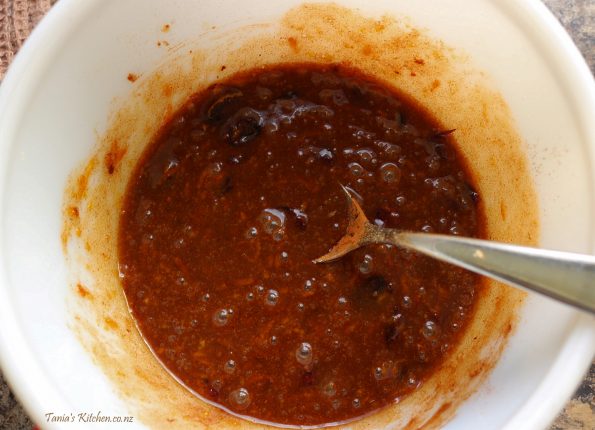 After the 30-40 minutes that the dough has been sitting in its warm place add the remaining two cups of flour and the bowl with all of the other mixed ingredients and…..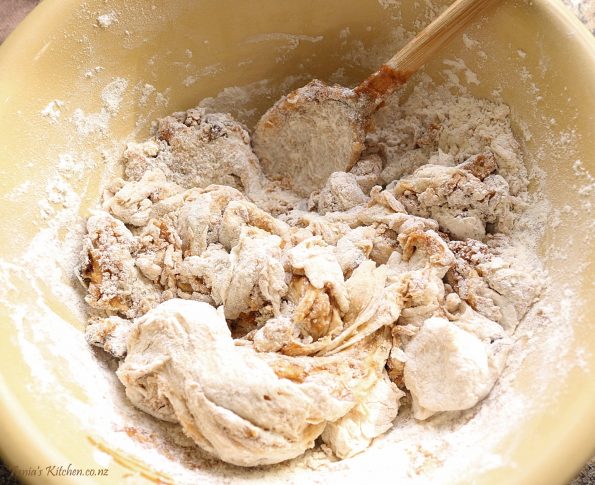 …..with a large spoon mix it together as best you can and then when you can't mix it together any better, tip it out onto a clean, dry bench.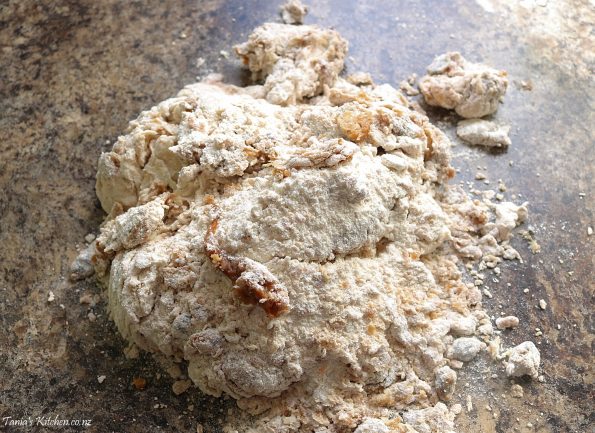 Now for the arm workout……Knead it all together for at least 8 minutes. You knead (haha)to put some muscle into it….lol….but it's worth it, nothing says home-made like kneading dough by hand 🙂
If it starts to stick to the bench add a little bit of extra flour to the bench (only as much as you'll need as a lot of flour will change the recipe).
After 8 minutes add the chocolate to the bench and spend another 2 minutes incorporating it into the dough.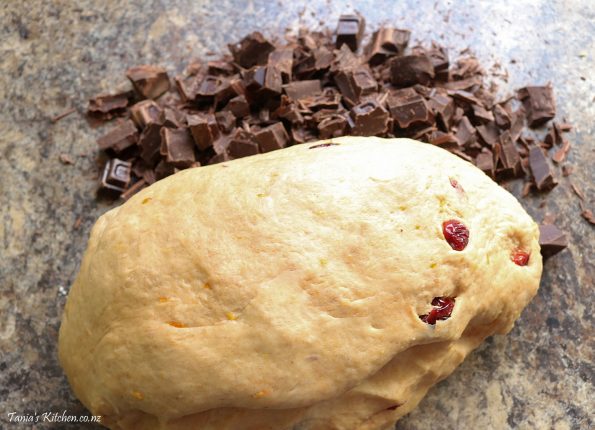 The dough is ready when it's smooth and springs right back to where it was when pushed in.
Now form the dough into a disc and cut it into 4 even-ish pieces……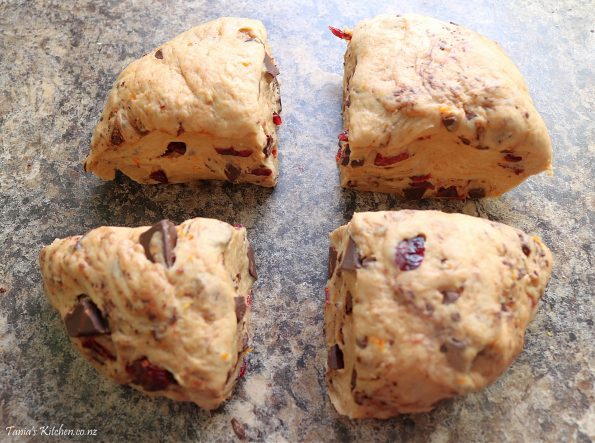 ……and then each of those pieces into 3 pieces, making 12 bits of dough.
If you have OCD like me you can weigh them out if you like……mine were between 90 – 95 grams each.
Roll the pieces of dough into balls.
Spray a high sided oven tray lightly with non-stick cooking spray. I used a deep oven dish that is 20 cm W x 40 cm L x 6 cm H (7.5 W x 15 W x 2.5 H inches). Place the balls in three rows of 4, so that they are about 1 cm (1/2 inch) apart.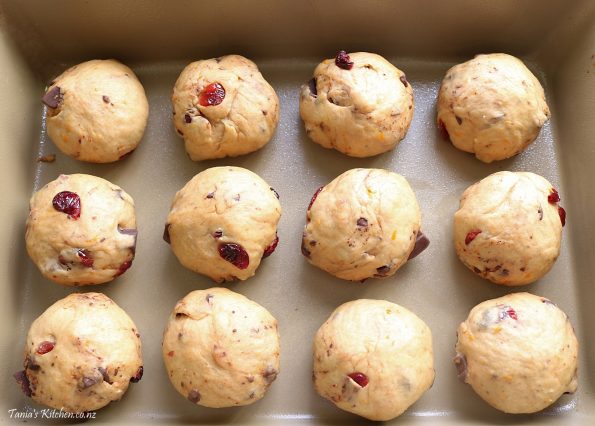 Loosely cover them with cling-wrap and place the tray in a warm place (see note at beginning of post) for approximately 45 minutes (in a hot room), 1 hour (in a warm room) and 1 1/2 hour (in a cold room) until they are doubled in size.
If you haven't risen dough before you can take a 'before' pic on your phone so when you are wondering if they have doubled in size or not you can look at the before pic to help you decide if they have 🙂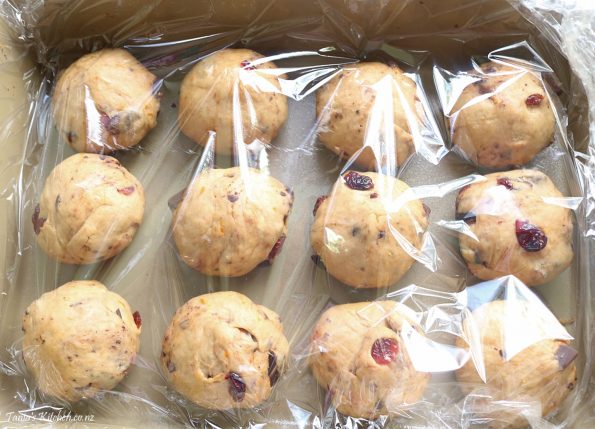 While they are rising you have time to whip up the paste for the crosses…..
Crosses
In a little bowl mix together the flour, brown sugar, cocoa and 1/3 cup water. Place the mix into a piping bag with a small round nozzle. If you don't have a piping bag you can use a plastic resealable bag and just slice the tip of one corner off.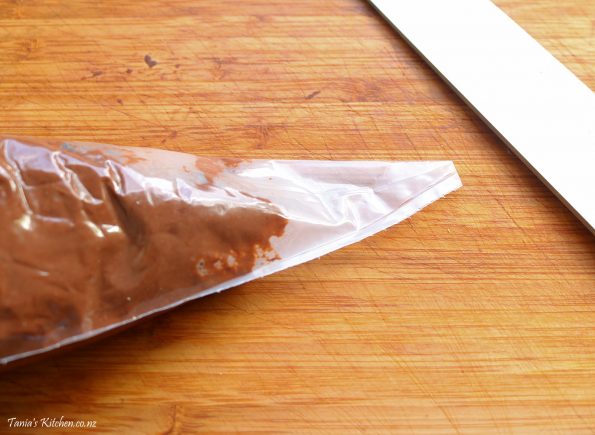 Time to place an oven rack in the centre of the oven and preheat it to 200°C fan bake oven or 220°C conventional oven , on bake.
Once the rolls have doubled in size…..
…..pipe some lines on the buns…..one way…..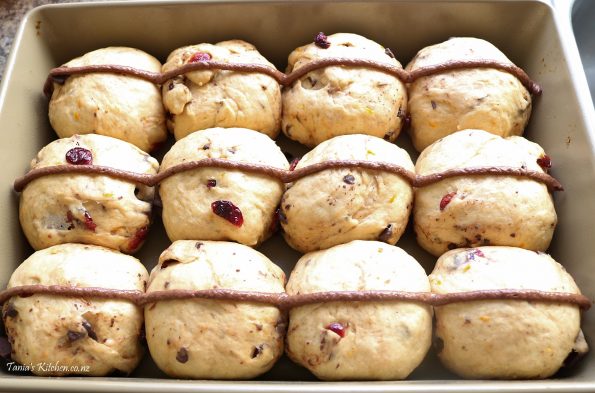 …..and then the other way.

Place them into the hot oven for 15 minutes and until golden brown on top.
Now over a low heat, re-heat the glaze you made and then using a pastry brush, glaze them all over……aren't they beautiful!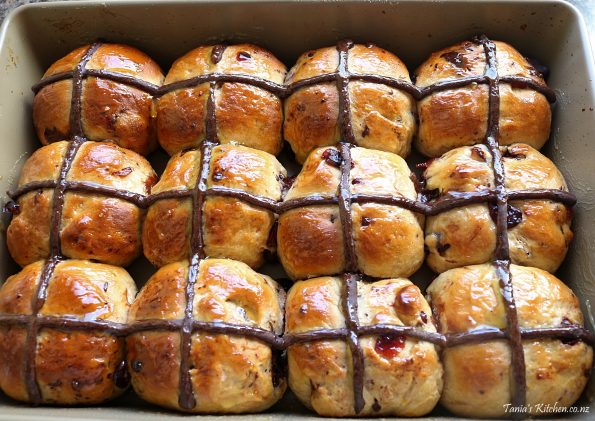 Enjoy them warm from the oven with loads of butter and marmalade or if they've gone cold I like to slice them through the middle (sideways) and toast them (the inside part) under the grill and then butter and jam them, especially nice at breakfast.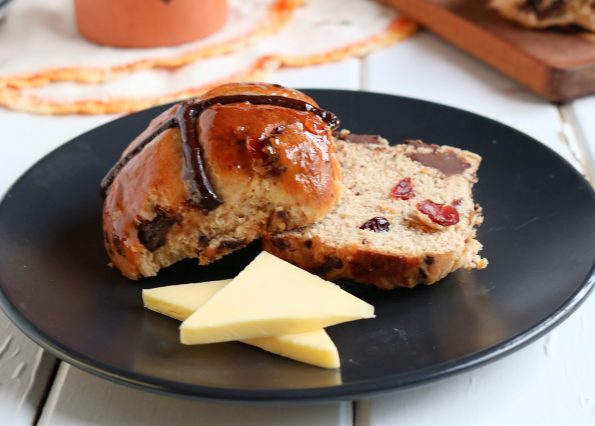 Did I say lots of butter?!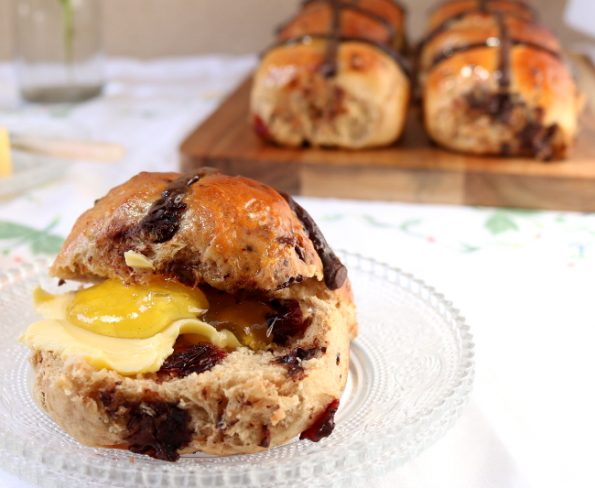 Storage – Store in an air-tight container in the pantry for three days.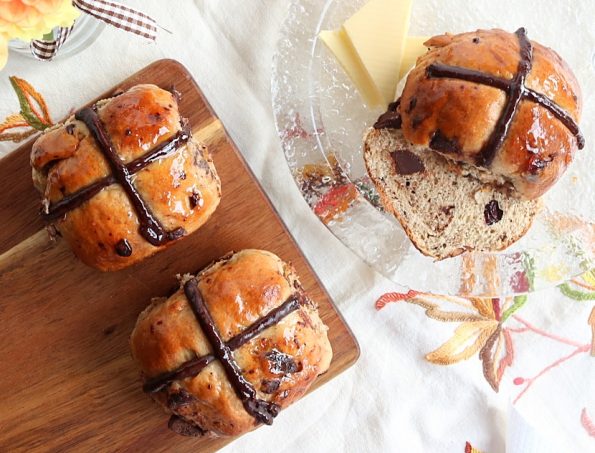 If Hot Cross Buns go stale they make great French Toast or even a yummy Bread and Butter Pudding for dessert 🙂
I hope you all have a lovely Easter…..What is your favourite Easter treat to bake?
Dark Chocolate & Cranberry Hot Cross Buns
Dark chocolate, dried cranberry, orange and cardamom Hot Cross Buns, Lovely toasted with butter & marmalade for breakfast or morning tea.
Ingredients
BUNS

1/2 cup milk
1/2 cup brown sugar
4 teaspoons active dry yeast
4 cups high grade flour
75 grams butter
1 large egg
1 teaspoon salt
2 tablespoons orange zest (from approx 2 medium-sized oranges)
1 tablespoon cinnamon
1 teaspoon ginger
1 teaspoon cardamom
1 cup dried cranberries
125 grams dark chocolate (or 3/4 cup, chopped)

CROSSES

1/3 cup flour
2 teaspoons brown sugar
2 tablespoons cocoa powder

GLAZE

1/3 cup of marmalade
1 1/2 teaspoons of water
1/2 teaspoon of sugar