We have a citris tree in the front yard and I have never known what type of fruit they were, I just knew they were sour! So recently after some google research I found out they are Seminole Tangelos, being half grapefruit and half tangelo. I'm not really sure if I want to bake anything with them yet (maybe next year) but it got me thinking about how not too many people like grapefruit, it's definitely the 'black sheep' of the citris family! Some people (no names mentioned!) screwed up their little noses when I said I wanted to use Grapefruit in something, which of course made me more determined to make sure it was delish (just to prove them wrong of course!) I decided to do an adaption of my Marshmallow Slice recipe because I thought, a) the colour of the Grapefruit would look pretty against the snow-white marshmallow,  b) Grapefruit would go well with white chocolate and marshmallow (sweet vs tart) and c) why not?
So this is nearly an exact copy and paste of my original Marshmallow Slice recipe but I've replaced the condensed milk filling with a grapefruit filling which is a curd with cornflour added, so it's very thick (the same sort of filling you find in a Lemon Meringue Pie) and when it's set you can cut it into slices (you couldn't do that with a curd).
INGREDIENTS
Base
250 g plain biscuits (I used vanilla wines but you can use digestives or malt)
125 g butter
Optional – 50 g (approx 1/3 cup, when chopped) white chocolate
Filling
1/2 cup cornflour
1/2 cup castor sugar
zest of x 1 large grapefruit (or two small ones)
2/3 cup grapefruit juice (roughly x 2 large grapefruits or x 4 small ones. If they are not that juicy you may need some more)
4 egg yolks
50 g butter
Marshmallow
1 cup castor sugar
5 teaspoons gelatine granules (powder)
Makes x 12 pieces
Note
You could also use Lemons or Limes in this recipe and Oranges would be lovely too.
STEP BY STEP
First, you line a square tin. I used a cake tin because this slice is quite high so the sides need to be higher than a standard slice tin. The one I used was 20 cm Sq x 5 cm D. Spray the tin lightly first with non-stick cooking spray and then place non-stick bake paper in and then spray again.
Careful to make sure any flappy bits are stuck back on the sides for this because the marshmallow is light and it won't push them back causing it to have quite uneven edges.
Base
First, roughly chop up the white chocolate into small bits and then place it and the biscuits into a food processor and using the blade fitting, process until they are fine…….about as fine as coarse breadcrumbs.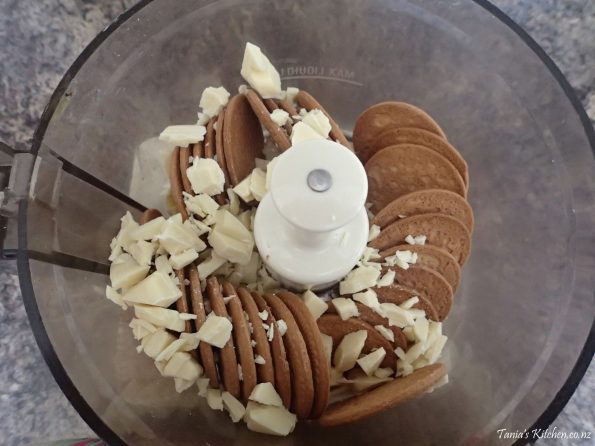 Now in a small saucepan, on a medium/low heat, melt the butter.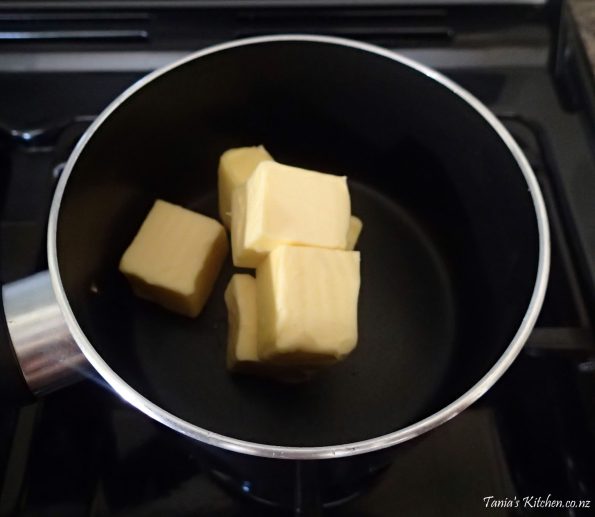 Add the butter to the biscuit crumbs, mixing it in well and then transfer the crumbs to your lined tin.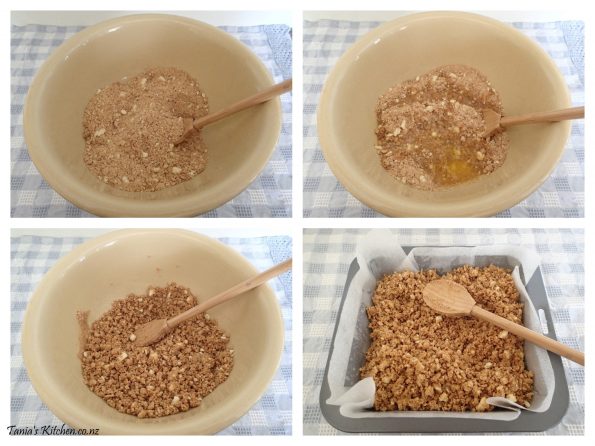 Then spread the crumbs evenly around before you start to very firmly flatten them into the tin using the bottom of a glass, a cup or a metal spatula.
Once very firmly pressed into the tin, place your base into the fridge to harden for at least 30 minutes.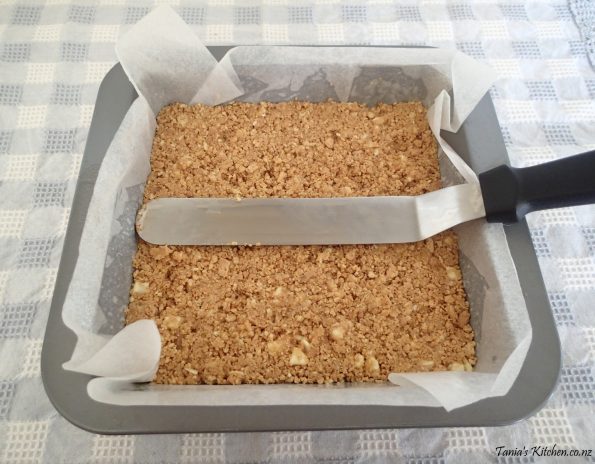 Filling
So while the base is setting zest and juice the grapefruit.
Then place the castor sugar, the cornflour, the grapefruit zest, grapefruit juice and 2/3 of a cup of water into a medium-sized saucepan.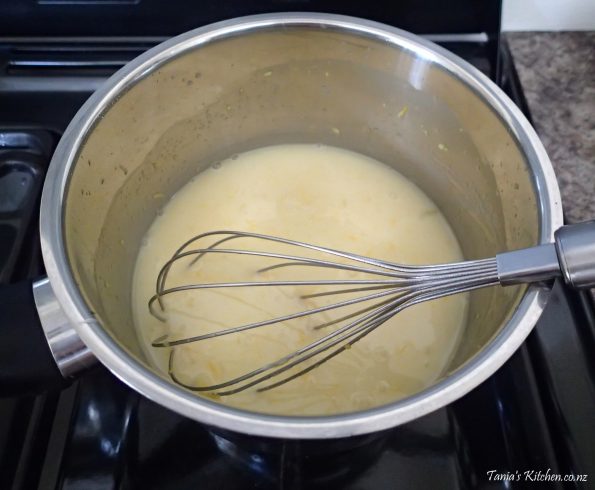 Over a medium heat, using a wooden spoon stir until the mixture has thickened. This should take around 5 minutes.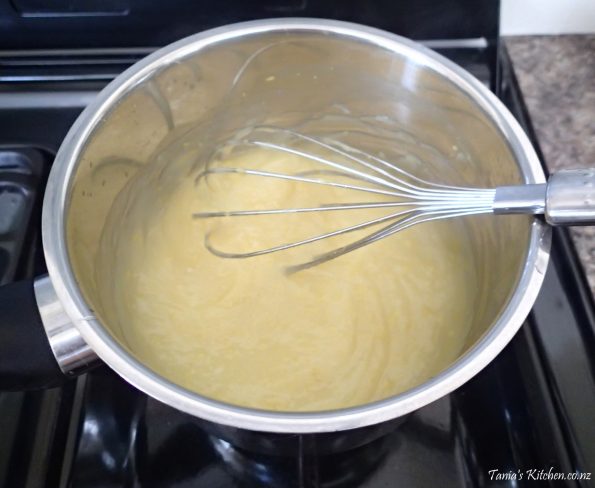 It should be smooth and glossy and will be as thick as 'say' Jam and it should coat the back of the spoon.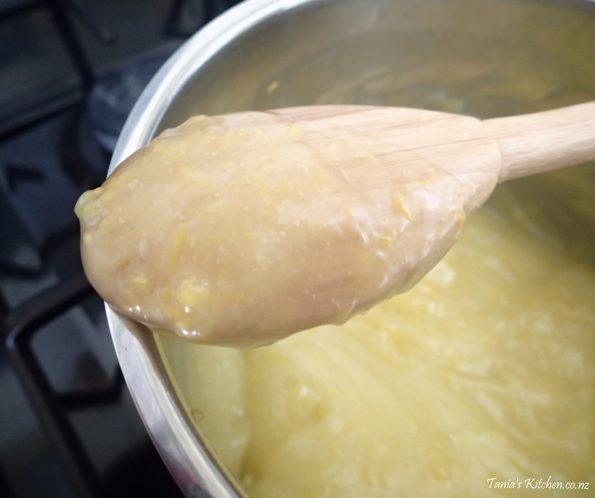 When it is at this stage, remove the saucepan from the heat and beat in the egg yolks one at a time.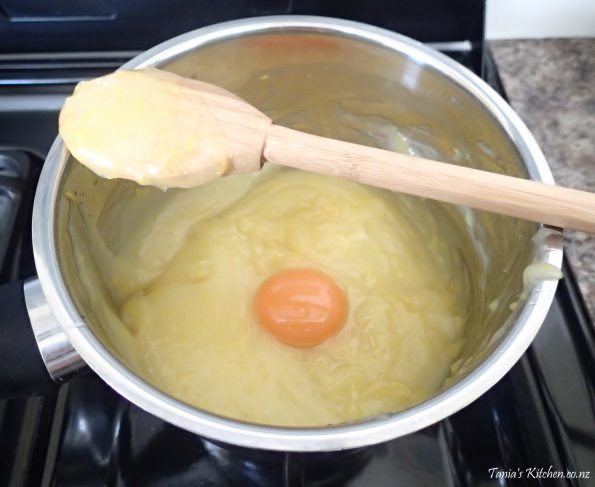 Place the saucepan back onto the heat and whilst slowly stirring it (so it doesn't stick to the bottom of the pan) cook it again for one more minute (this is to cook the yolks).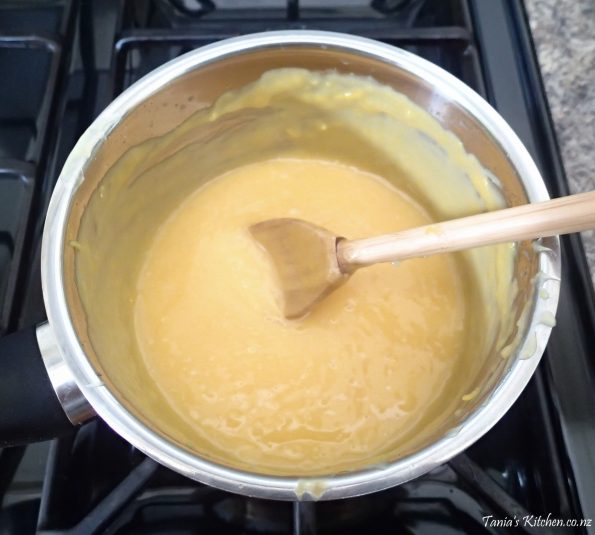 Now remove from the heat again and roughly cut the butter into cubes and add to the mixture….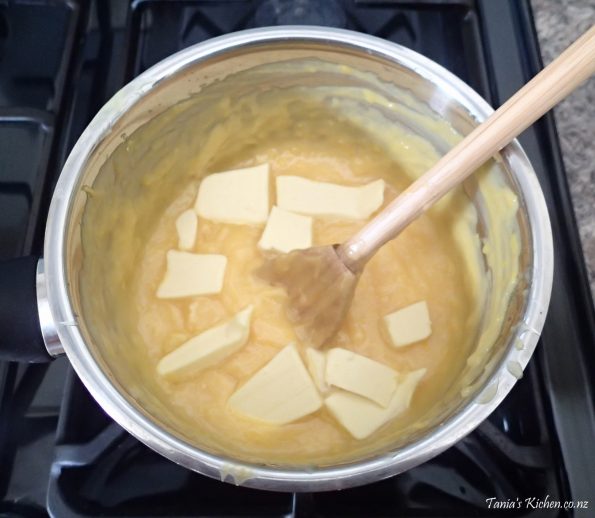 …..beating in with your wooden spoon until the butter has thoroughly blended in.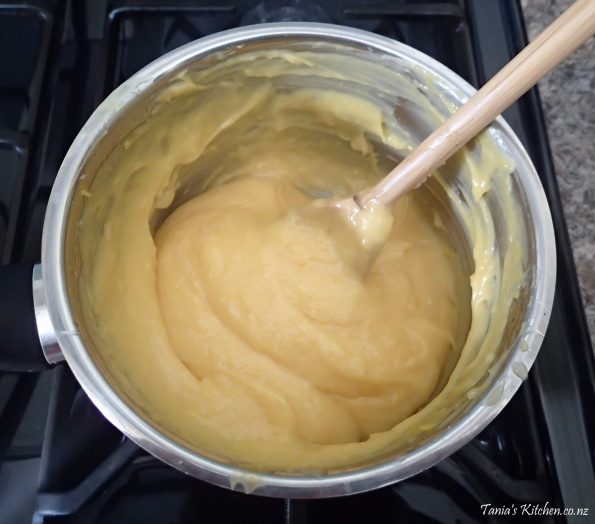 Get your base out of the fridge and using a spatula place all of the curd on top of the base…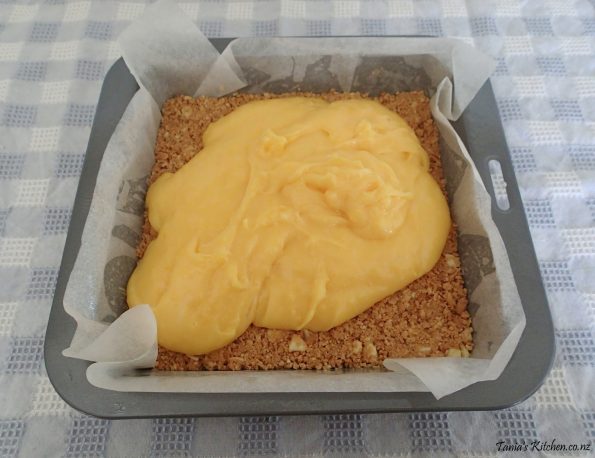 …….spreading it evenly all over the base and well into the corners.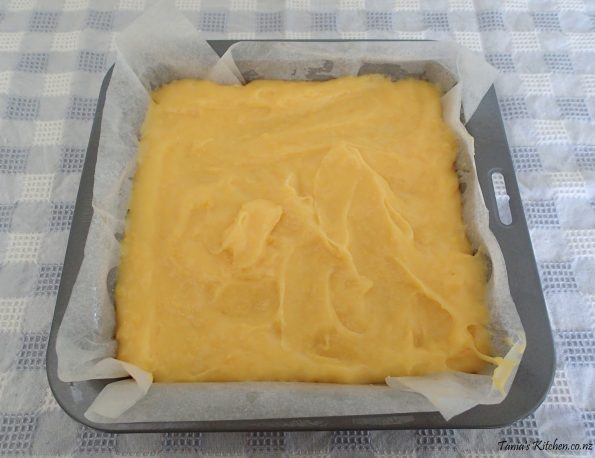 Return it to the fridge and leave to set for at least 30 minutes.
Marshmallow
Now for the funnest part…..making marshmallow! Place the cup of sugar in a medium-sized saucepan with 1 cup of water and then sprinkle the gelatine on top as even as possible.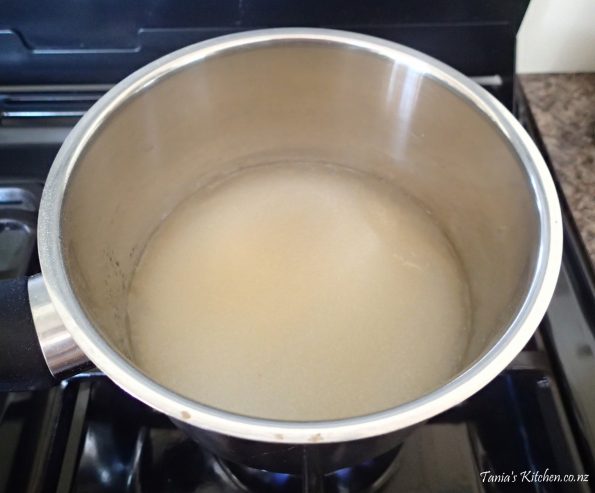 Next, on a medium heat slowly bring the mix to a boil, gently stirring a few times and making sure no gelatine sticks to the sides of the pan.
When it's boiling turn the heat down to low. Give it a final stir and then leave it to simmer (a gentle boil) for ten minutes. You can stir it a few times if you like, checking that not too much is sticking to the sides.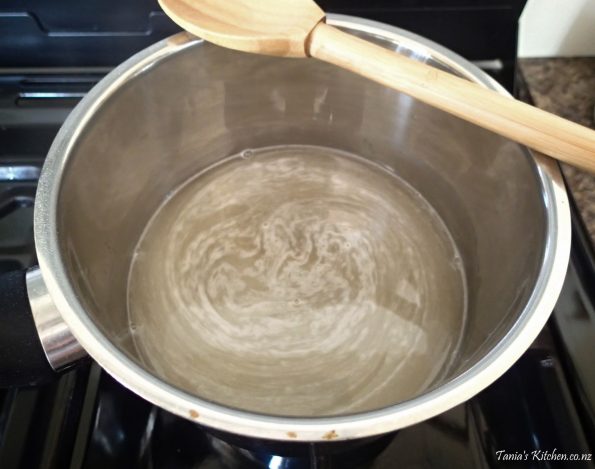 After the ten minutes is up, pour the mix into a large bowl and using an electric beater set on high, beat until the marshmallow is super thick, this takes around ten minutes. If you don't need the arm work-out (I sure do) you might want to use a stand cake-mixer.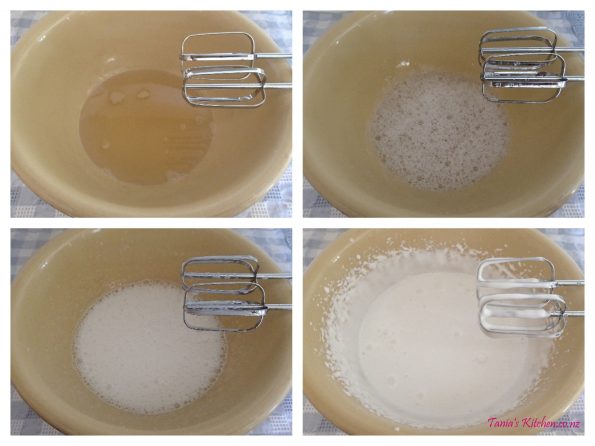 You are aiming for a consistency of fully whipped cream or a meringue at soft-peak stage.
If you haven't made marshmallow before, just like my first time, you will marvel at it's snowy white, fluffy, billowiness (yeah I think I just invented a word) with child-like wonder!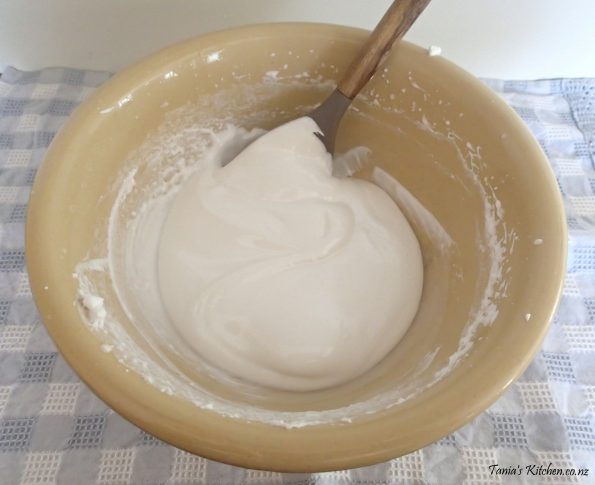 Now you need to work quickly because when it gets to that thick stage it starts to set quite quickly, so using a scraper, get it out of your bowl and onto your set base and curd.
Using the back of a metal spoon or a metal spatula spread it over the Grapefruit filling.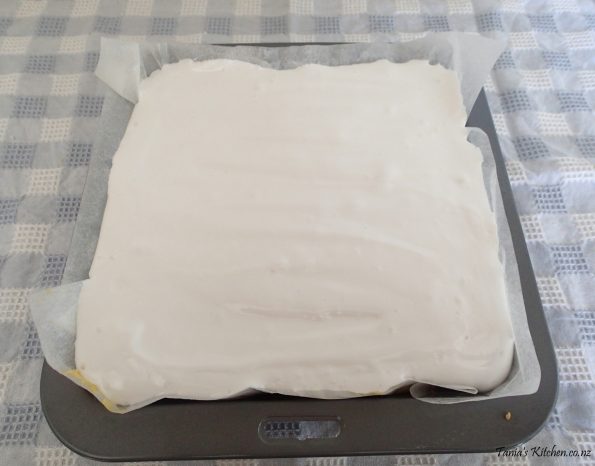 Finally….Whew! Good work fellow bakers!!! place it in the fridge to set.
It should be fine to cut up after around 30 minutes. It might pay to cut it whilst still in the tin as when I lifted mine out whole I could feel the weight of the curd was too heavy on the base and I nearly had a complete disaster on my hands!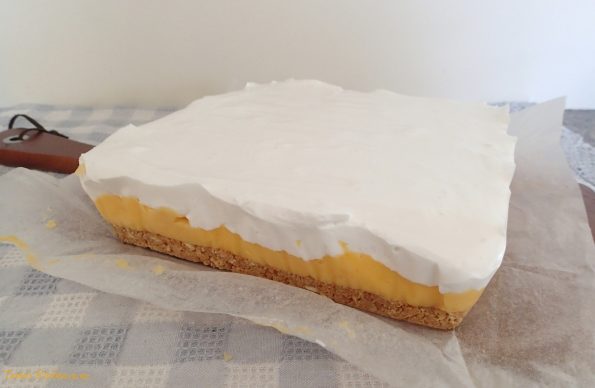 Awww……it's so pretty!
Use a sharp knife (not serrated) to cut it and it pays to wipe the knife with a damp cloth between cuts otherwise crumbs from the knife will make a mess on the pretty marshmallow.
Keeping it fresh – This needs to be stored in an airtight container in the fridge. It's great for 2 days, 3 is okay but it starts to get that 'fridgey' taste.
Related Posts
Grapefruit Marshmallow Slice
A white chocolate biscuit base with a grapefruit curd filling and a fluffy, melt in your mouth marshmallow topping!
Ingredients
BASE

250 g plain biscuits
150 g butter
Optional – 50 g (approx 1/3 cup, when chopped) white chocolate

FILLING

1/2 cup corn-flour
1/2 cup castor sugar
zest of x 1 large grapefruit
2/3 cup grapefruit juice
4 egg yolks
50 g butter

MARSHMALLOW

1 cup castor sugar
5 teaspoons gelatine granules