Hello! I have here a very special recipe for you to try. I must say it requires a little bit of effort and will probably require your undivided attention, but it's definitely worth the effort 🙂
My adopted Grandmother 'Oma' was visiting from Holland a few weeks ago and her grandfather, Opa Kamhout, owned a bakery which she spent time in when she was young, so we both share a sweet tooth. I asked Oma what was a popular dessert in Holland I could try to bake and she quickly shows up with a picture of a Hazelnootschuimtaart and said it "could be a challenge for me"……Say what?! A challenge? Enough said! So of course I had to make it and here it tis! Probably not as great as the Dutch bakers make it but it was delicious, the hazelnut meringues and the hazelnut mocha cream are to die for! WARNING! It's very rich, certainly not for the faint of heart!
I constructed this recipe by looking at Hazelnootschuimtaarts on line (the recipes were all in Dutch and I don't speak Dutch lol) and taking parts I liked from this and that one. I toast the hazelnuts in mine (this takes their flavour to a whole 'nother level, please don't skip this part, it's worth the extra effort). I also added some chocolate and made it in a rectangle rather than the usual circle.
Also it's Gluten Free!!
INGREDIENTS
COFFEE SYRUP
2 teaspoons strong instant coffee granules
1 teaspoon brown sugar
HAZELNUT MERINGUES
4 medium-sized eggs,  at room temperature (only the whites are needed)
1/2 teaspoon salt
1 cup castor sugar
1 1/4 cups icing sugar
1 cup toasted hazelnuts
MOCHA HAZELNUT CREAM
1 cup toasted hazelnuts
1/3 cup castor sugar
600 mls (2 1/2 cups) full cream
1/3 cup icing sugar
1/2 teaspoon vanilla essence
250 grams or 1 2/3 cups of milk chocolate (I used 500 grams because I love chocolate or you can leave it out altogether if you want to)
Note*  If you haven't toasted Hazelnuts before I have a post on toasting nuts here and if you would like to use some for decorating like I did, place x 18 whole hazelnuts aside after you've toasted them.
WALKTHROUGH
Coffee syrup
It's best to make the coffee syrup first so that by the time we need to add it to the whipped cream, it has cooled down. So, place the brown sugar, instant coffee, and 1/4 cup of cold water in a small saucepan and mix it all together.
Over a medium heat bring it to the boil, stirring occasionally. Once boiling, turn the heat down to medium/low and simmer (boil gently) for 3 minutes. Then remove the saucepan from the heat and set it aside to use later.
Hazelnut Meringues
For this you first need to get two baking trays ready. Next, cut two pieces of baking paper to fit the size of the trays and then pressing quite hard with a dark pencil draw around a baking tin, twice on one tray and once on the other so you have three shapes. I drew three rectangles using my bigger loaf tin which is 24 cm long x 13 cm wide, you can just use a ruler if you like (you could also use a 20 cm round cake tin and draw circles). Then turn both papers over and if you pressed hard enough you should still see the outline of your shapes. Put your trays aside whilst you make the meringues.
To get the oven ready, position one oven rack in the centre of the oven and position another rack two rungs under the first one and preheat the oven to 100 degrees – fan-bake oven or 130 degrees – conventional oven, on bake.
Next place the first cup of toasted hazelnuts into a food processor and…..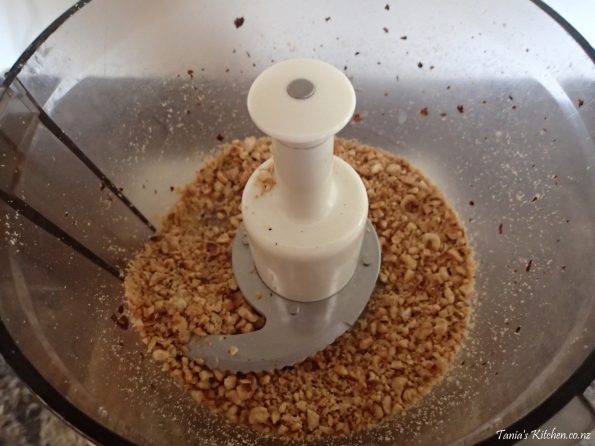 …..process until very small, like large breadcrumbs and set aside.
To make the meringue place the egg whites and salt in a large mixing bowl and using your electric beater (or cake-mixer) beat on a medium/high speed for around one minute, until they are nice and foamy.
Note* Eggs whip up to a greater volume when they are used at room temperature (30 minutes out on the bench before using them should do it).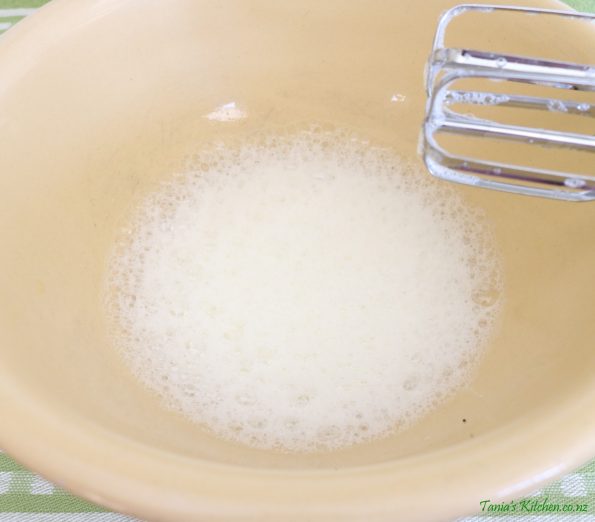 After a minute add roughly 1/3 of the castor sugar and continue beating for around three minutes. The egg whites should have then doubled in size.
Then add 1/3 more of the castor sugar and again beat for around three minutes and again your mix should double in size.
Then…….add the last third of the sugar and beat for ANOTHER three minutes, doubling your mix in size again. It should look like the pic below, having stiff peaks, see how it holds it's shape?  Lift some up with a spoon and if it stays there it's good to go, but if it falls back in to the mixture you need to keep beating until it does hold it's shape. If this is the case you may not have been mixing fast enough or long enough between adding the sugar measures. You may even reach the stiff-peak stage sooner than I did, if your bowl is smaller of your beaters beat a bit faster then mine.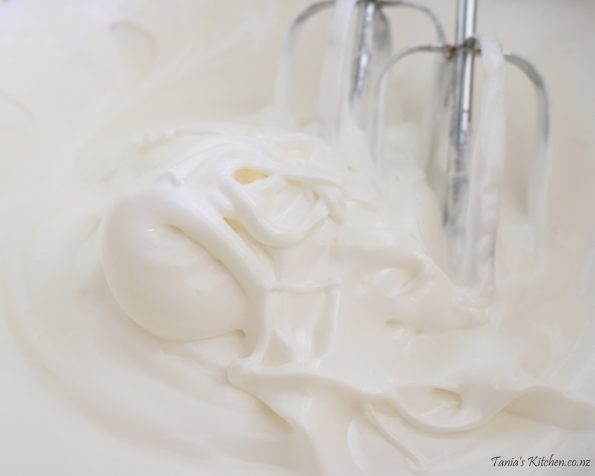 Now using a large rubber spatula or spoon, very gently fold through the icing sugar and the blitzed hazelnuts, until just combined.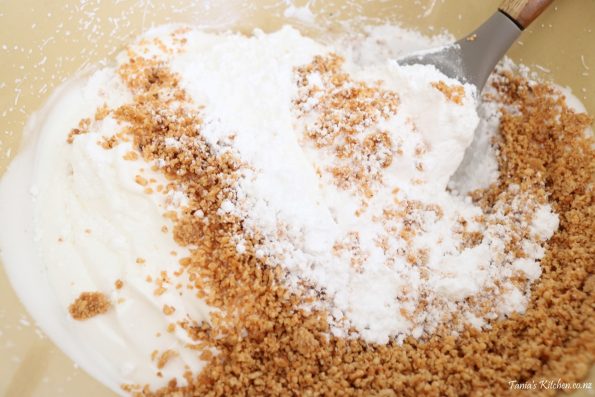 Now lightly spray the baking paper on your trays with non-stick cooking spray (or lightly grease the paper with butter).
Then very carefully, but quickly (no pressure lol) place a third of the hazelnut meringue mix into each shape and using a small spatula carefully spread it out to the edges. When you have finished check that they are as even looking as you can get them so they cook evenly.
Place the trays in the oven and bake for one hour, swapping the trays around in the oven after 30 minutes to help them bake evenly.
Once baked leave them to totally cool down and then using a metal spatula carefully loosen them from the paper, leaving them on the trays ready to be coated in chocolate.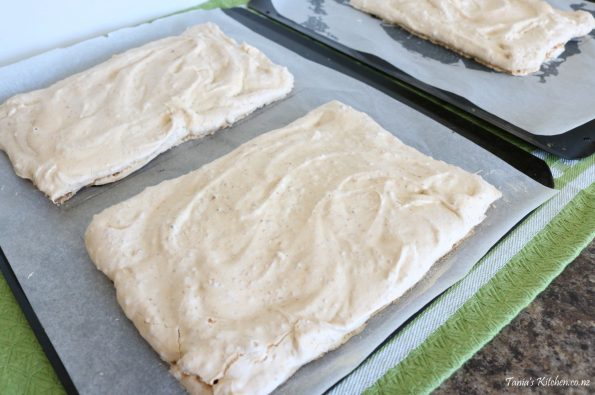 Now the meringues are ready to be spread with chocolate so it's time to melt the chocolate in a 'bain marie', but first set 50 grams of chocolate aside (around 4 squares) to use for decoration later.
So break the rest of your chocolate into pieces (or roughly chop it up) and place it into a heatproof bowl. Now find a saucepan that the bowl fits snuggly into (a small saucepan is usually the way to go) and quarter fill the saucepan with water. Sit the bowl of chocolate over the pan of water and then lift it out and check that the bottom is dry (you do not want the water to be touching the underside of the bowl) so if it is wet, tip some water out until you are confident it's not touching. Place the bowl of chocolate aside and over a medium heat bring the pan of water to a boil and then turn it down to medium/low until it is just simmering.
Next sit the bowl of chocolate on the saucepan, over the simmering water until it's melted, stirring often so that none of the chocolate sticks to the bottom or sides of the bowl or it will burn and any little burnt bits will cause the chocolate to go all hard and grainy (seize).
P.S If I were really tiny I would bathe in this bowl of chocolate.
So now you can spread the tops of your meringues with around 2/3 of your melted chocolate, just drizzling it over and then gently (so as not to break the meringue) spreading it all over with the back of a spoon. Then place them in the fridge to set for around 20 minutes.
Once set, turn them over and spread the rest of the chocolate over two of them, leaving one plain, and then pop them back in the fridge to set. Whilst they are setting you can make the hazelnut mocha cream so that by the time the chocolate is set you will be able construct your meringue tart!
Mocha Hazelnut Cream
First you need to make some "hazelnut sugar" so place the cup of toasted hazelnuts and the sugar into a food processor and…..
…..process until very fine, almost powdery……
……then put aside.
Note* I took out about 3 tablespoons of this hazelnut sugar and saved it for later on, for decoration 🙂
Next place the cream, the cooled coffee syrup, the vanilla essence and the icing sugar into a large bowl and…..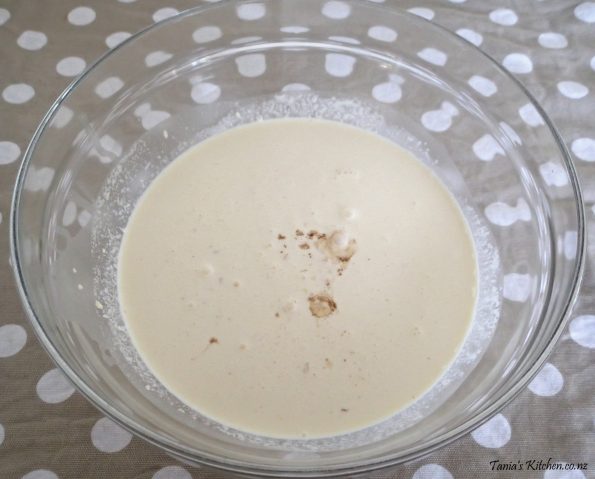 …..using an electric beater on high, beat until stiff peaks form. *To the point where if you lifted some up in the bowl it wouldn't fall back in, but instead would keep it's shape, if it starts to look grainy, stop…….you've gone a bit too far!
Now add the hazelnut sugar and…..
…..fold it gently through the mocha cream until it's all just combined. I was pretty impressed with myself at this point, lol! because boy oh boy, this mocha cream tastes good!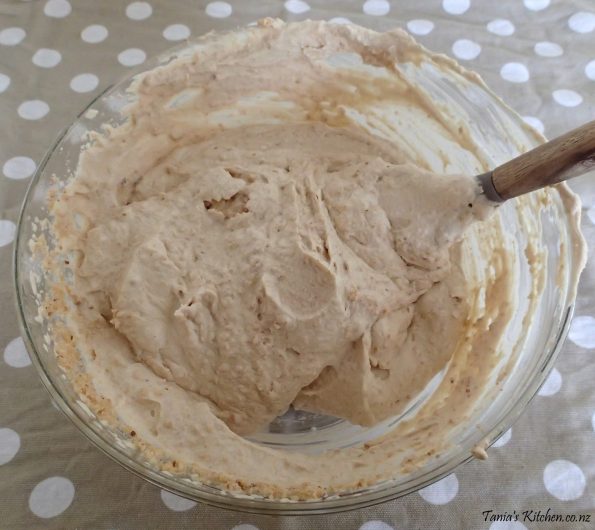 Construction
Place the meringue with no chocolate on one side on a plate (preferably the one you want to serve it on) with the 'unchocolated' (new word) side down and the chocolate side up and then spread around 1/3 of the hazelnut mocha cream all over it.
Then go ahead and carefully place another meringue piece on top and spread the next third of the hazelnut mocha cream all over it.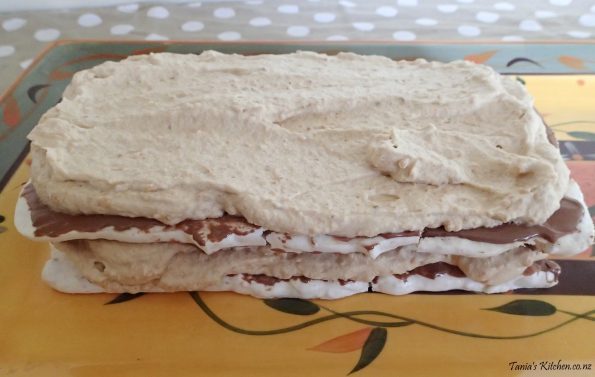 Now place the third piece of meringue on and then spread the rest of the hazelnut mocha cream over top (unless you will be piping stars on like I did, then you will need to spread on two thirds of the amount you have left and then put the other third in your piping bag). Next sprinkle the 3 tablespoons of hazelnut sugar you set aside earlier all over the top and also grate over the chocolate you had saved also.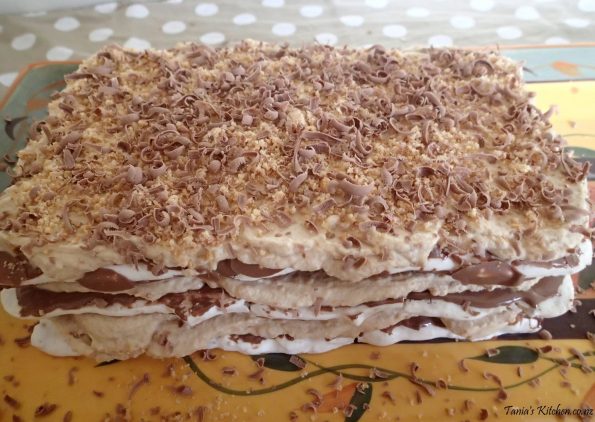 So that's it! A delectable Hazelnut Meringue Cake!! You can leave it just like this or you could pipe some stars around the edges and then place hazelnuts (the ones you set aside earlier) on the stars so it looks even more awesome 🙂
This Meringue Cake can be a bit tricky to slice because of the firmer chocolate versus the soft cream. I used a really sharp bread knife to cut slices (an electric bread knife would be great for this).
So that's it, a Hazelnootschuimtaart just for you Oma. I certainly enjoyed making it, what a treat! See you next year for my next challenge xox.
Storage – Keeps in the fridge for three days 🙂 But lets be real….let's not kid ourselves, it ain't gonna last that long!
To see the Strawberries & Cream Toasted Hazelnut Meringue Cake I made, go here.
Hazelnut Meringue Mocha Cream Cake
Hazelnootschuimtaart - Layered hazelnut meringue discs, coated in milk chocolate and filled with toasted hazelnut mocha cream. A popular Dutch dessert.
Ingredients
COFFEE SYRUP

2 teaspoons strong instant coffee granules
1 teaspoon brown sugar

HAZELNUT MERINGUES

4 medium-sized eggs (only the whites are needed)
1/2 teaspoon salt
1 cup castor sugar
1 1/4 cups icing sugar
1 cup toasted hazelnuts

MOCHA HAZELNUT CREAM

1 cup toasted hazelnuts
1/3 cup castor sugar
600mls (2 1/2 cups) full cream
1/3 cup icing sugar
1/2 teaspoon vanilla essence

Optional - 250 grams of milk chocolate