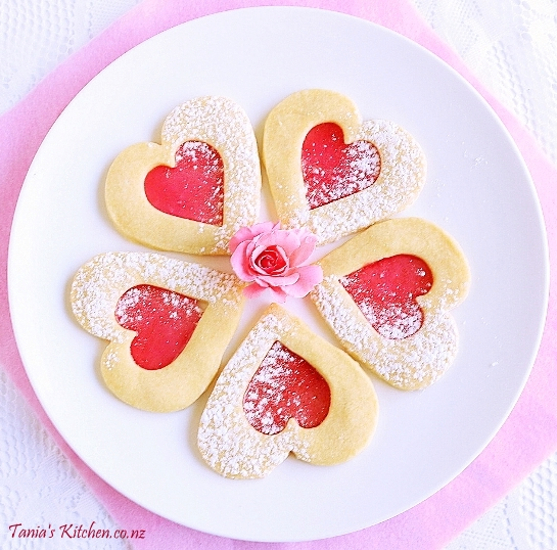 YAY! I finally made some Hearts of Glass for Valentines Day! I'm a few weeks late as I did make some pre-Valentines week but wasn't too stoked about the way they turned out, a bit 'meh' and then I had to wait for some spare time for a revision. I'm really pleased how these beauties turned out though and hey, who needs to wait until Valentines day to say 'I LOVE YOU", you can leave one of these on my pillow any day 🙂 and of course they are a fun bikkie to make with the kids in the school holidays or on a 'shut inside' rainy weekend, school shared lunch to impress the other mums and of course they are super cute for  birthday parties.
So these are made from a custard flavoured cookie dough (a lot like shortbread) with  melted boiled lollies in the centres and are heaps of fun to make 🙂
INGREDIENTS
170 grams butter
1/2 cup icing sugar (confectioners sugar)
1/4 teaspoon vanilla essence
1 3/4 cups standard flour
1/2 cup custard powder
12 boiled lollies/candy (I used Heards)
makes x 18 biscuits
Cutters – I used Heart cutters that are: Large – 9 1/2 cm H and the smaller one –  5 cm H and in inches: Large – 3 1/2 in H and the smaller one –  2 in H.
Note
You can use a smaller cutter in the centre and the baking time will still be the same but you'll only melt 1/2 a lolly inside it, instead of a whole one. You can see in these biscuits with 'glass windows' that I used a small star and it only needed 1/2 a lolly.
WALKTHROUGH
First using a heavy knife, carefully chop all of the lollies in half…..red or…..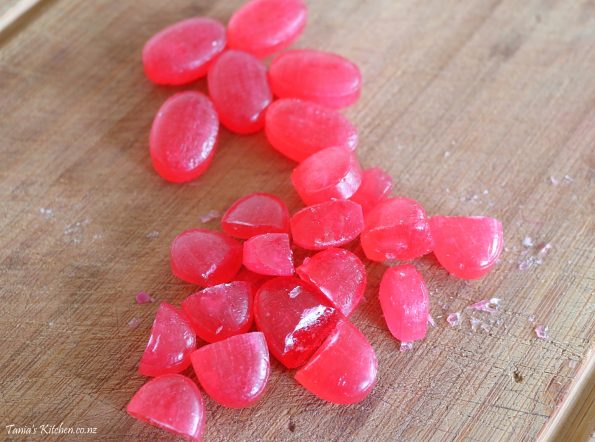 …..a fun mixture.
Using an electric beater on a medium speed, cream together the butter, the sugar and the vanilla essence until pale and fluffy (around 2-3 minutes). It's only a small mix so you may need to scrape the bowl down a few times.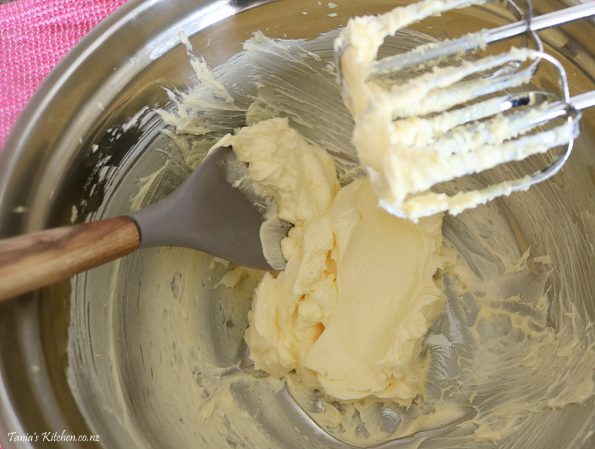 Next add the flour and the custard powder and……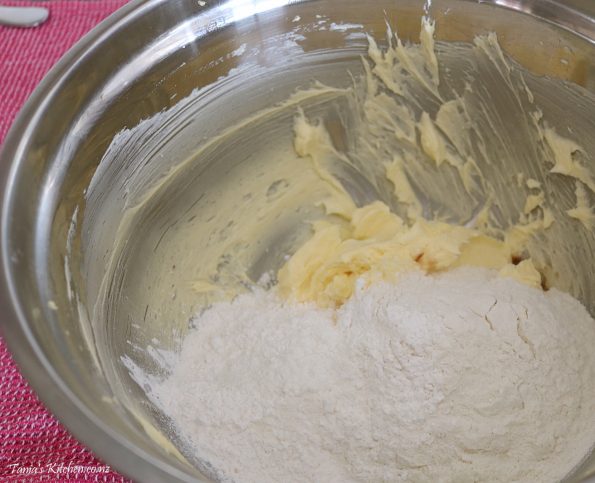 …..changing down to a lower speed continue mixing until it's all just combined, so still a bit crumbly.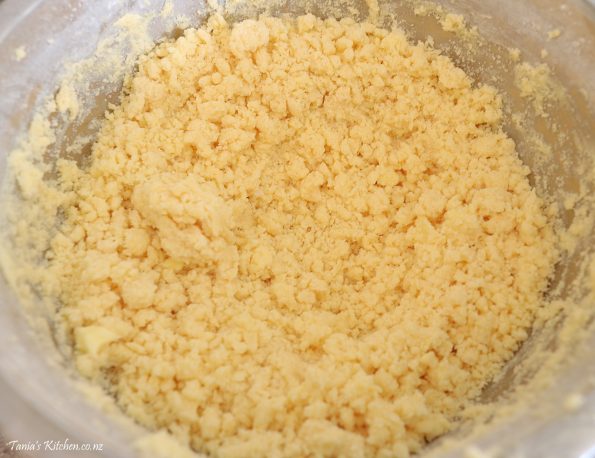 Now tip it onto a clean and dry benchtop…..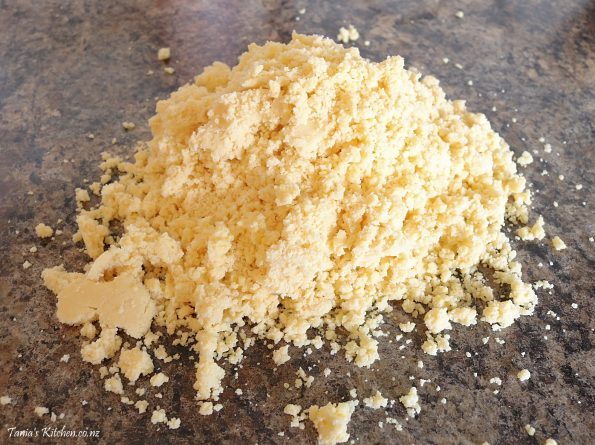 ….. and knead it together with your hands until all the crumbs have incorporated and the cookie dough is smooth. Form it into a disc shape, wrap it in cling wrap and place it in the fridge for 20 minutes.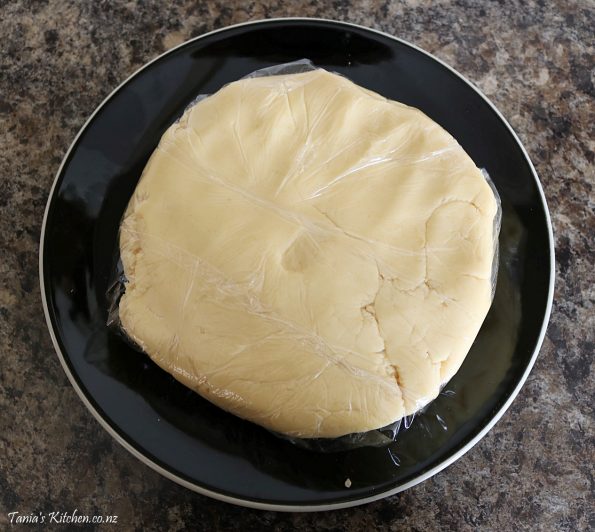 Time to turn the oven on. Preheat it to 150°C fan-bake oven or 175°C conventional oven on bake and place an oven rack in the centre of the oven.
I like to cook one tray of these at a time and prepare my second tray while the first one is baking.
Also whilst the dough is resting in the fridge, line a tray with baking paper and spray it lightly with non-stick cooking spray.
Once out of the fridge, knead the dough until it's smooth and pliable.
Try not to over knead it as the warmth from our hands can soften it too much, causing it to stick to the bench when you are trying to roll it out and it can make it hard to lift the shapes up off the bench.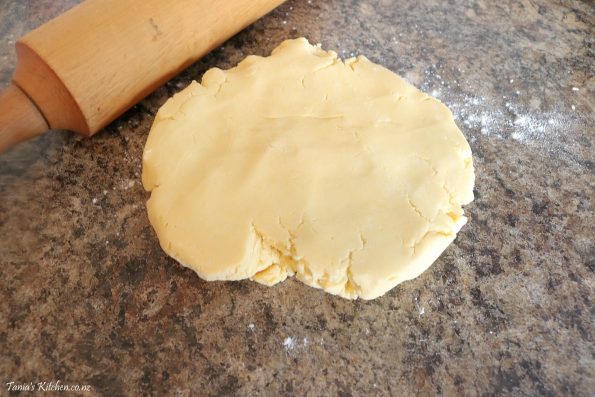 Next sprinkle some flour around on the bench. Divide the dough into roughly three parts and work with a third at a time (re-wrapping the dough you aren't using and returning it to the fridge until you need it).
Gently roll out the dough until it's around 3-4 mm (1/8 inch) thick. Roll up and down, and sideways, and also move the dough around so it doesn't stick to the bench. That's the best advice that I can give and that a bit of patience is needed, just take your time. Don't be afraid to use more flour on the bench if it is sticking as it won't affect the recipe too much (unless you dump heaps on there!)
So now cut out as many shapes as you can on the rolled out cookie dough and using a metal spatula carefully slide it under them (I dip the end of my metal spatula in some flour to help it slide under my cookies easier) and then carefully lift them onto the oven tray.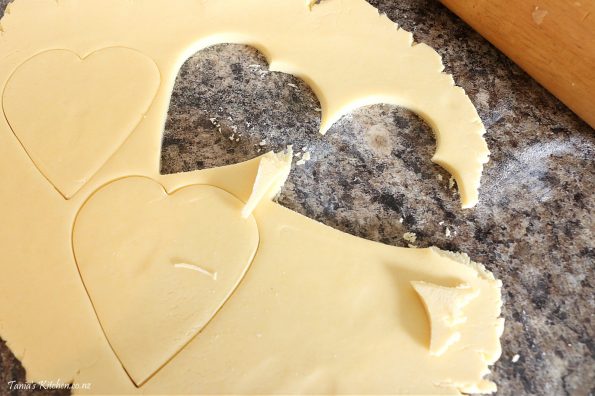 Once you can cut no more from that piece of dough re-knead it a little bit and re-roll and repeat or if there's not much left of that piece (then you are an expert roller) add the scraps to the next third and continue cutting out enough to fill your tray.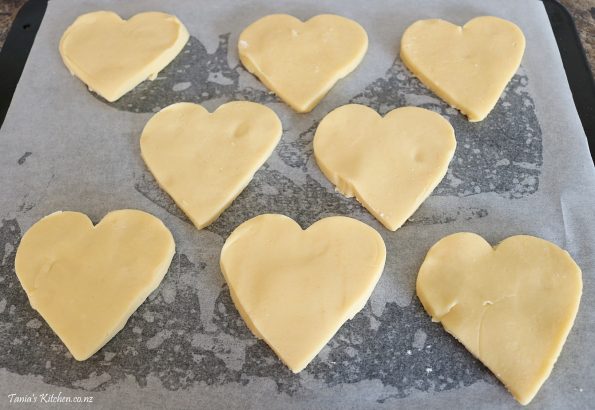 Once you have enough on the tray press in the centre shape…..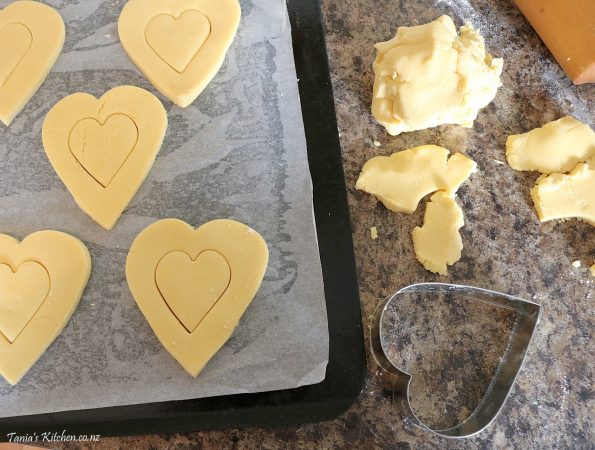 …..and use a small knife to remove the smaller shape (add it to the remaining cookie dough).
Then pop them in the oven for 5 minutes.
After the 5 minutes is up, remove them and place 1 lolly (two halves) in the centre of each biscuit.
If your smaller cutter that is half the size of my smaller heart, half a lolly will do.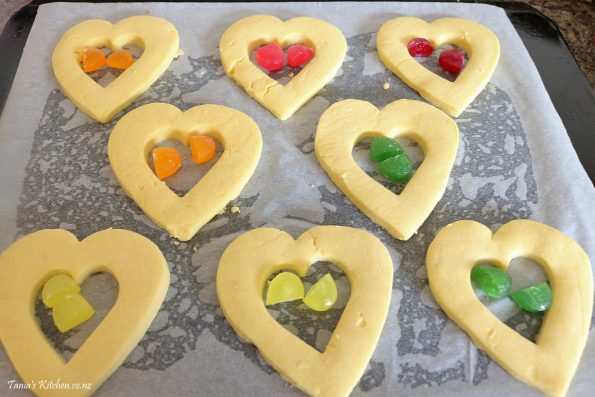 Return them to the oven for another 5 minutes or until the biscuits are just starting to brown slightly around the edges.
If these cook too long the sugar in the lolly will start to burn and not taste very nice 🙁
When they are out of the oven check the centres, if there is a small gap where the lolly hasn't quite spread right to the edges use the tip of a sharp knife or a toothpick to spread the melted lolly into the gap…..or you can slightly tilt the tray so the sugar runs into the gap.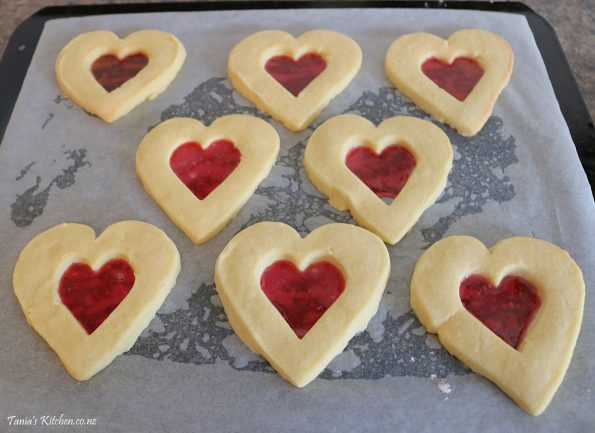 I hope you have as much fun with these cuties as I did 🙂
Storage – These will keep well in an airtight container in the pantry for 3 days.
 
If you like these, travel here to see the ones I made with other shaped cookie cutters 🙂
No one has ever baked me a Valentine treat, whatabout you?
These custard flavoured Valentine biscuits have a pretty 'Heart of Glass' in the centre, made from a melted boiled lolly. Great way to say I love you xxx
Ingredients
170 grams butter
1/2 cup icing sugar (confectioners sugar)
1/4 teaspoon vanilla essence
1 3/4 cups standard flour
1/2 cup custard powder
12 boiled lollies/candy (I used Heards)