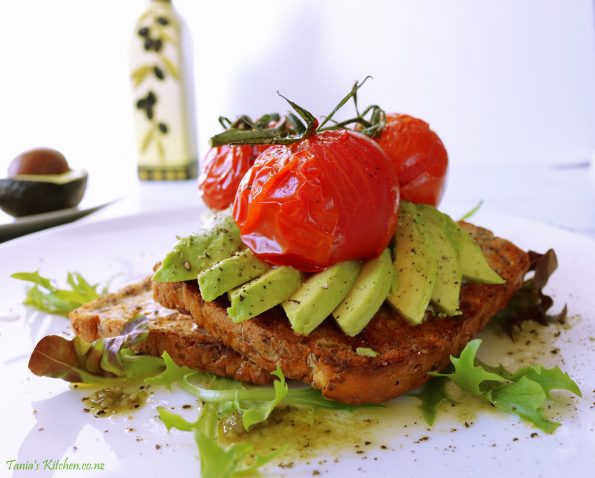 I love these roasted tomatoes, they look so beautiful on their stalks, like I've just freshly picked them myself. If I want a roasted tomato to look pretty on the plate I use vine-ripened and roast them fairly quickly so they still hold their shape. If I was using not so flavoursome tomatoes or ones that were on their last legs, or ones not on their vines, I would slow roast them.
I made them today to go with my Mediterranean style Aubergine Frittata. They are juicy and delicious and look just beautiful…..well I think so anyway 🙂
YOU WILL NEED…..
vine-ripened tomatoes (nice ripe, deep red ones)
extra virgin olive oil
salt (table or freshly cracked sea salt)
cracked black pepper
Note
You can cook as many as you like in a tray as long as they are in one layer.
METHOD
Preheat the oven to 160°C – fan-bake oven or 180°C – conventional oven, on bake, with a rack in the centre.
Place some baking paper inside an oven tray that is big enough for your tomatoes and lay them on top of it with the vine still attached.
Drizzle the olive oil over them, making sure they each get some and sprinkle them with salt and some cracked black pepper.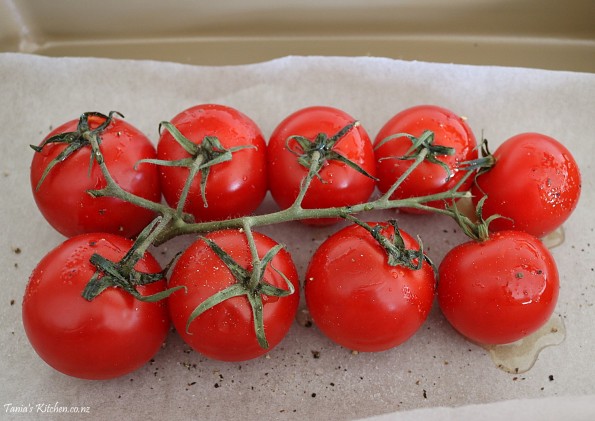 Pop them in the oven to roast. Small ones will take around fifteen minutes, medium-sized will be ready around the 20 minute mark and large ones around 30 minutes. if they are really ripe they may be ready on the early side also. I take mine out when they look like the ones below, nice and juicy and a bit shrivelled and split 🙂
You may also prefer to roast them a bit longer than I did. I try to take them out just before they start to collapse too much, so they still look visually appetising. You can't really go too wrong though, unless you forget they are in the oven and go out, say to the hairdressers of course…..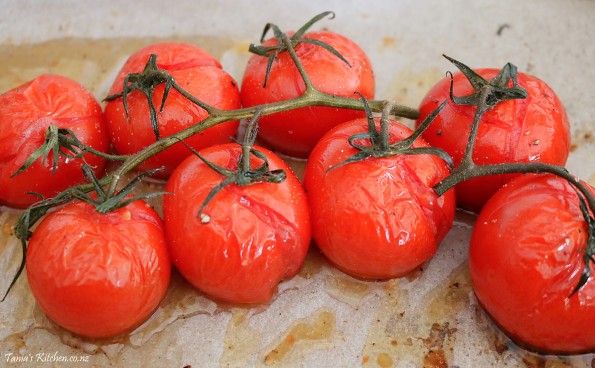 …..oh wait that's probably only something I would do! As a matter of fact a few times (just a few) I have got home from work, just sat down for a coffee and then had a sudden thought, "Frig!"……and rushed to the phone to call work….."Omg can you rescue so and so from the oven"…..haha….some days at work are just too crazy 🙁
I remember years ago my friend made a whole tray of Crème Brulee. In the morning when he got to work the head chef had just left them on his bench (not a word spoken), they had been in the oven ALL night and were just mounds of blackness in dishes, I had to laugh because Crème Brulee literally means 'burnt cream'.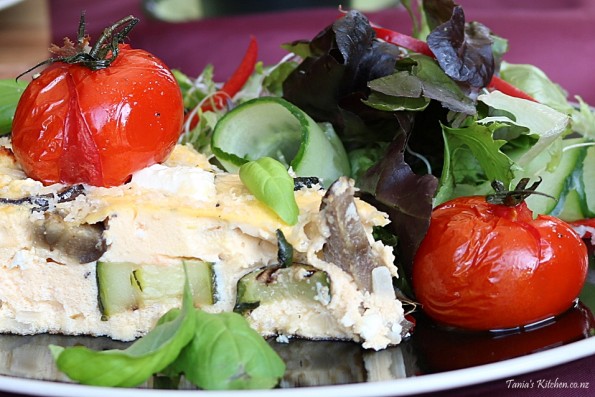 These babies are perfect straight from the oven, on Bruschetta with some feta, or buffalo mozzarella and fresh basil 🙂 They are also beaut warmed on toast for breakie and with avocado or with an omelette. They also look fantastic on a Ploughmans board (still attached to the vine) or as a side to compliment any meal really. I will cut the vine so that two or three are still attached to a part of the main vine if I am serving them with a meal 🙂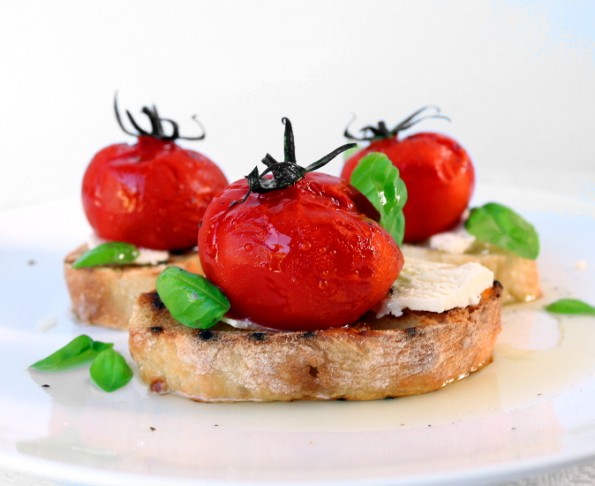 Storage –  These keep well in the fridge covered well with cling wrap for up to 3 days. To re-heat them  just pop on an oven tray and cover loosely with foil and turn the oven on 160°C  fan-bake oven or 180°C  conventional oven, on bake, they will take around 10 minutes. I wouldn't warm them in the microwave though as just a few seconds too long and they will explode and collapse into a wee pile of juice, skin and seeds (can you tell I've done that before?!)