I hope you all had a wonderful Christmas and New Year's spent with your families, friends and pets. And of course, I hope you all indulged and made the most of it…..I sure did and it tells!
You've probably all been so busy enjoying the sun 'n' surf that you haven't even noticed that I've been missing have you?…..But with the boys being home for school and me doing the same (I actually have a tan!) I've found it virtually impossible to concentrate on my blog so I've just cruised on in to the New Year and haven't really worried about too much at all!
School's not quite back but it's definitely time for me to get back into it (didn't want you all to think I'd given up cooking) and if you froze that excess ham over Christmas these muffins may just be for you. They are filled with chunky pieces of potato, loaded with cheddar cheese, salty ham, tomato, onion and parsley. Also, what makes them a whole lot more bloody delicious, is a slight flavouring of wholegrain mustard because I just love the stuff!
They are deliciously tasty still warm from the oven with loads of butter and the Texas-sized / Cafe Style ones are so large you can eat them for brunch or lunch.
Let me know if you bake some, love to hear from you. 🙂
INGREDIENTS
600 g / 1 1/3 lb potatoes (3 med/large)
¼ teaspoon salt
200 g / 7 oz leftover ham off the bone or ham-steaks (1 cup when diced)
½ medium-sized brown onion
1 large, ripe tomato
¼ cup chopped fresh parsley or chives
150 g / 5 oz cheddar cheese ((1 ½ packed cups when grated)
115 g / 4 oz butter
2 large eggs (I use size 7's)
2 cups standard flour
3 teaspoons baking powder
½ teaspoon salt
¼ teaspoon freshly ground black pepper
3 tablespoons wholegrain mustard
¾ cup + 2 tablespoons milk
Optional – 3 tablespoons of raw pumpkin seeds
Also Optional – 12 muffin cases or 6 large Texas size muffin cases
Makes 12 standard sized muffins or 6 Texas sized muffins
Notes
The potatoes need to be at room temperature or cold when added to the muffin mix because the heat changes the recipe.  For best results, I cook mine the night before or first thing in the morning on the day I'm making them.
You can replace the ham with bacon pieces, salami (OI adore salami in muffins) or pastrami.
I use 'tasty' cheese which is common here in NZ. It is sharper so you can taste it in there with the other ingredients. Vintage cheddar is my favourite but a little expensive. Of course, you can simply use Edam or Colby, whatever you have, and they will still be delicious.
WALKTHROUGH
First, peel and then chop the potatoes into little 2 cm / ¾ in cubes (roughly).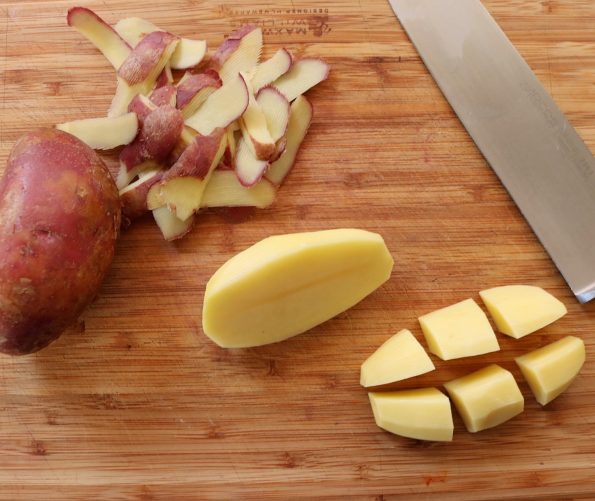 Place the potato pieces in a saucepan and cover them with cold water.
Over a high heat bring them to a boil and then turn the heat down to where it's just boiling (simmering).
Add the salt and cook them until they are tender and can be pierced easily with a knife (mine took 10 minutes from when I turned down the heat).
Once done, strain them into a colander immediately and leave them to cool down a little.
When they have stopped steaming place them in the fridge because they need to be at room temperature or cold when added to the muffin mix.
I always cook mine that morning or the night before.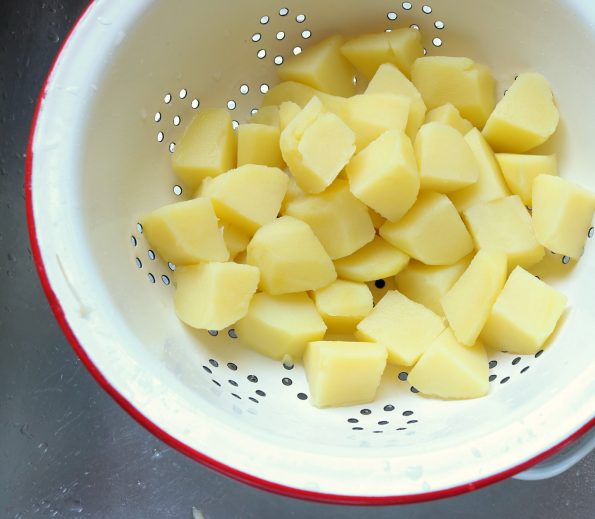 When the potatoes are luke-warm you can begin to make the muffins.
So, liberally spray the muffin holes with non-stick cooking spray or place your muffins cases into the holes (no need to spray those but if you like you can give them a light spray).
Next, chop the ham into little pieces and set aside.
If you are using bacon pieces chop them up into tiny bits as unlike the ham they need to cook inside the muffin.
And if you are using pastrami or salami, it's nice sliced into thin strips.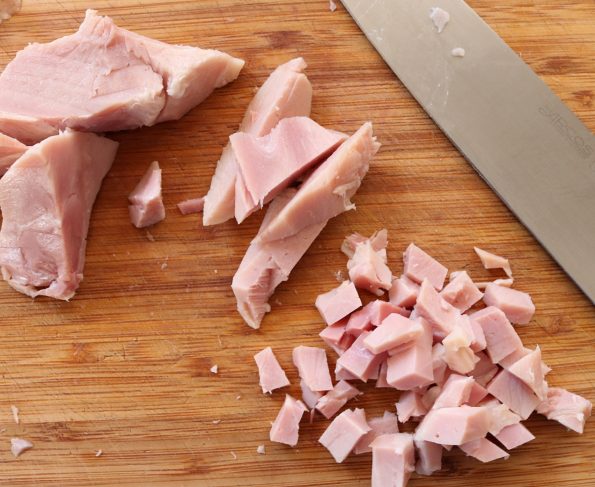 Then finely dice the onion, set aside with the ham.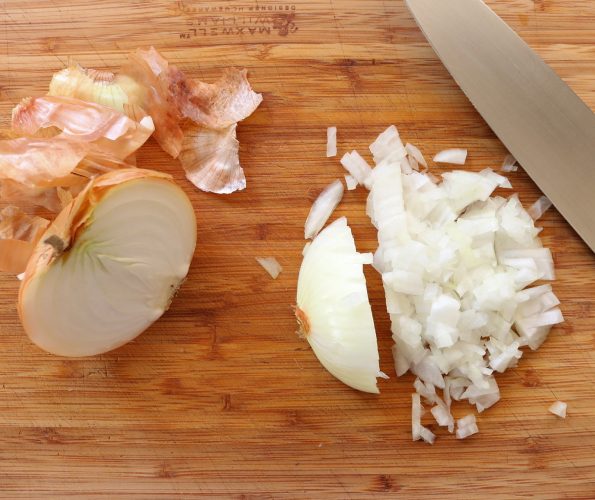 Slice the tomato into 4 wedges and then cut out most of the seeds.
Then thinly slice each wedge into thin strips and dice them up, adding it to the ham and onion.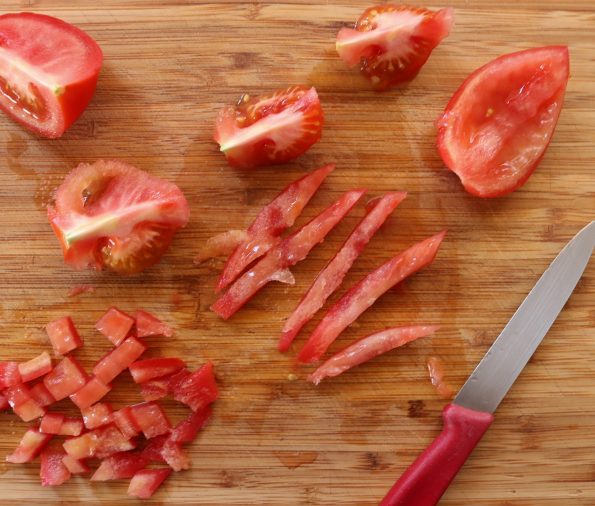 Finely chop up the parsley (or chives if using them)….a chance to show off with your Chef's knife. Add it to the other ingredients.
Last bit of prep…..Grate the cheese and add to the rest.
Time to preheat the oven to 170°C fan bake oven or 190°C conventional oven, on bake, with a rack situated in the centre of the oven.
Next in a small saucepan, over a low heat, melt the butter (without boiling it) and then set it aside.
Alternatively, cut it into cubes and melt it in the microwave on HIGH for about 1 min 20 seconds (don't forget to cover it, or you'll be sorry)!
Add the eggs to a very large bowl and using the biggest spoon you have lightly beat them together.
Then add the hot butter and quickly mix it all together.
Using hot butter gives them a nice golden colour once baked.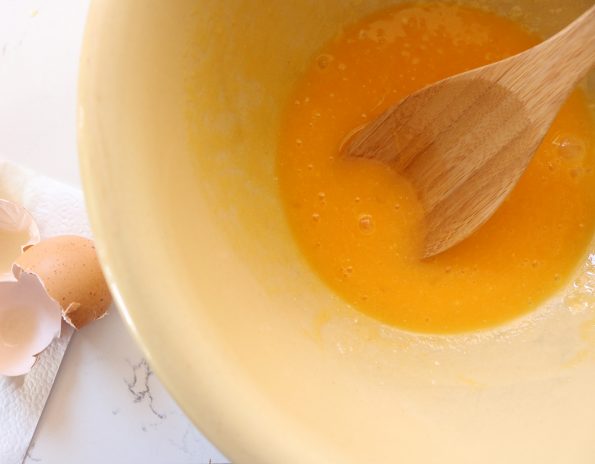 Now sit the flour and the baking powder on one side and…..
…..put the potato, the ham (or if using it, the bacon, pastrami or salami), the onion, the tomato, the parsley, 1 cup of the cheese, the salt & pepper and the 2 tablespoons of the mustard on the other side.
Lastly, pour the milk into the centre.
Gently fold it all together until it's just combined.
Muffins have a better texture when mixed lighty. I always leave just a tad of flour around the sides of the bowl just to make sure.  🙂
Divide the mix either into your 12-hole muffin pan or your 6-hole Texas-sized muffin pan.
Rather than spooning the mix into the tins, if you use damp hands to gently roll softballs they bake into a much nicer shape.
Check that they're all around the same size. If they differ in size, take some batter from the larger ones and gently place it into any gaps on the smaller ones (without pushing it down as they won't rise as much).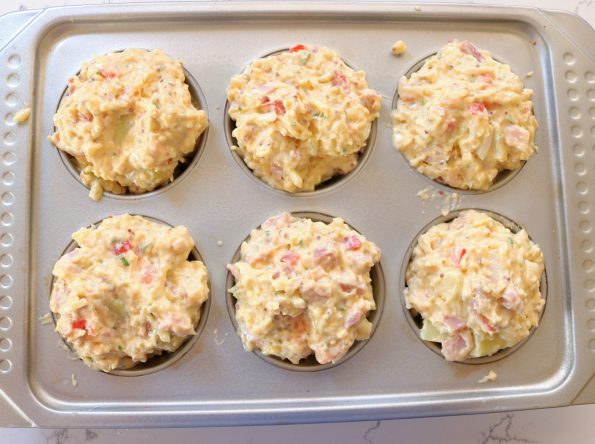 Before they go into the oven, with the remaining ½ cup of cheese, use your hand to squeeze it into a log and then break off 6 or 12 bits and place a piece on top of each muffin.
I do it this way because if I just sprinkle it on it will melt onto the sides and make it hard for the muffins to pop out, plus it looks better.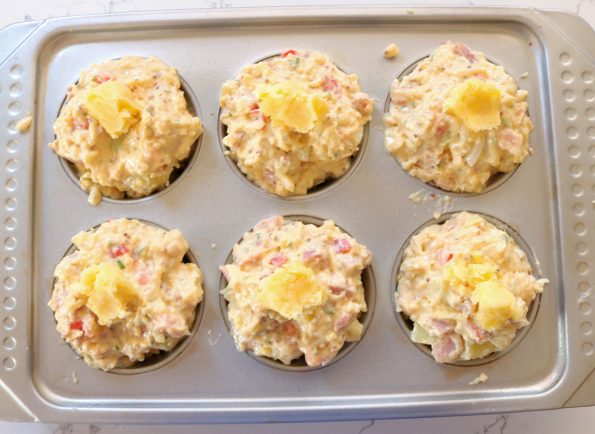 Pop them in the hot oven for 30 minutes (smaller ones) or 40 minutes (Texas size) or until they are a nice golden brown and a sharp knife inserted into the centres comes out clean (no wet batter on it).
Leave them in the tin for 10 minutes before running a knife around the edges to make sure they aren't stuck and then turn them out, upside down, onto a wire rack.
You can remove each one individually or you can do as I do and just flip the tin upside down (behaviour born from working in a busy kitchen)…..but I'm also, as my Nana would say, 'rough as guts', lol.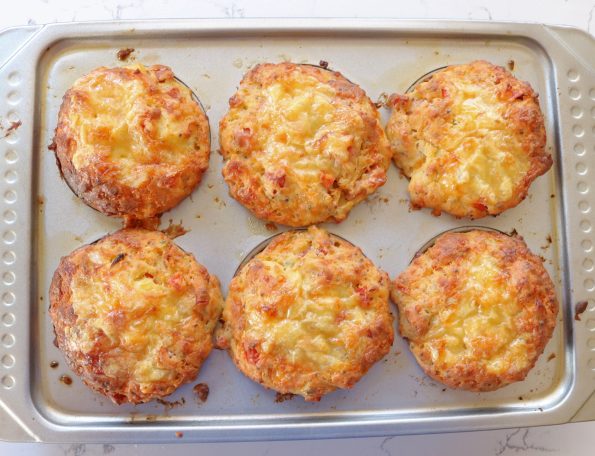 The larger ones weigh a lot so I leave them upside for a further 10 minutes so that the bottoms cool faster because if I turn them over straight away sometimes the weight of them will cause them to go lop-sided.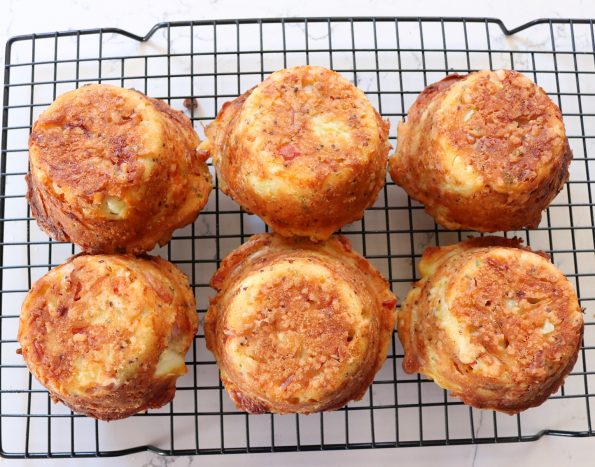 Once up the right way use a teaspoon to divide and place the remaining tablespoon of mustard on top of each muffin and then use the back of the spoon to spread it around.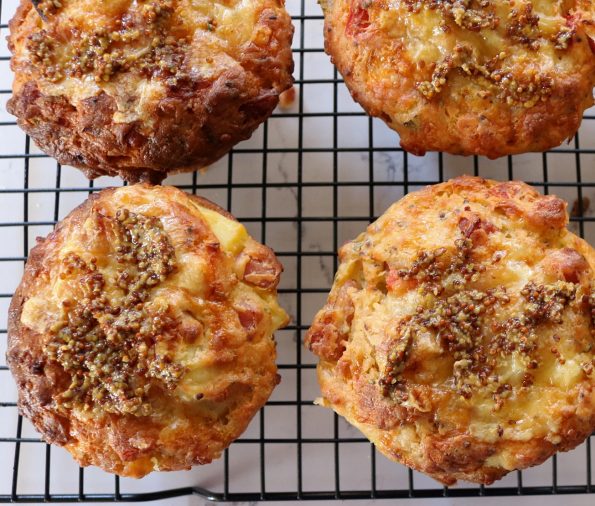 Enjoy whilst still warm from the oven with lashings of butter (goes without saying really!)
Keepin' em fresh – Because of all the cheese, I store these in an airtight container, in the fridge for up to 3 days. Just make sure they have cooled down thoroughly before placing them into a container or it will get filled with condensation and make them wet and all 'pastie' looking!
Reheating – Just pop one in the microwave on high for 50 seconds or wrap one in cooking foil and pop it in the oven (160°C fan bake oven or 180°C conventional oven, on bake) for about 10 minutes.
Related Posts…