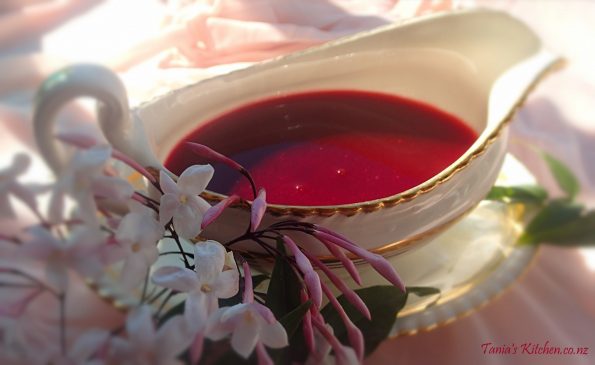 Along with crème anglais, raspberry coulis (koo-LEE) is my absolute fav sweet sauce because it not only tastes and looks gorgeous but in my opinion practically goes with anything sweet (usually desserts) like cheesecakes, crepes, bavarois, sundaes, warmed chocolate cake, brownie and anything you think raspberries would be nice with.
I first made Coulis when I was a dessert chef at a restaurant around 12 years ago and this is the recipe we used…..give or take some water and sugar. Even if the dessert didn't use Coulis as a sauce we used it as a garnish on most of our dessert plates, it looks amazing because of its beautiful crimson colour.
INGREDIENTS
250 g fresh or thawed frozen raspberries
¾ cup white sugar
1/3 cup water
Makes  1 ½ cups
Notes
Adding red wine – Replace the water measure with red wine.
Adding liqueur – When you've finished cooking it (before sieving) add anywhere from 1 teaspoon to 2 tablespoons depending on how strong the flavour is. You could use Gin, Brandy, Triple sec, Kirsch or Framboise (which is a raspberry liqueur). If you happen to be rather fond of alcohol and get carried away and simply go and pour the stuff into your sauce it will be too runny………so refrain!…..some in the sauce……some in a glass (just in case all the sieving later is thirsty work).
WALKTHROUGH
First, put the sugar and the water in a saucepan.
Over a medium heat bring it to the boil……stirring gently once or twice.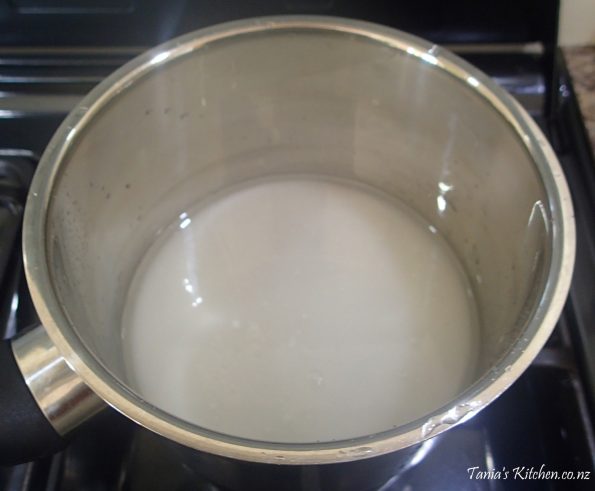 Once it's boiling the sugar will be dissolved and you can turn the heat down to medium/low and simmer (a soft boil) it for approx 2 – 3 minutes, without stirring.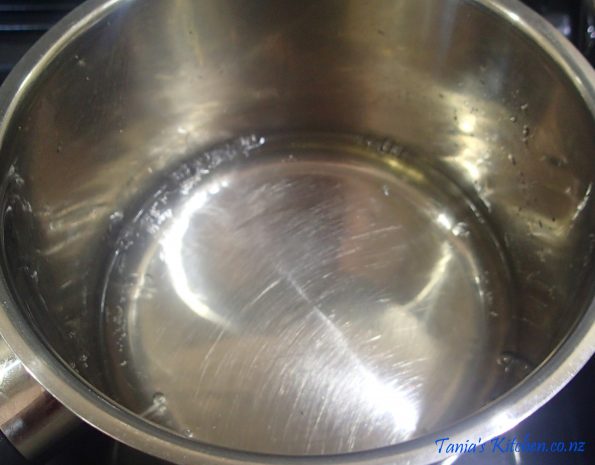 Next, turn the heat up to medium/high. Add the raspberries and stir them into the sugar syrup and then when they start to boil turn the heat down to medium/low again and leave them simmering (stirring occasionally) for around 5-10 minutes or until the raspberries are very soft and are starting to break down. I was told that if you boil Coulis it will lose its shine, so just in case that's true I keep an eye on it.
If you are using frozen raspberries this will take the longer time, whilst fresh the shorter time.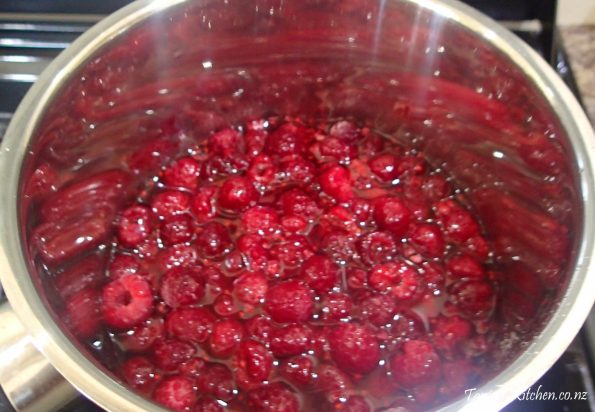 Then remove the pan from the heat and cool the coulis down for at least 10 minutes (or however long you like).
Then, using the back of a large metal spoon, push the mix through a large sieve into a bowl until there are only seeds left.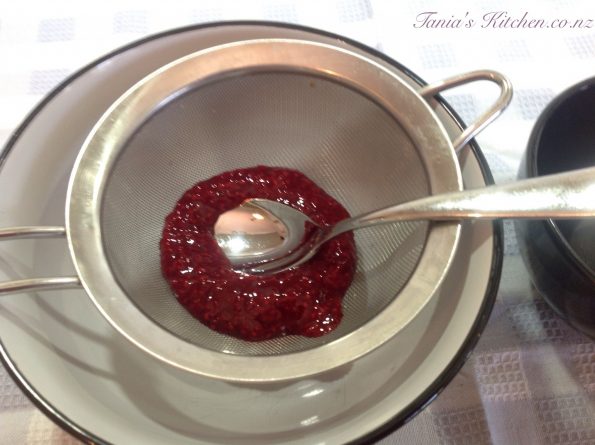 Now place the sieve over another bowl (first making sure you scrape off the sauce that's clinging to the underside of the sieve and adding it to the sieved sauce) and push the sauce you have already sieved, through the sieve again until there are only seeds remaining.
Keep sieving until there are just naked seeds left, remembering to scrape the underside of the sieve with the spoon as there's a lot of thicker coulis on the underside.
I know this takes time (you've probably got that drink!) but be patient because it gives it a smooth velvety texture.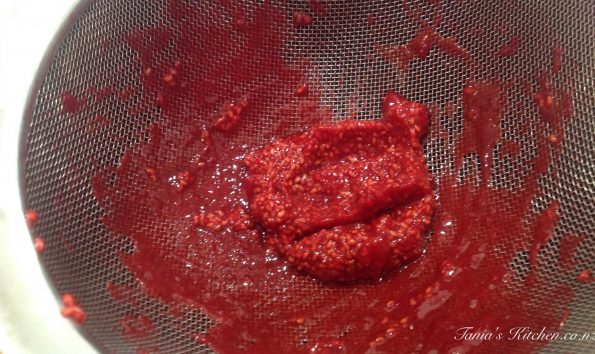 …….and there you have it, Fabuleux Raspberry Coulis!
Storage – You can store it in the fridge for up to a week or it will keep in the freezer for months (even up to a year).
If you have any spare in the fridge you can pour it over pancakes, add it to smoothies, or you could fold it through yoghurt or whipped cream.
Framboise is the French word for raspberry and I was told that coulis is French for 'runny' but I can't find anything online to back that up and I'm such an expert 'googler' too! Can anyone enlighten me?
A velvelty raspberry sauce that goes beautifully with chocolate cake, brownie, ice-cream, cheesecakes, pancakes, cheesecakes and most desserts.
Ingredients
250 grams fresh or thawed frozen raspberries
3/4 cup white sugar
1/3 cup water