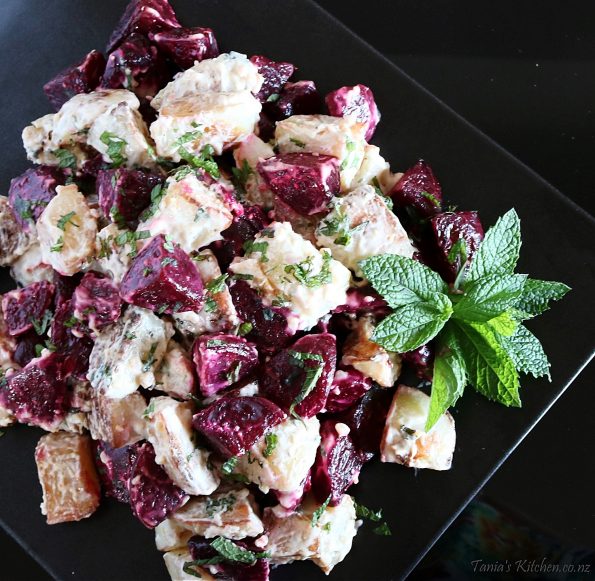 Hello 🙂 A slight diversion from my sugar cravings today for some delicious vegetables. This salad is one of my family's favourites. I am not sure where I originally got the idea from but beetroot and mint are a combination popular in Lebanon where they make a dip containing beets, tahini and mint. Horseradish is of course another root vegetable like beetroot and often seen served with beef (we have it on beef sandwiches).  This recipe calls for horseradish sauce which is mild compared to fresh horseradish but still pungent enough to only use a small amount mixed with something else, in this case sour cream. You can eat this salad quite warm, not long from the oven or it's nice served at room temperature.
INGREDIENTS
1 kg raw beetroot (approx 8 medium-sized)
1 kg potatoes (approx 8 medium-sized)
4 tablespoons olive oil
½ teaspoon salt
DRESSING
¾ cup sour cream (around 190 grams)
2 tablespoons horseradish sauce (up to 4 depending on your taste-buds)
2 tablespoons olive oil
1 tablespoon lemon juice & ½ tablespoon lemon zest (1 small lemon or ½ medium-sized lemon)
½ teaspoon salt
¼ teaspoon of cracked black pepper
¼ cup fresh mint & a nice sprig or two for garnish
Serves 8
Notes
You can easily omit the potatoes and double the beetroot and have it as just a beetroot salad. If you do this I would still use two baking dishes. They need some space in between them for the heat to circulate so they roast evenly all over.
You can replace the sour cream with crème fraiche if you prefer.
If you have no mint but an abundance of chives in your herb garden that would be nice too.
If you are a real radish fan you can also add one small red radish, cut in half and finely sliced, (mixed in at the end with the mint).
STEP BY STEP
First, wash the beetroot and then slice off the stalks and the roots.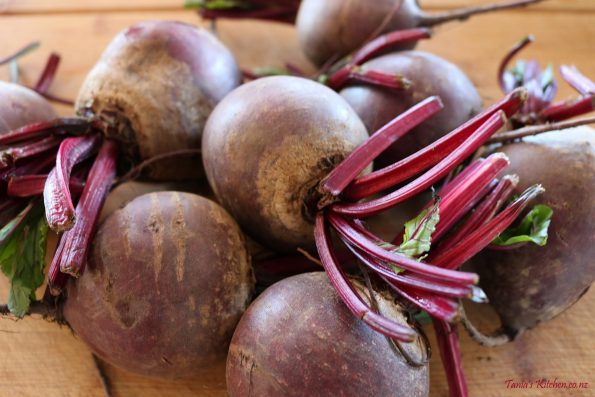 Then using a peeler, peel the beetroot and you will have lovely red-stained hands. It doesn't bother me, I like to get down and dirty (with my food) and find the red washes off fairly easily but if you like to keep your hands 'pretty' you may like to wear rubber gloves for this.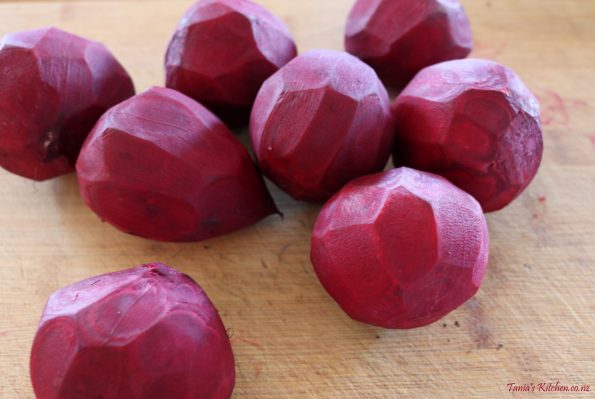 Now put a large saucepan of water on high and bring it to the boil.
Whilst the water is coming to a boil, chop the red beauties roughly into 3 cm squares (just over an inch), I got 8 pieces from each of mine.
I used an older board that is already stained from summer berries but to help remove the beet stain from your chopping board later, before cutting up the beets you can lightly spray the board with non-stick cooking spray and then wash it straight after use in warm, soapy water.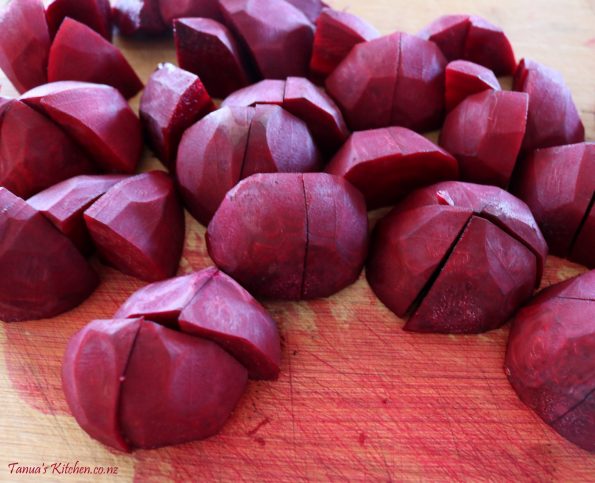 Place the beetroot into the boiling water with 1/4 teaspoon of salt and leave it on high, letting it come back to a boil. Then turn the heat down to medium/low and let the beetroot simmer (boil softly) for around 40 minutes or until it's tender and a knife easily pierces them. I like them with a bit of 'bite' and know that they are going into an oven to roast for 30 minutes after they have been boiled.
While the beetroot is simmering, wash and peel the potatoes and cut them up, roughly into 3 cm squares (just over an inch) also. Pat them dry with a clean tea-towel or paper towels to remove any moisture so they roast up crispier and then leave them aside.
Next place an oven rack in the middle of the upper section of the oven and another in the middle of the lower section of the oven and preheat it to 180 degrees – fan-bake oven or 200 degrees – conventional oven, on bake.
Once the simmering beetroot is tender strain it in a colander and then lay some paper towels on your chopping board and spread the beetroot out on them. Place some more paper towels on top and gently pat the beetroot dry to remove some moisture for better roasting and then in another baking dish, toss the beetroot in 2 tablespoons of olive oil.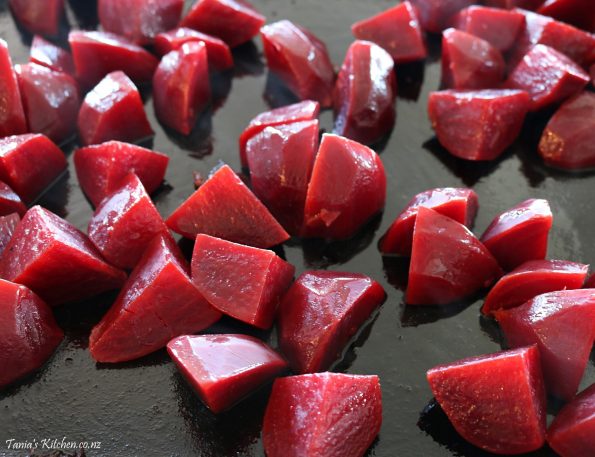 Also place the potatoes in an oven dish and toss the pieces in 2 tablespoons of olive oil and then sprinkle them with the 1/4 teaspoon salt.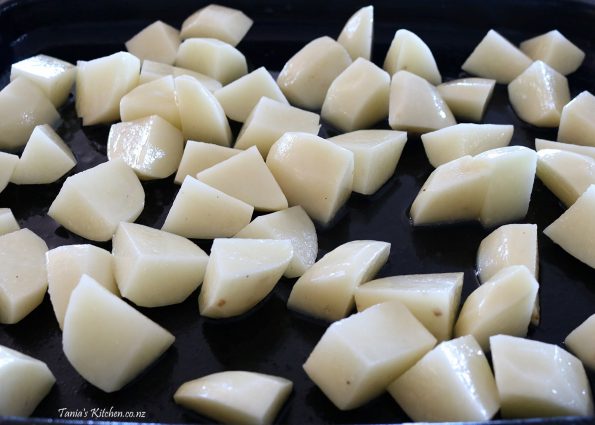 Place both baking dishes into the oven, the beetroot will take around 30 minutes and the potatoes around 40 minutes. Turn both every ten minutes to ensure even roasting. I use a spatula and just quickly flip them over as the pieces are too small to turn each individual piece and if you spend too much time turning them their temperature will cool down too much, changing the roasting time.

If you are using a conventional oven it would pay to swap the baking dishes around after twenty minutes whereas fan-bake will roast them more evenly although I still do it with fan-bake (just in case).
After both cooking times are up, pierce the veggies with a sharp knife to see if it is tender enough and if not, return to the oven for 10 more minutes or until they are nicely roasted and tender.
If your pieces are smaller than mine, or your oven is hotter, or your beetroot boiled a bit longer they may be ready sooner so it pays to pierce them 10 minutes (their last turning over) before the roasting time I've suggested……just in case!!
Whilst the vegetables are cooling down a bit, In a small bowl mix together the sour cream, horseradish sauce, olive oil, black pepper, salt and the lemon juice and zest.
If you love horseradish and it's not pungent enough for your liking, add another tablespoon or even two more.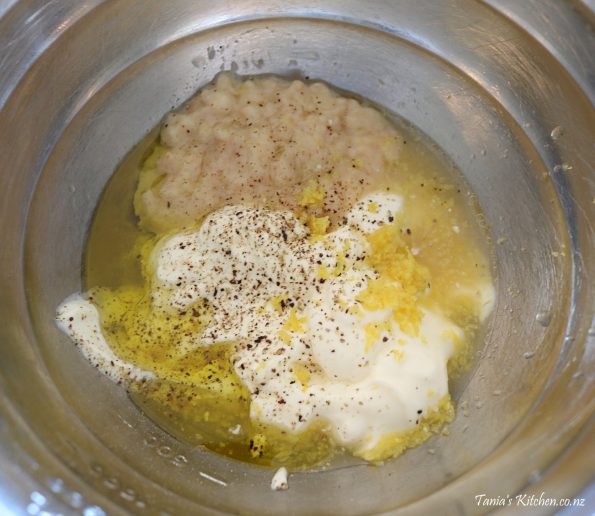 Just before serving finely slice up the fresh mint. Place the potatoes in a large bowl and with a large spoon fold the potatoes and 3/4 of the mint together with the dressing. Then add the beetroot and do just two big folds (over mixing will turn all of the potatoes red)and then tip it out into a nice serving plate or bowl. Sprinkle the other 1/4 of the mint on top and then garnish your salad with a nice mint sprig.  🙂
You can eat it straight away or leave it to cool down to room temperature. If you are not eating it for a few hours you can pop it in the fridge but take it out half an hour before you serve it to bring it back to room temperature and also I would wait and fold the mint through not long before I served it as it tends to go black. I just want to note too that if you reheat this salad too hot, the dressing will likely split.
It's SO pretty! I hope you enjoy it as much as we do 🙂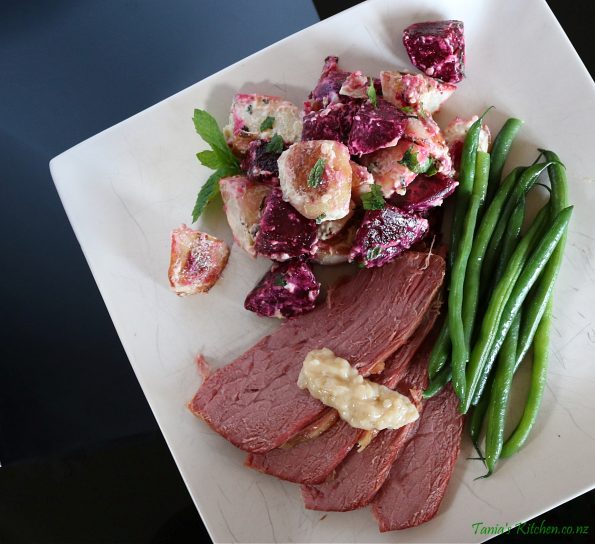 Storage – Keep any leftovers covered and in the fridge for up to 3 days.
Roast Beetroot & Potato, Horseradish Salad
A warm, roast beetroot and potato salad with fresh mint and a sour cream, horse radish dressing. Great as a main or served with beef.
Ingredients
1 kg raw beetroot (approx 8 medium-sized)
1 kg potatoes (approx 8 medium-sized)
4 tablespoons olive oil
1/4 teaspoon salt

DRESSING

3/4 cup sour cream
2 tablespoons horseradish sauce
2 tablespoons olive oil
1 tablespoon lemon juice & 1/2 tablespoon zest
1/2 teaspoon of cracked black pepper

1/4 cup fresh mint & sprig for garnish