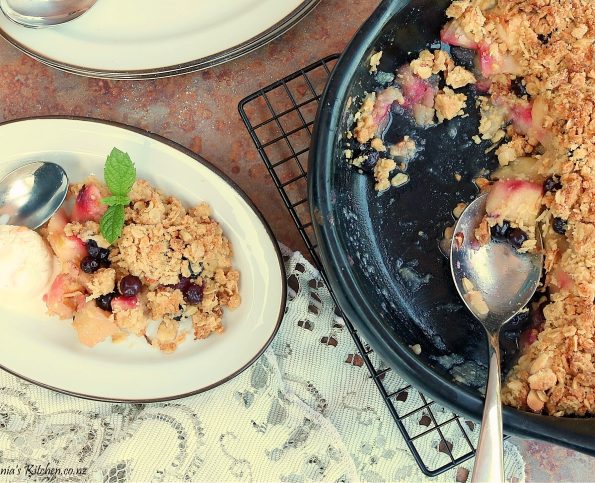 Here I am still making the most of the summer berries, the strawberries have disappeared….sad face….but there is till a lot of lovely plump blueberries around. Apple Crumble is a classic kiwi dessert. It is a baked apple dessert with a golden, crumbly, crust that is made of flour, sugar, butter and usually has other yummy things added to it like oats and nuts that add to it's flavour and crunchy texture. Most people use green Granny Smith apples as they hold their shape when cooked and they are tangy which is nice with the sweetness of the sugar and the tart Braeburn variety is also preferred. I choose to add almonds and coconut to this particular crumble as I like both with blueberries. There are two ways to make the crumble topping, cold butter rubbed into the dried ingredients or mixing them together with melted butter. I have made it both ways and my personal preference is using melted, I find that it gives a much firmer, slightly crunchier, but still crumbly, buttery crust.
You know me, always interested in the…..GEEKY STUFF…..Did you know cinnamon sticks are the rolled up interior bark of a tropical evergreen tree of the genus Cinnamomum.
INGREDIENTS
FILLING
10 medium-sized tangy cooking apples, like Granny Smiths or Braeburn (approx. 1.5 kilos)
1/4 cup white sugar
25 grams butter
2 tablespoons lemon juice (approx 1 medium-sized lemon)
1/2 teaspoon ground cinnamon or 1 cinnamon stick
1 cup fresh or frozen blueberries
CRUMBLE TOPPING
1 cup standard flour
3/4 cup brown sugar
1/2 cup oats
1/4 cup sliced or slivered almonds
1/2 cup long-shredded coconut
1 teaspoon ground cinnamon or 1/2 teaspoon cinnamon & 1/2 teaspoon mixed spice
125 grams butter
Serves 8
Notes
If you like you can replace the almonds with roughly chopped walnuts or pecans, both go nicely with blueberries don't they.
I use long-shredded coconut as it's bigger and helps with the crunchiness and chewiness of the topping, whereas desiccated is so fine, but of course if that's what's in your pantry it'll still be great!
If you are using frozen berries it's best not to defrost them as they will 'bleed' too much over the apples, turning all of them blue! When it comes time to use them, just throw them in still frozen, I just think it looks nicer. 🙂
STEP BY STEP
So to get started, peel and core the apples and then chop them roughly into 3 cm (1 inch) cubes.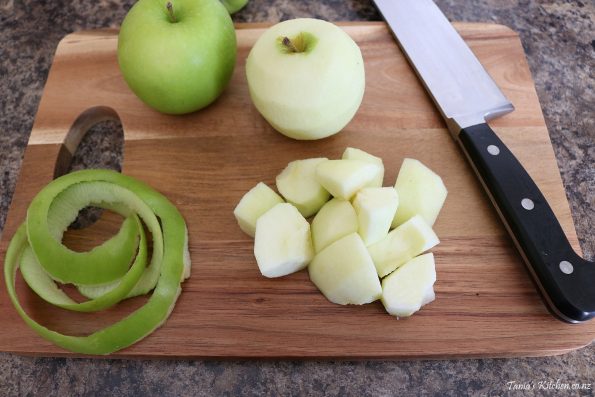 Next, place them in a large saucepan with the white sugar, butter, the lemon juice and the ground cinnamon (or cinnamon stick). Over a medium/low heat cook them for 7 minutes, stirring once a minute with a large spoon. Don't worry that you haven't put any water in there as the juice from the apples combined with the lemon juice and melted butter and sugar is enough or you may end up with  a watery crumble.
When the apples are done use a slotted spoon to transfer them into a 10 cup (2.5 litre) capacity oven proof dish and set aside. I like to keep juices to drizzle over the crumble or on the plates before serving.
If you used a cinnamon stick, leave it in with the apples as the flavour will infuse more whilst it's in the oven.
Next place an oven rack in the middle of the oven and preheat it to 160°C fan bake oven or 180°C conventional oven, on bake.
In a large bowl mix together the flour, brown sugar, oats, almonds, coconut and cinnamon.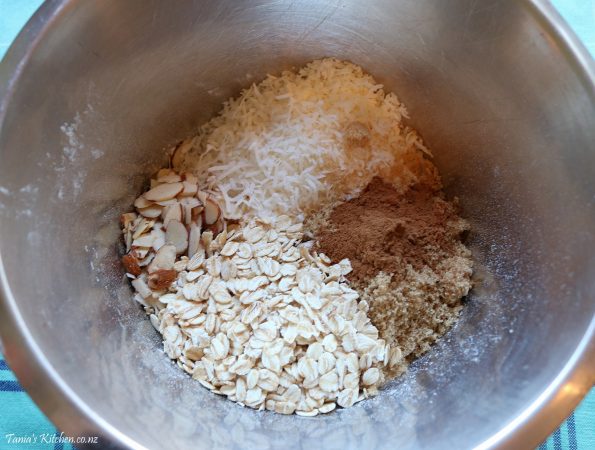 Now place the butter in a bowl and in the microwave and melt it on HIGH for 1 minute 20 seconds (or until melted) or over a low heat on the stovetop in a small saucepan. Pour it into the flour mix and using a big spoon roughly mix it in, careful to just mix it in and not over do it, so it still has a crumbly texture.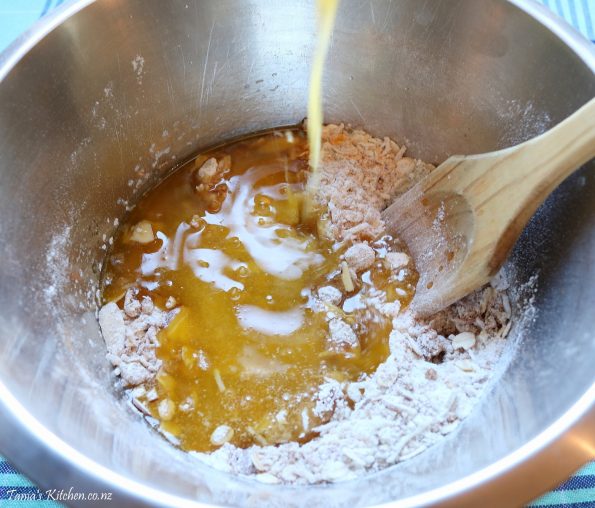 Sprinkle the blueberries over the apples in the dish and…..
…..then with your fingertips sprinkle the crumble mixture evenly over top of the apples and blueberries.
Bake for 30 minutes or until the crumble is golden brown and when pierced with a knife the apples feel tender.
Yummo! Eat it hot, warm or cold, whatever your fancy. I really like it for breakfast….which may or may not be a bit naughty 🙂
Serve with pouring custard, whipped cream, fresh runny cream or ice-cream, or if you are that way inclined….all three! Don't forget if you saved some sugar syrup from the apple pan earlier to drizzle it around.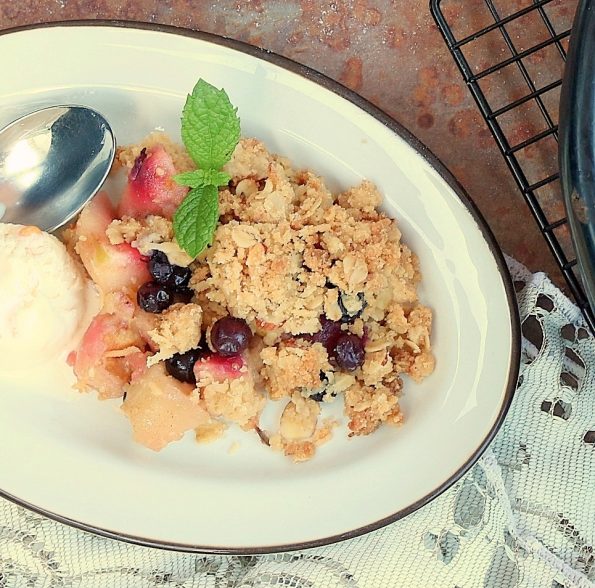 Storage – Keep any left-overs covered with cling wrap in the fridge and if wanting to re-warm it, cover it with aluminum foil (with holes pierced in the top) and heat it up on a low heat (130°C fan bake oven or 150°C conventional oven, on bake) in the oven until it reaches your desired temperature or warm it in the microwave, maybe on High for 1 minute 20 seconds.
A Feijoas fan? Go here to check out my Feijoa, Pear & Ginger Crumble, it's delicious 🙂
Apple & Blueberry Crumble
A lovely dessert all year round. Tart apples, softened and baked with sugar and fresh blueberries topped with an oaty, almond and coconut golden crust
Ingredients
10 medium-sized tangy cooking apples
25 grams butter
2 tablespoons lemon juice (approx 1 medium-sized lemon)
1/4 cup white sugar
1/2 teaspoon ground cinnamon or 1 cinnamon sticks
1 cup of fresh or frozen blueberries

CRUMBLE TOPPING

1 cup standard flour
3/4 cups brown sugar
1/2 cup oats
1/4 sliced or slivered almonds
1/2 cup long-shredded coconut
1 teaspoon ground cinnamon
125 grams butter