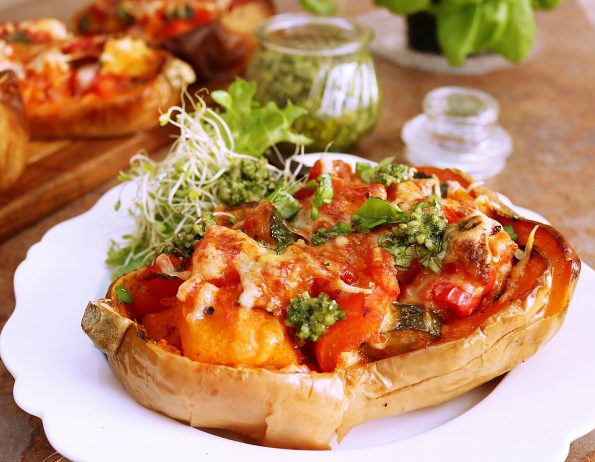 Hi there! I have neglected my dear blog this past week as I've had to work too much but I've just managed to squeeze in this recipe (a tiny miracle).
I love these stuffed butternuts and usually make them with minced lamb but as of late I'm not eating a lot of meat. My family, however, do like meat, so something like this is great as I can enjoy them with a salad and a nice piece of bread, as can they but with the addition of a piece of steak or a chop.
So what these are, are roasted butternut squash halves which have had their cooked flesh scooped out and added to a tomato sauce with other cooked vegetables as well as some fresh basil and mozzarella. The squash skins (I call them boats) are then filled with the veggie mix and topped with parmesan, heated through and then grilled, giving them a golden crust which is then drizzled with some basil pesto!
So for 'Meatless Mondays', vegetarian or vegan guests (just leave out the cheese), veggie lovers, avid veggie gardeners or simply all you healthy folk, these are for you!
INGREDIENTS
2 medium-sized butternut pumpkins
¼ cup medium (or light) olive oil
1/8 teaspoon cracked black pepper
1 medium-sized red bell pepper/capsicum
½ medium-sized or 1 small brown onion
1 medium-sized or 2 small fresh garlic clove
1 small red chilli pepper (or ½ if you want it milder)
2 courgettes (zucchinis)
1 x 400 gram tin diced tomatoes
1 tablespoon brown sugar
½ teaspoon salt
1/8 teaspoon ground black pepper
1 cup grated mozzarella
grated parmesan
a handful of fresh basil leaves and/or 1 teaspoon of basil pesto (or both)
makes 4 halves
Notes
I know they can vary a lot in shape and size but try to pick butternuts that are close in size so that they will be cooked around the same time.
I know that the chillies I buy from the supermarket are very mild but the ones I get given from friend's gardens are hot if in doubt you can just leave the chilli out! You also may replace the fresh chilli with ¼ teaspoon of dried chilli flakes. I will mention in the walkthrough when to add them.
If you have chosen to use Chorizo sausage, one large (or two small) cured ones are enough. If you haven't used them before be careful not to get the un-cooked variety as these need frying (like a normal sausage) first. I've added a note in the walkthrough on where to add them also.
I've kept to an Italian flavour here and used mozzarella and parmesan in this recipe but of course, you can switch them for any cheese you have in the fridge…..but it won't taste as good…..just sayin…
WALKTHROUGH
First, preheat the oven to 170°C fan bake or 190°C conventional oven, on bake, with a rack situated in the centre of the oven.
To begin making these lovely stuffed butternuts, wash and dry the pumpkins.
Next using a big, sharp knife, carefully slice them through the centre, long ways. I leave the stem parts on as this helps hold them together when they are roasted and soft.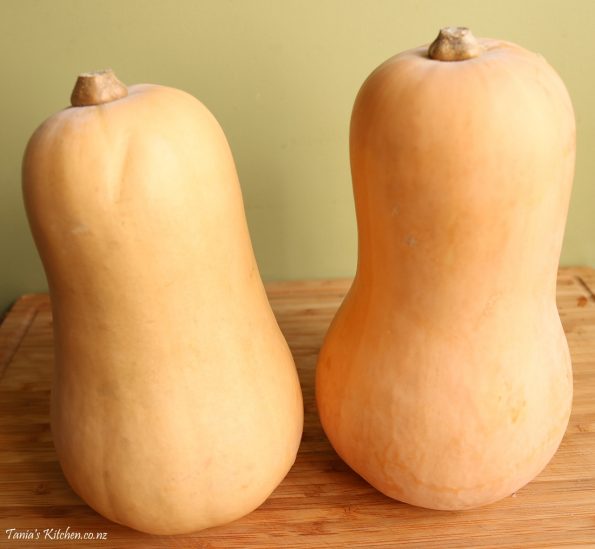 Next scoop out and discard the seeds. I find using a dessert spoon the easiest for this.
Then line a baking tray with cooking foil and lay them on it, flat side up.
Drizzle them with olive oil and crack some black pepper all over them.
Place them in the oven now. I'm going to be so very helpful here and say that I don't know how long for, shame on me. Depending on their size and shape they may take anywhere between 3/4 to 1 1/4 hour. Start trying to pierce them with a little sharp knife after 45 minutes and then every 15 minutes until they are easily pierced, tender.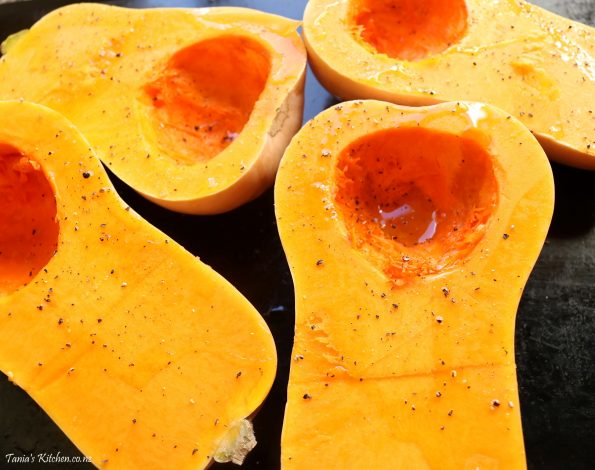 While the pumpkins are roasting you can prepare for the filling.
I cook for a living so am very fast and can cook and prepare at the same time but if you are new to cooking my advice to you is that it pays to do some prep first so that you are not stopping and starting when cooking your meal.
To prepare the capsicum slice it into quarters lengthways and pull the green stalks out. Scrap out the seeds with a little sharp knife and then cut the quarters into roughly 1 cm (1/2 inch) strips and then 1 cm (1/2 inch) pieces…..set them aside.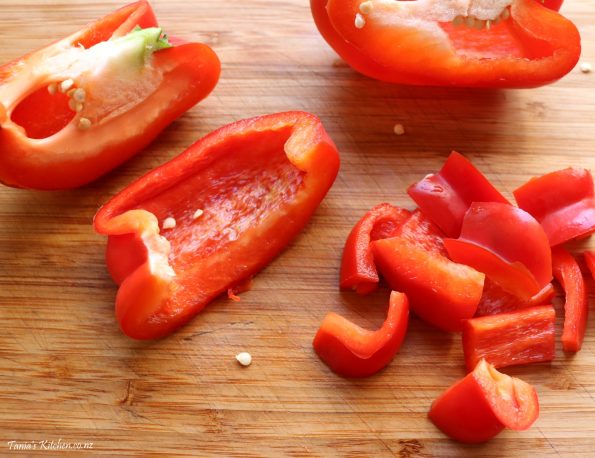 Next, peel and finely dice the onion and set it aside.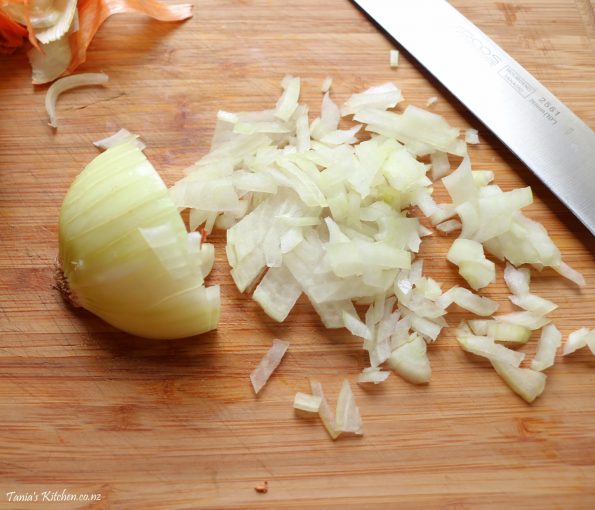 Also peel and finely dice the garlic and also set it aside.
To prepare the capsicum
Next, if you are using fresh chilli, wash and dry it. Slice the stalk end off and then slice it lengthways down the centre. Then slice it into thin slices and finely dice it.
* If you are using chorizo sausage prepare it now by slicing it into 1/2 cm (1/4 inch) slices and set it aside as well.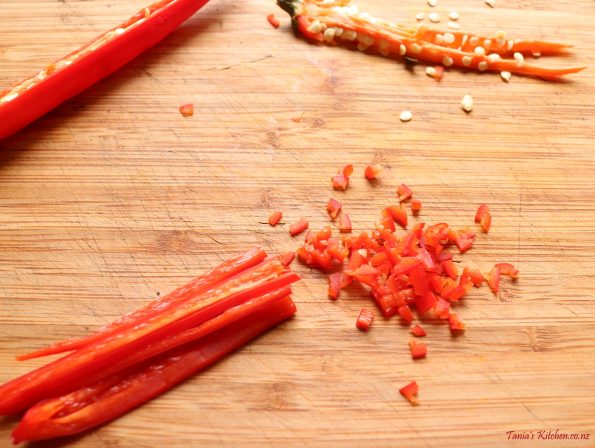 So, wash and dry the courgettes. Slice the ends off and then slice them in half, lengthways, through the centre, making 2 cm (1 inch) slices.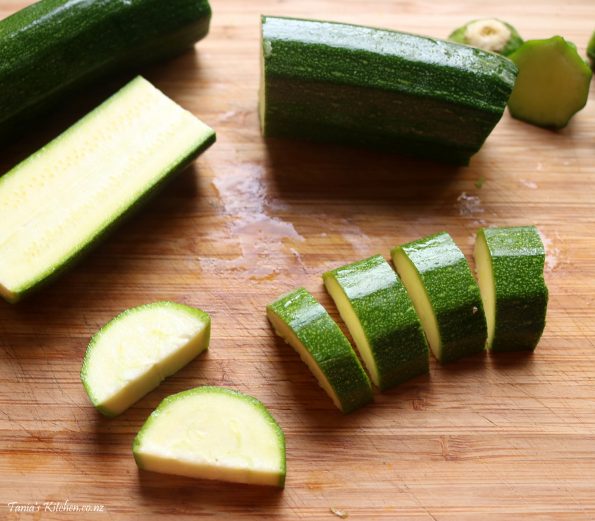 So, preps done, time to get cooking……In a large frying pan over a medium/high heat up 2 tablespoons of the olive oil.
Once the oil is hot add the courgettes and flipping them with a spatula often, fry them for around 5 – 8 minutes until they have browned nicely or until a knife pierces them easily.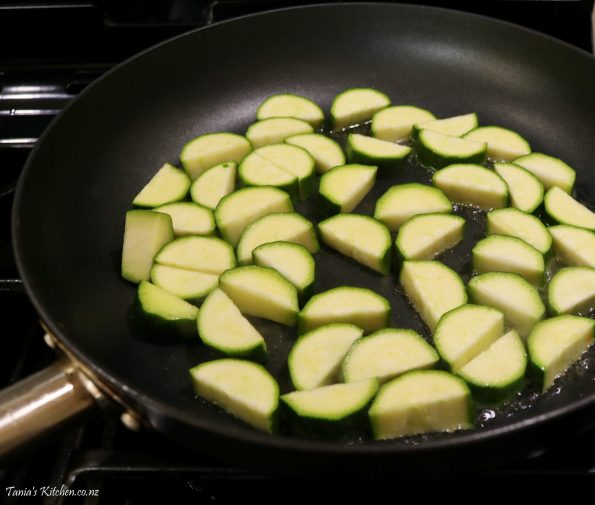 Turn the heat off and set the frying pan aside (no need to wash it, you'll use it again soon). Using a spatula remove the cooked courgettes from the pan and place them on a paper towel (on a plate or board) to drain and then place another paper towel on top, gently pressing it down to absorb any excess oil. Leave them aside for later.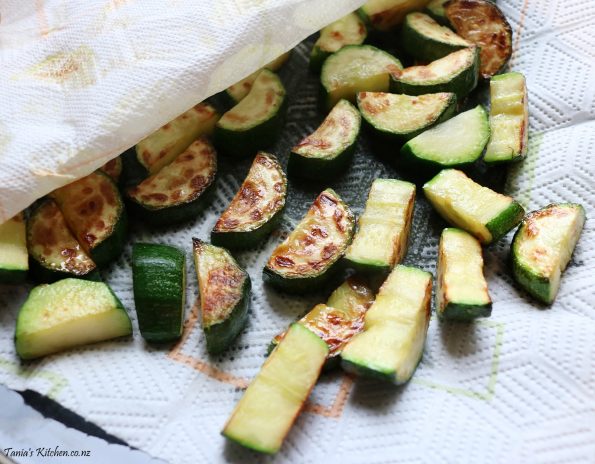 Place the frying pan you used before (no need to wash it….unless you burnt the courgettes, god forbid!) over a medium heat and add I tablespoon of olive oil. Once the oil is hot add the onion and the capsicum. Stirring them often, saute them for 3 minutes or until they are soft. Leave the heat on and…..
* If using chorizo, thinly slice it (1/2 cm/1/4 inch) and also add it to the onion and capsicum.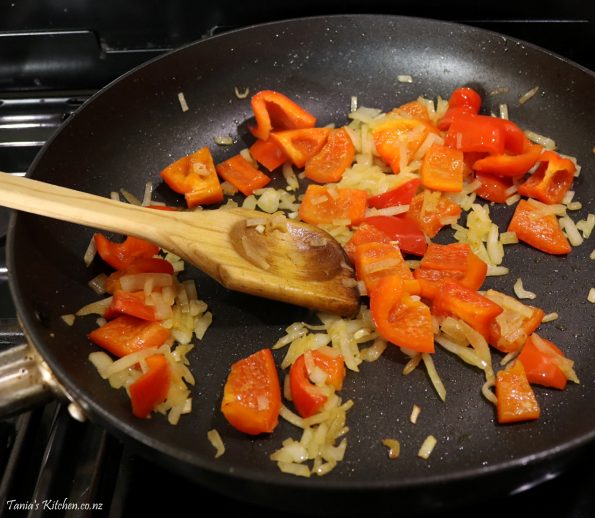 …..add the diced chilli (if using it) and the garlic. Stirring often cook everything for a further minute.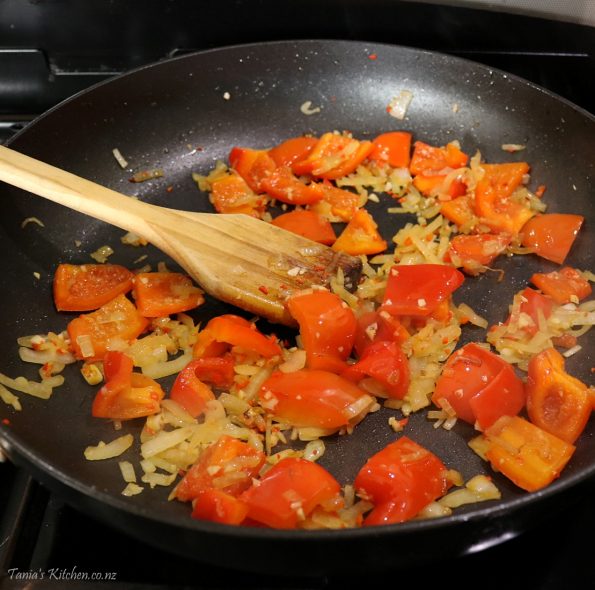 Add the tin of tomatoes and turn the heat up to high. Stir often until it starts to boil and then turn the heat down to a medium/low or low, to where it keeps just a soft boil (a simmer).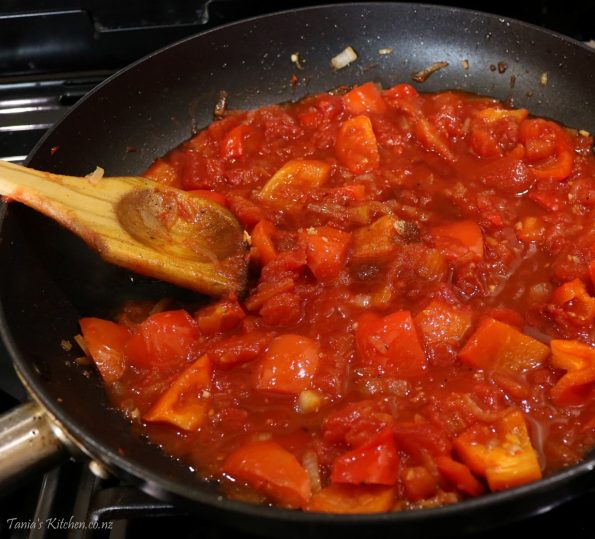 Add the brown sugar, the salt and the ground black pepper and continue simmering for 3 minutes. Now, taste the sauce to see if you'd like to add more salt or sugar.
Also if you are using the dried chilli flakes instead of fresh chillies, add them now.
Once the butternuts are ready…….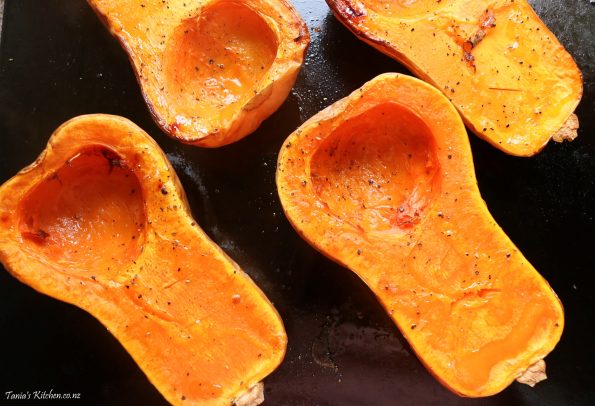 …..using a little sharp knife cut a line about 1 cm (1/4 inch) in around the inside of the edge, then cut some lines, making some square or rectangle shapes.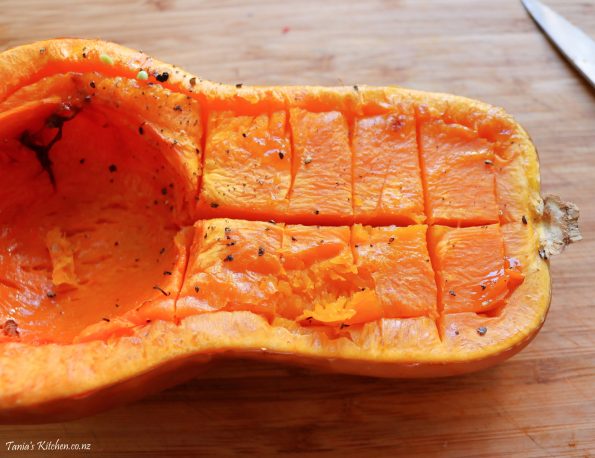 Next use a spoon to gently scoop out the pumpkin pieces, making sure there is at least 1 cm (1/4 inch) of pumpkin lining the 'boat' so that there is no thin parts or holes.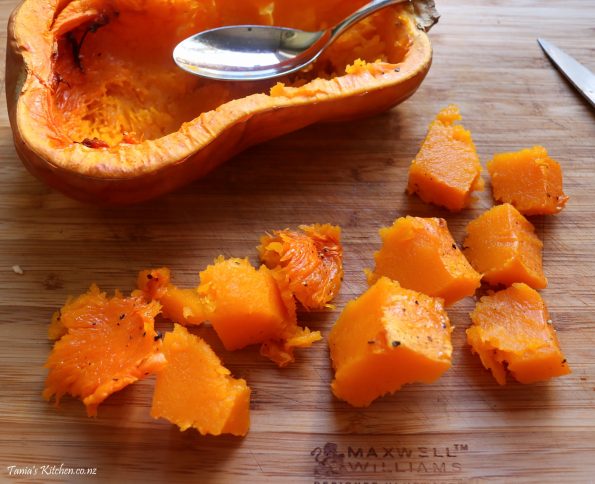 Add the piecea of pumpkin, the mozzarella and half of the fresh basil (either ripped up or sliced) to the pan with the rest and using a spatula or a large spoon gently fold it all through…..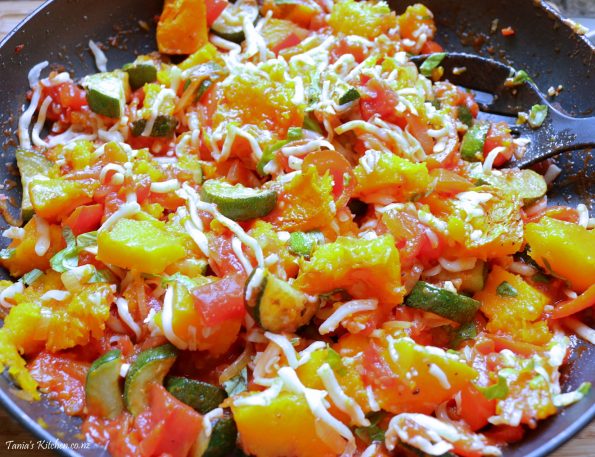 …..then distribute all of the mixture into your pumpkin boats.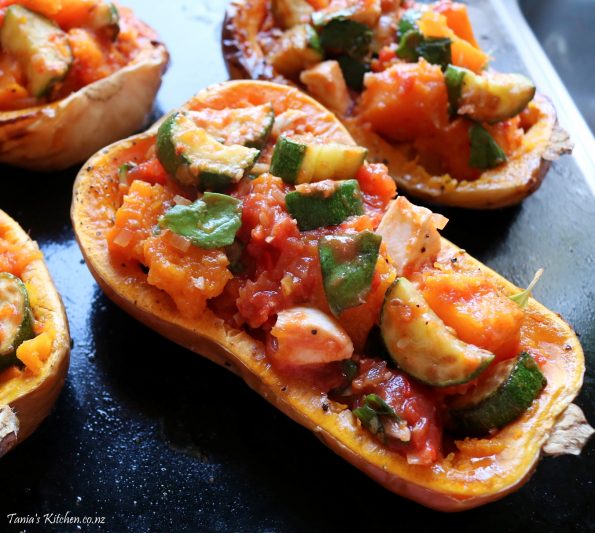 Sprinkle the grated parmesan over top of them.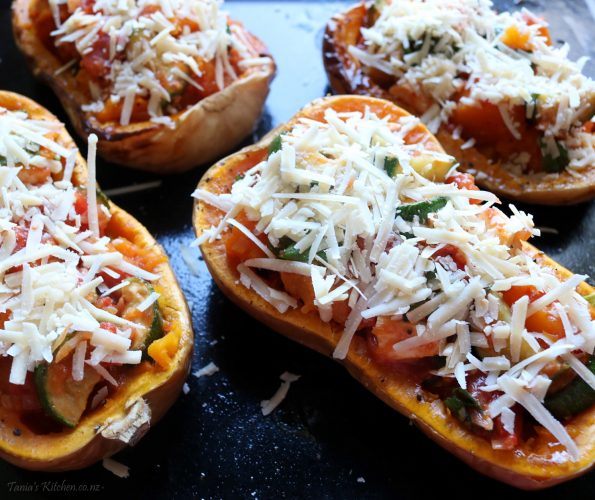 If you're not ready to eat them just yet you can place them in the fridge until you need to cook them or you can pop them back into the oven for twenty minutes (on a slightly lower temperature of 160°C fan bake or 180°C conventional oven) or until they are hot in the centre.
To give them a deliciously lovely golden look, after they've been heated through grill (broil) them under a medium heat until the parmesan on top has bubbled slightly and they are golden brown.
Just before serving slice (or rip up) the remaining basil leaves and scatter them over the tops. Alternatively, or as well as you can mix the teaspoon of basil pesto with 2 teaspoons of olive oil and drizzle it over the tops. Also if you are a black pepper lover like me you might like to crack a bit (or alot!) over….yum!!!
I love to eat these with a green salad.
Italian Stuffed Butternuts
Roasted Butternuts, hollowed & stuffed with the diced squash, courgettes & capsicum in a delicious tomato sauce with stringy mozzarella & a parmesan crust
Ingredients
2 medium sized butternut pumpkins
1/4 cup medium olive oil
1/8 teaspoon cracked black pepper
1 medium sized red capsicum
1/2 medium sized onion
1 medium sized fresh garlic clove
1 small red chilli pepper
2 courgettes (zucchinis)
1 x 400 gram tin diced tomatoes
1 tablespoon brown sugar
1/2 teaspoon table salt
1/8 teaspoon ground black pepper
1 cup grated mozzarella
grated parmesan
handful of fresh basil leaves or 1 teaspoon of basil pesto