Whenever I used to make my Caramel Slice with chocolate on top at the café, my boss's wife would always complain about it having chocolate on it (I used to wonder what was wrong with her….I'm suspicious of people who don't like chocolate)…..she only wanted walnuts on top, so this Caramel Slice adaption is for her and you know what, I can't believe I'm actually saying this (because half my daily diet consists of chocolate) but I REALLY like it, even better than the 'choc on top' one (who knew! and don't tell her I said).
So this is pretty much a copy and paste of my original Caramel Slice recipe. I could've just said at the end of that recipe "or you could just throw some walnuts instead of chocolate on top" but my OCD won't let me……I wouldn't have been able to sleep for a night, or a week, months, maybe forever, who knows, I'm not willing to risk it.
INGREDIENTS
Caramel Filling
50g butter
2 tablespoons golden syrup
1/4 cup castor sugar
1 cup / 300g condensed milk
Base
125g butter (at room temperature)
3/4 cup castor sugar
1 medium-sized egg
1 1/2 cups standard flour
1 teaspoon baking powder
2 tablespoons custard powder
3/4 cup walnut pieces
STEP BY STEP
Start by preheating your oven to 150°C fan-bake / convection oven or 175°C conventional oven, on bake. Place a rack in the centre of the oven, so that the top of the slice tin is as near to the middle of the oven as possible.
Caramel Filling
I make the caramel before I start the base, so first place the second measure of butter and sugar with the golden syrup in a saucepan.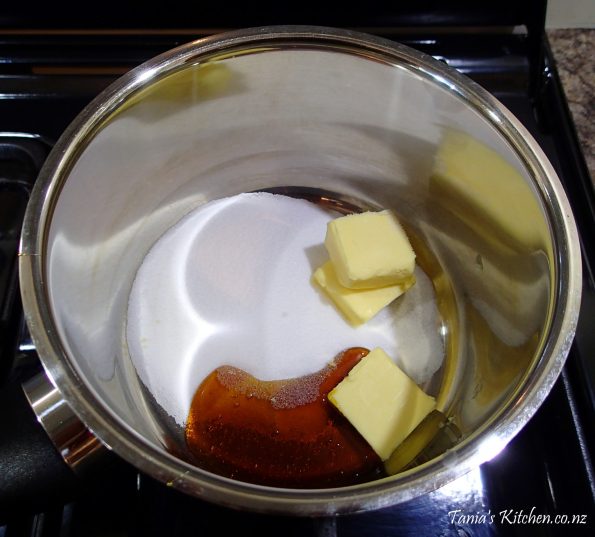 Over a medium heat bring the three ingredients to the boil, stirring occasionally to make sure the sugar doesn't catch on the bottom. Once boiling, boil for around one minute and then remove from the heat.
Fold the condensed milk through until well combined and smooth (I don't really know why but I love this part). Leave the caramel aside while you make the base.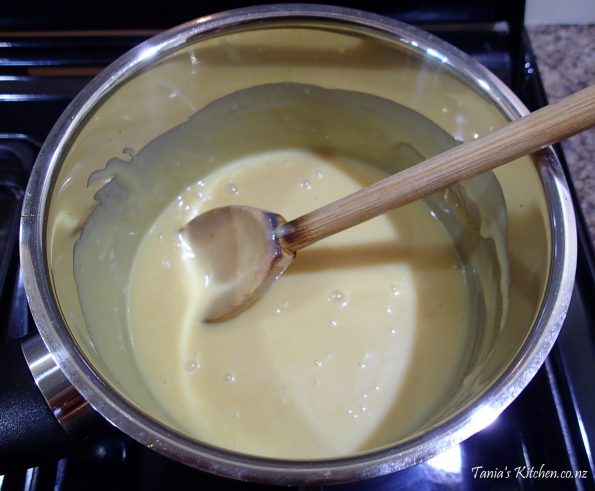 Base
Now, get the tin ready. Line a 30 cm L x 20 cm W x 4 cm D slice tin with non-stick baking paper. I usually use a more standard sized slice tin (27.5 cm L x 18 cm W x 4 cm D) but I like this slice a bit flatter otherwise the base seems a bit too thick under the caramel….kinda disproportionate. You can use the smaller size if you like but it might pay to add 5 minutes to the cooking time as the base will be a bit thicker. When I line my tins I always use cooking spray because nothing ever sticks, it's cheaper than butter, it's quick and easy and it doesn't burn like butter. I lightly spray the tin first so when I am fitting the paper in it doesn't slide around and then a light spray all over the paper.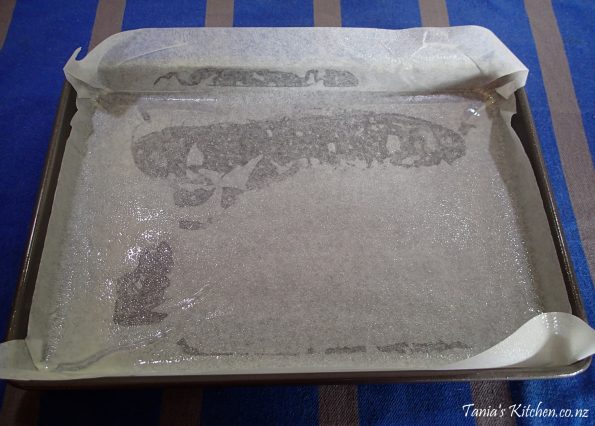 Now that the greased tin is on standby, SOFTEN butter;  butter that has been cut into cubes and left out on the bench for an hour at room temperature is best. I use my microwave with the power button set to Medium or if you have numbers 50 (50 percent or half power) ie; I would soften 600 grams of butter (cut into medium sized cubes) for 60 seconds on medium or half power if I did this on full power, a quarter of it would melt. If I used half melted butter, when I creamed the butter and sugar together it would be too 'wet' and then the dough for my base would be really soft and when the slice is cooking the caramel filling will be able to seep right through the base (rather than sit on top of the base and cook)…..PHEW!
I know I go on and on about the butter but it your baking doesn't come out perfect you will be left wondering what happened and may call me to come over (you know who you are).
So put the softened butter and the first measure of sugar in a medium sized bowl.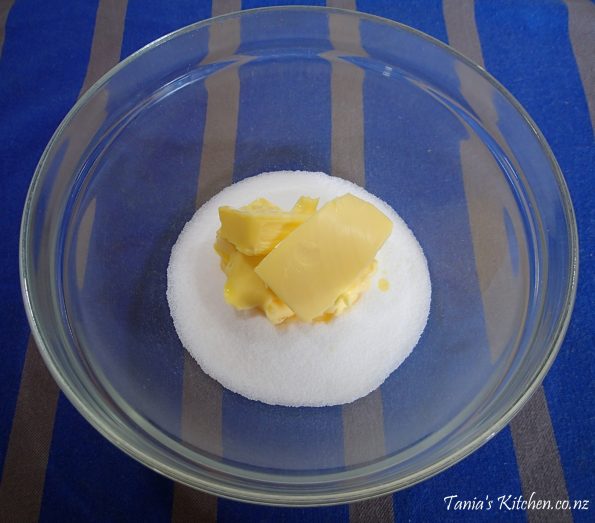 Using an electric beater on medium speed, beat the two ingredients together until they are soft and creamy, taking about 5 – 7 minutes.
Then add the eggy smeggy…….
…..still beating on medium speed until it's mixed together well.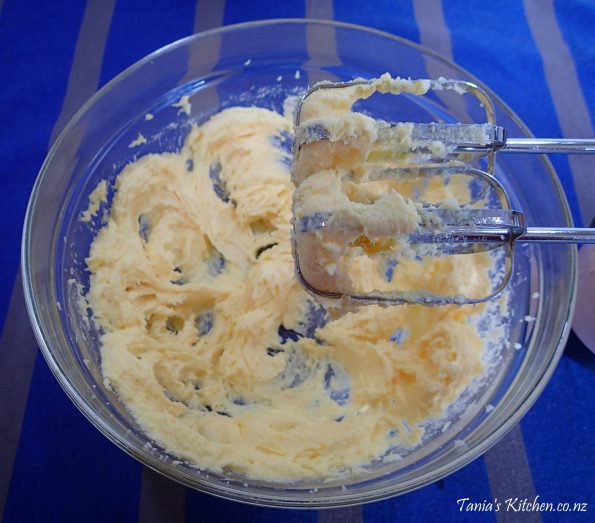 Next, throw in the flour, custard powder and baking powder.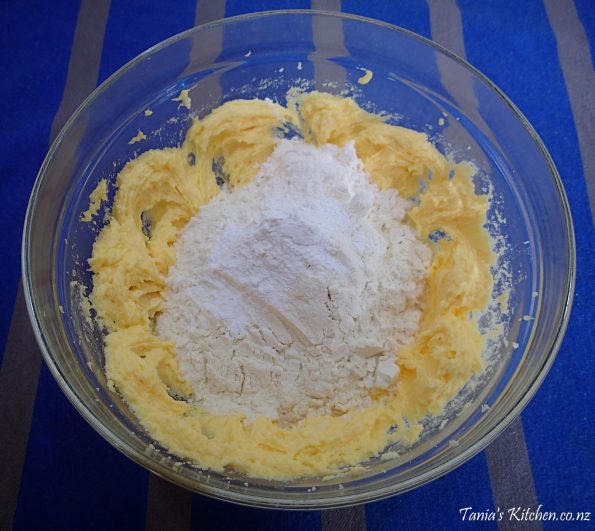 Now turning the beater down to a low speed, or using a wooden spoon, fold everything together until just combined. You should stop as soon as you can't see the flour anymore (with everything I bake I usually stop when there is still a wee bit of flour up around the sides of the bowl just to be sure I haven't over mixed it). If you over mix it, your base may not be as soft and fluffy as it could be.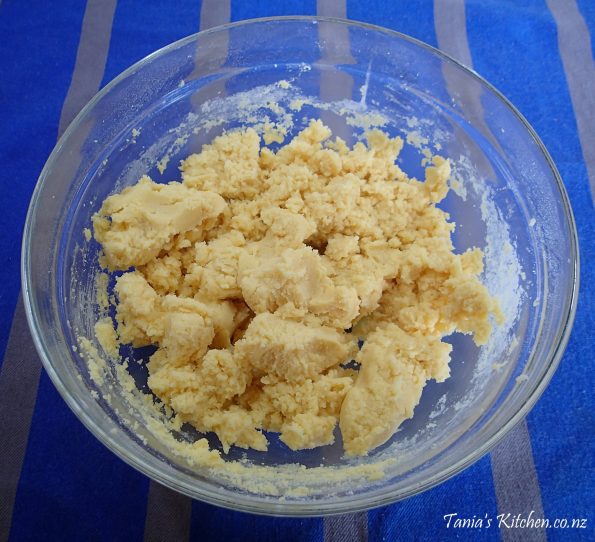 Next, place 100g, or roughly 1/2 cup, of the dough aside and then take your time gently pressing the rest of the dough into the tin, getting it as even as possible. If you press it down too hard it will not rise as much and if there are areas that are thinner than the rest the caramel may seep through to the bottom when it's cooking, making those parts soggy…….no pressure.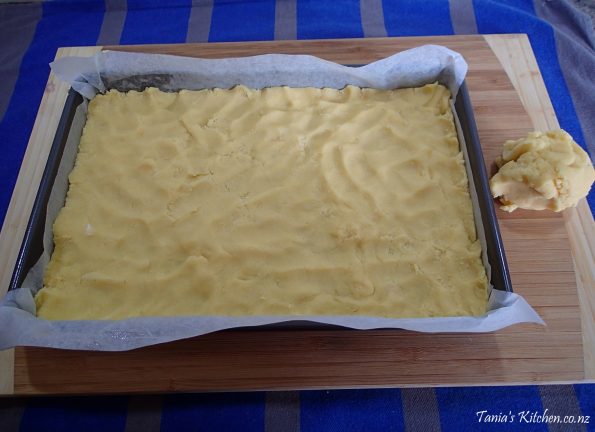 Then spread all of the caramel evenly over the base, yummo!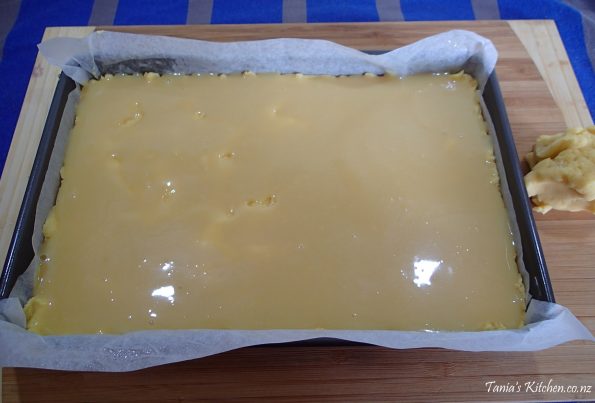 Next gently using your fingers, break the remaining dough into small pieces and place them hickelty pickelty all over the caramel…..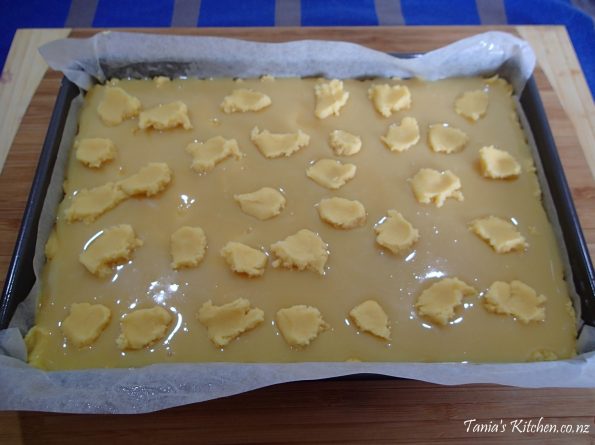 ……and then in between the pieces of dough, place the walnut pieces on.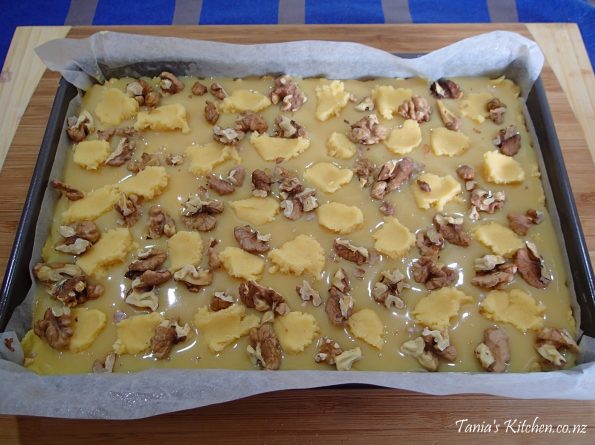 Bake for 30 minutes, or until the dough on top looks a lovely golden brown.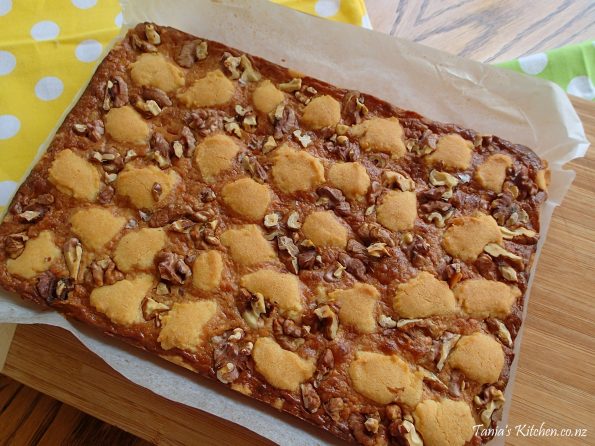 That's it, a delicious treat and so easy 🙂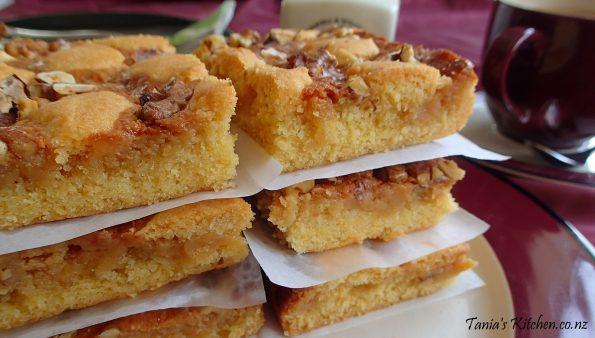 Keepin' it fresh – Keep in an airtight container, 2 days is best, 3 days tops.
Related Posts
Crispy Walnut Caramel Slice
A melt in your mouth Caramel Slice with a soft custard flavoured base, filled with gooey caramel and topped with crispy, golden, toasted walnuts
Ingredients
Caramel Filling

50g butter
2 tablespoons golden syrup
1/4 cup castor sugar
1 cup / 300g condensed milk

Base

125g butter (at room temperature)
3/4 cup castor sugar
1 medium-sized egg
1 1/2 cups standard flour
1 teaspoon baking powder
2 tablespoons custard powder
3/4 cup walnut pieces