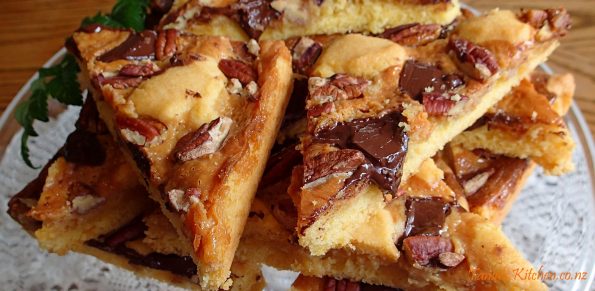 I am still on a Caramel Slice roll lol! This is for those of you who have expensive tastes. I love Pecans and just couldn't stop myself from showing you all how good it looks (and obviously tastes) with Decadent Toasted Pecans and Dark Chocolate on top.
INGREDIENTS
3/4 cup / 125g good-quality dark chocolate (squares or buttons & containing at least 50% cocoa content)
Filling
50g butter
2 tablespoons golden syrup
1/4 cup castor sugar
1 cup / 300g condensed milk
Base
125g butter (at room temperature)
3/4 cup castor sugar
1 medium sized egg
1 1/2 cups standard flour (loosely packed)
1 teaspoon baking powder
2 tablespoons custard powder
1/2 cup pecan nuts, roughly chopped
STEP BY STEP
First get the chocolate ready. I don't just roughly chop it up like I do in biscuits and muffins because this chocolate is right on top of this slice for everyone to see (I hate to think how many times I have annoyed everyone at work by saying "people eat with their eyes"), so I chop each piece in half, either into two little rectangles or two triangles. I don't really like the way buttons look myself, but that's just me, they still taste great 🙂 If you use big buttons just roughly chop them in half.
Next, preheat your oven to 150°C fan bake / convection oven or 175°C conventional oven, on bake, with a rack ready in the centre of the oven.
Filling
I make the caramel before I start the base, so next place the second measure of butter and sugar with the golden syrup in a saucepan.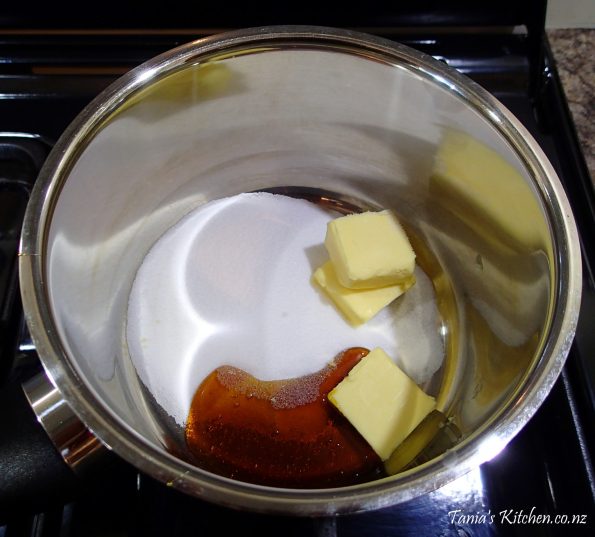 Over a medium heat bring the three ingredients to the boil, stirring occasionally to make sure the sugar doesn't catch on the bottom. Once boiling, boil for around one minute and then take off the heat.
Fold the condensed milk through until well combined and smooth (I love this part). Leave the caramel aside while you make the base.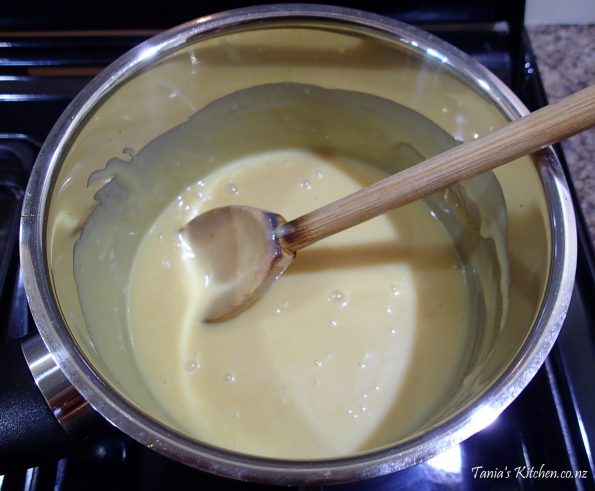 Base
Now, get the tin ready. Line a standard sized slice tin (27.5 cm L x 18 cm W x 4 cm D) with non-stick baking paper and then lightly spray it with non-stick cooking spray.
I always lightly spray the tin lightly before I fit the paper, it helps it not to slide around.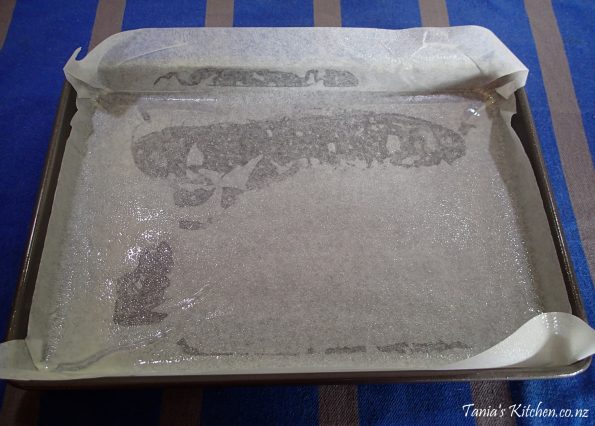 Now that the greased tin is on standby, SOFTEN butter;  butter that has been cut into cubes and left out on the bench for an hour at room temperature is best. I use my microwave with the power button set to Medium or if you have numbers 50 (50 percent or half power) ie; I would soften 600 grams of butter (cut into medium sized cubes) for 60 seconds on medium or half power if I did this on full power, a quarter of it would melt. If I used half melted butter, when I creamed the butter and sugar together it would be too 'wet' and then the dough for my base would be really soft and when the slice is cooking the caramel filling will be able to seep right through the base (rather than sit on top of the base and cook).
So next put the softened butter and the first measure of sugar (3/4 cup) in a medium sized bowl.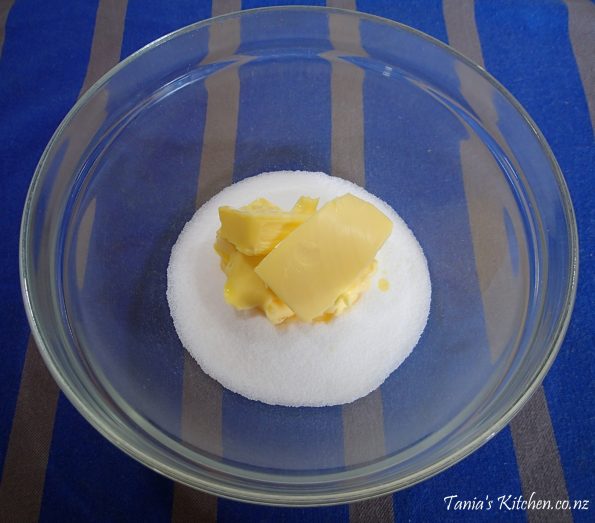 Using an electric beater on medium speed, beat the two ingredients together until they are soft and creamy, around 5 minutes should do it.
.Then, add the egg…..
…..still beating on medium speed until it's all mixed together well.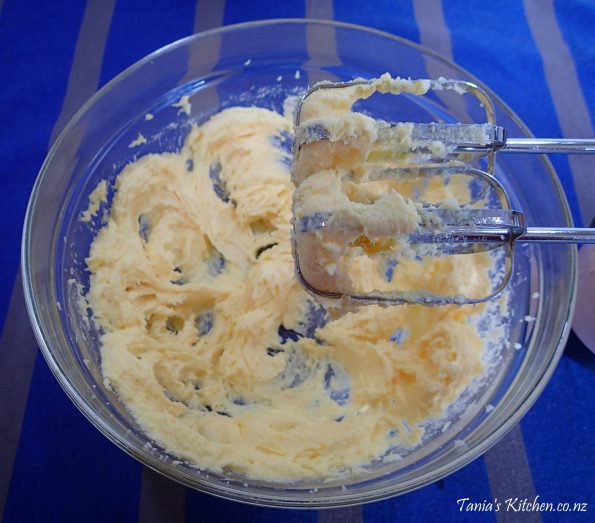 Next, throw in the flour, custard powder and baking powder.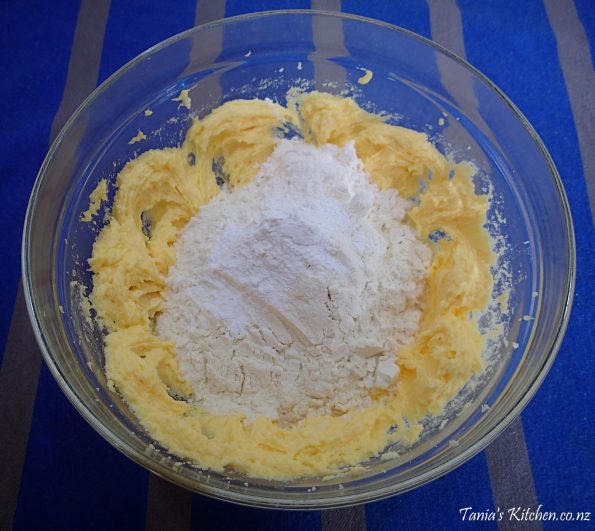 Now turning the beater down to a low speed, or alternatively using a wooden spoon, fold everything together until just combined. You should stop as soon as you can't see the flour anymore (with everything I bake I usually stop when there is still a wee bit up around the sides of the bowl just to be sure I haven't over mixed it). Over mixing it may cause the base to be denser and not so light and fluffy.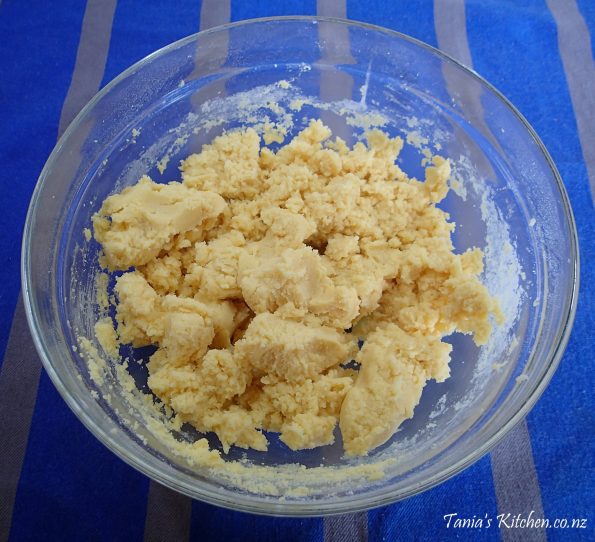 Next, place around 1/3 cup of the dough aside and then take your time gently pressing the rest of the dough into the tin, whilst getting it as even as possible. If you press it down to hard it will not rise as much and if there are parts that are thinner than the rest the caramel may seep through to the bottom when it's cooking, making those parts soggy.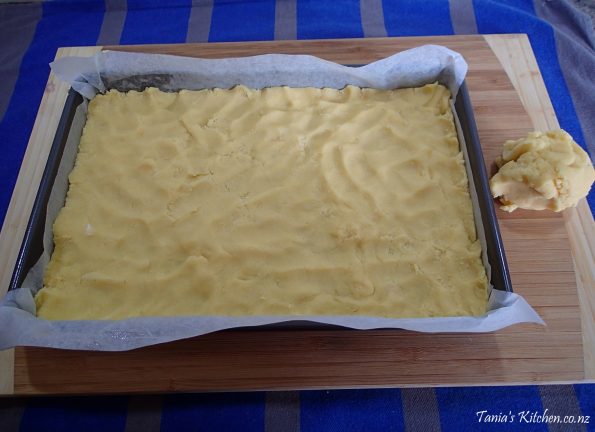 Then gently using your fingers, break the remaining dough into small pieces and place it hickelty pickelty all over the caramel……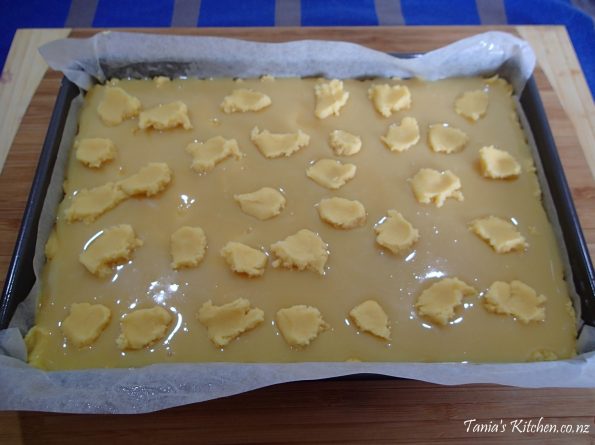 ……and then on top of the caramel and in between the pieces of dough, place the chocolate bits and the pecan pieces on. I think the flat side of the chocolate pieces looks better facing upwards.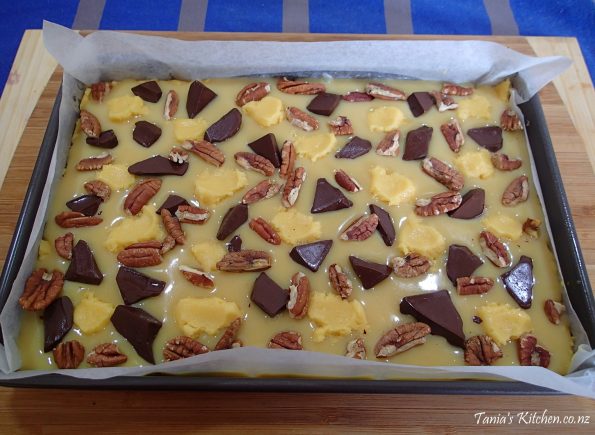 Bake for 30 minutes, or until the dough on top looks golden brown.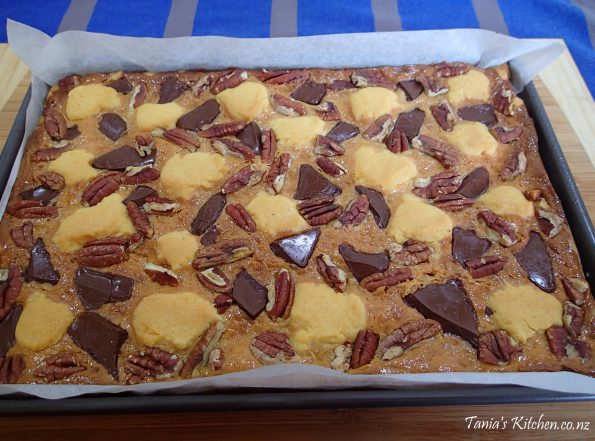 There you go, my caramel slice for those of you with 'richer' tastes.
Keepin' it fresh – Keep in an airtight container in the pantry, 2 days is best, 3 at the most.
Related Posts
Pecan & Dark Chocolate Caramel Slice
This caramel Slice has a light custard flavoured base and is filled with a creamy caramel and topped with toasted pecan nuts and chunks of dark chocolate
Ingredients
3/4 cup / 125g good-quality dark chocolate (squares or buttons & containing at least 50% cocoa content)

Filling

50g butter
2 tablespoons golden syrup
1/4 cup castor sugar
1 cup / 300g condensed milk

Base

125g butter (at room temperature)
3/4 cup castor sugar
1 medium sized egg
1 1/2 cups standard flour (loosely packed)
1 teaspoon baking powder
2 tablespoons custard powder
1/2 cup pecan nuts, roughly chopped