Okay, so this is not so much a recipe…..more of an example of one of my fav pizzas that we enjoyed for dinner tonight. I made a pile of caramelised onions last week so we could enjoy them with this 'n' that and they taste SO good on top of pizzas.
This very delicious pizza is topped with sweet, soft prawns (large shrimps in the U.S), smoky, spicy chorizo sausage and caramelised onions. Prawns and chorizo go so well together, they are like husband and wife (happy ones!) and if you like them both but haven't tried the marriage you really should, I promise you won't be sorry.:)
Of course, you all know how to throw a pizza together but here's how I make this one…..
INGREDIENTS
I haven't measured any, there are only a few and you can use as much or as less as you like…..it's your pizza!
1 pizza base
pizza sauce
mozzarella (or a pizza cheese blend
small, raw, fresh, deveined prawns (large shrimps)
1 smoked chorizo sausage
caramelised onion
fresh coriander (cilantro)
mesclun to garnish
METHOD
I have a great pizza oven at work but at home, I have to use a normal oven. I have a half oven and I use that for pizzas as it's like a little hot box. If I have to use my normal sized oven I put a rack in the middle of the top half of the oven and then turn it on to 170°C fan bake oven or 190°C conventional oven, on bake.
I also don't own a pizza stone (sad) but an oven tray works fine. 🙂
So first I slather a whole heap of my favourite pizza sauce all over my home-made or store-bought pizza base.
I usually buy my bases as I'm super busy, but I will attempt to put a recipe on here for home-made ones in the future. 🙂
Sprinkle with cheese….I know we all want to put all the cheese in the whole world on our pizza base but I find that if I get carried away it won't cook very well and turns out to be a 'melty' mess and not turn out nice and golden.
I use a 'pizza blend' if I am cooking pizzas for friends but if it's just for us or if I'm not feeling very wealthy I just use whatever cheese is in the fridge!
Pull the tails off the prawns (shrimps) and scatter them around on the cheese.
Then spoon an ample amount of caramelised onions all over the place.
And finally slice up a large, smoked, Spanish, chorizo sausage and place it around also. It doesn't really matter how thick or thin it is as it's cooked so it doesn't matter and maybe you'd prefer to chop it up into little chunks?
Cook for 25 minutes or until the edges of the pizza base feel well toasted, the cheese is golden brown, the chorizo looks nice and grilled with its edges curled up and the prawns (shrimps) are cooked through (they will look clear).
Depending on the thickness of your pizza base, the size of your prawns, the type of cheese you use and the true temperature of your oven, the cooking time will vary.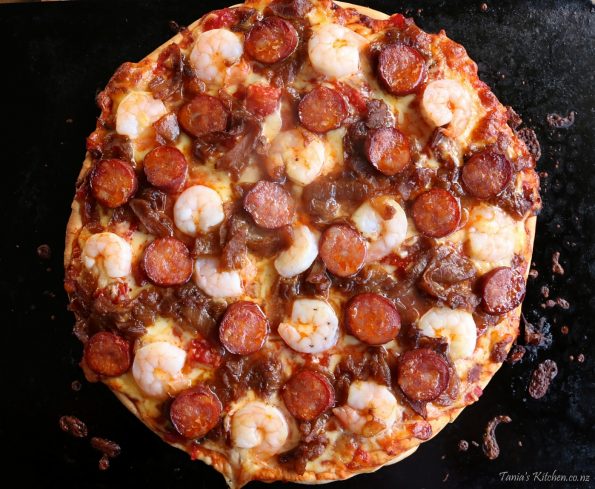 I like to garnish this one with fresh coriander (cilantro) and a cute little bunch of curly mesclun.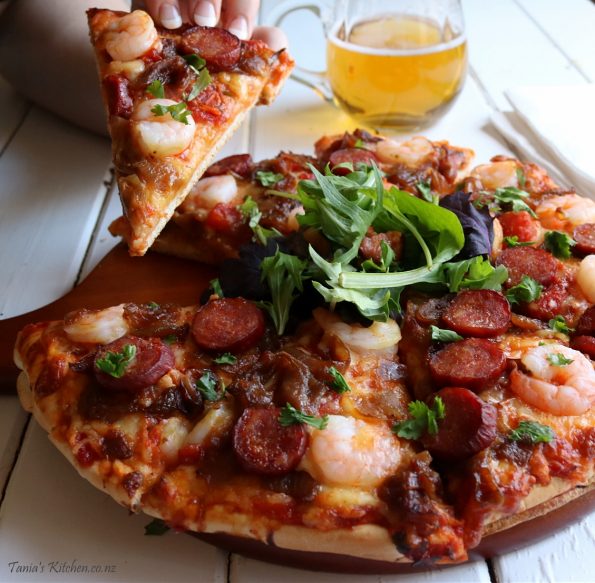 Eat as soon as it leaves the oven as is at a party with a beer or wine or for dinner we eat a few pieces with a green salad.
Go here to check out my recipe for Caramelised Onions and I'll be adding an amazing Italian Pizza Sauce recipe soon. 🙂
Chorizo is my weakness when it comes to eating meat. Do you love it as much as I do?
Related Posts
Prawn, Chorizo & Caramelised Onion Pizza
Sweet, soft prawns with smoky, spicy chorizo sausage, caramelised onions & coriander. Party food or delicious with a salad for dinner.
Ingredients
1 pizza base
pizza sauce
mozzarella (or a pizza cheese blend
raw, fresh, deveined prawns (large shrimps)
1 smoked chorizo sausage
caramelised onion
fresh coriander (cilantro)
mesclun to garnish