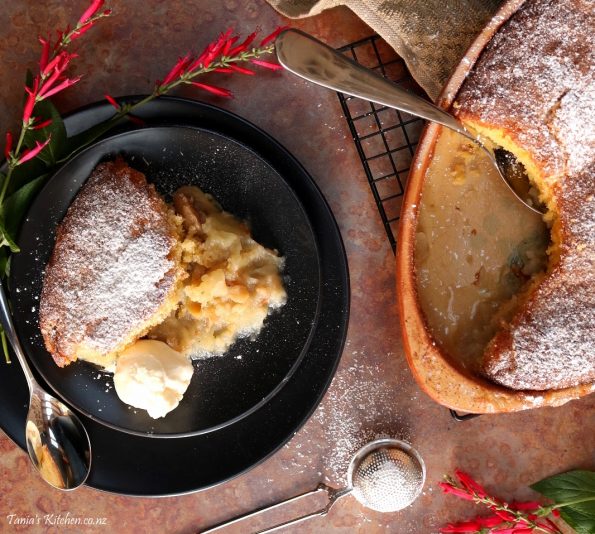 The nights are getting cooler and we've put the winter blankie on the bed and had the fire going a few nights now, so I thought I'd make this Autumn treat……Good ole fashioned Fruit Sponge Pudding, just like my nana and mum make it 🙂
This sponge is not really a sponge at all, it's more like a plain cake (or in this case an almond cake because I added almond essence to it) but I'm not going to call this a 'Feijoa & Apple, Almond CAKE pudding',  that just sounds weird, so 'sponge pudding'  it is. The sponge has a slightly coarse texture to it and as the apples and feijoas stew to a soft pulp underneath it in the oven, they go well together. I also added some toasted almonds to the fruit so there is some more texture there and of course they are a nice addition with the almond flavoured sponge.
…..Now I need to go find that electric blanket…
INGREDIENTS
1/4 cup slivered almonds
SPONGE TOP
250 grams butter
1 cup castor sugar
2 teaspoon almond essence
4 medium-sized eggs (I used size 6's)
2 cups flour
4 teaspoons baking powder
1/4 cup milk
FRUIT FILLING
5 medium-sized tangy cooking apples, like Granny Smiths or Braeburn (approx 800 grams)
1/4 cup white sugar
25 grams butter
2 tablespoons lemon juice (approx 1 medium-sized lemon)
1 teaspoon of vanilla extract or the seeds from a 5 cm (2 inch) vanilla bean
13 – 16 medium-sized feijoas (approx 800 grams)
Serves 8
Note*  If you prefer you can replace the apples with lovely ripe pears.
WALKTHROUGH
The butter needs to be at room temperature so remove it from the fridge, chop it into small cubes and leave it on the bench until you need it later.
Time to turn the oven on. Place a rack in the middle of the oven and preheat it to 160°C fan bake oven or 180°C conventional oven, on bake.
Place the almonds on an oven tray and toast them in the oven for 4 minutes. Then toss them and continue toasting for another 4 minutes or until they are about two shades darker than they are when they are raw. Then set them aside for later on.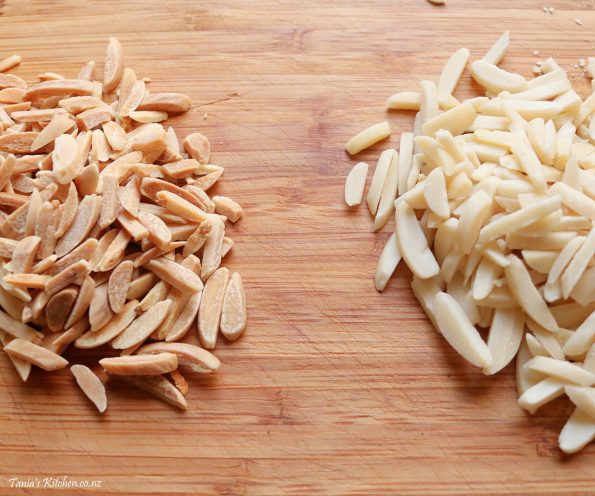 Fruit Filling
So to get started on the filling, peel and core the apples and then chop them roughly into 3 cm (1 inch) cubes.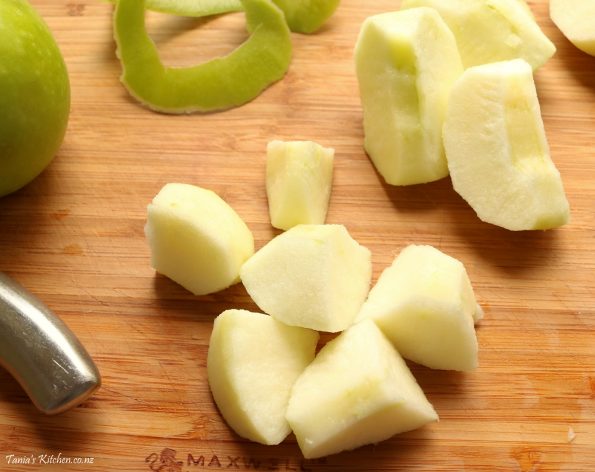 Next, to soften the apples. Place them in a large saucepan with the white sugar, butter, the lemon juice and the vanilla extract (or vanilla seeds if using them). Over a medium/low heat cook them for 7 minutes, stirring once a minute with a large spoon. Don't worry that you haven't put any water in there as the juice from the apples combined with the lemon juice and melted butter and sugar is enough.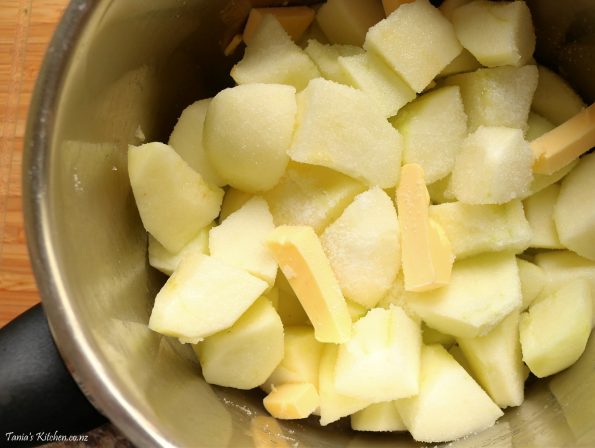 Find an oven proof dish that can hold 10 cups (2.5 litres) of liquid. Mine is oval and is 20 cm W x 30 cm L x 5 cm D. If yours is a different shape just know that if it's smaller and higher than mine the sponge may take a little bit longer to cook or if it's bigger and not as high as mine it may be ready a little bit sooner.
Place the apples into the dish.
Then peel the Feijoas and if small cut them in half or if large into 4 pieces each.
* If you want to save a bit of time, cut them in half and then scoop out each half with a teaspoon. It's a bit rough but WAY quicker!
Mix the feijoas with the apples and then sprinkle over the toasted almonds.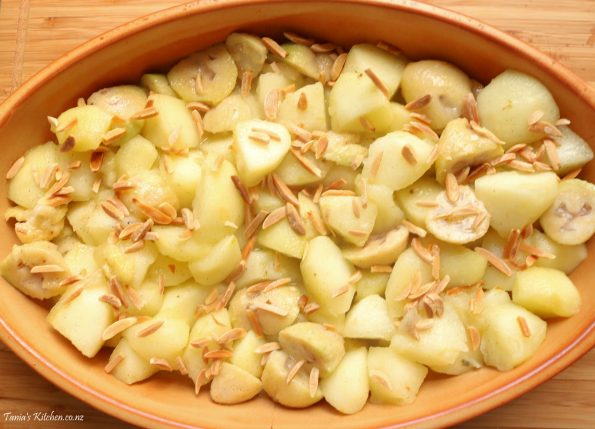 Sponge Top
To make the sponge top, place the butter, the sugar and the almond essence together in a large bowl and using your electric beater on a medium speed, cream the two together until they are well mixed together (around 3 minutes).
Still using the electric beater on medium speed, add the eggs, one at a time until they are thoroughly combined with the creamed butter and sugar (you will need to scrap down the bowl a few times).
It will look a bit 'curdly' but it will come right once the flour is mixed in.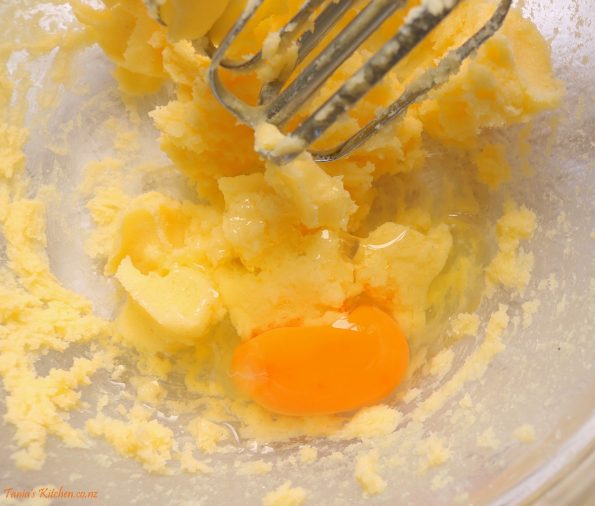 Next sift in the flour and baking powder and…..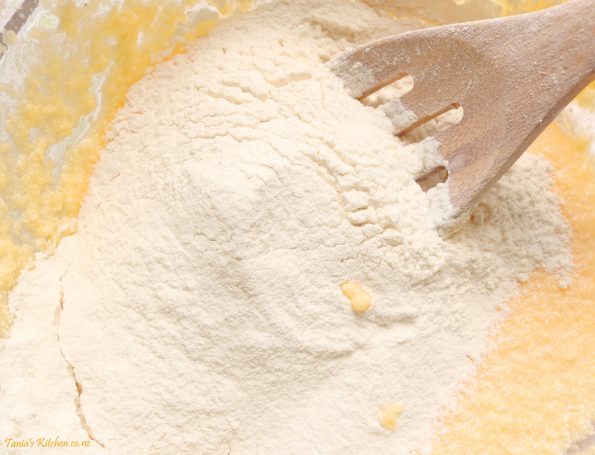 …..the milk and using a large spoon, gently fold it all together until just combined.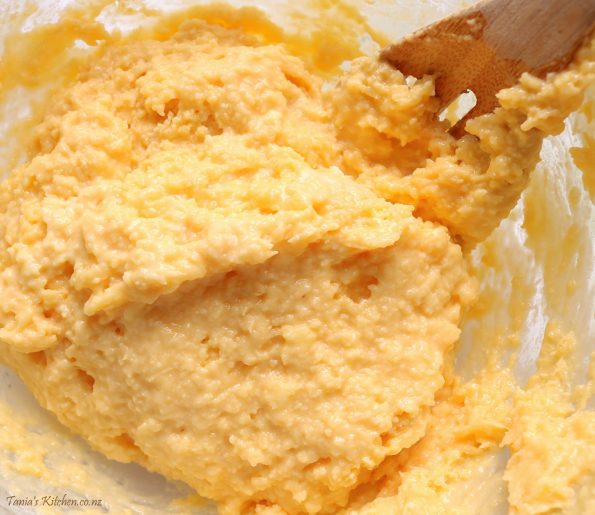 Spoon the sponge topping evenly all over the filling.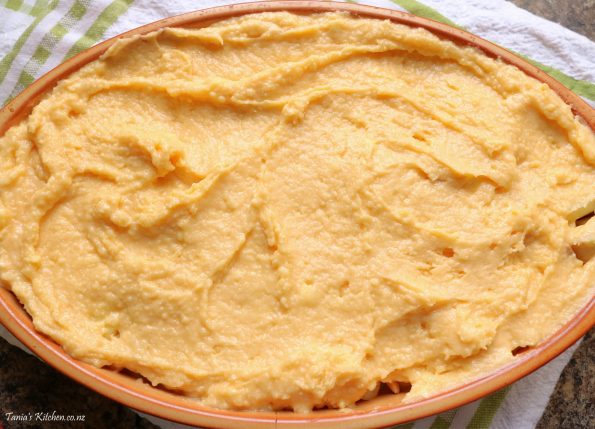 Place it in the oven for 50 minutes or until a knife inserted into the centre comes out clean
This sponge can brown easily (especially as this is a larger one and has a reasonably long cooking time) so when you feel it's nicely brown all over, but it still has quite a bit off time left to bake, slide some cooking foil into the oven (don't take the sponge out) and roughly cover it so it can keep cooking but not brown up too much more.
There you go a beautiful, golden sponge. Liberally dust with icing sugar (confectioners sugar) and serve as is or with vanilla ice-cream, whipped cream or pouring custard OR all of those things!
Storage – Keep any left-overs covered with cling wrap in the fridge and if wanting to re-warm it, cover it with aluminium foil (with holes pierced in the top) and heat it up on a low heat (130°C fan bake oven or 150°C conventional oven, on bake) in the oven until it reaches your desired temperature or warm individual serves in the microwave, for around 1 minute 20 seconds 🙂
For more Feijoa recipes check out my 'kiwiana' page here 🙂
I am planting some rhubarb soon and can't wait to make a some desserts with it, a sponge pudding will definitely be made! What stewed fruit do you love under your sponge pudding?
Feijoa & Apple, Almond Sponge Pudding
Feijoa & Apple, Almond Sponge Pudding. Stewed autumn fruit, sprinkled with toasted almonds & baked under a golden almond flavoured sponge.
Ingredients
SPONGE TOP
250 grams butter
1 cup castor sugar
2 teaspoon almond essence
4 medium-sized eggs
2 cups flour
4 teaspoons baking powder
1/4 cup milk
FRUIT FILLING
5 medium-sized tangy cooking apples, like Granny Smiths or Braeburn
1/4 cup white sugar
25 grams butter
2 tablespoons lemon juice
1 teaspoon of vanilla extract or the seeds from a 5 cm (2 inch) vanilla bean
13 - 16 medium-sized feijoas