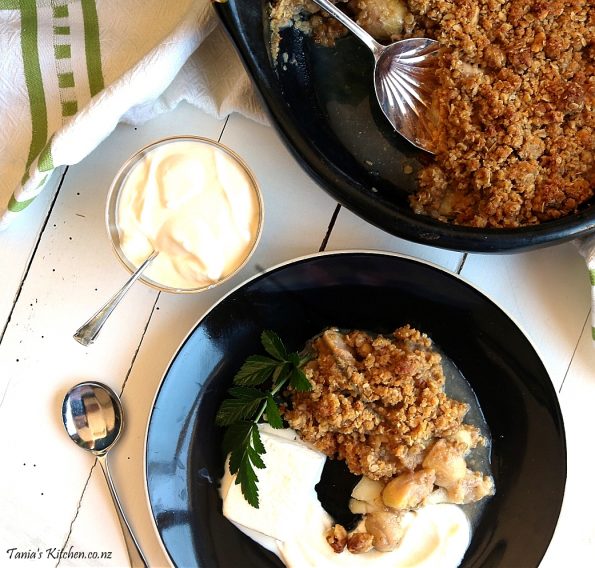 Hi there! Gosh, it's feast or famine with the Feijoas isn't it, there's not one to be seen for most of the year and then there's Feijoas everywhere I look, it's awesome!
Our tree has had a couple of kilos on it this year because it's still just a baby, I can't imagine how much a large tree produces. heaps judging by the amount I've been given. The camping ground by the Café I work at has Feijoa hedges in between the caravan sites, that was a clever idea! So seen as I have been gifted many, many of the yummy little things, on the back of my Feijoa and White Chocky Muffins I made this for dessert, a baked Feijoa and Pear Crumble, with a spiced walnut and oat crispy, golden topping and it was delicious!
We call this dessert a fruit 'Crumble' in New Zealand as do Australia and England, I think Americans call it a fruit 'crisp', maybe someone can enlighten me on that one…..
INGREDIENTS
CRUMBLE TOPPING
1 cup standard flour
3/4 cup brown sugar
3/4 cup oats
1/2 cup walnut pieces (or halves chopped up)
1/4  teaspoon ground cinnamon
1/4  teaspoon ground ginger
125 grams butter
FILLING
4 large, ripe pears (approx 750 grams)
16 – 18 ripe, medium-sized feijoas (approx 1 kilo)
2 tablespoons lemon juice (or 1 medium-sized lemon)
2 tablespoons white sugar
1/2 teaspoon ground cinnamon
1/2 teaspoon ground ginger
25 grams butter
Serves 8
Alternatives
If you love pecans you can use them instead of walnuts, also roughly chopping them up.
You can replace the pears with the same amount of nice tart apples like Granny Smiths or Braeburn, but I would replace the ginger with mixed spice at the same time.
WALKTHROUGH
Place the flour, brown sugar, oats, walnut pieces, cinnamon and ground ginger in a large bowl and…..
…..mix it all together. Set it aside for a bit later.
To make the filling, peel the pears and…..
…..remove the core and slice them into 1/2 cm (1/4 inch) slices, lenth-ways or width-ways, it doesn't really matter.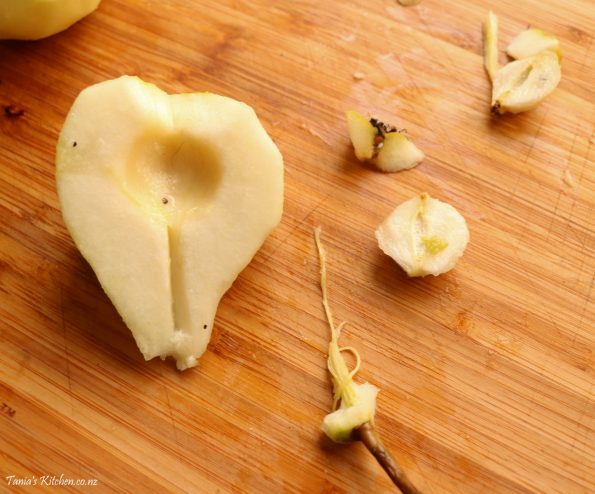 Place them into a 10 cup (2.5 litre) capacity oven proof dish and sprinkle over the lemon juice, white sugar, cinnamon and ginger.
Cut the butter into little bitty pieces and throw that on also (or grate it over) and then toss it all together.
*Juices come out of the fruit so adding the butter thickens them a bit and makes a wee sauce.
Time to turn the oven on. Place a rack in the middle of the oven and preheat it to 160°C fan bake oven or 180°C conventional oven, on bake.
Then peel the Feijoas and if small cut them in half or if large into 4 pieces each.
* If you're not too fussy and want to save a bit of time, cut them in half and then scoop out each half with a teaspoon.
Mix the feijoas in with the pears and other ingredients.
Now place the butter in a bowl and in the microwave and melt it on HIGH for 1 minute 20 seconds (or until melted) or over a low heat on the stovetop in a small saucepan. Pour it into the flour mix and using a big spoon roughly mix it in…..
…..careful to just mix it in and not over do it, so it still has a crumbly texture.
Next with your fingertips sprinkle the crumble mixture evenly over top of the filling.
Bake for 30 minutes or until the crumble is golden brown and when pierced with a knife the pears feel tender.
It's done! Enjoy it while it's still hot. I really enjoy it for breakfast!
Serve with pouring custard, whipped cream, fresh runny cream or ice-cream, or if you are that way inclined….all three! Drizzle some of the liquid from the crumble around the plate…yummo!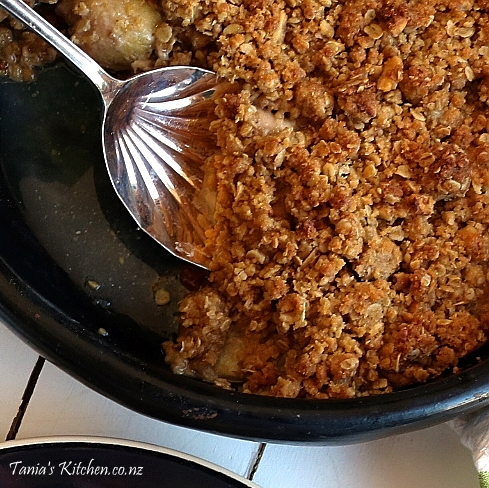 Storage – Keep any left-overs covered with cling wrap in the fridge and if wanting to re-warm it, cover it with aluminium foil (with holes pierced in the top) and heat it up on a low heat (130°C fan bake oven or 150°C conventional oven, on bake) in the oven until it reaches your desired temperature or warm individual serves in the microwave, for around 1 minute 20 seconds 🙂
If you love Crumble as much as I do there is a Blueberry & Apple Crumble recipe here. Also for Feijoa fans, there are more feijoa recipes on my 'kiwiana' page, here.
Have you had time for any Feijoa baking yet? And if you're not from New Zealand do you call this type of dessert a 'crumble', a 'crisp' or something else?
Feijoa, Pear & Ginger Crumble
Feijoa & Pear, Walnut, Ginger Crumble. Feijoas & pears baked under a golden, spiced oaty crust. Dessert or breakfast!
Ingredients
CRUMBLE TOPPING

1 cup standard flour
3/4 cup brown sugar
3/4 cup oats
1/2 cup walnut pieces
1/4 teaspoon ground cinnamon
1/4 teaspoon ground ginger
125 grams butter

FILLING

4 large, ripe pears (approx 750 grams)
16 - 18 ripe, medium-sized feijoas
2 tablespoons lemon juice
2 tablespoons white sugar
1/2 teaspoon ground cinnamon
1/2 teaspoon ground ginger
25 grams butter