Not so sure where I got this idea from, but….I'm so glad I got it, it's so delicious! It's for all us 'sweet tooths'…..like having dessert for breakfast. I probably wouldn't eat it first thing in the morning for brunch on a special occasion like Mother's or Father's Day or your birthday, it's gorgeous.
It's on my breakfast menu as it's looks here, sprinkled with cinnamon sugar, with mixed berry compote, creme fraiche and lemon curd but it's equally as good with the cinnamon sugar, fresh banana slices, fresh blueberries, a little whipped cream and maple syrup. For the carnivores some bacon, banana slices, fresh blueberries with maple syrup poured over it all tastes great 🙂
INGREDIENTS
1 loaf of banana bread
2 large eggs (size 7's)
1/4 cup full cream
2 tablespoons cooking oil
2 tablespoons butter
Makes x 8 slices
Note*  If you don't have a favourite Banana Bread recipe I have an easy and delicious one here.
METHOD
First slice the banana bread into 8 even slices.
In a shallow bowl whisk together the eggs and the cream.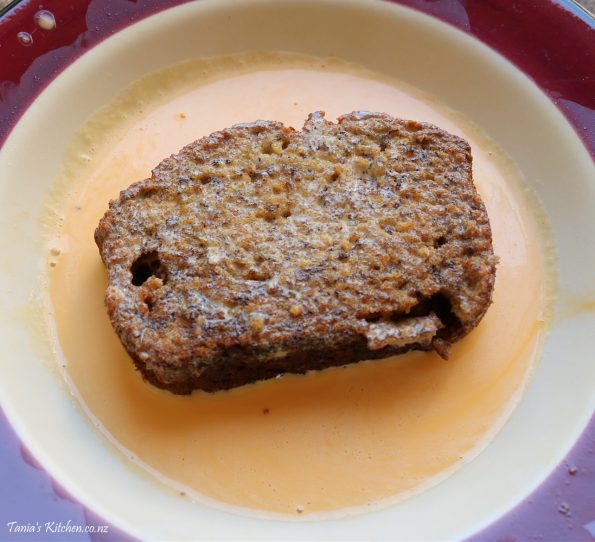 Over a medium/high heat, in a large non stick frying pan, melt i tablespoon of the oil and one tablespoon of the butter together and…..
……as soon as it starts to bubble quickly dunk a piece of the banana bread into the egg mix and then turn it over to coat the other side and then place it in the pan…..and you've got to work fast here the butter is waiting! Doing four slices, continue to dunk and place the pieces in the pan, making sure they are not too close together.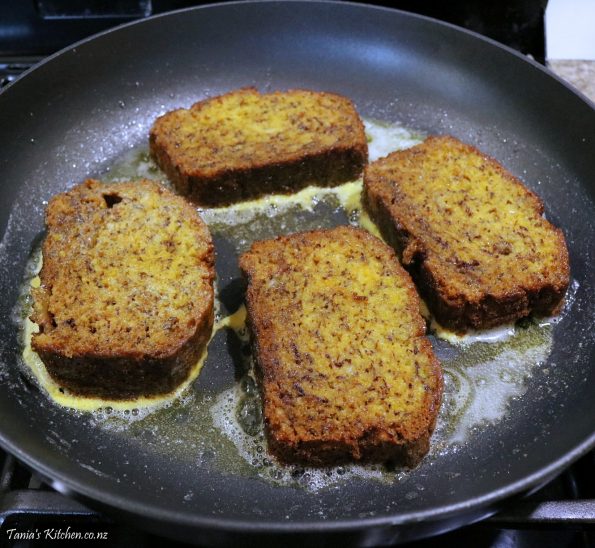 When that side is golden brown (mine take around 1 1/2 minutes) flip them over (flip the first one you put in over first e.t.c) and then cook the other side for the same amount of time…..golden brown and crisp.
* If the butter starts to burn, turn the heat down immediately! However you need to find that happy medium of being hot enough to toast the bread but not too hot that the butter is burning and ruins the bread so keep a close eye on the butter. In the past if the butter has caught and burnt on me (I'm easily distracted) I've simply aborted the mission! Yes, I've removed the bread and washed the pan and melted more butter on a slightly lower temperature and continued 🙂
Place the cooked ones on a plate, on a few paper towels.
For the next four slices, just repeat. You may need to wash and dry the pan for reuse or if all went well you can just wipe it out with a paper towel.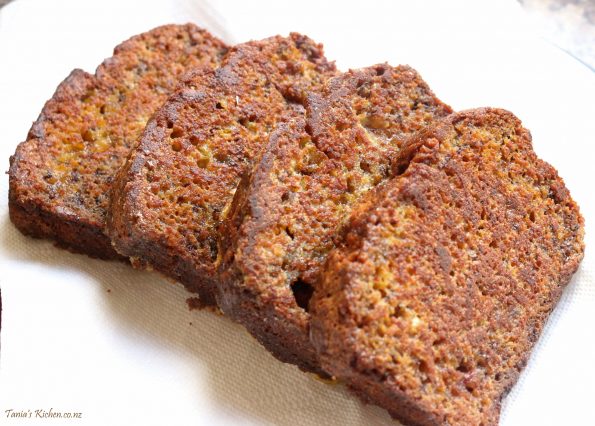 Boy Oh Boy!
Again, here's how I like to serve mine, still hot (or warm), sprinkled with Cinnamon Sugar, with a dollop of Crème Fraiche (Or Whipped Cream), some Lemon Curd and my all time fav, Mixed Berry Compote.
It's also awesome sprinkled with the cinnamon sugar, with banana slices, fresh blueberries, whipped cream and maple syrup.
And like I mentioned earlier crispy bacon, banana slices, fresh blueberries and maple syrup are to die for!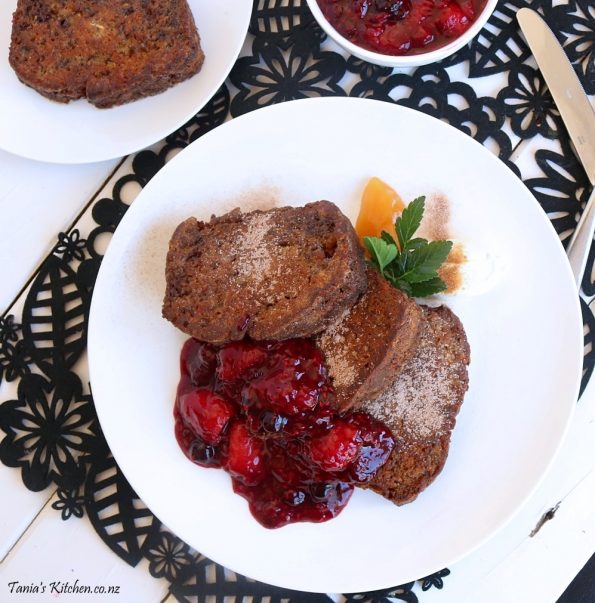 Storage – No storing…just eat it! Okay, if you're a lightweight and there is some left just wrap it in cling wrap, refrigerate and reheat each piece for around 30 seconds in the microwave or alternatively place on an oven tray, lightly cover with cooking foil and heat up in a medium oven (150°C fan bake oven or 175°C conventional oven, on bake) until warm enough. 🙂
Again in case you missed it the Mixed Berry Compote recipe is here, I usually buy my Lemon Curd, but there is also a recipe here and Cinnamon Sugar is basic I know but if you like you can go here to see my ratio.
French Toasted Banana Bread
French toasted banana bread. Sprinkled with cinnamon sugar & served with berry compote, creme fraiche & lemon curd or banana, blueberries & maple syrup.
Ingredients
1 loaf of banana bread
2 large eggs
1/4 cup full cream
2 tablespoons cooking oil
2 tablespoons butter