YES! Finally, it's Feijoa season, such an exciting time for us Kiwi bakers and chutney makers! As usual they're just falling off the trees, so many Feijoas (bags of them hanging on my gate from the early walking 'Dutch fairy') and so little time!!!
I want to make so much……cakes, loaves, desserts, muffins, muffins and more muffins! But in reality it's just not possible 🙁 I'll just add all that stuff to my massive 'to cook & bake' list (it's longer than Santas naughty list I'm sure) and for now just enjoy baking what I have time for, which last week was these delish muffins!  The tartness of the Feijoas with the sweetness of the white chocolate make these muffins just delectable and mixed with unsweetened natural yogurt, they have a rich, soft texture and just melt in your mouth. 🙂
For those of you not familiar with this, sweet but slightly tangy fruit they originated in Southern America and were brought to New Zealand in the 1920's with New Zealand now being their largest producer. In other countries they are often referred to as 'pineapple guava', although they are not a type of guava but both are from the same family known as 'Myrtle'. They are a similar size to a large egg (but can be much larger,we've had some as big  as apples!) with tiny pips and jellied sections inside. They have a thin green skin and their texture is slightly gritty like a pear. Master 9 likes to eat them like apples, skin and all. Here in autumn they are abundant and falling of the trees at a rate too fast too eat! Most Kiwi's love them and if you enjoy baking with them the wait for the next season seems eternal!
INGREDIENTS
115 grams butter
1/2 cup castor sugar
2 large eggs (I use size 7's)
2 cups standard flour
3 teaspoons baking powder
200 grams white chocolate (in a block or buttons)
13-16 small & medium sized Feijoas or (1 cup when chopped up)
1/3 cup plain, unsweetened, natural yoghurt
Optional – x 12 muffin cases or x 6 large Texas size muffin cases
Decorating – You can simply dust your muffins with icing sugar (confectioners sugar) or you will need an extra 50 grams of white chocolate and if you like, 2 tablespoons of sliced almonds or 12 nuts (pecan halves, walnut halves or blanched almonds)
This recipe makes x 12 normal sized muffins (7 cm W x 3 cm D holes) or x 6 large Texas size muffins (8.5 cm W x 4 cm D holes)
Note
I buy normal family sized blocks of chocolate for baking as they are often cheaper than cooking chocolate and I use my biggest knife to roughly cut them up. I don't use chocolate chips as I love biting into a chunk of gooey chocky when the muffins are still warm! The tart feijoas go nicely with the sweet white chocolate but you can of course replace the white chocolate with milk or dark chocolate and they will still taste fab 🙂
WALKTHROUGH
First spray the muffin holes with non-stick cooking spray or place your cases into the holes (no need to spray those).
Next preheat the oven to 170°C fan bake oven or 190°C conventional oven, on bake, with a rack situated in the centre of the oven.
Getting started on the muffin mix, roughly chop up the chocolate, quite small if you are making small muffins and a bit bigger if you're baking Texas size ones.
If you're using chocolate buttons they can be kept whole in the Texas-sized muffins but roughly chopped up for the smaller ones.
Then peel the Feijoas and roughly chop them up. If they are small or medium-sized, I will usually get about 8 little pieces out of each one.
If you're not too fussy and want to save a little bit of time, cut them in half, scoop the flesh out of each half with a teaspoon and then chop them up.
Next, place the castor sugar in a large bowl and get a large spoon ready.
Then melt the butter in a small saucepan over a low heat or on HIGH in the microwave for 1 min, 20 seconds (or until done).
Whilst it's still hot add the butter to the sugar and mix the two together until just combined.
* I was told that using hot butter gives the muffins a better colour so I use it straight away. I also think it gives the muffins a fudgy, texture as it melts the castor sugar a bit.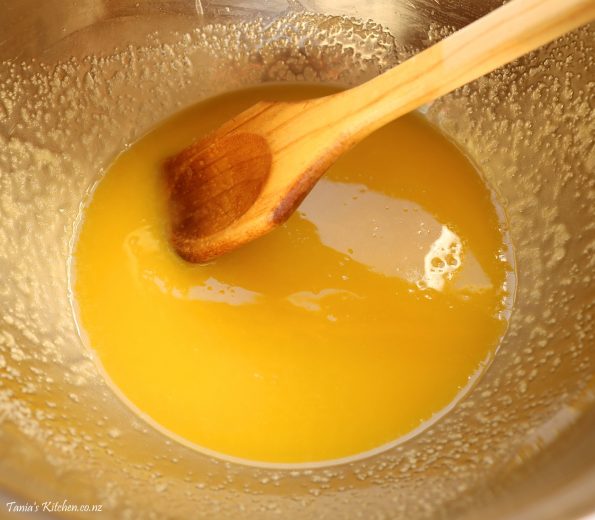 Now, add both of the eggs and quickly mix them in well.
Next, throw on the flour, baking powder, chocolate, feijoas and yoghurt and fold it all together until it's all just combined. Sometimes I even leave a bit of flour around the edges of the bowl  so I know I haven't over mixed it. Over mixing them will cause them to rise less and also they won't be as 'fluffy' in texture.
* If 'throwing' in the flour and baking powder together worries you, you can sift them together in a separate bowl first if you like, I'm just used to being super rushed at work!
Now carefully spoon the muffin mixture into the sprayed tin or cases (either 6 large or 12 small), being careful not to push the mix down as they will rise less and be denser in texture.
I wait until I have distributed the whole mix before I check that they all have the same amount in them because like I said they hate being played with. Then I take batter from the bigger ones and place it gently on top of the smaller looking ones and I'll move batter sideways to fill in any gaps.
Now, place them in the oven and bake them for 20 minutes (small) and 30 minutes (large) or until when slightly pushed in, the centres spring back and they are a nice even brown all over.
Testing them with by inserting a knife isn't a good way to test these as they will always be a little soft in the centre when they leave the oven as these are very moist muffins but they will firm up as they cool down. Also when using quite chunky chocolate you may pierce the chocolate and think it's un-cooked batter.
Decorating
I always decorate my baking, even the plainest of things. People eat with their eyes and you want your baking to look as good as you know it tastes, right? It doesn't take much to take something from looking 'meh' to 'AWESOME' !!
I decorate my small or large ones in any of these ways 🙂
Dust with icing sugar (confectioners sugar) – Just before serving.
Dusted, with drizzled or piped white chocolate & sliced Almonds on top – After the muffins have cooled for 30 minutes or so, place 50 grams of white chocolate in the microwave on HIGH (100 % power) for 30 seconds,  stir it and then put it back in for 10 second increments (stirring each time) until it's melted. Alternatively melt it in a small heatproof bowl over a small saucepan of simmering water, stirring often.
Using a teaspoon drizzle the melted chocolate over the cooked muffins or use a piping bag with a small nozzle.
Because these chocolate lines are dainty, before the chocolate sets I like sprinkling sliced almonds on top because I consider them dainty too (if I have any and of course when I made these ones I didn't because someone eats them all on their porridge….me).
Just before serving, dust with icing sugar (confectioners sugar).
If you don't have a piping bag you can use a zip-lock bag. Spoon the chocolate into it, push it into one corner, then using a sharp knife cut a tiny piece off the corner…..ready to go!
Dusted, a blob of white chocolate & pecans, walnuts or blanched almonds on top  – After the muffins have cooled for 30 minutes or so, place 50 grams of white chocolate in the microwave on HIGH (100 % power) for 30 seconds,  stir it and then put it back in for 10 second increments (stirring each time) until it's melted. Alternatively melt it in a small heat proof bowl over a small saucepan of simmering water, stirring often.
Using a small spoon place blobs of chocolate on the centre of each muffin.
Because it's a 'chunky' blob I go for a bigger nut here, so before the chocolate sets place a walnut half, a pecan half or a whole blanched almond in the centre of the small ones and if you like, rwo nuts on the larger muffins.
Just before serving, dust with icing sugar (confectioners sugar).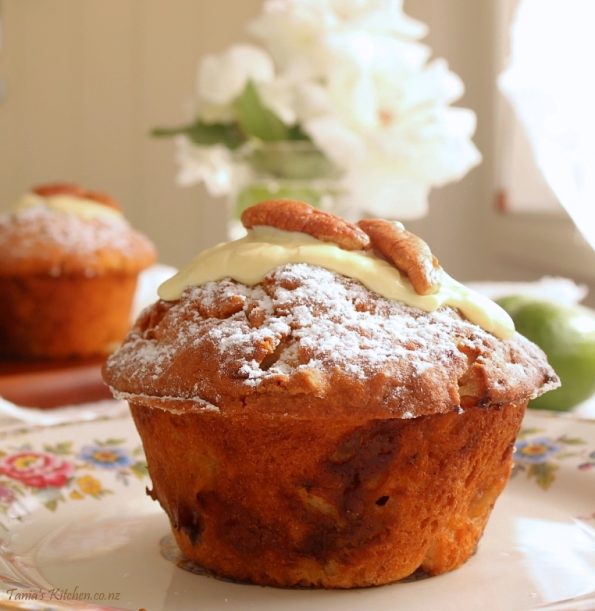 They should have a really nice, light, fluffy texture.
Storage – They are best kept in the pantry in an air-tight container and I really like them to be eaten on the day. The second day they're still okay but not quite as fabulous (a bit like watching a good movie twice) so I would warm them for 15 seconds in the microwave to freshen them up a bit 🙂
There you have it, my first Feijoa recipe on my blog!
What is your favourite recipe you enjoy making during feijoa season?
Feijoa & White Chocolate Muffins
Delicious Feijoa muffins, filled with tart Feijoas & sweet white chocolate & mixed with natural, unsweetened yoghurt.
Ingredients
115 grams butter
1/2 cup castor sugar
2 large eggs
2 cups standard flour
3 teaspoons baking powder
200 grams white chocolate
13-16 small & medium sized Feijoas (1 cup when chopped up)
1/3 cup plain, unsweetened, natural yoghurt
Decorating - 50 grams of white chocolate and 6-12 nuts (pecan halves, walnut halves or blanched almonds)